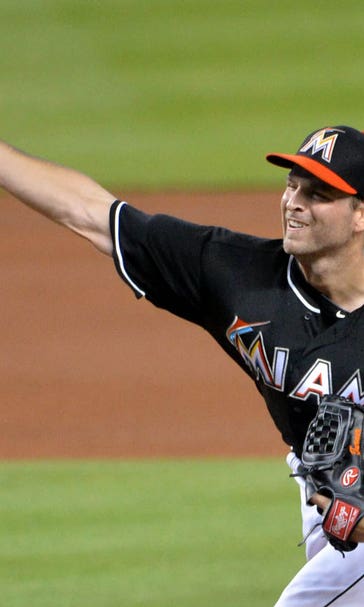 Pitching, defense hurt Marlins in loss to Braves
May 31, 2014

MIAMI -- Home sweet home.
That's how the saying went for the first nine series of the 2014 season for the Miami Marlins.
Once a place for a sure win, the Marlins dropped their second straight to the Atlanta Braves in a 9-5 defeat Saturday night at Marlins Park.
Miami (28-27) has lost four of five home games and consecutive series in South Florida after setting a franchise record with a 19-6 record to open the year. Atlanta (30-25) now holds a two-game lead in the National League East.
The Marlins' struggles start with the pitching staff, which has allowed an average of seven runs in a pair of rough outings against division leaders in the Braves and Milwaukee Brewers. In those four losses, starters have gone an average of just 5.5 innings.
On Saturday, four pitchers combined to issue nine walks, second most this season. Four of those batters would come around to score. The defense committed three errors.
"We're going up against the best teams in baseball, and if we expect us to go up there and compete with them, we've got to play better baseball," manager Mike Redmond said. "We've got to eliminate walks. I can live with getting hit, but not giving up free passes and every one of those guys score. We've gotta do a better job of getting back in the strike zone and throwing strikes and putting the pressure on them. And we've gotta play better defense. It just wasn't a good day for us."
Right-hander Jacob Turner (1-3) surrendered five two-out runs -- four earned -- over five innings with four strikeouts and a season-high four walks.
Fresh off his first victory in 17 starts dating back to last July, Turner looked in the same zone by retiring six of the first seven batters he faced, upping his scoreless innings streak to 9 1/3 innings.
But it quickly changed in the third when the bottom of the order helped the Braves take a 3-0 lead.
Turner surrendered a leadoff hit to Gerald Laird -- the eighth batter -- before Ervin Santana failed to put down a sacrifice bunt. He walked Jason Heyward and got B.J. Upton to line out to short. Freddie Freeman, hitless in his first 29 at-bats against the Marlins this season, drove in a pair with a double. Another run came across when Adeiny Hechavarria's throw got away on Justin Upton's infield hit.
A lack of command cost Turner as Atlanta scored another two runs in the fourth. After a three-pitch strikeout of Andrelton Simmons, Turner walked Tommy La Stella and Laird on eight pitches. Santana moved both over with a sacrifice bunt and Heyward drove them in with an RBI single to center.
Since returning to the rotation from the disabled list on May 3, Turner had walked just five total batters in five starts. His ERA had lowered from 9.90 to 5.35. Saturday, however, marked the fourth time in seven starts this season that he has given up at least five runs.
"I just lost a little feel there with a couple of guys," Turner said. "I thought I threw the ball well to a lot of guys, but the walks -- something like 12 straight balls. Lost a little bit of feel and not executing at the bottom of the lineup really put me in a bad spot."
Not many teams can climb out of a five-run hole, yet the Marlins were able to bring the tying run to the plate against closer Craig Kimbrel in the ninth. Casey McGehee would ground out to short with the bases loaded.
Miami chipped away with a run in the fourth and two in the sixth. The Marlins cut the deficit to one in the eighth with two more runs, but Atlanta produced three in the ninth off righty A.J. Ramos.
"We shot ourselves too many times in the foot a few too many times tonight," said McGehee, who went 1 for 4 with a two-run double. "That's a pretty good club. You're not going to win too many games at this level (like that). Again there's some positives to come out of it as bad as it looked for a little while. I had a chance with two outs in the ninth as the tying run at the plate.
"From our standpoint we have to focus on the fact that we did do a lot of good things and there are some things we have to clean up, shore up. We kept coming, which is a really good thing."
You can follow Christina De Nicola on Twitter @CDeNicola13 or email her at cdenicola13@gmail.com.
---