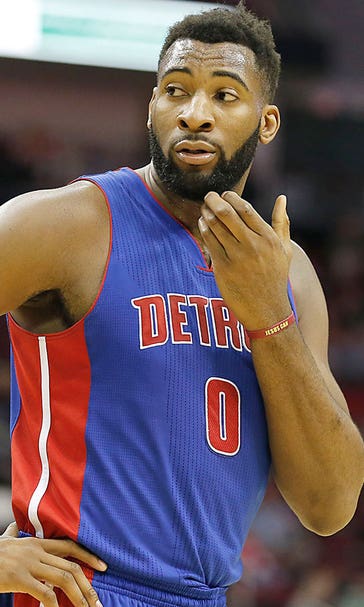 Pistons can secure winning record with victory in Orlando
April 6, 2016

Losing three of the past five games only seems to have delayed the Detroit Pistons' inevitable return to the playoffs.
A matchup with the Orlando Magic should get them closer to ending that postseason drought.
The Pistons can at least clinch their first winning record in eight seasons by beating the Magic for a sixth straight time Wednesday (6:30 p.m. on FOX Sports Detroit).
Detroit (41-37) has failed to reach the playoffs for six straight seasons, matching the franchise record set from 1977-1983. The Pistons are close to ending that drought, currently eighth in the Eastern Conference with a two-game advantage over idle ninth-place Chicago with four to play.
They can't clinch that spot until Thursday at the earliest due to tiebreakers. Detroit, though, would need to beat Orlando on Wednesday with Chicago losing at Miami the next day.
For now, Detroit can settle on securing a winning record for the first time since 2007-08. However, the Pistons came up short there Tuesday, going 5 of 21 from 3-point range while losing 107-89 at Miami.
"They just dominated us at both ends of the floor all night," coach Stan Van Gundy said. "From the start to the finish, they dominated us, particularly on the perimeter.
"Very disappointing effort."
That hasn't been the case against Orlando. The Pistons have averaged 116.2 points and shot 43.4 percent from beyond the arc during their five-game winning streak versus the Magic.
They made 53.8 percent from the floor and 11 of 24 from 3-point range while cruising to a 118-102 home victory over Orlando on March 23.
Andre Drummond had 30 points and 14 rebounds, giving him averages of 21.2 and 14.8 over the last five meetings. The center leads the league with 14.8 rebounds per game, the highest average for the Pistons since Ben Wallace's league-leading 15.4 in 2002-03.
The Magic are out of postseason contention, but they've won four of five while averaging 118.6 points after beating Memphis 119-107 on Sunday.
"I think we're getting a lot of simple buckets, as in transition and finding the open man and getting good looks or getting open shots," said guard Victor Oladipo, who had 22 points Sunday. "We're just hitting shots at a high level right now. We just gotta continue to keep moving the ball, keep defending and let the defense create for the offense."
Having Nikola Vucevic back has certainly helped. The center is averaging 23.7 points over the last three games after missing 13 with a right groin strain. That stretch included sitting out last month's loss to Detroit.
Vucevic has 20.7 points and 10.7 rebounds per game over his last three versus the Pistons, including 20 and 14 in a 111-97 home loss March 27, 2015.
Elfrid Payton had 20 points, 10 assists and 10 rebounds at Detroit last month, notching his third career triple-double. The guard has 21 assists over the past two games but only 13 points while shooting 5 of 17.
---