Phoenix feels the Love in loss
Published
Feb. 26, 2014 12:34 a.m. ET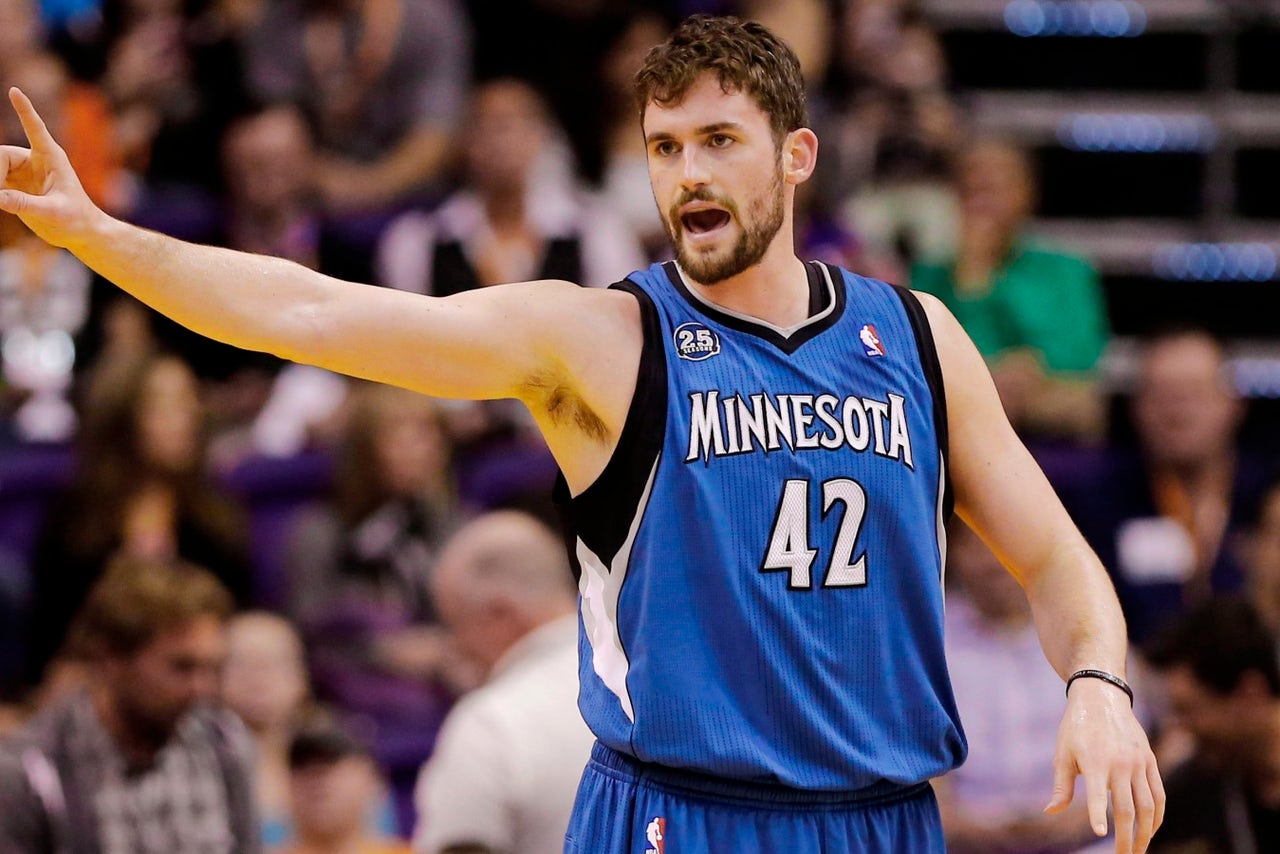 PHOENIX -- We're limiting ourselves to a single teeth-grinding, eye-rolling, surname-provoked pun. Here it is:
All they need is Love.
The Phoenix Suns check in as our "they." The Love, of course, is Minnesota Timberwolves power forward Kevin, who -- as a statistically-ordained NBA star -- has become a target for the roster-upgrading motivations of big-thinking Suns fans.
With Love having the contractual capacity to opt out and leave the Twin Cities following next season, his alleged plan of escape from win-loss mediocrity has been posited around the basketball world.
A considerable amount of this conjecture falls on the doorstep of fans and professional sports-conjecture peddlers in Phoenix.
Working at center for Tuesday night's 110-101 T-wolves' victory, Love hit the Suns for 33 points, 13 rebounds and nine assists.
"Well, he makes plays," Suns coach Jeff Hornacek said after his team slipped to 33-23 and into a two-game losing streak. "He can get the shot, but he makes passes, he sets screens, he gets rebounds.
"When the game's on the line, the guy can make plays."
The playmaking included 10 points and a couple of crucial, triple-double-threatening dimes that helped spring a 35-20 Minnesota advantage in the fourth quarter.
In last week's run to Western Conference Player of the Week, the responsibility-saddled Love recorded his first triple-double against the Utah Jazz.
"It's not like he's doing one thing," Hornacek said. "That's what makes him a great player."
Love, who averaged 36.7 points in three games last week, now has scored 30 or more points in a franchise-record six consecutive games.
Even though the Suns are blowing away ankle-high, season-opening expectations, their commitment to fortifying the future puts everyone around Arizona on high alert in the quest for a legit, elite-caliber player.
Despite solemn public oaths issued to diffuse published rumor that he's aiming for employment in Los Angeles or somewhere else warm, Love gossip will continue until his next contract is signed.
So, with a little time between now and the reconciliation of this what-if proposition, many interested parties still wonder if Love qualifies as a title-grabbing-caliber superstar.
The record (28-29 this season) he and his T-wolves cronies have fashioned since he arrived in Minneapolis suggests otherwise. But Love hasn't exactly been surrounded by championship-level teammates, either.
The numbers, even stacked as the lead option on a losing team, are tough to ignore.
Traditional statistics tell us he's fourth in scoring at 26.6 points per game and second in rebounding (13.2).
The more analytical stuff has Love third in player-efficiency rating, trailing only LeBron James and Kevin Durant. He's second (to Durant) in something called win shares that throws all kinds of numbers into a geeky stew.
By the way, we contacted three personnel executives employed by Western Conference teams not located in Phoenix or Minneapolis for perspective on how Love's productivity may translate to big-time star quality.
Two of these sharpies said they still aren't sure if Love is the kind of player who can carry a great team. The other said he thinks Love certainly looks the part and might be lethal if tucked into a lineup with multiple, drive-and-dish guards and the commitment to playing fast.
"He scores inside and he can space the floor to open driving lanes for everyone else," the latter personnel guy said. "He can be kind of a statue on defense, but he's a great defensive rebounder."
We're assuming 'kind of a statue' on defense is bad. But we also can assume having Love clean up a solid defensive possession by collecting the rebound (he's first in the NBA for defensive-rebounding percentage) could help certain teams. Right, defensive rebounding is a problem for the local squad.
And with two really good, drive-oriented PGs currently under contract, the Suns and their band of plucky overachievers might provide a great landing spot -- you know, in theory.
Required to play center while hulking teammate Nikola Pekovic sits with bursitis in his ankle, Love had a lot on his plate Tuesday at US Airways Center.
He also created some matchup challenges for the Suns.
"He's that guy who goes inside and out," Hornacek, speaking before the game, said of Love. "If Pekovic doesn't play, they have a relatively small lineup out there and he's at the five spot, which could be some trouble."
Trouble meant having Miles Plumlee or Channing Frye track Love beyond the 3-point line, where the T-wolves' bomber is ninth in the league for shot attempts. Love made half of his six attempts vs. the Suns, who had Plumlee on the floor less than 17 minutes.
When not operating from the high post in coach Rick Adelman's "Corner Series" offense, Love was curling for jumpers off of staggered double-screens and receiving flare-screens out of "Horns" sets from the elbow.
That's hardly common defensive territory for post players.
But the Suns, who play in Utah on Wednesday night, have defensive issues that go far beyond matchup problems with Love.
"Well ... you've gotta be determined," Hornacek said. "When you don't buckle down and guard your guy and expect help, good teams will take it to you."
And so will a mediocre team with a great player.
---