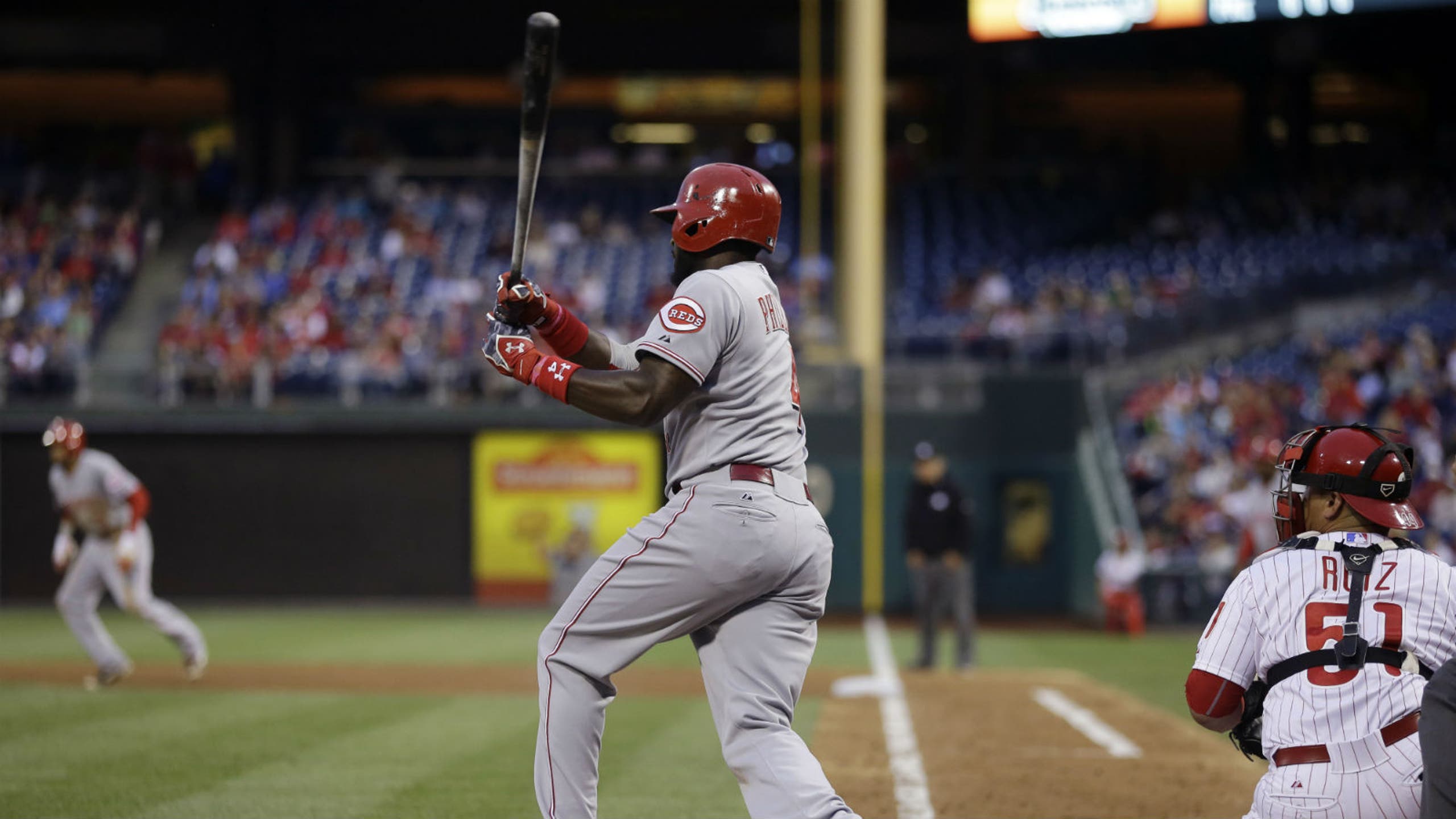 Phillips rebound season slowed by groin strain
BY foxsports • June 11, 2015
Remember all the hub-bub back in spring training over the approaches at the plate Joey Votto and Brandon Phillips each take? Bob Nightengale of USA Today had come to the Reds' camp in Goodyear, Ariz., and spoke with both players about their strategies at the plate. Votto is more patient and calculating. Phillips is generally swinging before his walkup music begins.
Seems both approaches are serving the players well this season, especially Phillips.
The second baseman is having his best all-around offensive season in four years. In 2011, Phillips hit .300 for the only time in his career. His on-base percentage was a career-high of .353 and his slugging percentage of .457 was his second-highest for a single season.
This season he's hitting .308 with an on-base percentage of .349 and slugging percentage of .385, has scored 27 runs and has driven in 25 even as manager Bryan Price has used him in each of the first seven spots in the order except third. Phillips has most recently been in leading off, where he's produced numbers of .296/.344/.421 in 14 games.
Not bad for a guy who told Nightengale: "I don't do that MLB Network on-base percentage (stuff)."
Phillips had an eight-game hitting streak snapped Tuesday against Philadelphia when he went 0-for-2 before leaving the game in the third inning with a strained groin. It's been diagnosed as a mild strain but no one wants to tempt fate when it comes to a groin, especially with Thursday's news that shortstop Zack Cozart will miss the rest of the season with a torn ligaments and a biceps tendon in his right knee.
"We don't want it to turn into a significant groin strain," said Price on Wednesday. "It'll be one of those day-to-day things. We'll see how he responds to treatment today. It's one of those injuries that if it becomes worse it becomes a significant injury."
Phillips is not in the starting lineup for Thursday night's series opener at Chicago.
Price said he believes health has been a major factor in Phillips' bounce-back season. Staying healthy has been troublesome for Phillips since Pittsburgh reliever Tony Watson hit him with a pitch in the left forearm on June 1, 2013. Phillips missed the next four games.
At that time, Phillips was hitting .296 and had a .481 slugging percentage. By the end of the season those numbers had dipped down to .261 and .396. They were still respectable but there is no doubt that Phillips' overall productivity at the plate went down after the injury.
Last season, Phillips ended up missing 33 games after he tore a ligament in his left thumb diving for a ball on defense. In his final 35 games, Phillips hit .250/.299/.320 with 11 RBI.
He's dealt with a turf toe this season before the groin problem but he still has played in 52 of the first 58 games.
Health isn't the only factor benefitting Phillips, in the manager's belief.
"I think he's also extremely motivated," said Price. "I think he wants to play this game as long as he can. I don't he has an exit strategy. I think he wants to play and be an everyday player for longer than the duration of this current contract. He loves to play. That's evident."
Phillips' contract with the Reds runs through 2017. He'll be 36 years old at that time. Whether he plays beyond then remains to be seen. He is for certain been better this year than he has in some time.
---