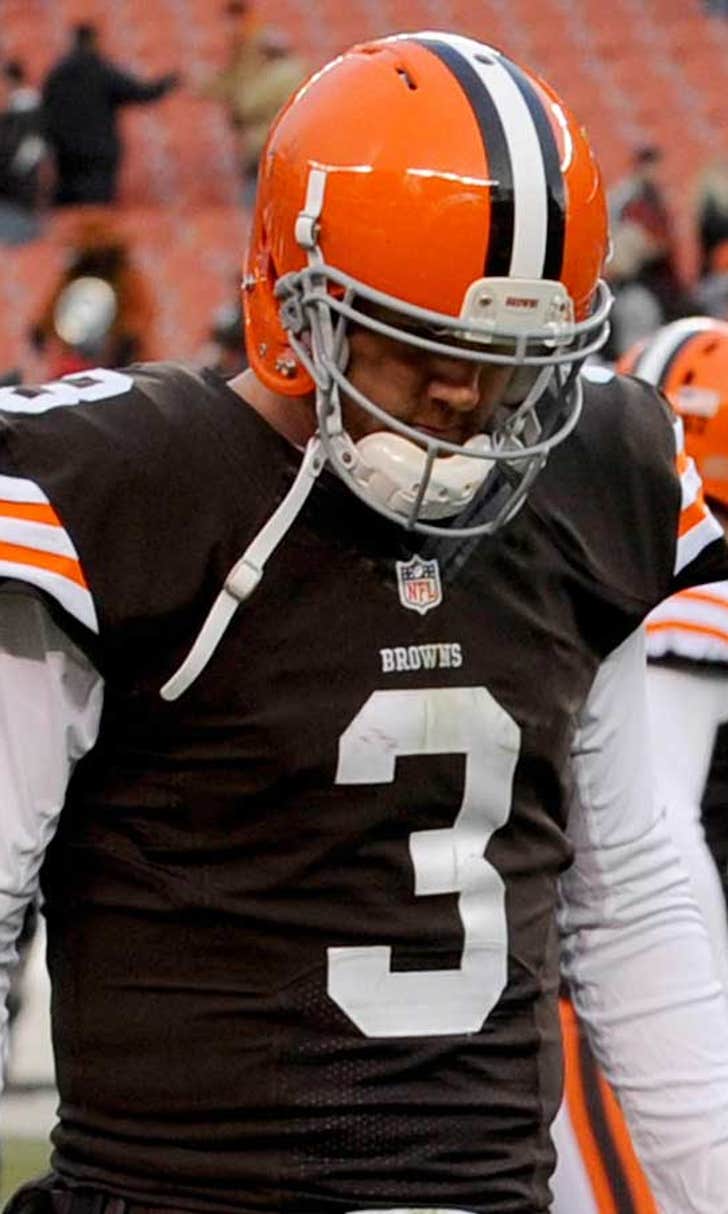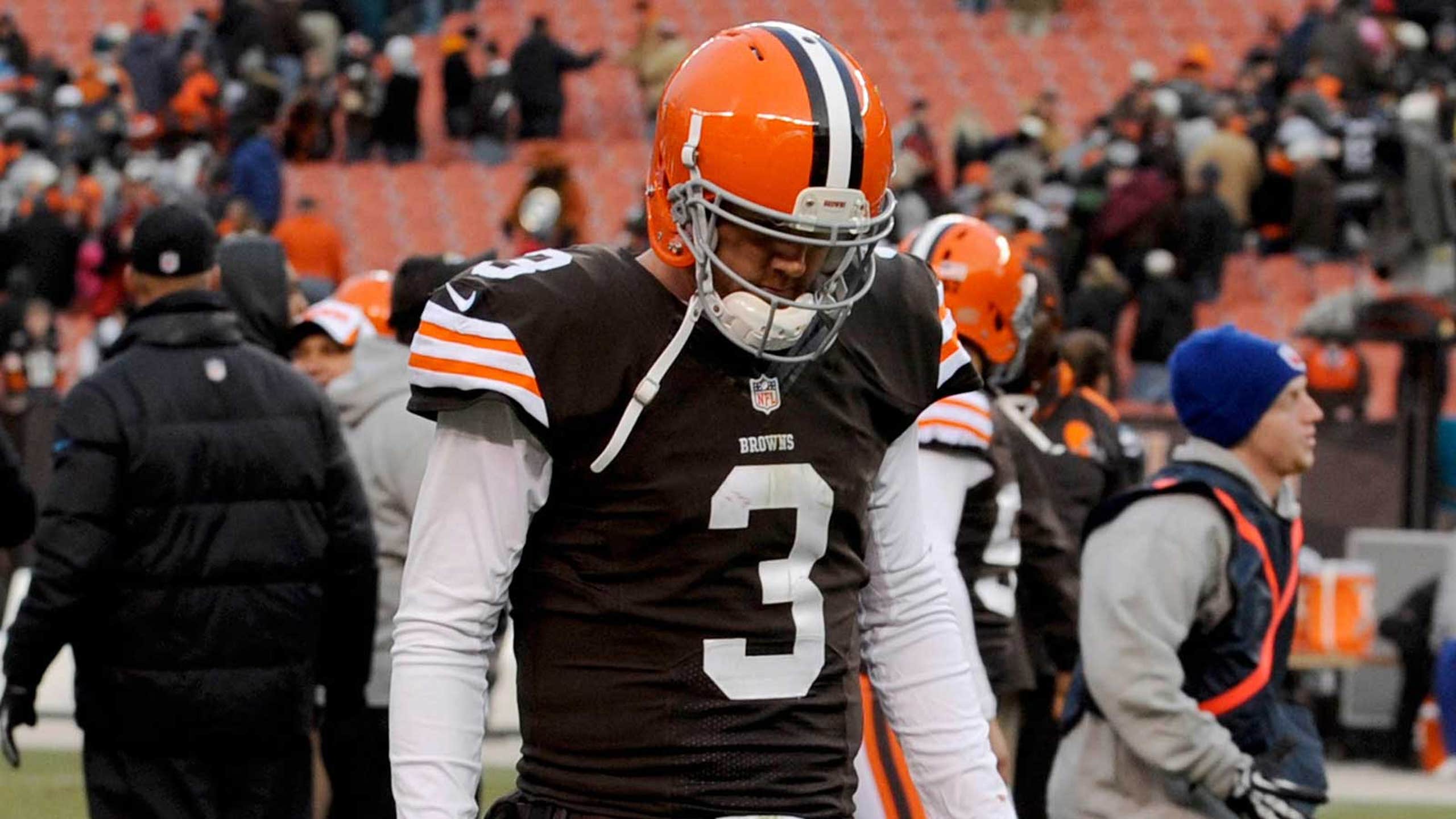 Pettine says QB is obvious need
BY foxsports • February 22, 2014
INDIANAPOLIS -- Whether he was throwing a smoke-screen up or not, Mike Pettine mentioned quarterback first when asked about the Browns overall needs when evaluating the Browns roster.
"We have a lot of priorities, quarterback is the obvious one, we're going to be very meticulous there, but it's not going to end there," Pettine said. "I think we need to make sure in our search to find Cleveland Browns, we're going to be very meticulous and I think the staff is off to a good start in finding those guys."
Whether the Browns choose to take a quarterback with the fourth-overall pick or with their second (26th overall)- or third-pick (35th overall) is the big question.
They also could draft a quarterback even lower or sign a free agent, so they have many options on the table.
"I would agree with that," Pettine said. "With the number of picks we have if we don't get the quarterback early, all options are on the table. We're not locked in saying we have to take a quarterback early in the draft.
"Look at the final four in the NFL last year," he said. "You have a sixth-round pick, which is an absolute anomaly in (Tom) Brady, and the first pick in the draft in Peyton Manning. Then you saw the 49ers and Seahawks did it going another way. There are a lot of ways to win in this league."
Either way, there's a good chance only Brian Hoyer will return from last year's team.
Pettine wouldn't confirm or deny which quarterbacks the Browns will talk to, but was asked about Johnny Manziel.
"I haven't had a chance to sit down--I've done a little TV scouting--but haven't really gotten to the nuts and bolts, so it's hard to judge somebody just based on highlights and some game film," he said. "That's something that our quarterback project will be lengthy and take some time, whether it's coming out of this draft or whether it is a veteran to fill that position, that's how we'll proceed."
Some experts have said that a player like Manziel might have trouble playing in the Cleveland climate, but Pettine mentioned the size of Manziel's hands (9 7/8) when talking about the weather in Cleveland's affect on bringing in a quarterback.
"It has a big affect," he said. "The thing that's coming out now, you talk about the size of Manziel's hands. It was a factor with E.J. Manuel at Buffalo. If you're going to be quarterback in an area where it is potentially going to be windy or you're going to get some bad weather in the year, that's a big priority. You're looking for guys that have strong arms that can deal with the wind and can protect the football."
Pettine was asked how the Browns will evaluate quarterbacks with different styles, such as Manziel and Blake Bortles.
"I think that's going to come down to the combined effort of the staff," he said. "When I look at Kyle's background, that he was able to succeed with a Matt Schaub or a RG3 (Robert Griffin III), who I don't think you can be farther apart on the spectrum of a skill set. So I think that gives me confidence that whoever we take, whoever ends up fitting that position will be a player that gives us the best chance to win."
One of the other top rated quarterbacks is Teddy Bridgewater, but like Manziel, Pettine said he hasn't watched enough of him to form an opinion.
"I haven't studied (Bridgewater) enough," Pettine said "Coming from defense, I don't consider myself a quarterback expert. I know what good ones look like, but as far as the graduate level details, I'll lean on the offensive staff, on Dowell Loggains, the quarterback coach, and Kyle, and I've already started to have meetings with them, just speaking in general terms of what they're looking for in a quarterback.
"They come in all shapes and sizes," he said. "We're looking for one that's going to maximize our ability to win. Even though the quarterback's a priority, we don't want to put ourselves in a position where the quarterback has to win the game. I think that's where some teams make mistakes. Even though it's the most important position. If you don't have that guy that you feel, whether it's Brady or Manning that can take over a game and win it for you.
"The Seahawks' model, they proved it," he continued. "If you surround him with a great defense and a great running game and you protect him and teach your team how to not lose games first and then to win them second, I think there's a lot of different ways to win in the NFL. While the quarterback is a priority, we need to make sure we're solid around him and make his job easier."
Ultimately, the Browns need to find a championship caliber quarterback, if they want to win a Super Bowl, but Pettine said no quarterback can do it by themselves.
"I think being a championship quarterback is not making him win the championship himself," Pettine said. "You saw that happen in Seattle. Would you put Russell Wilson in the top 10 in the NFL in quarterbacks?
"No. It's a team sport," he said. "They played great defense. The supporting cast around him was tremendous. The very first thing he did was he didn't lose games before he went out to win them. I think that's the key to success. There are some rare quarterbacks that can do that in this league, but there's not that many of them, and if you don't have that guy, don't put yourself in the position where the quarterback has to win the game for you."
Pettine said character is a priority for any player, but particularly for the quarterback.
"I think that's true of any position," he said. "I think the evaluation of character is just as important as the evaluation of their ability. When we talk about guys we want to bring in and play like a Brown, I think high character is one of the most important aspects. Certainly the quarterback, given the position of leadership, has to possess it above all else."
Pettine continued to talk favorably about Brian Hoyer, but didn't give such a glowing report on Brandon Weeden.
"Brian Hoyer, who's ahead of schedule with his rehab," Pettine said. "We're looking forward to getting him back to where at least he'll do some limited work in the spring. I've always admired Brian from afar. We played against him last year. Unfortunately that was the game he was injured.
"He's proven he can be successful in the NFL, but at the same time, you're always looking to make the team better and that's the most important position," he said. "So we're going to do a lengthy evaluation on what's available in the draft, what's available in free agency, what's on campus, and make that decision for what's going to give us the best chance to win."
On Weeden, Pettine answered in similar fashion to what GM Ray Farmer said on Thursday. He wasn't asked specifically about Jason Campbell.
"We evaluate players on what they've done in the league," he said. "We have our opinion and that's something moving forward, as that position shapes, it will work itself out."
Pettine admitted with his defensive background, he is learning on the job at evaluating offensive players. Shanahan might be the most important person in the team's evaluation of the quarterbacks.
"I think, initially I have to defer," Pettine said. "I'm not going to profess to be an expert on all of the graduate level details of offensive players. I think I know what a good one looks like, but when you delve deeper and start to look at some of the specifics that those guys look for, that's why I'm spending time with those guys while we're here, also before we got here. I just sit down with them, 'Andy (Moeller), how do you evaluate a guard, what are you looking for in a tackle?'
"Talking to Kyle (Shanahan), we had a quarterback evaluation meeting already where it was just speaking in generalities, not a specific player, but what he and (quarterbacks coach) Dowell Loggains are looking for in a quarterback in throwing mechanics and the base they have when they throw and how they generate power," he said. "It's a learning process for me. I wasn't going to walk in and say I was named the head coach, therefore I am an expert in everything. It's a learning process for myself, as well."
---