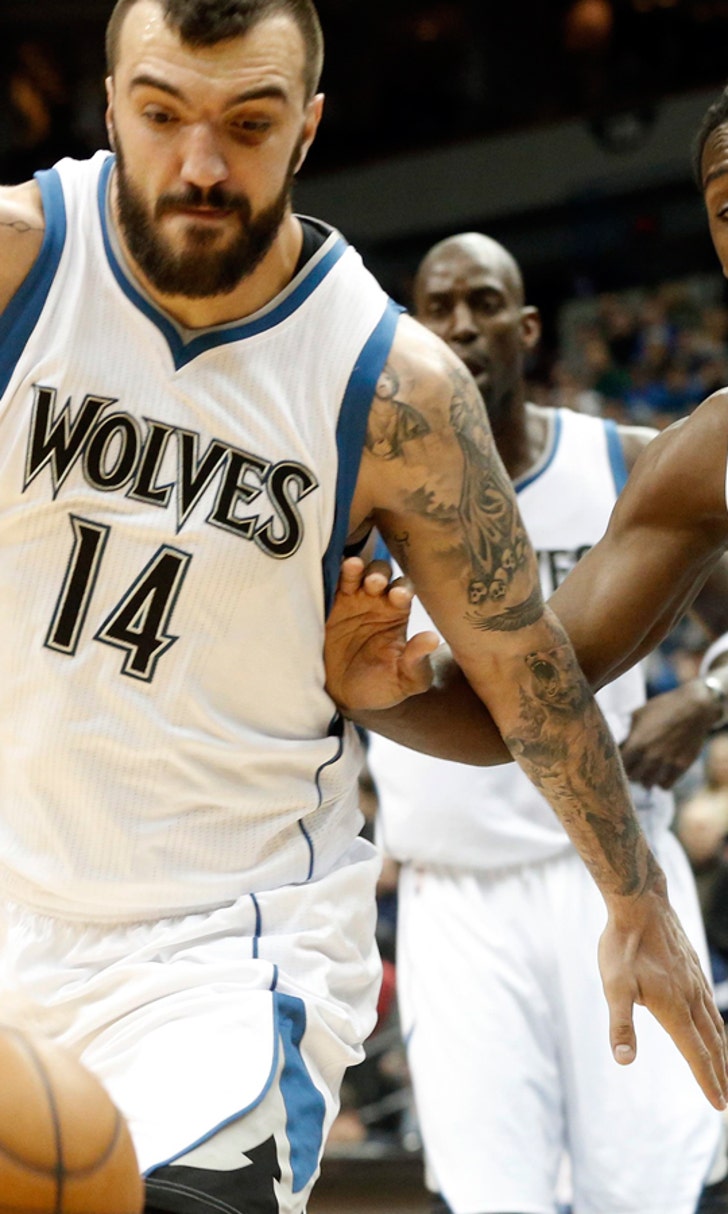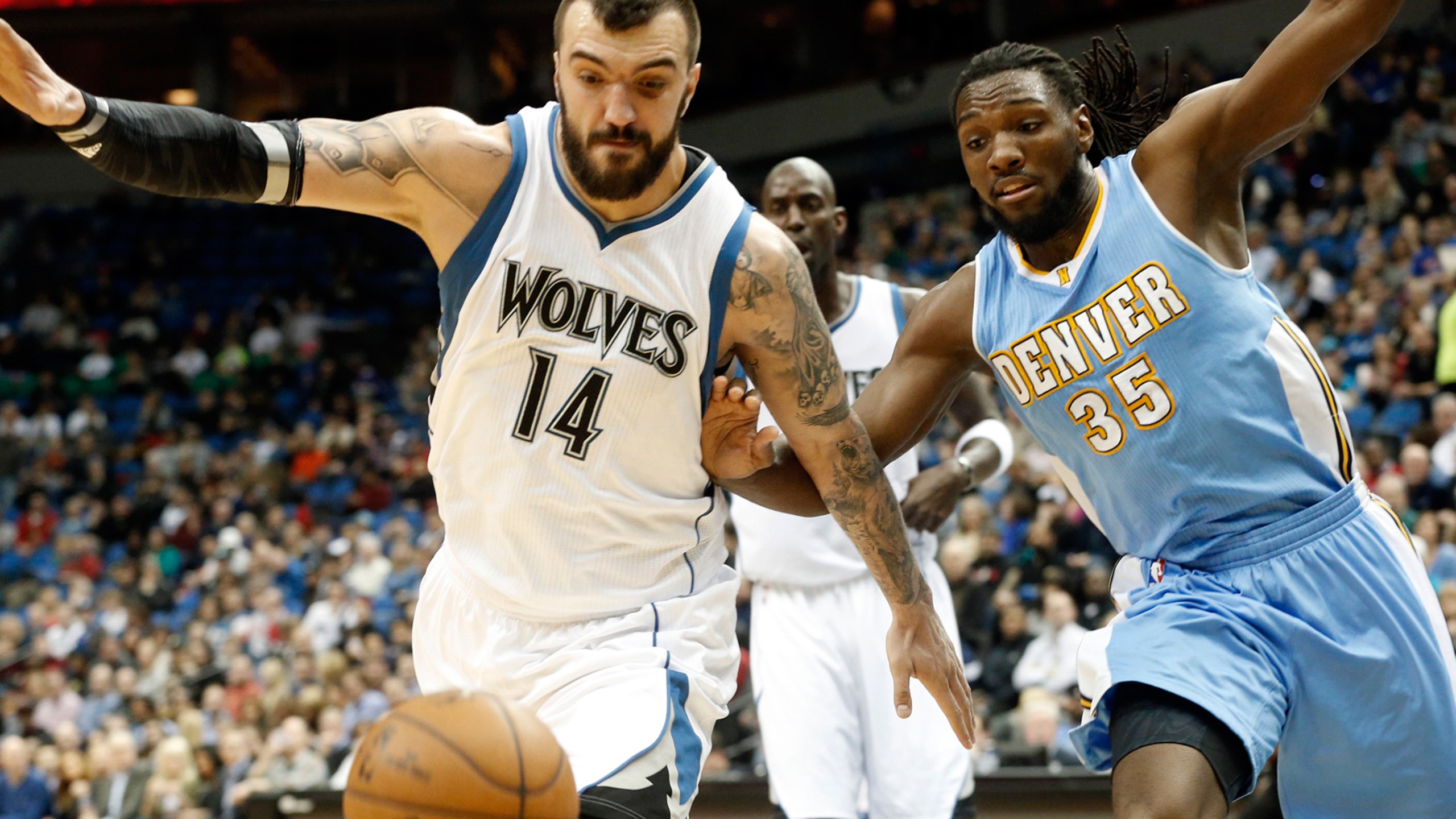 Pekovic, Wolves run out of gym by Nuggets
BY foxsports • March 4, 2015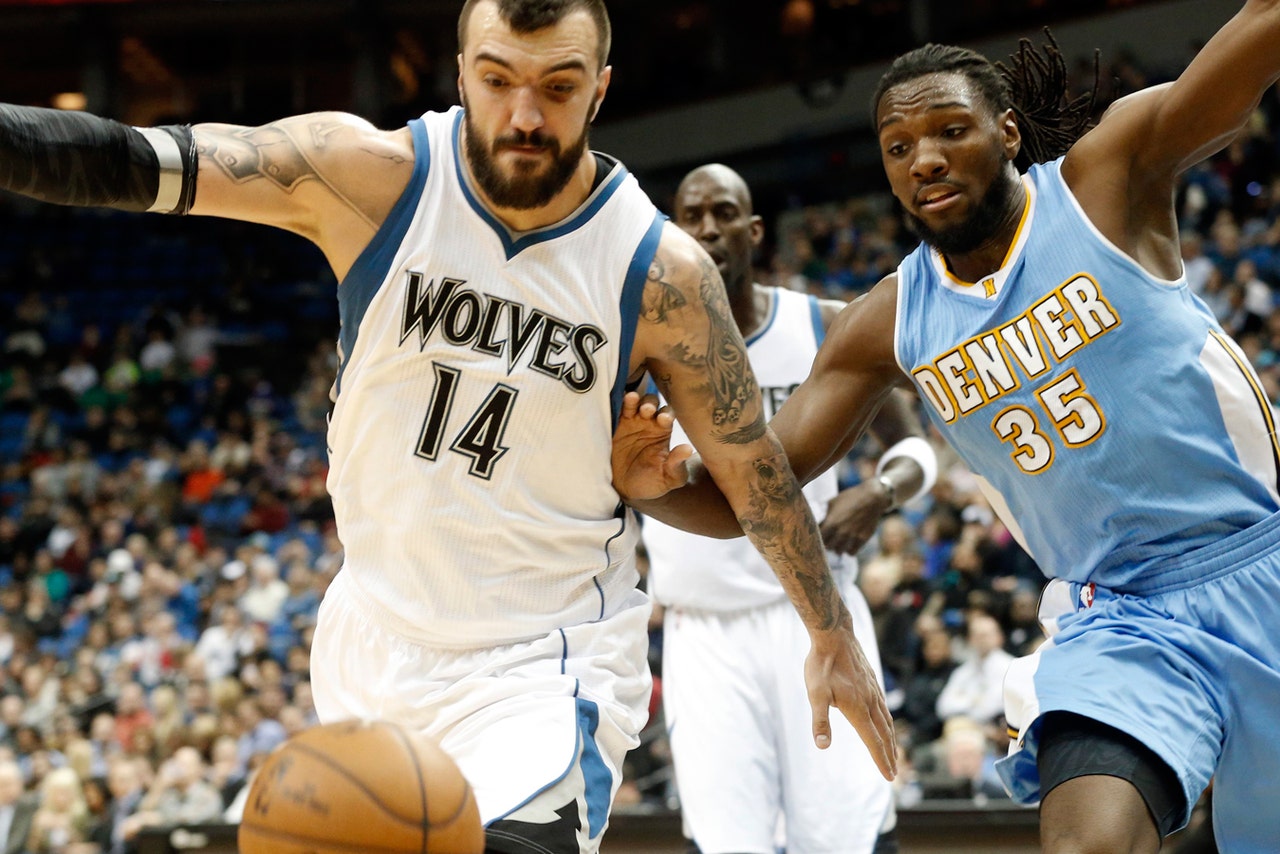 MINNEAPOLIS -- Aug. 16, 2013.
Nikola Pekovic sat in the Target Center skyway, dressed in a slick black suit and tie and charming reporters and season-ticket holders with stories of ice fishing on Lake Minnetonka and hopes to overcome the early injury issues that had bridled his Timberwolves career.
"I want it to be 82," Pekovic said that day after signing a five-year, $60 million, max-level contract extension, referring to the amount of games he hoped to play last season, "that's for sure."
Wednesday morning, when asked to recall that day, Big Pek slouched forward and let out a deep, raspy sigh.
"It's just tough mentally just kind of to go through all this," the 6-foot-11, 295-pound leviathan said earlier this week. "You want to play. It just doesn't let you go, doesn't do anything, doesn't do much. You get sore. You get everything. It's tough dealing every day with that."
"That" is recurring, nagging ailments that, despite multiple tries, Pekovic has yet to overcome in his four-plus-season NBA tenure. He's missed a third of Minnesota's games since the start of the 2011-12 campaign, his second after coming over from Montenegro.
That includes 32 contests this year with a sore wrist and right ankle; the latter kept him out of Monday's loss to the Clippers and limited him Wednesday in a 100-85 defeat against Denver. The same ankle issue sidelined him for 28 games last year.
The DNPs are no mystery, but the reasons for them are more difficult to unravel.
"He should be (frustrated)," said coach and president of basketball operations Flip Saunders, who orchestrated that lucrative deal two summers ago . "I'm frustrated, too. But you have to deal with it."
The Wolves (13-47) have tried everything -- stretching, rest, playing-time restrictions, additional training staff, Mayo Clinic doctors and, most recently, laser therapy. After the season, Pekovic will see another specialist for his ankle, he said.
Save for a 44-game stretch last season, nothing has worked so far. An elongated All-Star break afforded Pekovic some rest, but the after-effects of a compacted second-half schedule might've contributed to this recent flare-up, Saunders has hypothesized.
Pekovic came back from a 31-game absence in late January and played 16 straight games. But five games after the league's annual midseason quasi-hiatus, his ankle became unbearably sore again.
"It's like a month, then it's two months, then six months, a year," Pekovic lamented.
Including Pekovic himself, most point to his old-school, bang-'em-up playing style. But there's much more to it than that.
Part of it's age. At 29, Pekovic is fairly old for a fifth-year player. Wednesday night, he played 15 minutes -- six fewer than power forward Kevin Garnett, who turns 39 in May.
The Wolves drafted Pekovic 31st overall in 2008, but he opted to play two more seasons overseas before making his NBA debut. Four years with Atlas and Partiazan of the Serbian SuperLeague and two more with Greek League club Panathinaikos exposed him to heavy wear and tear, thanks to that part of the world's low-scoring, grind-it-out, on-court culture.
When Pekovic had bone spurs removed from his right ankle in 2012, Dr. Martin O'Malley told him they could've formed as early as his first year of professional hoops, 2004-05.
"I think it's the age, and there's a lot of things probably that I've been through in Europe," Pekovic said. "It's pretty tough stuff over there before I get here, so I think there is some things before that happened to my ankle . . . from that."
Europe is where Pekovic picked up his current playing style. There are few true, post-oriented centers left in today's NBA, and there's a reason why. For most mortals, even those of the 7-foot variety, it's too physically taxing.
"I don't work in office," said Pekovic, who has career NBA averages of 18.4 points on 52.3 percent shooting and 9.7 rebounds per game.
The Wolves do have steady sophomore Gorgui Dieng (9.5 points and 8.5 rebounds in 29.1 minutes per game this season) to back up Pekovic. The Senegal native's progress has spurred talk of potentially trading Pekovic at some point, but the three years worth of the $35.8 million left on his contract make him hard to move.
The Wolves could've used the first half of 2013-14 version of Pekovic on Wednesday against Denver (22-39), which outscored Minnesota 52-28 in the paint and outrebounded it 51-43 for the Nuggets' second win in as many games under interim coach Melvin Hunt. Shooting guard Kevin Martin -- who missed Monday's game with an illness and still wasn't his strongest, even after the team's day off Tuesday -- went 3 for 15 from the floor for just nine points, and point guard Ricky Rubio had 10 on 4-of-13 shooting, rendering February rookie of the month Andrew Wiggins' 20 points a footnote.
Pekovic played just 5:19 after halftime as Saunders continues to try and limit the big man's minutes.
"He hasn't been able to play much, so he was ineffective," said Saunders, whose team wasted an opportunity against a rare sub-.500 opponent. "Tonight was not a good matchup. They were running the hell out of us with their bigs.
"There's not much to really say. This, in the last two months, is maybe the most disappointing loss."
In front of 13,848 fans -- by far the least electric crowd since Kevin Garnett's return -- the Nuggets outscored Minnesota 19-3 in fast-break points. Even the backup who's benefited most from Pekovic's prolonged truancy says he'd like to see him healthy and unlimited like he was during the first part of last year.
"We need Pek back," said Dieng, who had eight points and 10 rebounds off the bench Wednesday night.
KG sounds off on Shaw firing: Garnett had some choice words for the Nuggets after his 11-point, six-rebound performance against them Wednesday night.
When asked if he expected a spirited effort from a team with new life after head man Brian Shaw's Tuesday firing, Garnett responded with a blunt "no."
"To be honest, they quit on Brian Shaw. I thought they'd quit again," said the revered power forward, who came back to the Twin Cities in a trade-deadline deal Feb. 19. "A quitter is a quitter."
Garnett continued: "That was my take on that. As far as the future, you want to anticipate someone playing hard, but no, I didn't really think about the Denver Nuggets or how they was going to come out tonight. I was thinking about us and us going forward and being better."
The Nuggets fired Shaw after posting a 20-39 record this season, reportedly because he and the players didn't always see eye-to-eye.
Garnett wasn't the only one to go off about that decision. Pacers forward David West told Vigilant Sports' Scott Agness "that's bull (expletive). No grownups on the roster. You can't win without grownups."
"Don't understand how you can't play for B Shaw!" West's Indiana teammate Paul George tweeted Wednesday morning.
After a 14-year playing career that concluded with four seasons with the Los Angeles Lakers, Shaw served as a Lakers and Pacers assistant. He finished his first head-coaching stint with a 56-85 record (.397 winning percentage).
Follow Phil Ervin on Twitter
---