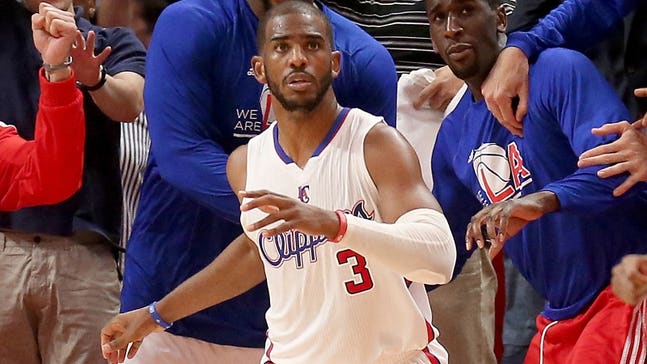 Paul says he's 'good' after Game 3 and will be 'ready for Sunday'
Updated
Mar. 4, 2020 6:37 p.m. ET

Chris Paul was feeling good Saturday and had no complications after playing on his left hamstring for the first time since he injured it almost one week ago.
Paul scored 12 points in 23 minutes and added seven assists and three rebounds in helping the Clippers dominate the Rockets, 124-99 in Game 3 of the Western Conference semifinals at Staples Center.
"I'm cool. I'm good," Paul said. "I'll be ready for (Sunday). No speculation. Probable. Questionable. I'm playing (Sunday)."
Paul will still be on restricted minutes Sunday but will start Game 4 at Staples Center. Limited minutes is more of a precaution as Doc Rivers is trying to guard against Paul re-injuring the hamstring. 
The Clippers lead the series 2-1. 
"He actually felt better (Saturday)," Rivers said. "That was the best sign of the whole game. Of all the things we did or were happy with, he got to go into his first game (back) and not have to extend himself. I think just confidence-wise more than anything, you could see in that stretch he got confident.
"Now, the fact he wakes up (Saturday) and is feeling better, that's obviously a good sign."
Chris Paul watched replay of Austin Rivers' 3rd quarter heroics "I actually got chills. You don't see that too often." #clippersvsrockets

— Jill Painter Lopez (@jillpainter) May 9, 2015
Austin Rivers made it possible for Paul to rest and not put an inordinate amount of pressure on his hamstring. Rivers scored 25 minutes in playing as many minutes as Paul -- 23. Rivers scored 15 points in the final 4 minutes of the third quarter to win the game for the Clippers in a career-best playoff game. 
And Paul had a different seat for Rivers' impressive third-quarter stretch that had Staples Center fans chanting Rivers' name. 
"I got chills. I watched the replay when I got home (Friday)," Paul said. "You don't see that too often. Most of the time when things happen like that I'm actually on the court, like J.J. going nuts like that or Blake. To actually be on the sidelines and be able to cheer, I don't remember doing that for a long time, especially in the playoffs."
Everything is coming up roses for Paul and the Clippers, who with two more wins would make the Western Conference Finals. 
"It's always better when you win," Paul said. "The food tastes better. Sun shines a little brighter. Kids don't get on your nerves as bad. But we still have to stay hungry."
Paul didn't show any signs of limited mobility with the hamstring, and he was back to his usual self except he played about 18 minutes less than usual. 
"For me, it was about getting out there and just trying to be that leader," Paul said. "I try to pick my spots as well as possible. We still played through Blake as we should. He's been the MVP of our team this series."
Paul missed Games 1 and 2 against the Rockets after he injured his hamstring in Game 7 of the Clippers first-round playoff win over the Spurs. Paul made the last-second, game-winning shot in that game last Sunday.
And even though Paul isn't playing as much as he normally does, he was all good with the bottom line from Friday.
"We won," Paul said. "When you get to the playoffs, it's not about how well you shoot or didn't or turnovers. As long as you win, that's all that matters."
---