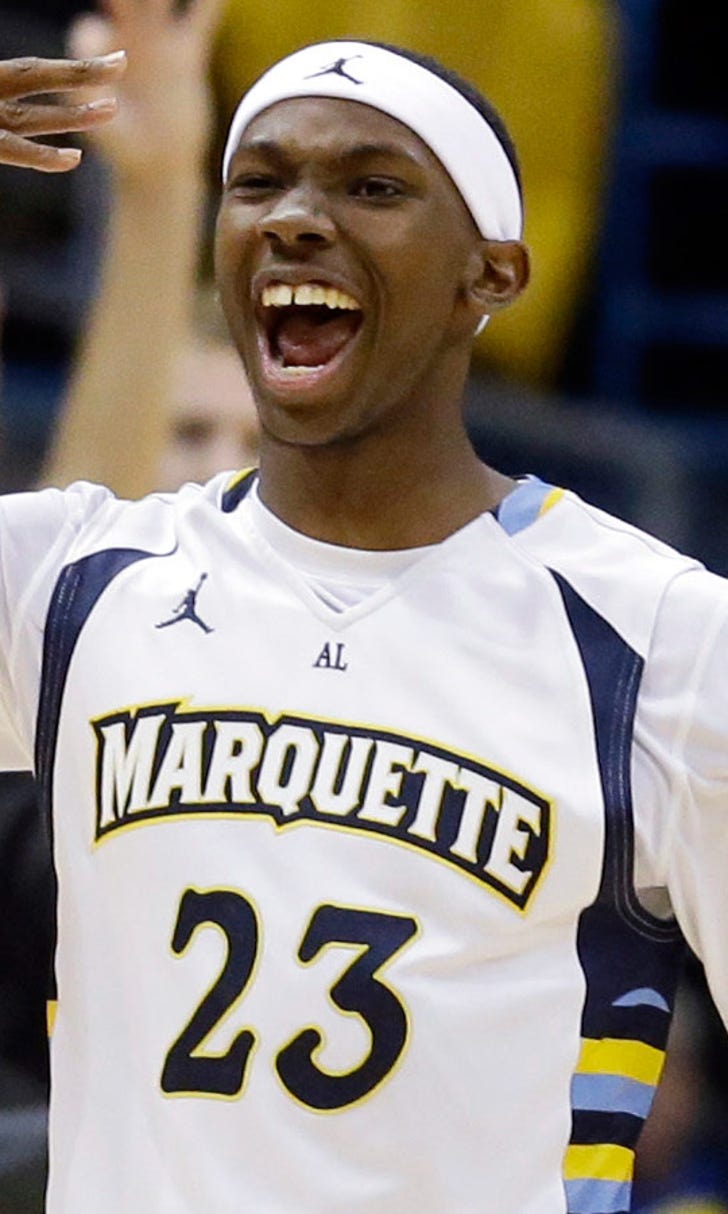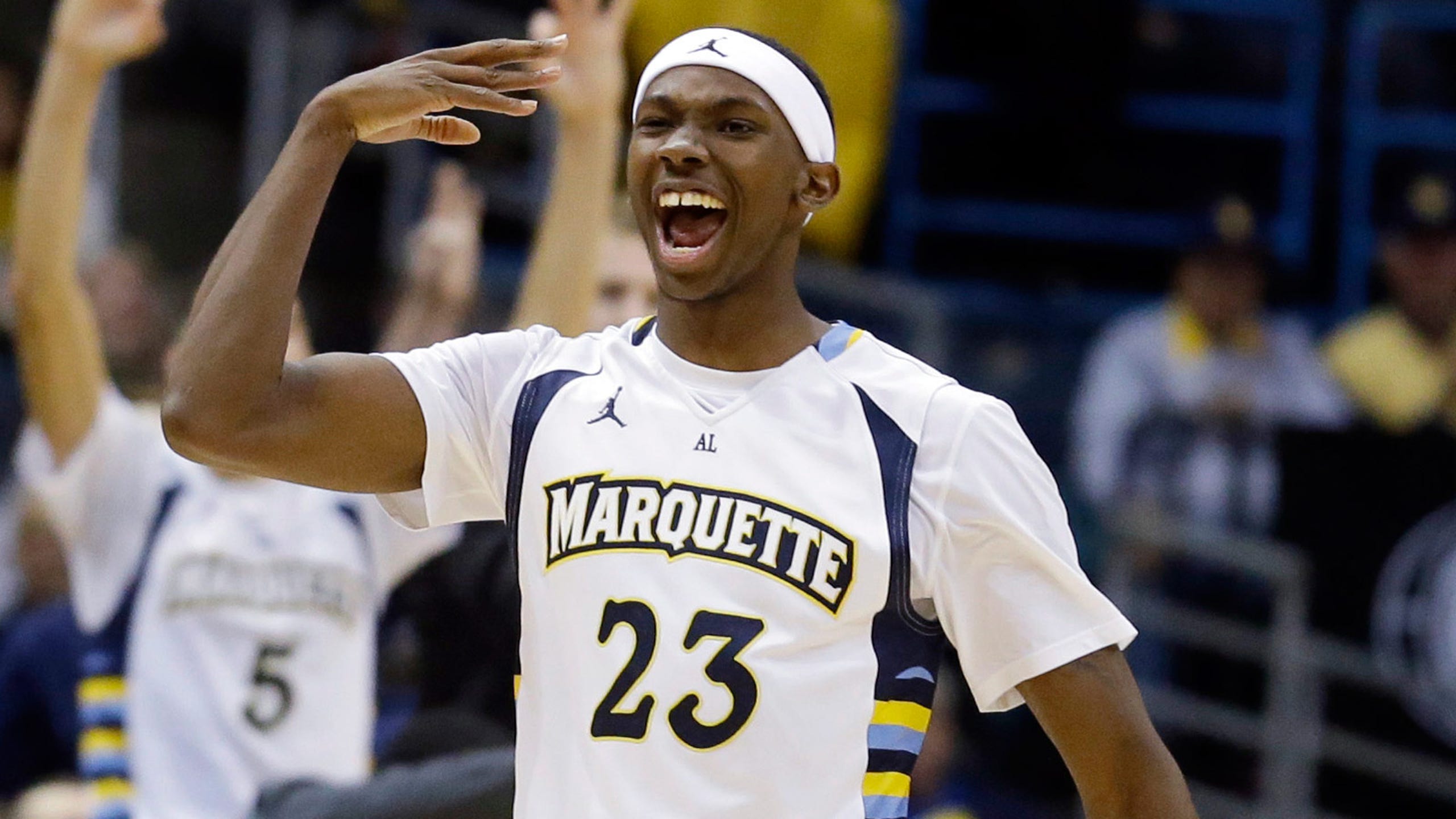 Patient Johnson now showing off potential for Marquette
BY foxsports • November 19, 2014
MILWAUKEE -- Tennessee-Martin's Javier Martinez thought he had an easy layup. But out of nowhere, Jajuan Johnson pinned the ball against the backboard, grabbed the rebound and was fouled by Martinez.
Johnson turned to the Marquette student section and let out enormous smile.
Following a freshman season in which he was seldom used after coming to Marquette as a consensus top-50 recruit, Johnson seemed to be letting the home crowd know his confidence was back.   
"Last year was a humbling experience," Johnson said. "I didn't play a lot, but I learned a lot. I learned that patience is a virtue in life."
Johnson was expected to make an immediate impact at Marquette, especially after Vander Blue's surprising departure left the Golden Eagles with Todd Mayo as their only proven scorer in the backcourt.
He was Buzz Williams' final piece to a highly touted recruiting class, picking Marquette over Alabama and Miami (Fla.). Expectations only rose for Johnson when Williams singled the 6-foot-5 shooting guard out at media day for his impressive work at the team's "boot camp." 
The native of Memphis, Tenn., scored 12 points in 17 minutes against Grambling in Marquette's second game of the season, but Johnson then didn't see the floor at all against Ohio State and played just 11 minutes against New Hampshire.
Johnson broke out on Thanksgiving night at Cal-State Fullerton, scoring 18 points on 6 of 8 shooting in 27 minutes. But he received a total of 30 minutes in Marquette's next three contests and didn't score.
In games in which he played at least 15 minutes last season, Johnson averaged 11.6 points per game. Despite the Golden Eagles struggling to get much offensive production out of their backcourt, he played in just nine of Marquette's 18 Big East games and only averaged 9.2 minutes in the nine games he did play.
"It was a frustrating year," Johnson said. "It was probably the most frustrating year of basketball I've had in my life, especially being away from home. But I learned from it. I look at last year and think about this year."
Johnson suffered a sprained ankle in January, but it would be hard to say the minor injury was the reason why he played so seldom. He didn't appear at all in seven of Marquette's final eight games and saw a total of five minutes over the final nine games of the season.
Only walk-on guard Dylan Flood played in fewer games than Johnson.
It is impossible to know what the future had in store for Johnson had Williams remained at Marquette, but transfer rumors began swirling. When Williams did leave for Virginia Tech, Johnson's name shot to the top of the list of potential transfer candidates.
Unlike Deonte Burton or Duane Wilson, Johnson isn't from Milwaukee. Numerous factors, including being so far away from home, left him to consider leaving Marquette.
But that changed when Steve Wojciechowski took over.
"It was a hard decision," Johnson said. "But once Wojo got here I knew I was staying."
Wojciechowski gave Johnson the fresh start he was looking for. The sophomore who seemed to have his confidence shattered as a freshman earned his way into Marquette's opening night starting lineup.
"JJ has been really good since I've gotten here," Wojciechowski said. "I tried to give everybody a fresh start. What happened in the past is in the past. What we've tried to focus on is what is going on in the present.
"I think JJ has grown up and matured. He's a kid that can be a really good player for us."
Johnson's talent was on display in Marquette's opener against UT-Martin. He scored a career-high 20 points on 6-of-9 shooting to go along with four rebounds, four steals, two assists and two blocks.
Shortly after his impressive pin block, Johnson used his raw athletic ability to jump into a passing lane to pick off a pass and flung it down the court to senior Juan Anderson for a dunk in transition.
"I thought JJ was the player of the (UT-Martin) game," Wojciechowski said. "He was terrific on both ends of the floor. When we needed big baskets, he came up with them. He was all over the place defensively. He really played like a veteran. That's a real tribute to the kid.
"We have a team right now where we're asking every kid on the team to learn a role they have no experience with. We're very inexperienced. For a kid like JJ to come through with a game like that in a big game is terrific."
Johnson didn't have quite the same success Tuesday night in Marquette's 74-63 road loss to No. 20 Ohio State. He scored just five points in 31 minutes, missing all four of his 3-point attempts and hitting just 2 of 8 shots from the field.
"Jajuan is good," Anderson said. "He just has to mature and come with that same energy every single day. But his potential and his talent? Who knows what he can do. He's really good.
"I think it is easier to bring energy every day when you know you are going to play. As a freshman, he didn't know if he was going to play or how much he was going to play. I think it is easier when you know you are going to see the floor."
The mentality Johnson enters his sophomore season with is similar to the attitude Marquette has as a whole. Both player and program are out to prove something after disappointing seasons.    
"A lot of people have us finishing second to last in the conference, thinking we aren't going to win many games," Johnson said. 'Coach mentions how people are talking bad about us every time we have a meeting. It is definitely motivation.
"Everybody should have a sense of urgency when you come into the gym. We have to prove them wrong."
Follow Andrew Gruman on Twitter
---