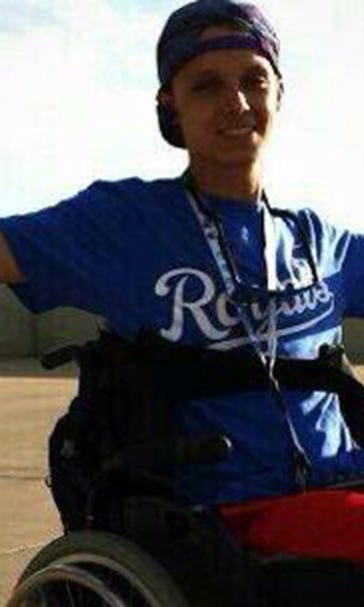 Paralyzed KC swimmer steadily turning 'haunted house' to hope
BY foxsports • July 11, 2014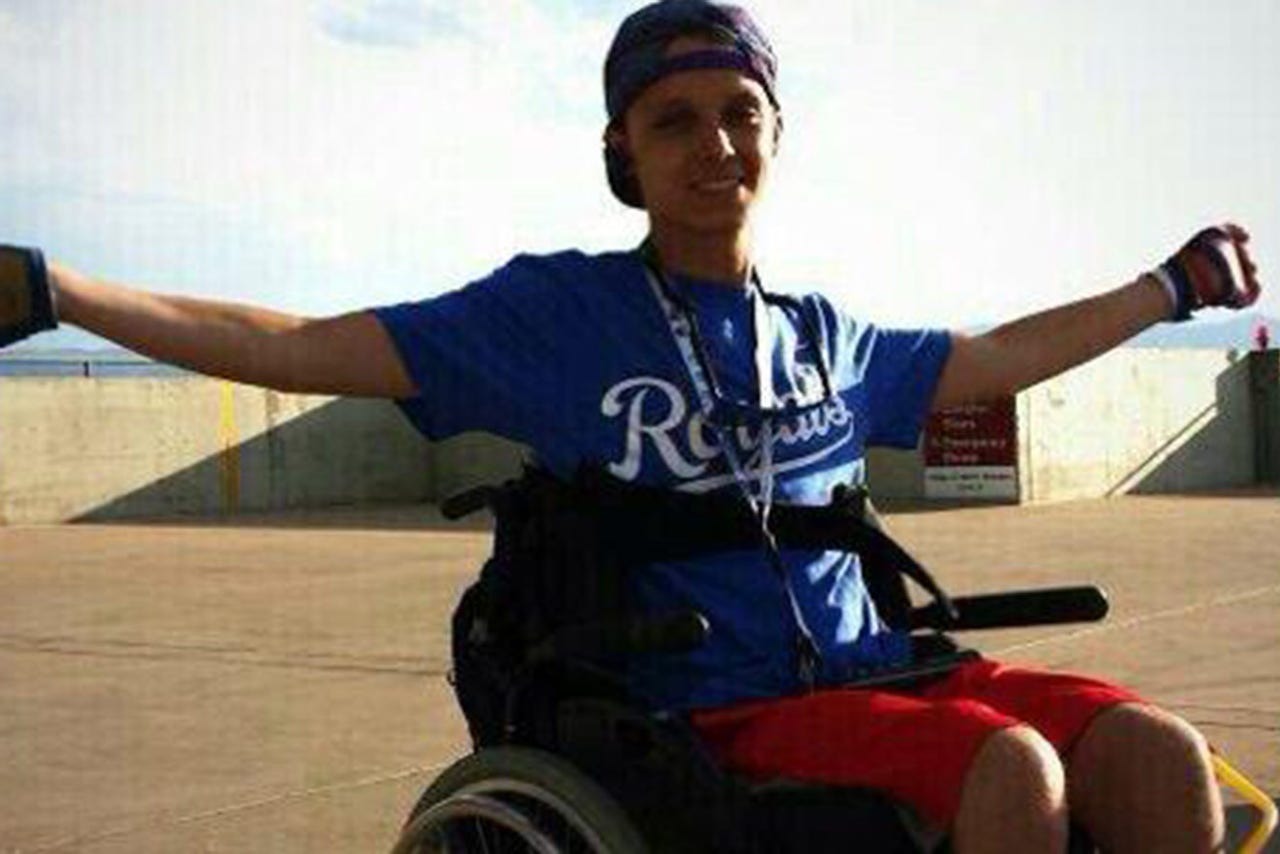 KANSAS CITY, Mo. -- There's a film in there. There's a narrative that grabs you by the heartstrings and pulls until you break, the story of a father's love, the story of a family's strength, the story of a young man's will, the inexplicable descent to darkness and the slow, aching climb back into the light.
The trouble is the damn script keeps changing, week after week, draft after draft, dancing the way a butterfly does on the wind. Alex Fraser is gaining full mobility in his arms, something the doctors weren't sure was possible a few months ago.
"The level of functional recovery, at this point," recalls Mike Fraser, Alex's father, "for the level of injury that he had ...."
The voice tails off to the ether. It's been a long day, another Jenga block in the tower that the family of Alex Fraser, the record-setting former Blue Valley High School swimmer, has been fighting like sin to keep upright for three months now, their endless doggie-paddle upstream.
"You see on their faces that they're tired," says David Gaschen, a singer/instructor renowned for the title role in the Broadway production of "The Phantom of the Opera," and a cousin to Alex's mother, Chris. "But you still see hope in their eyes that, 'I'm not giving up on this, ever.'
"There's always room for a miracle and medicine is changing every day. They're not giving up on it, but they've accepted the reality that right now, there's no movement in his legs at all."
As his candle smoldered and bobbed in the ocean, the warmth giving way to the nothing, Alex Fraser became immediately certain of two things. First, the wave had turned him over like a bowling pin, a flapjack in Mother Nature's pan.
Second, that he was dead.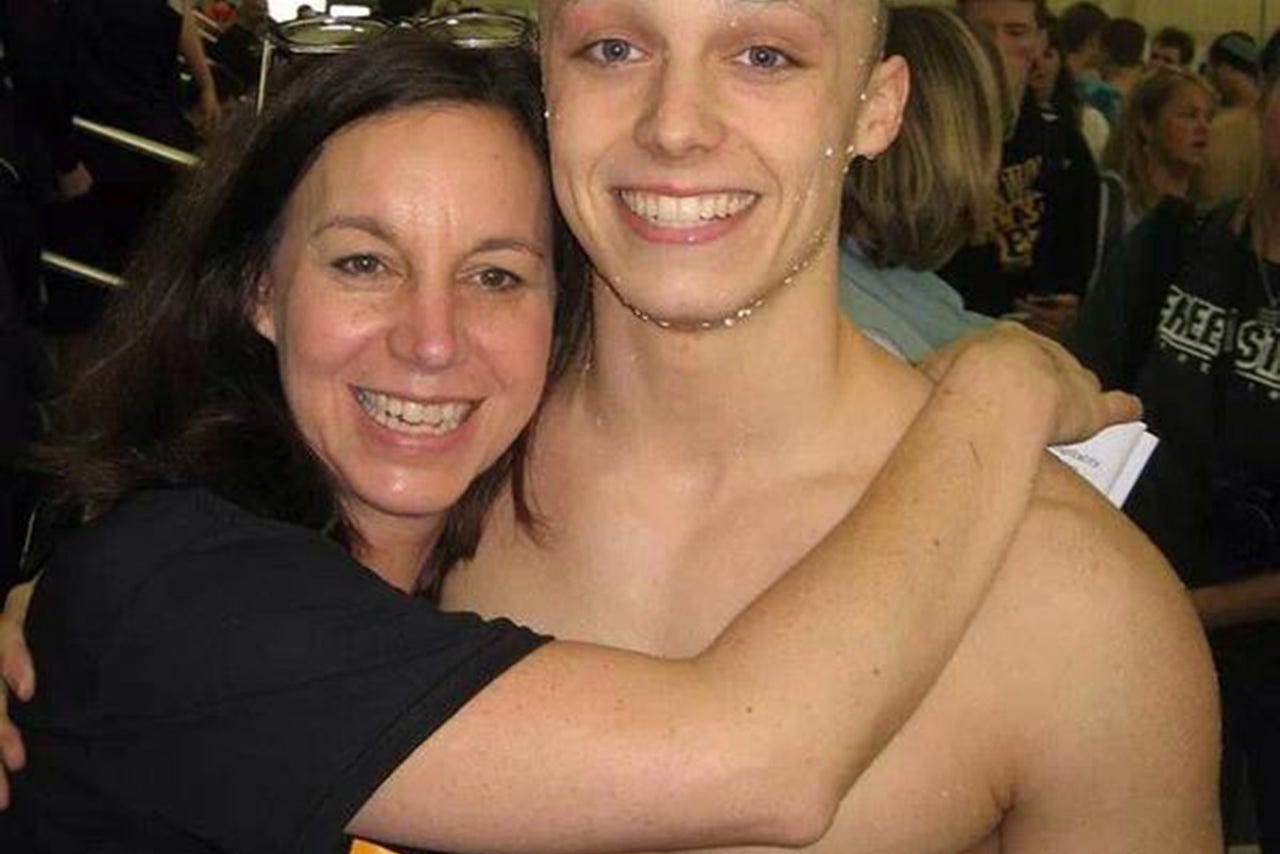 Alex (with his mother, Chris) holds the Blue Valley High record in the 100-meter breast stroke.

"The way I describe it is as a haunted house, pretty much," Alex says. "I remember hitting the ground in the ocean, floating up to the top of the surface, face-down, not being able to move.
"I was confused. I honestly thought I was dead. I held my breath for a minute, minute-and-a-half. Somebody saw my face, flipped me over."
A voice paddled over and cried out.
"Are you OK?" it asked.
"No," Alex replied.
He had been running through the sea in Mexico on spring break this past March 17 when a wave rolled in and pushed Alex -- a school-record holder in the 100-meter breast stroke, a miniature Michael Phelps -- over with such ferocity that when he hit the ocean floor, part of his neck snapped at the C5 vertebra.
Alex recalls asking the voices buzzing around to stabilize him, "but they dragged me out of the water."
The rest played out like a horror flick, a chilling, fuzzy montage where the line between dreams and reality, clarity and subconscious, swayed back and forth like a rope bridge across a chasm.
"From then on, it's really blurry," Alex says.
Emergency services whisking him from Playa del Carmen to Cancun ... the tears ... the prayers ... What do you mean, they won't accept our insurance? ... the phone calls ... the confusion ...
Hang in there, Alex ... Hang in there, honey ... Mike preparing to max out a credit card to try to save his son's life ... Can we stabilize him? ... more calls  ... Damn red tape ... X-rays ... Can anybody here translate?
"(The surgeon) barely spoke English," Alex says. "So I was scared."
To try to bridge the language gap, one doctor describing the surgery by drawing out little illustrations ... How fast can we get him home? ... A life-flight to Kansas City ... Will he ever be able to move again? ... more tears ... more prayers ...
"Someone else who had that much happen to his body and wasn't in that kind of shape," Gaschen says, "it would have killed them."
Cue the montage, the uplifting music, the young man learning how to use his arms again, grinding away through days of therapy, nights of burning contemplation, the joys of progress, the frustrations of chasing hope with legs that refuse to work.
"He came out thinking, 'It's going to be fine, we're going to be fine, it's just God's will,'" Gaschen recalls. "And sometimes, it sucks living God's will. But he's accepted it, you know?"
Alex Fraser has fears, but starting from scratch, opening page one of the manual, isn't one of them. He didn't start swimming competitively until he was a freshman in high school. He'd reached the rank of Eagle Scout at the age of 15. The task was to move the rolling up of the sleeves from the metaphorical to the physical, the actual, the blessed real.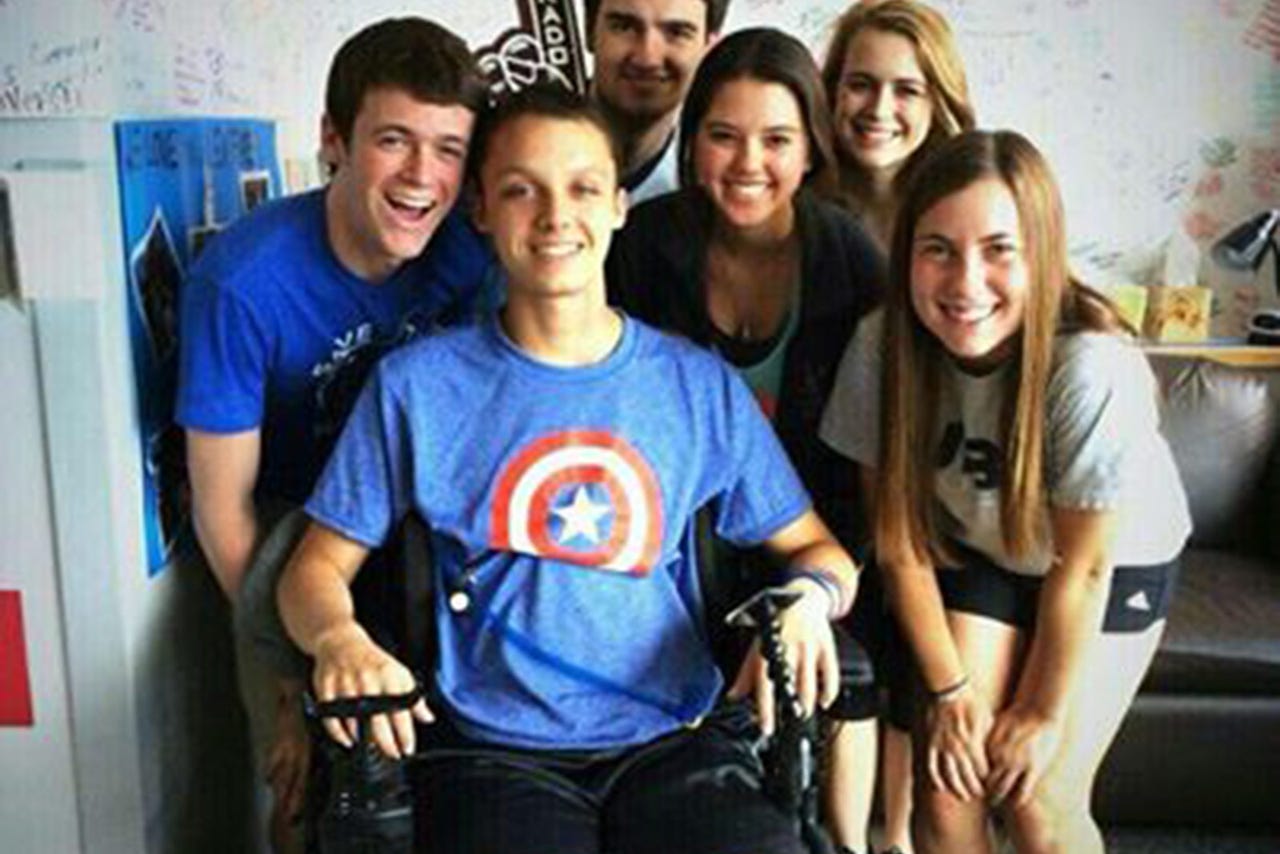 Alex had the support of friends as well as family while undergoing extensive rehabilitation at Craig Hospital in suburban Denver.

From the first week of April until the first week of July, Alex underwent extensive rehabilitation work at Craig Hospital in Englewood, Colo., grinding to find that feeling, that equilibrium again. He'd watched his high school graduation via Skype. When classmates back at Kemper Arena saw him on the screen, they responded with a standing ovation.
Mom moved to Colorado in the spring to be with him, full-time; Mike commuted when he could. Always a hand to hold, always a voice to comfort or cajole.
"I had more family support than most people," Alex says now. "And I (saw) that some people don't have anybody backing them up and they're doing their rehab and just are not happy."
Mike and Chris have planned a graduation "open house" for Alex on Sunday, unfinished business, a respite, a stab at the old normal while adjusting to the new. Alex has spent the past week working through transitional care, getting prepped for the family's new wheelchair-friendly home, a world of rails and ramps.
He knows his body -- the pros, the cons, the totality -- better than most, having originally planned to attend the University of Arkansas this fall with a concentration on kinesiology and exercise science. The long-term path was a future as an athletic trainer; the short-term audible is to take a few classes locally in the fall and a few more in the second semester, to concentrate on acclimation first, to navigate the detour.
"My life has changed," Mike told Gaschen last month. "I just have to accept it ... I don't have a choice. It's my son."
Some days are roses. Some days are rain. And some are surreal. A month ago, the story even turned in a celebrity cameo: Former Olympian Amy Van Dyken-Rouen  -- who had suffered a spinal cord injury in June while riding an ATV -- had checked into Craig for her rehab, another swimmer on the long and winding road.
"It's crazy," says Alex, who had a short chat with Van Dyken-Rouen -- winner of four gold medals at the 1996 Summer Games in Atlanta -- before leaving Colorado. "We talked about swimming, basically. It was really cool to see her. She's doing great, has a positive attitude as well.
"She didn't know much about what was going on; I had already been through it all. When I got to Craig, I was confused as well, like most people. Most of the population doesn't know much about spinal cord injuries -- and that includes myself."
They know more now. Every silver lining. Every cloud. Pray for the best, steel for the worst.
Alex's recovery, to date, has fallen somewhere in the middle, the ups outweighing the downs. Over weeks, feeling returned, little by little, creeping into the hands and fingers. Motor skills in both arms have come a long way; triceps control remains a battle; the legs are non-starters. Mike says Alex lost 45 pounds of muscle from March to July.
"The spinal cord is the most complicated part of the human body. It does not regenerate and repair itself like bone does," Mike Fraser explains. "It's hard to project spinal cord shock and what's absent, over time, how much of that will come back."
And none of it comes back for free. An Indiegogo campaign for the Frasers raised $55,941, rocketing past the target goal of $50,000. Gaschen performed a benefit concert last month at Rockhurst High School that brought in roughly $40,000, enough to cover the costs of a new wheelchair.
Friends and family sold T-shirts that read Alex's Angels on the front. A Facebook group of the same name had more than 2,400 "Likes" as of early Friday morning. A circle of faith, holding the rope.
"I'm glad I just had their support and the support system of the community and (I'm) so grateful," Alex says. "It just kept my spirits up."
Mom's and Dad's spirits, too. For his efforts toward the cause, Mike had asked Gaschen what he wanted in return. The singer cracked that he just wanted to sit down and have a glass of Scotch with him and talk, to give a harrowed father an outlet to unwind. A short while later, Mike brought over an entire bottle of Glenfiddich, the milk of northern Scotland, the good stuff.
"He's an amazing kid; his outlook on life is amazing," Gaschen says. "It's something to behold."
When the tide washes away a dream, draw another in the sand. While at Craig -- roughly an hour and change away from the U.S. Olympic and Paralympic Training Center in Colorado Springs -- Alex Fraser caught a new bug: He wants to be a Paralympian. Dude wants back in the game.
"He said it totally gave him hope, something to look for," Gaschen says. "But he's not going to let anything defeat him. You can see it in his eyes."
Life throws you a curveball, swing from your heels.
"It can happen," Alex says. "In the sense of, if I walked while my muscles (are) working or I walk because of a medical (procedure). They're already talking about experimenting with different suits, exo-skeletons that you put on, attached to your legs, all the way up to your torso, and it makes you walk.
"I'm going to get as much muscle memory back as I can. And I know that I will get more than I have right now."
Self-confidence? Faith?
"Self-confidence. Faith. Hope," Alex replies. "If you put in your mind that it'll happen, then it'll be more likely that something, that miracle will pull through."
Call the studio. We're going to need another rewrite.
You can follow Sean Keeler on Twitter at @SeanKeeler or email him at seanmkeeler@gmail.com.
---