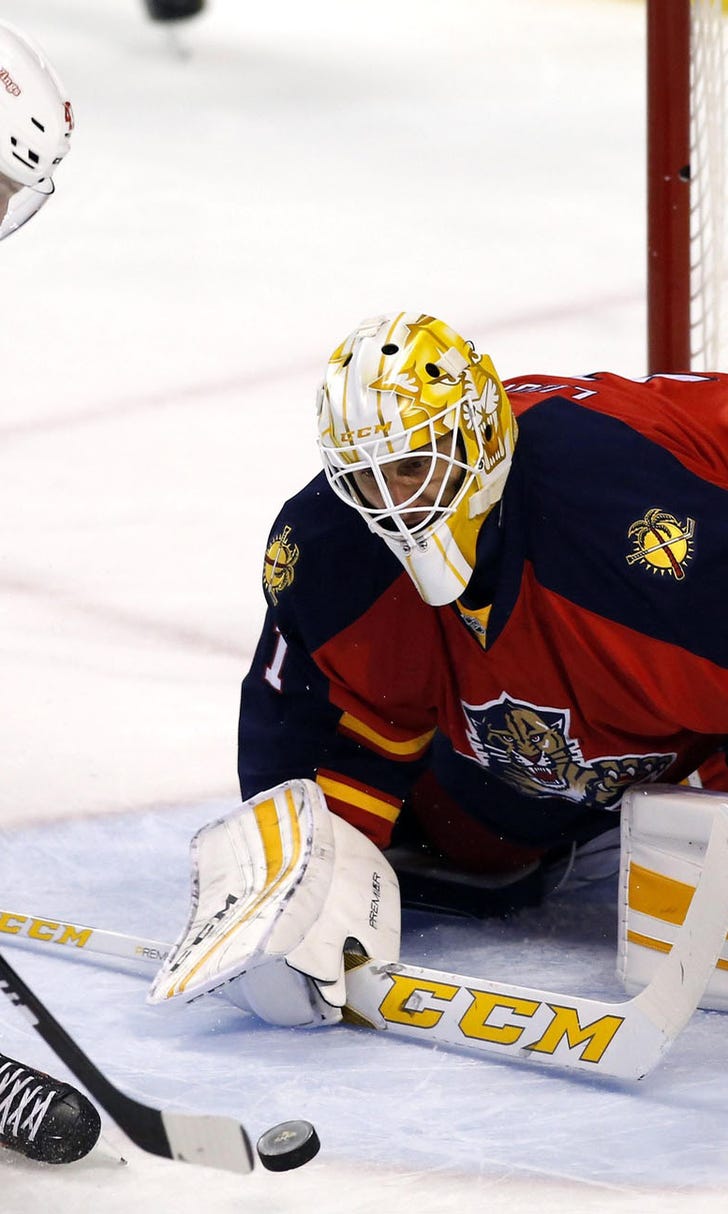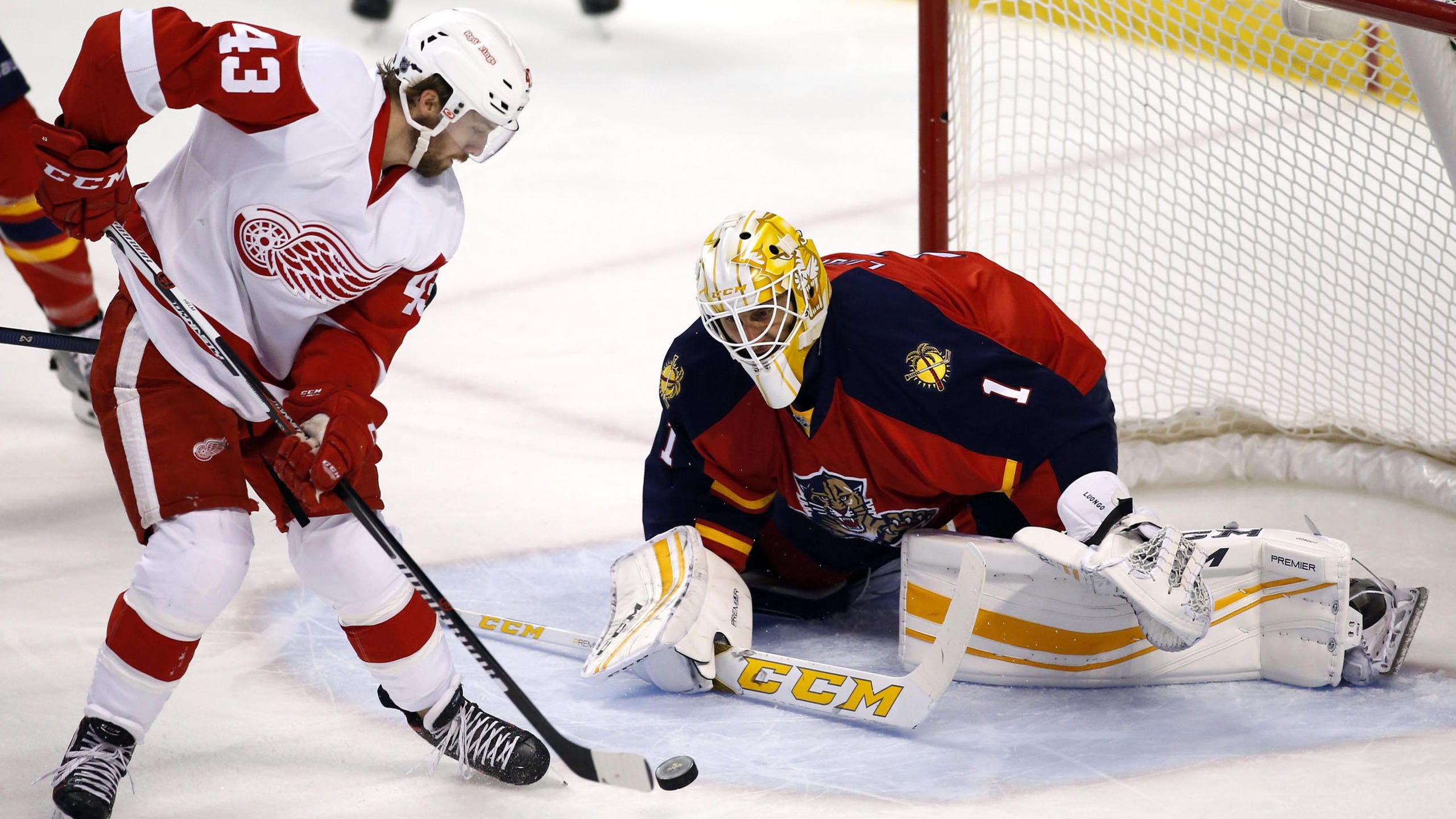 Panthers win 5th straight by beating Red Wings 6-3
BY foxsports • February 4, 2016
SUNRISE, Fla. (AP) -- The Florida Panthers are doing more than just winning. They're routing opponents, thanks to the best scoring roll the long-struggling franchise has ever enjoyed.
Vincent Trocheck had two goals and an assist, Jaromir Jagr ended an eight-game goal drought plus tacked on two assists and reached another milestone, and the Atlantic Division leaders beat the Detroit Red Wings 6-3 on Thursday night.
Florida has won five straight games, all of them by at least three goals. And the Panthers have scored at least five goals in each of their last four games, the first time that's happened in franchise history.
"I don't know. Seriously," Panthers coach Gerard Gallant said when asked to explain the secret to Florida's offensive success of late. "Teams go on streaks. We're putting pucks to the net and guys are confident."
Roberto Luongo stopped 36 shots for his ninth straight win at home and moved past Tony Esposito into seventh on the NHL's career wins list with 424. Brandon Pirri, Aleksander Barkov and Derek MacKenzie also scored for the Panthers, who got to 67 points this season with 31 games left -- after managing a mere 66 points in the entire 2013-14 season.
"We're clicking," Trocheck said. "We're playing great hockey. I don't know, there's just something about the boys in the room, in this locker room. We all come together and we're having a ton of fun. There's something special in this group."
Rookie center Dylan Larkin had his first two-goal game for Detroit, both coming within a span of 67 seconds bridging the first and second periods. Mike Green added a power-play tally with 7:24 left, and Justin Abdelkader had two assists for the Red Wings.
Detroit goalie Jimmy Howard made 27 saves, but was saddled with his seventh consecutive loss. Howard's last win was Dec. 3.
"I'm not going to make excuses," Howard said. "It's a hand I've been dealt and I'll deal with it."
Then again, no goalie has had much success against the Panthers of late.
"Another tough night for him," Detroit coach Jeff Blashill said. "Puck luck wasn't going his way."
Detroit came out flying and took the game's first seven shots, but it was Florida that wound up scoring the first three goals.
Jagr got his 1,100th career assist on Pirri's goal that opened the scoring, part of a flurry that had the Panthers lighting the lamp three times in a span of 2:36. That assist got Jagr to a milestone reached by only five other players in NHL history -- Wayne Gretzky, Ron Francis, Mark Messier, Ray Bourque and Paul Coffey.
"An unbelievable role model, what he can do at the age of 44," said the 19-year-old Larkin, who overstated Jagr's age by a mere 11 days. He doesn't turn 44 until Feb. 15. "He's one of the best players on the ice."
And the goal that made it 5-2 early in the third was Jagr's 738th, putting him three behind Brett Hull for third on the NHL list.
Larkin beat Luongo from point-blank range in the slot with 5.5 seconds left in the period to get Detroit on the board, then cut the lead to 3-2 on an unassisted goal 1:01 into the second.
But the Panthers weren't rattled, and the goals kept coming.
"Give credit to them," Larkin said. "They're resilient and found a way."
NOTES: The Panthers' winning streak with All-Star D Aaron Ekblad in the lineup is up to 17 games. He last played in a loss on Dec. 12. ... Florida improved to 16-0-1 when scoring at least four goals. ... Howard has two other seven-loss streaks in his NHL career. ... Detroit has lost in regulation only three times in its 18 games at Florida. The Red Wings have won 11, tied two and lost two others in overtime or a shootout. ... The game was Jagr's 1,800th when including playoff appearances. He also was assessed 6 penalty minutes, his most in a game since Oct. 20, 2007. ... Pirri was a scratch in Florida's previous four games. ... The teams meet again Monday in Detroit.  
---
---