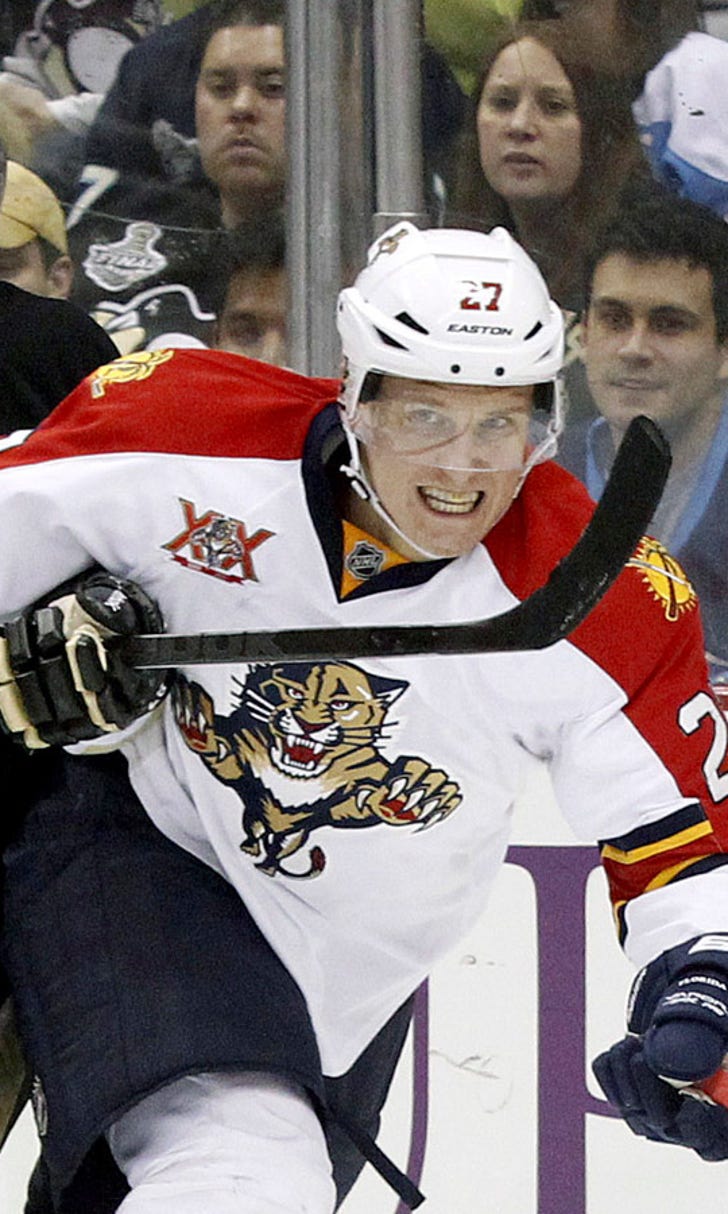 Panthers pour on 5 goals to take down Eastern-leading Penguins on road
BY foxsports • January 20, 2014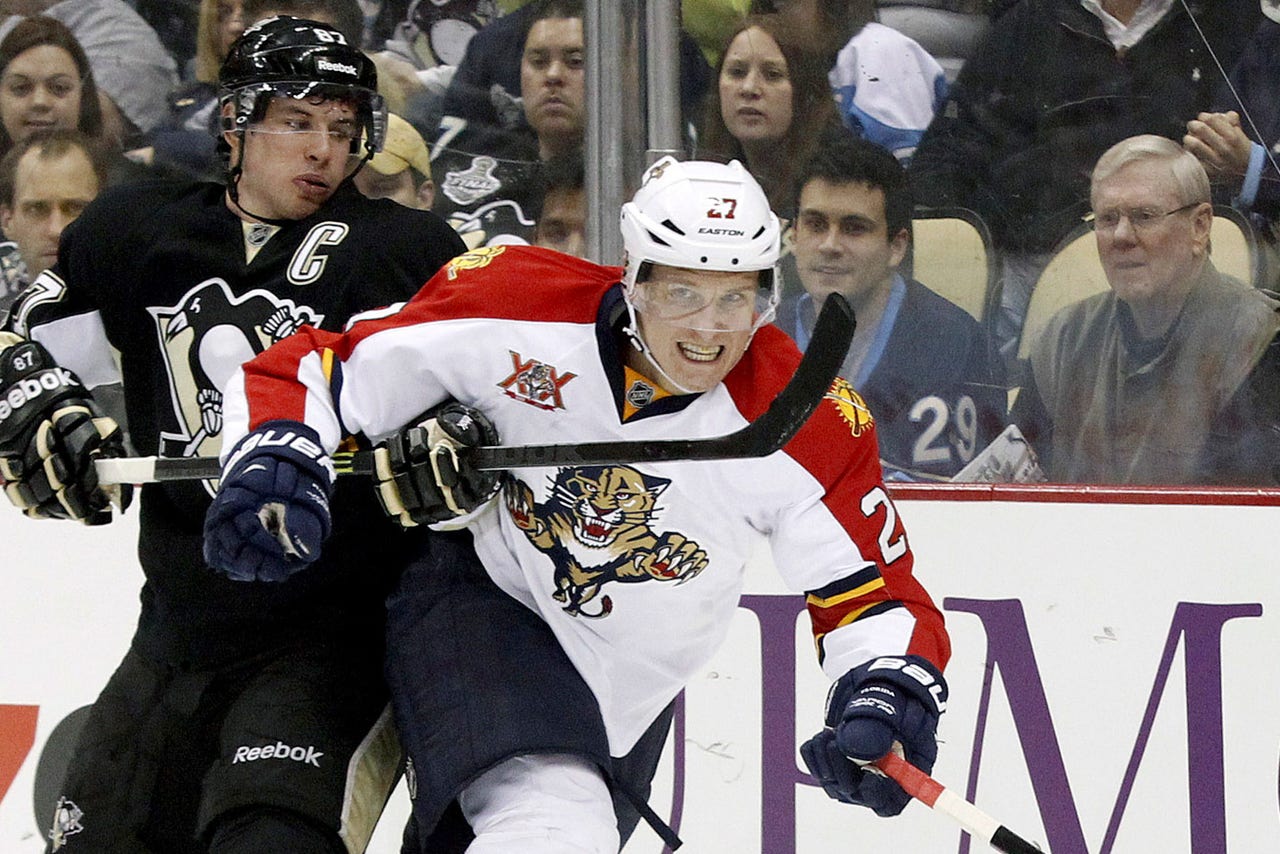 PITTSBURGH (AP) -- The Pittsburgh Penguins acknowledge they've been getting by more on talent than discipline recently even as they've soared to the top of the Eastern Conference standings.
The perpetually rebuilding Florida Panthers have no such luxury.
On Monday night, the Panthers' hard work made up the difference.
Drew Shore scored twice for the first multi-goal game of his career and the Panthers ended Pittsburgh's club-record 13-game home winning streak with a 5-1 victory.
"It was a big game," Shore said. "We kind of treated it like a playoff game. We only had a couple more games until the (Olympic) break so we wanted to make a strong push."
Jonathan Huberdeau, Dmitry Kulikov and Shawn Matthias also scored for the Panthers, who won in Pittsburgh for the first time in five years. Scott Clemmensen stopped 35 shots in his first start in three weeks as Florida ended a two-game losing streak.
"I asked them for 60 minutes and 200 feet," Florida coach Peter Horachek said.
Pittsburgh coach Dan Bylsma received neither.
Matt Niskanen scored the only goal for the Penguins as Pittsburgh lost at home for the first time since Nov. 13. Marc-Andre Fleury made 23 saves but fell for only the fourth time in his past 37 starts at Consol Energy Center.
"We were just awful," Niskanen said. "Bad execution. Bad work ethic. We just weren't hungry enough to win the loose puck battle and they just beat the (stuffing) out of us."
Pittsburgh defenseman Paul Martin played 20 minutes in his return from a broken leg, clearing the way for him to play for Team USA in the Olympics.
Forwards James Neal, Chuck Kobasew and Jayson Megna also returned from injuries as the Penguins -- already with a comfortable 13-point cushion in the Metropolitan Division -- continue to get healthy with the Olympic break looming.
While it may take a game or two for the Penguins to adjust to the familiar faces, they don't necessarily view it as an excuse.
"We're assimilating players back into our lineup ... but that's not a new challenge for this group," Bylsma said. "It's not a new challenge for our team."
Neither is winning in Pittsburgh for the Panthers. But Florida beat the Penguins for the second time in three meetings behind Clemmensen, a resurgent penalty kill that has gone a franchise-record 10 games without allowing a goal and some unlikely offensive contributions.
"I don't think we got lucky tonight," Clemmensen said. "I think we just willed it a little bit. It doesn't always go your way obviously. You stick with it and nights like tonight happen."
Shore entered with just four goals in 54 career games and has spent most of this season in the American Hockey League.
Still, he scored twice in less than 20 minutes to stake Florida to an early lead that was more than enough to end Pittsburgh's two-month run of perfection.
The Penguins entered the night having trailed barely 10 percent of the time at home since their streak began. A significant chunk came in last week's 4-3 comeback victory over Washington, when they rallied from a goal down three times to escape.
It was the kind of game that's popped up frequently since Christmas, where Pittsburgh's high-powered offense was able to overcome some uncharacteristic lapses at the other end of the rink.
The miscues finally caught up with them.
A rare breakdown by the league's top power-play unit gave Shore the chance to stake Florida to an early lead.
Clemmensen stopped Evgeni Malkin's shot, then passed to Shore to spark a two-on-one that ended with Shore flicking a wrist shot over Fleury's shoulder 15:46 into the first period.
The Panthers had three opportunities in the second to double their lead only to let three straight power plays go to waste before Shore struck again.
Huberdeau stripped a Penguin behind the Pittsburgh net, slid the puck to Jesse Winchester, who found a streaking Shore down the slot. The wrist shot caromed off Fleury's shoulder and into the net to make it 2-0 at 13:34 of the second.
Kulikov pushed the Florida lead to 3-0 by taking a long bounce off the end boards then beating Fleury just 1:17 into the third.
Niskanen's seventh goal of the season 5:11 into the period briefly gave the Penguins some energy, but it faded when Huberdeau and Matthias scored 12 seconds apart to send the Panthers to the upset.
NOTES: Pittsburgh went 0 for 3 on the power play. ... The Panthers have killed 31 straight penalties. ... Florida is 10-0-1 when leading after two periods. ... Pittsburgh hosts Montreal on Wednesday. ... The Panthers play at Buffalo on Tuesday.
---