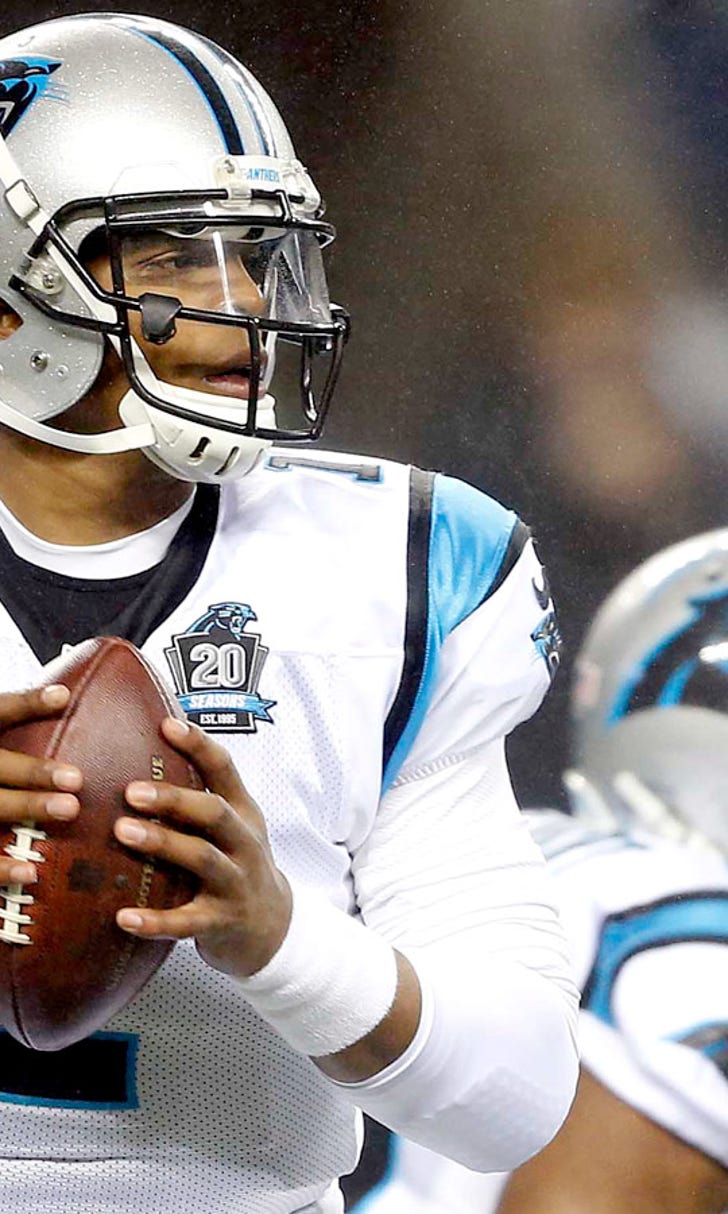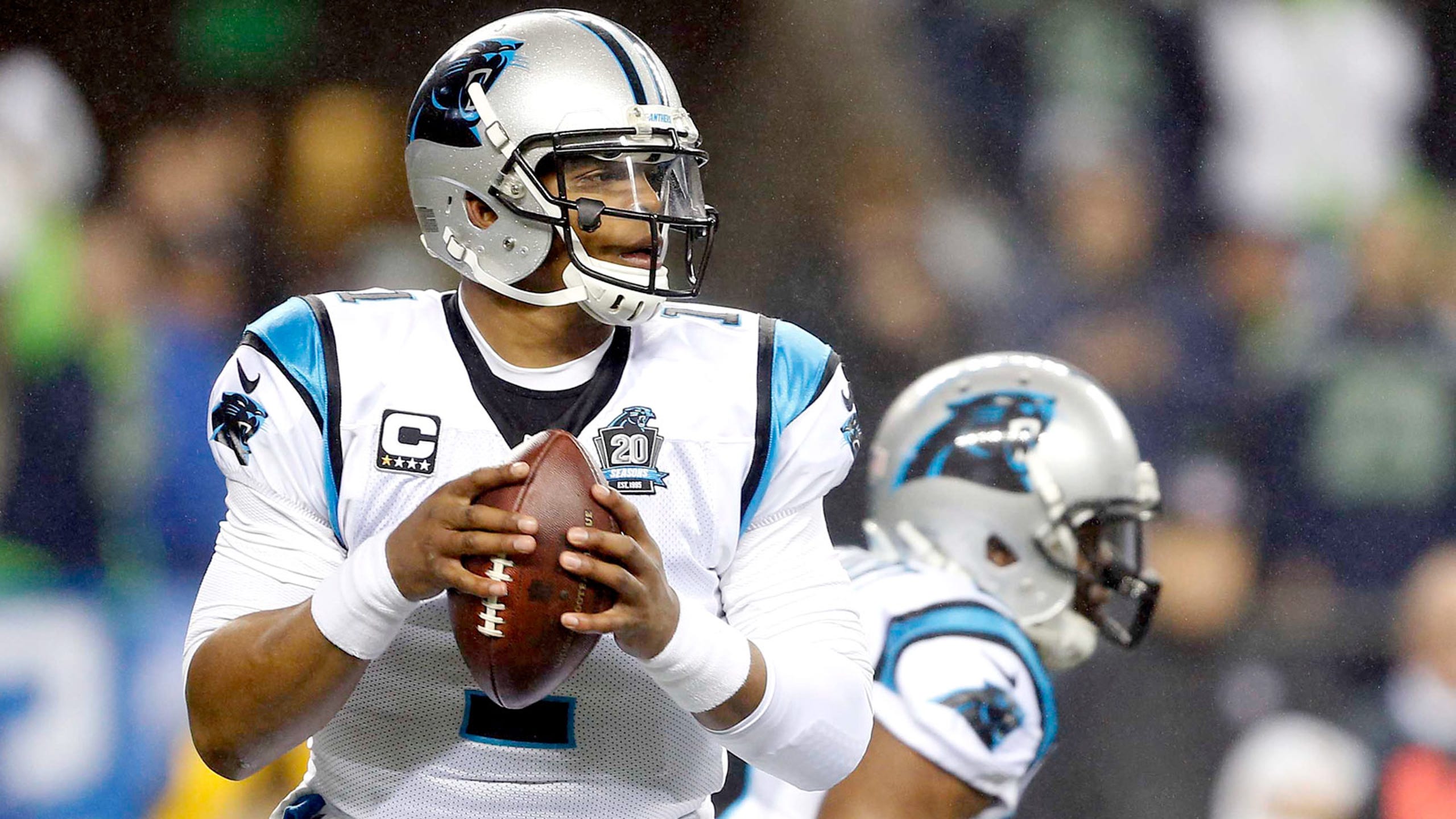 Panthers focused on improving Newton's accuracy as passer
BY foxsports • June 19, 2015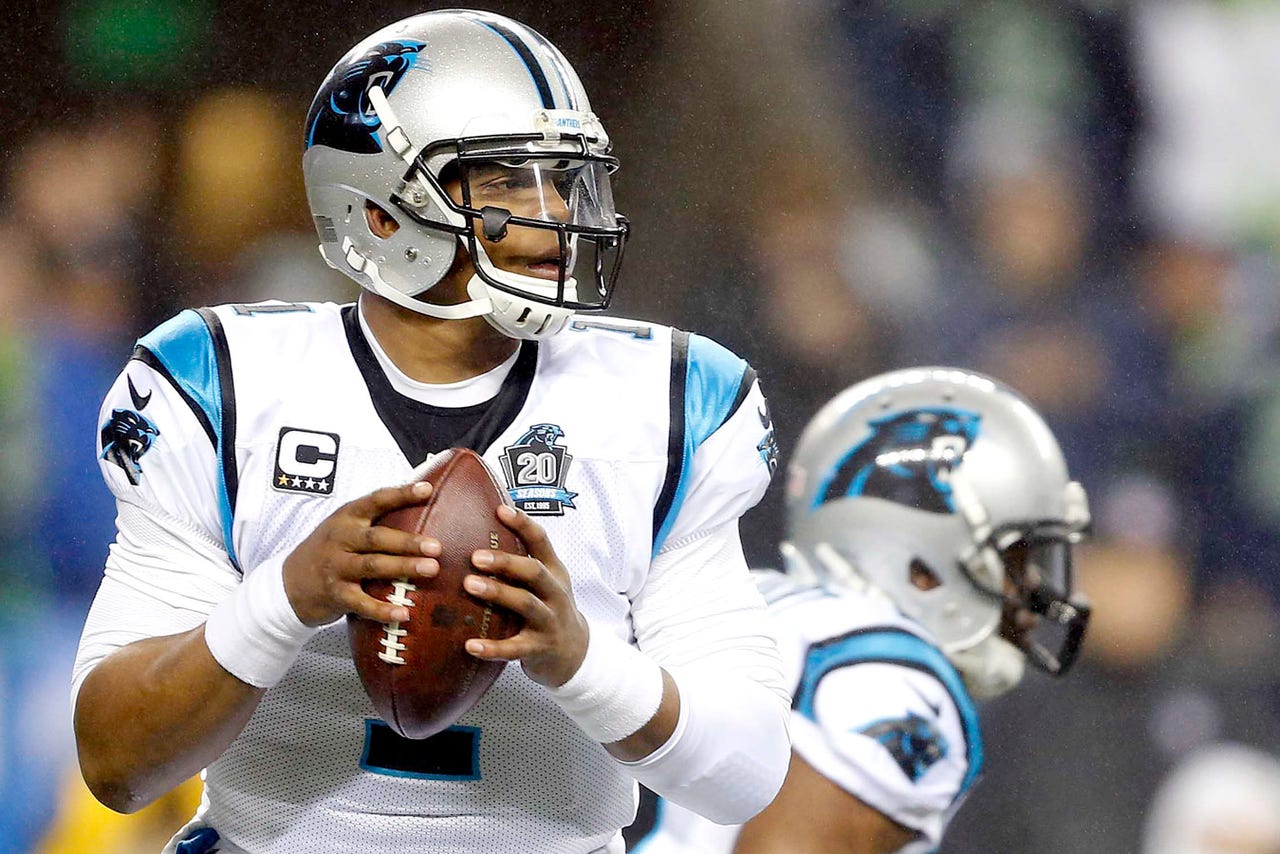 CHARLOTTE, N.C. -- There are those that completely ignore all the evidence and statistics when it comes to Carolina Panthers quarterback Cam Newton. No matter what, they believe he's one of the elite quarterbacks.
Many NFL executives and many analysts will say otherwise.
The truth of the matter is if it weren't for his running ability, he'd be considered less than average. The Panthers are trying to change that.
"He's got such a strong arm that on certain throws he doesn't have to really get his feet set," Carolina head coach Ron Rivera said on Thursday, the final day of minicamp. "We're working on getting his feet in proper position and stepping into throws."
Newton, who is entering his fifth season in the NFL, had maybe the worst year of his career. His passes were often wild and commentators often remarked how he'd regressed in his throwing mechanics as he routinely threw off his back foot.
Numerous analytics suggest Newton is one of the most inaccurate passers, with balls regularly flying wildly past receivers.
In an attempt to correct that, Newton has worked with offensive coordinator Mike Shula and quarterbacks coach Ken Dorsey on his footwork. The hope is that it will help improve Newton's consistency.
Since entering the league, Newton ranks in the lower third in completion percentage.
"That's one thing that Kenny and Mike have been working with him on, getting his footwork in the proper position and then getting set and throwing the ball," Rivera said. "That's something they're going to continue to harp on.
"I saw a couple of new drills I hadn't seen in the past as far as getting his footwork down. And you do see the difference. (Wednesday) was about as good as I've seen him as far as practice."
The excuses made by his supporters are that the offensive line was bad and that he was injured. And while he has been hit a couple of hundred times more than any quarterback over the last four years, a closer look will reveal there's more than meets the eye.
Newton takes more hits because he runs the ball more than any other quarterback since entering the league. That, alone, will skew the numbers. For example, Newton missed two games last year and still ranked 45th in rushing attempts in the league.
Moreover, Newton also has a tendency to hold on to the ball longer than most quarterbacks while standing in the pocket. Rivera also said that Newton locks on to one receiver too long, too often.
"He wants to make the play downfield,"' Rivera said. "He likes the flash plays. With his ability to stay upright, he tends to stick with a guy too long."
Add it all up, and it's going to result in an extremely high number of hits.
"I think he's learning that, 'OK if I don't have it right now, let me just give it to one of our guys and let him catch it and run,' " Rivera said. "We've got guys that can make you miss. You guys saw a couple of those guys the last few weeks Fozzy Whittaker, Jonathan Stewart and Mike Tolbert with the ball in their hands out of the backfield how dangerous they can be.
"Then you run some crossing routes with Corey Brown and Teddy Ginn and all of a sudden they're off to the races. I think he's learning and understanding that part of the offense."
For Newton, he said the formula for being a better passer is rather simple.
"It's all about footwork and trusting the protection," he said. "When you do that, and when you have guys running routes as precise as we were this camp, it makes it easy for me."
The time for excuses is over for Newton, who has never completed more than 61.7 percent of his passes. Signing a $103.7 million contract will do that.
"I think it's all part of his growth," Rivera said. "Again, he's a young man. He came into this league after playing only one year of major college football. He wasn't as advanced as your Russell Wilsons or your Andrew Lucks that played four and five seasons (in college).
"I think his development is really headed in the right direction and, again, the big plus is we've had him for all the OTAs and minicamp this year. ...
"Part of it is learning you don't have to make a big play all the time. As he grows and learns those things he's going to be a better football player."
---