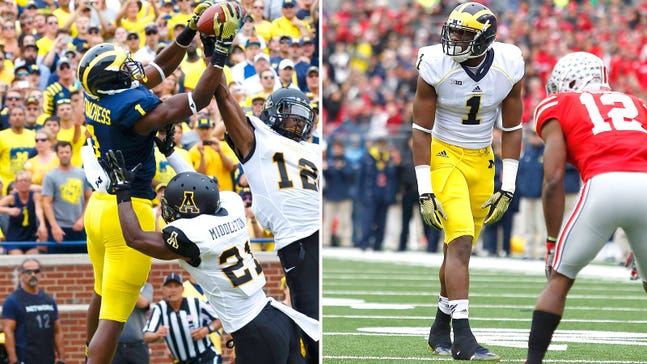 Panthers draftee Funchess favors playing WR in pros -- not tight end
Published
May. 6, 2015 4:08 p.m. ET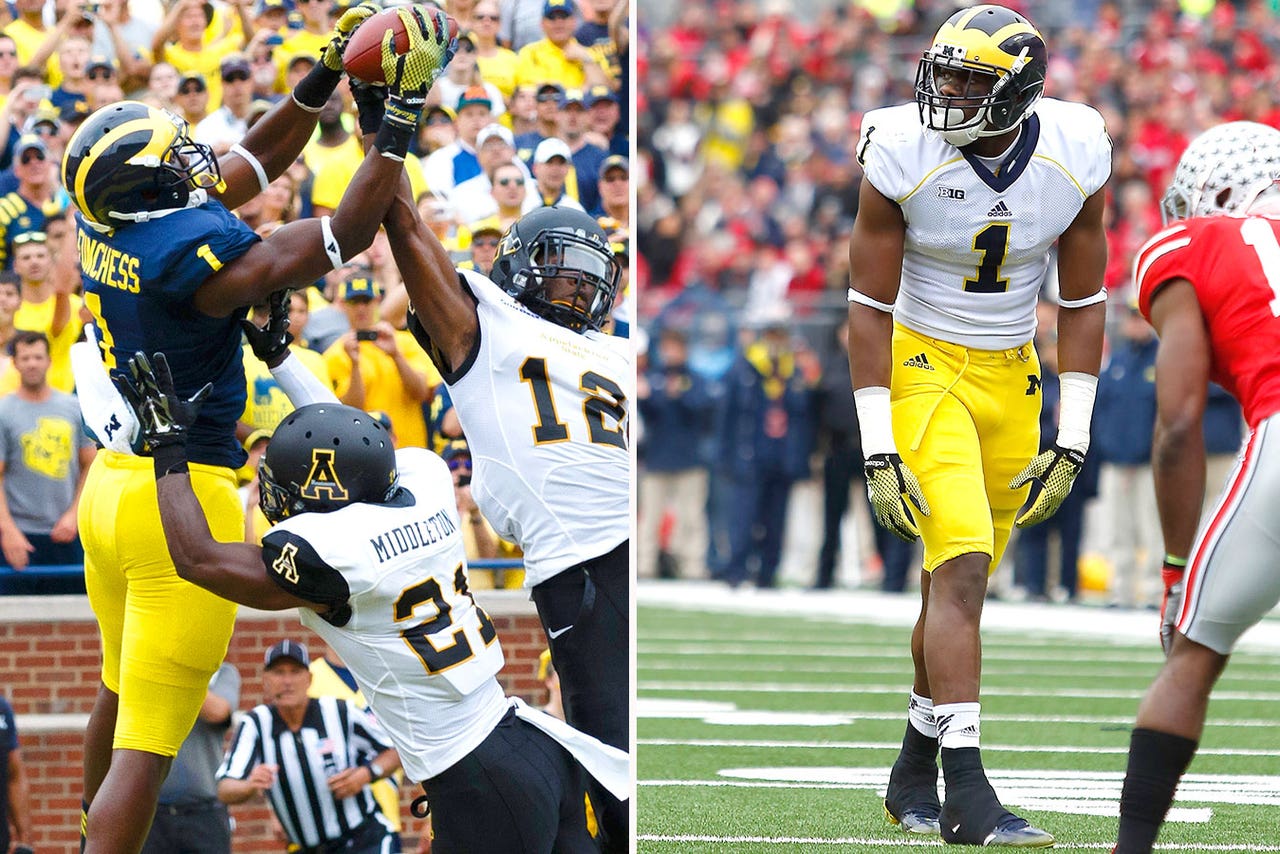 CHARLOTTE, N.C. -- When the Carolina Panthers traded up several spots in the second round to take Devin Funchess out of Michigan, many questioned why and what position he would play.
But make no mistake about it, Panthers general manager Dave Gettleman strictly sees Funchess (6-foot-3, 232 pounds) as a receiver -- not has a hybrid tight end.
For that matter, so does Funchess.
"I'll let my actions speak louder than my words," Funchess said. "(The Panthers) watched the tape, and most of them, and all of them were really saying wideout, they wanted me at the wideout. ...
"That's the position that I went into the NFL trying to play. So I am real blessed and happy to say that the coaches want me to play that, as well."
The reason for the speculation on converting to tight end? Given his non-elite straight-line speed (4.7 40 at the NFL combine), Funchess might have difficulty separating from NFL defensive backs. But more often than not, Funchess uses his overwhelming size to out-muscle smaller defenders during contested or up-for-grabs passes.
However, Funchess says naysayers shouldn't question his speed. For his Michigan pro day, he dropped his 40 time to 4.47 seconds -- but it wasn't enough to fully convince teams that relied on combine times.
"That's close to what I usually run, but most people just say all my film speaks for itself, and my game speed is faster than the 40-yard-dash time," he said. "I just told myself in those situations, like running at the combine, 'I let my actions speak louder than my words.' That's what I did on my Pro Day."
Funchess, who has family about an hour and 45 minute drive from Charlotte (Mebane, N.C.), believes he'll use his size, strength and deceptive speed to catch balls at the next level.
"All of it's God-given," Funchess says of his size. "I use that and the techniques that I am taught. I go up there and get it like a rebound like my old basketball days."
By drafting Funchess, the Panthers now have bookends of monster-sized receivers, with second-year wideout Kelvin Benjamin lining up on the other side. While neither pass-catcher has great speed, collectively, they'll be matchup nightmares for opposing defensive coordinators.
As the old saying goes, You can't teach height.
"Just being that tall and that physical, I think that will be a big mismatch up in the NFL," says Funchess.
Another advantage to Funchess being so tall: He'll a big target for quarterback Cam Newton, who has been erratic with tight-space passes his entire career. Having a long wingspan will allow Funchess to haul in the off-target passes that might otherwise be intercepted or fall to the ground.
Funchess cannot wait to play with Newton.
"That's an explosive guy, he is athletic, very talented and gifted from the man upstairs," Funchess said of Newton. "I've been watching him since he was down at Auburn, or Florida before that. I watched at Auburn and I loved what he did at Auburn. Then he comes into the league and makes his own mark. So I just love him as an individual and a football player."
---