Vincent Trocheck
Vincent Trocheck
Panthers come up short against Rangers in New York
Published
Mar. 21, 2016 10:30 p.m. ET

NEW YORK (AP) -- Not only did the New York Rangers bounce back from one of their worst games this season, Rick Nash finally found his scoring touch after returning from a leg injury that sidelined him for almost seven weeks.
Nash scored his first goal since getting back into the lineup March 12, and Henrik Lundqvist made 25 saves in leading the Rangers to a 4-2 victory over the Florida Panthers on Monday night.
"It's no secret: It's been a grind the first five games after a long time away," said Nash, who had 42 goals last season. "Each game I'm just trying to do something to help the team and try to fit in."
Nash, who went hard to the net a couple of times against the Panthers, scored his 13th of the season at 11:14 of the third period to give New York a 3-1 lead. It came less than a minute after Lundqvist stopped a breakaway by Jussi Jokinen to preserve the Rangers' lead.
"After I made that save, we got the puck up there and I was hoping for Nash to get one," Lundqvist said. "It played in perfectly. Nashie has worked so hard for a long time. I think that goal meant a lot to him. It was a big goal for the team as well."
New York coach Alain Vigneault said the Rangers have to be patient with Nash.
"That injury kept him from doing anything as far as weight-bearing for close to six weeks," Vigneault said. "He's probably still not fully recovered. He's only had one real team practice. I thought tonight he took pucks to the net. That was a big-time goal at the right moment. There's no doubt in my mind that his play is on the right track."
Viktor Stalberg, Mats Zuccarello and Tanner Glass also scored for the Rangers, who moved two points ahead of idle Pittsburgh for second place in the Metropolitan Division. New York has nine games left in the regular season, one more than the Penguins, winners of six straight.
Vincent Trocheck and Jiri Hudler scored for the Panthers, who lost their second in a row. The Atlantic Division leaders are two points in front of Tampa Bay with nine games to go, one fewer than the Lightning have left.
"It was a bad night," Panthers coach Gerard Gallant said. "We can't show up and play 15 minutes, and that's all we played tonight. The Rangers dominated the first two periods and there is no excuse for that."
Al Montoya stopped 28 shots for Florida, which had a goal waved off by the officials early in the third period.
Gallant said he disagreed with the call but there was nothing that could be done.
It was a bounce-back game for the Rangers, who gave up a season-high 52 shots and were totally embarrassed in a 4-1 loss at San Jose on Saturday.
"We were confident tonight," Glass said. "We knew we had to come back with a big win. I think we played hard all night. It wasn't perfect. No game is. I thought we battled hard."
Lundqvist was lifted Saturday after giving up four goals on 47 shots in 49 minutes. He had a relatively quiet start Monday until the Panthers got going with roughly 7 minutes left in the second period and applied pressure the rest of the way.
Stalberg gave the Rangers a 1-0 lead at 11:51 of the first, beating Jaromir Jagr to a puck at the point and converting a 2-on-1 with Dominic Moore.
Zuccarello snapped a shot from the inside of the right circle into the top corner on a second-period power play to extend the margin to 2-0.
Lundqvist got help from the post on a shot by Jokinen during a goal-mouth scramble in the second period, a play in which referee TJ Luxmore was in the crease and had to jump out of the way of the shot. A goal by Florida defenseman Steven Kampfer was waved off early in the third because the officials thought his stick was too high when he batted in a rebound.
Trocheck cut the margin to 2-1 by deflecting in a pass from Jokinen at 6:51, and the Panthers had a chance to tie it when Jokinen broke in short-handed at 10:27. Lundqvist stopped him, and Nash restored the two-goal lead with a shot from the right circle as the power play ended.
Hudler cut the margin to 3-2 with 36 seconds to play, but Glass scored into an empty net in the waning seconds to ice the game.
NOTES: This was the opener of a three-game road trip for Florida that includes games at Boston and Tampa Bay. ... Six of the Rangers' final nine games will be played at home. ... The Rangers played a video tribute to Jagr in the first period to honor him for moving into third place in NHL history in goals (746) and points (1,857). ... Stalberg's nine goals and 11 assists have all come at even strength this season. ... Florida D Dmitry Kulikov got hit in the throat in the third period by a shot from Rangers D Keith Yandle. ... New York has won five straight at home against Florida.
---
---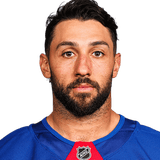 Get more from Vincent Trocheck
Follow your favorites to get information about games, news and more
---