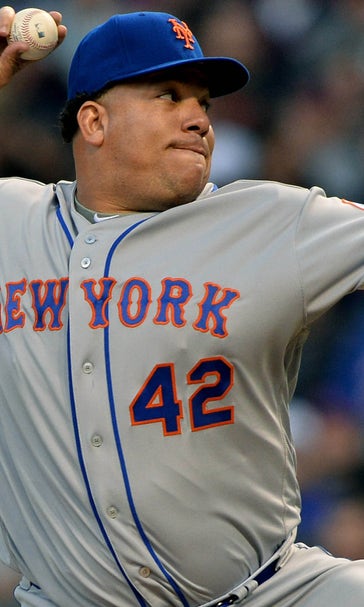 Padres take on Bartolo Colon, Mets
May 7, 2016

Bartolo Colon is the oldest player in the majors and turns 43 later this month, but at times he's looked like the Cy Young Award winner of yesteryear.
Keeping the San Diego Padres off the scoreboard entirely might be necessary given the New York Mets' difficulty pushing runs across the plate in the series.
The Mets send Colon to the hill Saturday night looking to avoid a fifth loss in seven games as James Shields tries to keep their bats quiet once again.
Colon (2-1, 2.56 ERA) is in his third season with the Mets (17-11) and hasn't shown any signs of slowing down despite having made his debut in 1997. His last All-Star appearance was in 2005, the same year he won the Cy Young with the Los Angeles Angels.
He's coming off his best outing of the season after striking out seven in eight scoreless innings of a 4-1 win over Atlanta on Monday. Colon has fanned 28 and walked only three over 31 2/3 innings over five starts and one relief effort.
"Bartolo with a lead, you know he's going to pound the strike zone," third baseman David Wright said. "You know he's going to keep the opposing hitters off balance. It allows him to keep his pitch count down and pitch deep into the ballgame like he did tonight. It's nice to get on top early. It's nice to be able to allow Bartolo to set it on cruise control."
The right-hander didn't even give the Mets' offense a chance to back him the last time he faced the Padres, though. He gave up two runs before New York had an at-bat, finished with six runs and 10 hits allowed over 2 1/3 innings and lost 7-3 on July 29.
That began San Diego's four-game winning streak over the Mets, and its pitching has kept New York at bay in the first two of this series. The Padres have held the Mets to three runs and seven hits after winning 2-0 on Friday.
New York has been shut out twice in its last four.
Shields (1-4, 3.23) hopes the trend continues. He started slow, but he's given up two runs in 13 innings over his last two starts after beating Colorado 2-1 on Monday.
He's received seven runs of support in 39 innings over six outings but needed only Matt Kemp's two-run double in the first.
"I feel I didn't give up (nine hits) because of the kind of hits they were," Shields said. "It feels good. I felt like for the most part I was pitching well."
The right-hander split two starts against the Mets last season, going seven innings in each and allowing five runs. Curtis Granderson is tied for the fifth-most at-bats against Shields, but he's just 8 for 64 (.125) with 14 strikeouts.
Padres starters have a 1.64 ERA over their last eight, helping them go 6-2 in that stretch despite the offense hitting .231 and striking out 77 times in that span.
---
---