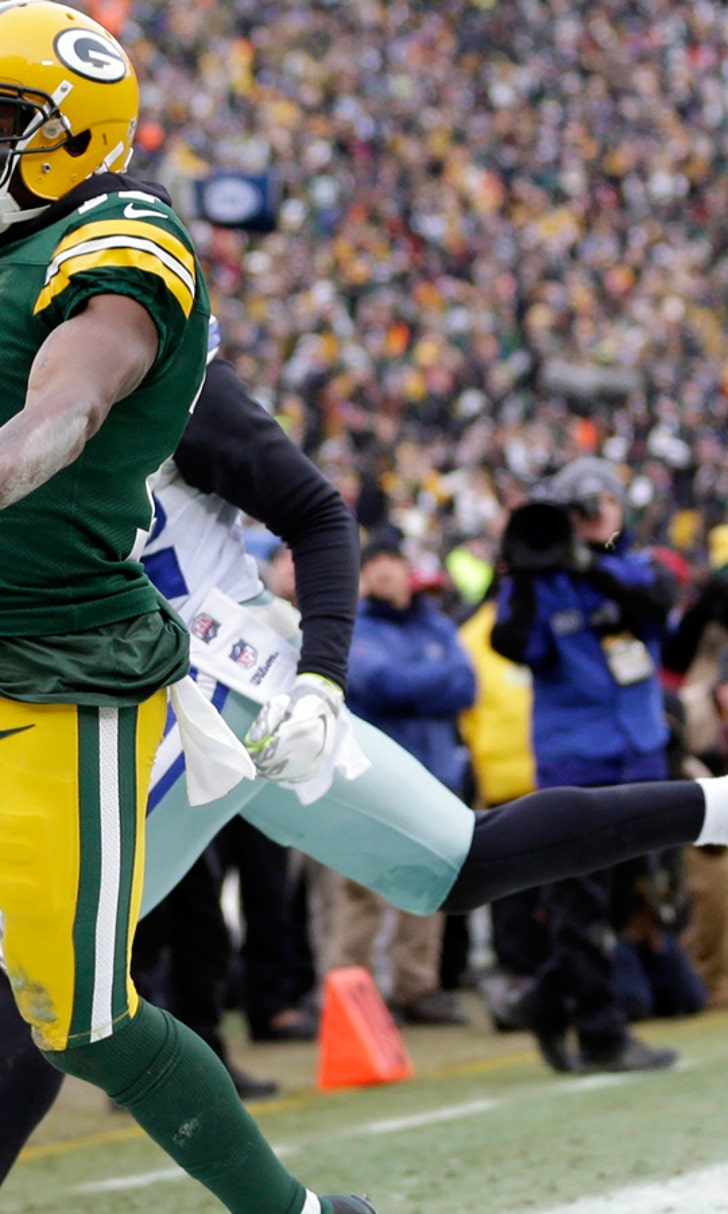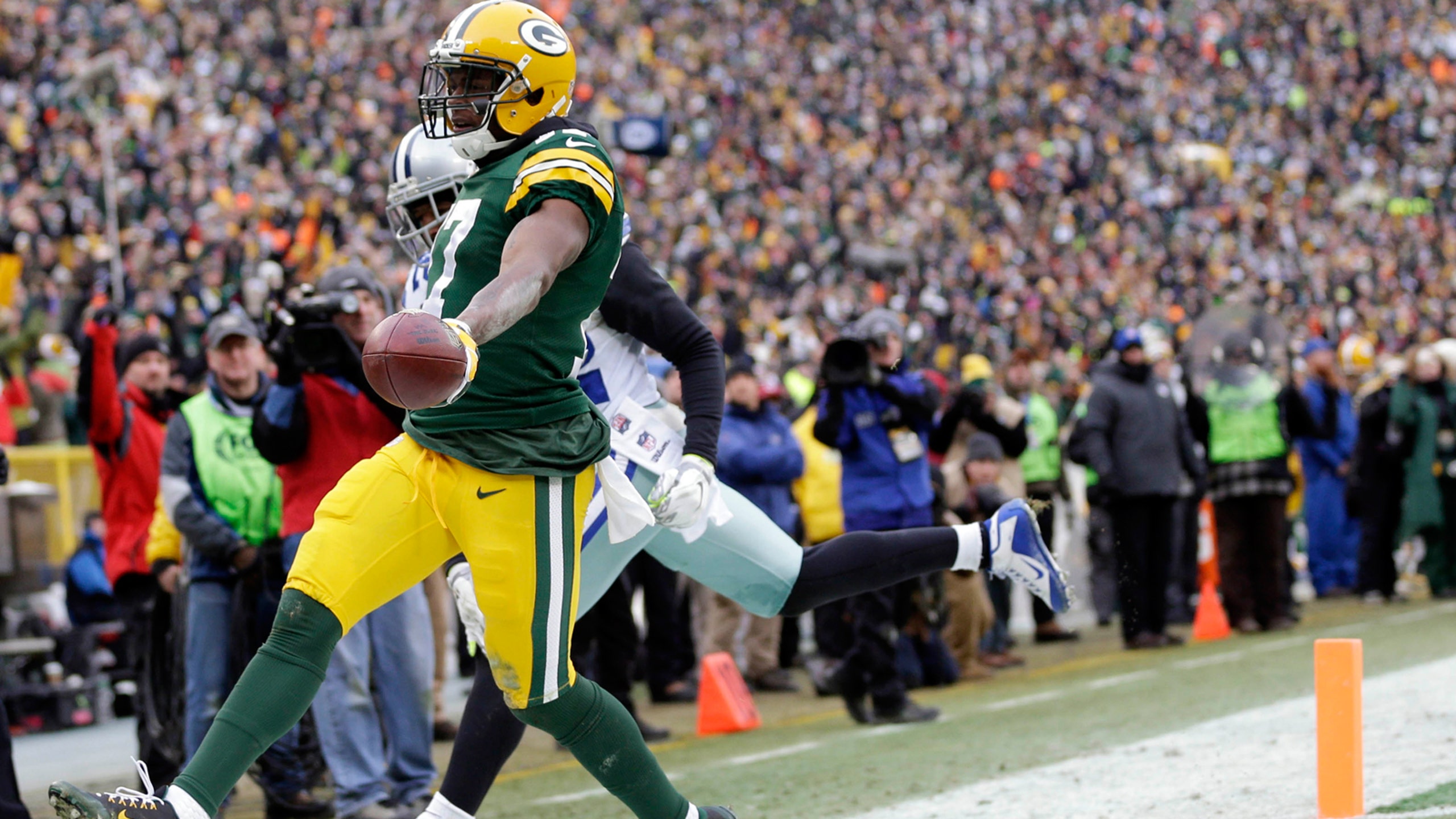 Packers rookie receiver Adams makes Cowboys pay
BY foxsports • January 11, 2015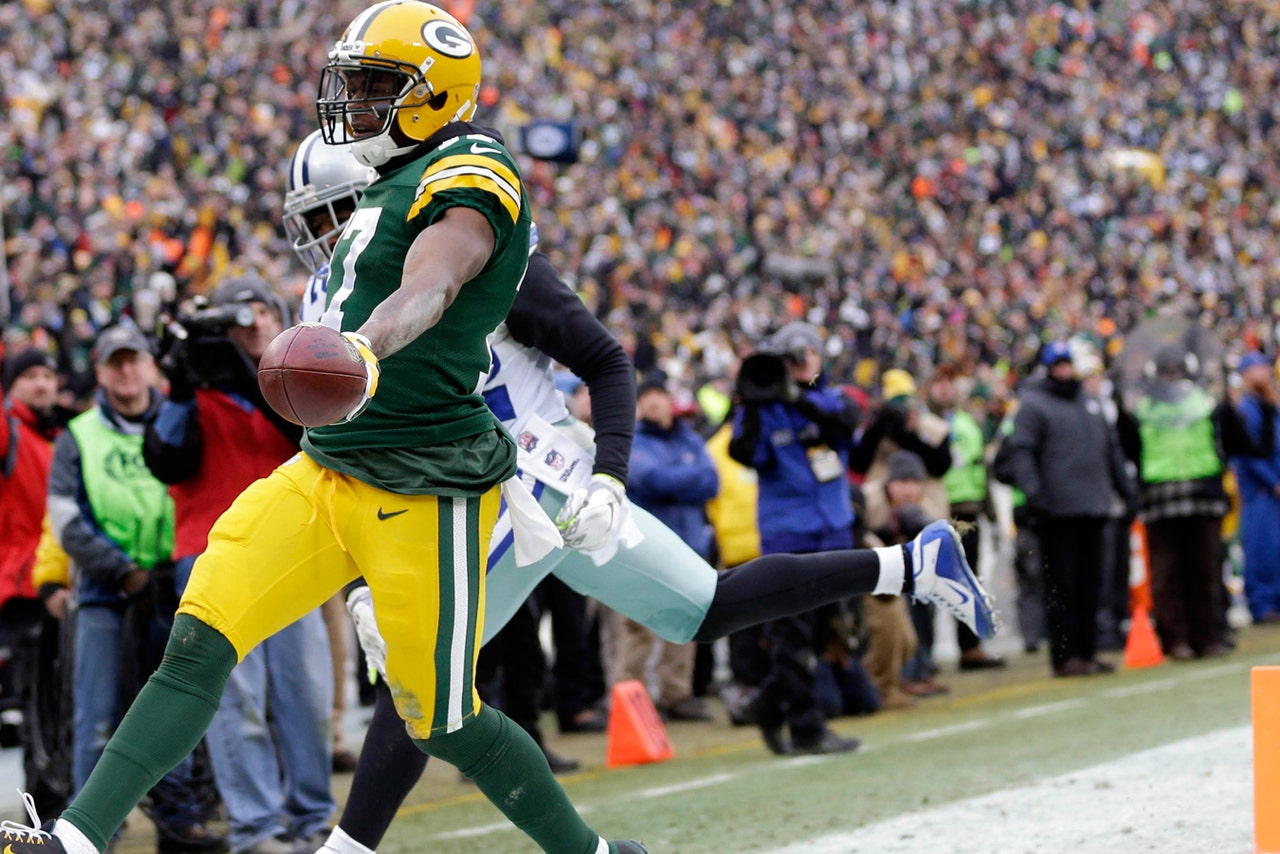 GREEN BAY, Wis. -- Davante Adams acknowledged that the Dallas Cowboys' defensive strategy made sense. Do everything possible to take away the Green Bay Packers' top two wide receivers, Jordy Nelson and Randall Cobb. Force Adams, a struggling rookie, to prove that he can be the difference-maker in his first career playoff game.
It was a logical decision to leave Adams one-on-one. The problem for the Cowboys is that it didn't work, as Adams finished with seven catches for 117 yards and one touchdown.
"You underestimate, and it's natural, so I can't blame them, but that's what happens when you do," Adams said after the game.
This wasn't Adams' first great performance in a huge game this season. He had six receptions for 121 yards in Week 13 against New England. Similarly in that game, the Patriots spent most of their energy in coverage on Cobb and Nelson.
Adams did not follow-up that game, though. In the final four weeks of the regular season, Adams totaled just four catches for 29 yards.
Adams' confidence remained unshaken during that span, and when he got his chance to star again Sunday, he made the most of it.
"One guy on me, I'm thinking that I know my route and you don't, and I think that I'm better than the guy across from me, so there's no reason I shouldn't win," Adams said.
For a player who just turned 22 years old in late December, it seemed like perhaps it was the case of a receiver who wasn't used to a 16-game schedule. But in Game 17, Adams proved that theory to be inaccurate.
"There was no wall anything, because I love playing football," Adams said. "So I don't get tired of it. I'm out here, I'm grinding each day to make sure I'm getting better and better, and trying to build off the week before. It's not about hitting a wall or anything. If I don't get as many catches, then Jordy or Randall is. And we're going to keep moving forward, and that's what it's all about."
Adams' most memorable play in the Packers' divisional-round win over Dallas came late in the third quarter. With Green Bay down by eight points and facing a third-and-15 just outside of field-goal range, Adams caught a quick pass and had a bit of room to work. As he approached safety J.J. Wilcox in the open field, he made a move to get by and ran an additional 30 yards for a touchdown. It was all thanks to the filmwork he had done leading into this game.
"Flashback to watching some film and seeing the way that they play," Adams said. "They like to commit to first move, so I tried to give them a little something inside and bounce outside and use my speed to get into the end zone."
Aaron Rodgers approached Adams in the locker room after the game to congratulate the second-round pick on his performance.
"I just told him how proud I was of him," Rodgers said. "He went through a stretch where he didn't get the ball a lot for about four games, and that was kind of after he had a big game against New England and everybody was kind of thinking this is when he's going to come on. But I'm really proud of him.
"He's a great player. He prepares every week the exact same. You don't see a difference in his attitude, and it says a lot about the kind of guy he is and the kind of player he's going to be for us."
Unfortunately for Adams, he did make one mistake Sunday.
"I was so caught up in the moment (of the touchdown) that I forgot to keep the ball," he said. "I don't even know where that thing is. My mom is going to be pissed off at me."
While the Packers' offense ran through Nelson and Cobb at the end of the regular season, the two stars knew Adams would come back around eventually.
"Unbelievable," Cobb said of Adams. "He's a special player. He's not a rookie anymore. We expect these kind of games from him week in and week out. His ability once he gets the ball in his hands is unbelievable. You saw the broken tackles and being able to make people miss. That's huge. I think he was the key factor in the second half for us, being able to make those plays and put us in positions."
Nelson remembered back to his own struggles as a rookie as he tried to put Adams' recent dip in production into perspective.
"He's not on the field as much as Randall and myself, he doesn't get as many targets as Randall and myself," Nelson said. "It's one of those things, it's hard to get in a rhythm. To build that confidence with your quarterback, especially as a rookie. But you can tell they got in a rhythm and they had that trust (in this game), and it was great to see. He made huge plays for us."
Adams knows when he's earned the approval of Rodgers on the field. It's not with Rodgers' words, either.
"It's more of a look that he gives me," Adams said. "Whether it's a good look, especially when I make a good play, he gives me a good look. If it's a play, maybe a miscommunication or something, it's not as good. He's not a huge talker. He just can see when I'm on, and I know when he's on. So it's kind of just knowing your teammate."
Adams added, "We didn't have any bad looks today. We had all good ones."
Follow Paul Imig on Twitter
---