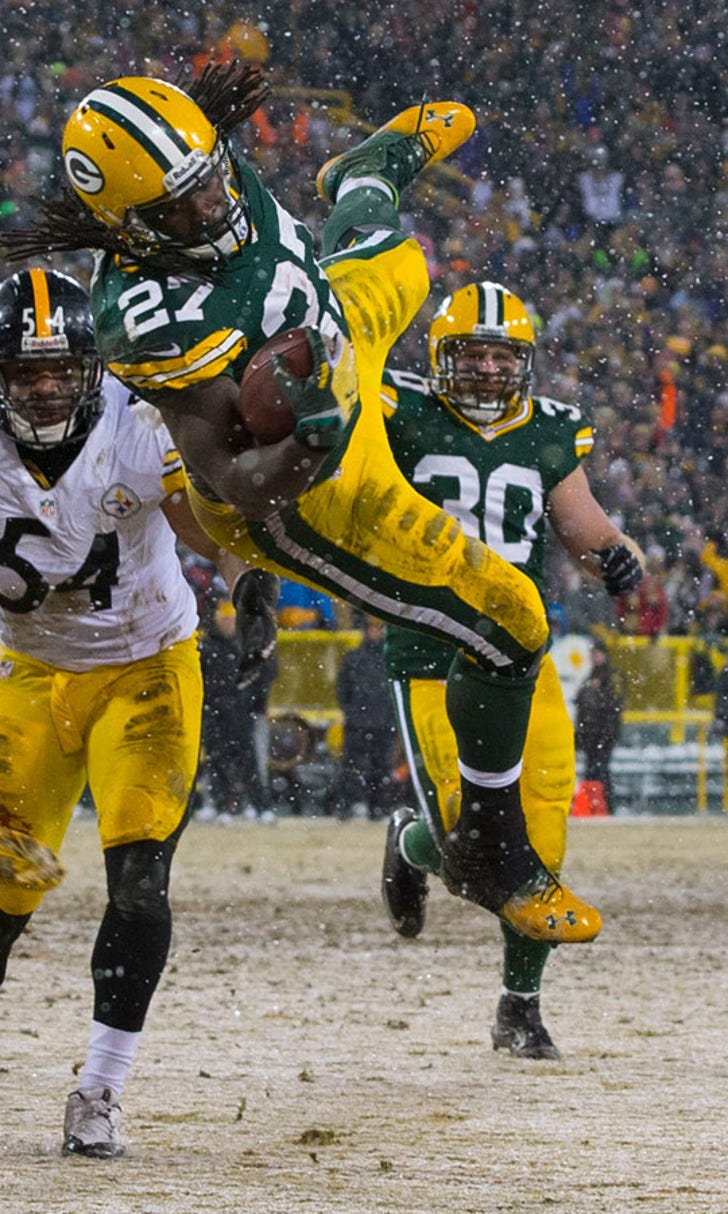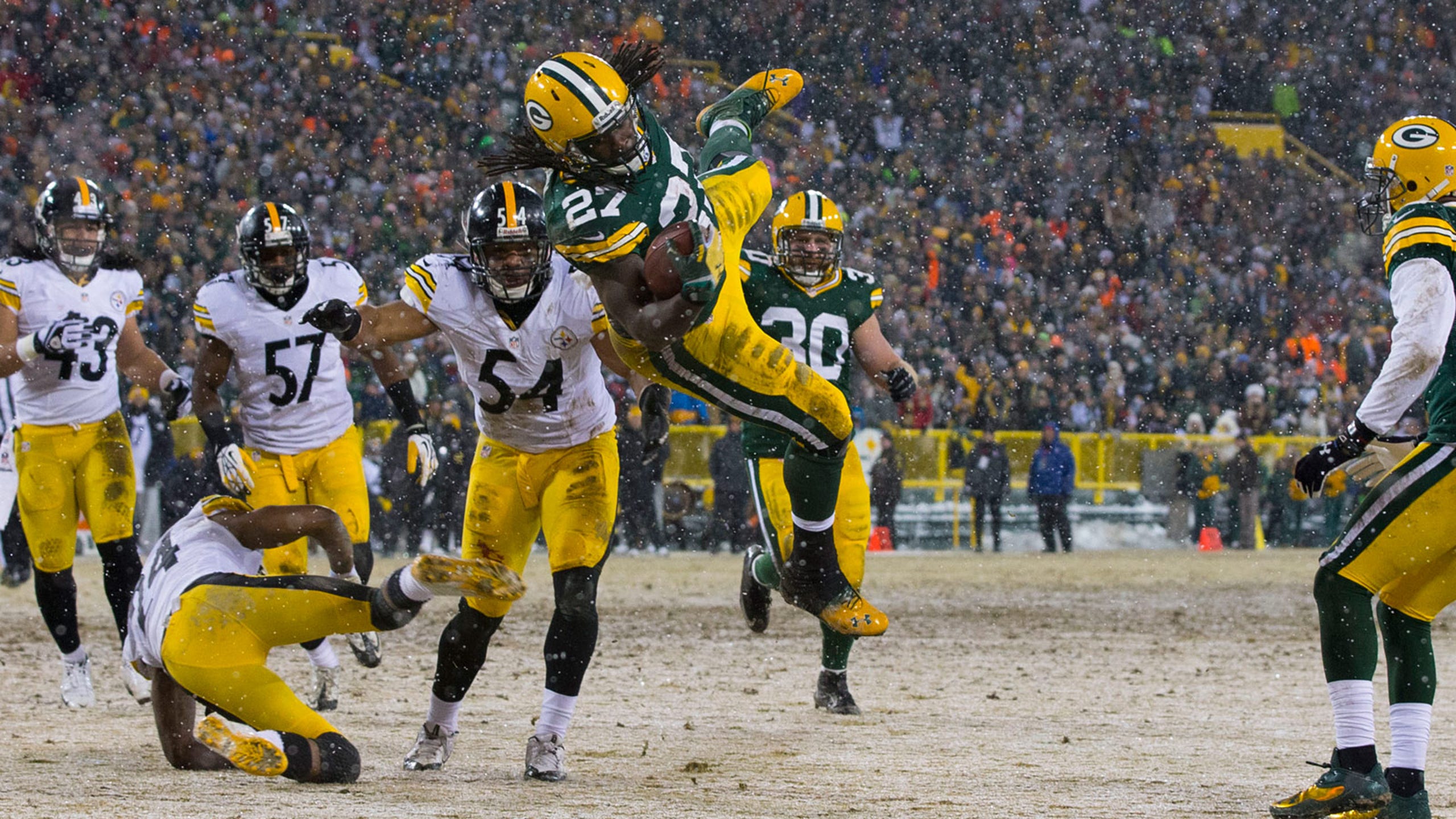 Packers report card: Special teams a nightmare in loss to Steelers
BY foxsports • December 23, 2013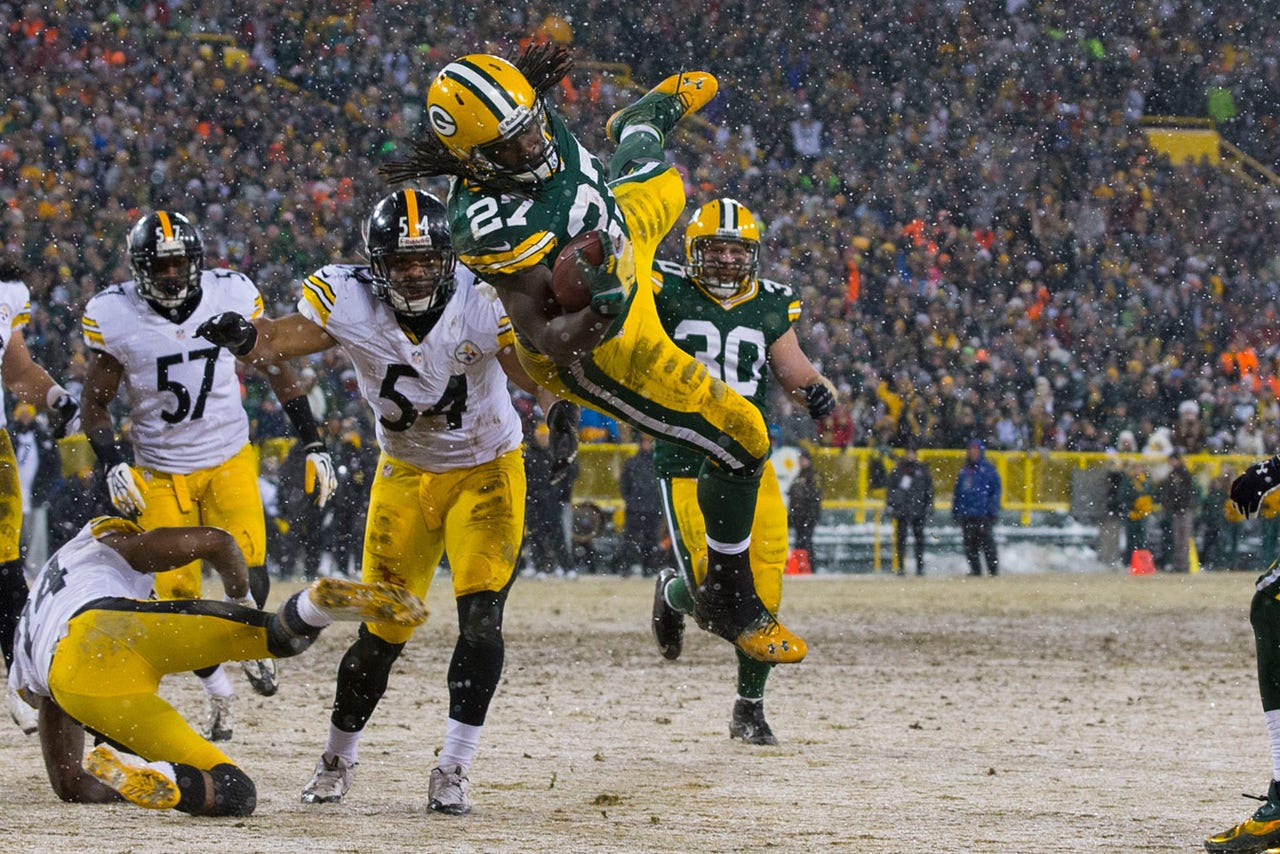 GREEN BAY, Wis. -- Handing out grades following the Green Bay Packers' 38-31 home loss to the Pittsburgh Steelers in Week 16:
Passing Offense: C-plus
A completed pass in the end zone in the final seconds of regulation would paint a bit different of a picture. But, with a chance to tie the game, the Packers didn't manage the clock well and Matt Flynn threw an incomplete pass as time expired.
It was a so-so day for Flynn and Green Bay's passing offense. Flynn completed 21 of 39 passes (54 percent) for 232 yards with one touchdown and one interception, finishing with a passer rating of only 69.6 (his lowest since his abysmal game in Detroit on Thanksgiving).
Flynn's one interception resulted in a touchdown for the Steelers defense, but coach Mike McCarthy took the blame for it. Tight end Andrew Quarless ran into Flynn upon the throw, but the issue is that, when Pittsburgh brought a safety near the line of scrimmage late in the pre-snap, Flynn optioned to a pass. Quarless did the correct thing in continuing in his blocking responsibilities. McCarthy said Flynn probably didn't have enough reps "in that particular footwork," thus taking the blame upon himself as the offensive play caller. Either way, it's a major negative for the Packers' passing game.
Flynn really locked in on receivers Jarrett Boykin and James Jones, targeting them a combined 25 times. Boykin and Jones both performed well, too. Jones had a team-high nine catches for 84 yards, while also taking the ball away from Pittsburgh's Ike Taylor in what should have been an interception. Boykin had five receptions for 54 yards with one touchdown, though he did have a drop.
After back-to-back weeks of putting up six catches for 66 yards and a touchdown, Quarless was held to just one catch for 19 yards. However, his one catch is what set up Green Bay with the potential for a game-tying score late in the fourth quarter.
The protection for Flynn was OK. He was sacked three times, but he did a slightly better job of getting rid of the ball faster. The false start penalty in the closing seconds by Don Barclay (though it actually appeared to be on T.J. Lang -- and center Evan Dietrich-Smith tried to take some blame) was an incredibly costly mistake by whichever offensive lineman it was.
Rushing Offense: A-minus
The Packers' running game continues to be the best aspect of the team, totaling 151 yards on 30 carries (5.0 average) with three touchdowns. Considering that the longest run of the game by any Green Bay player was 14 yards, it demonstrates that it was a consistent flow of positive gains.
Eddie Lacy probably locked up his case for the NFL's offensive rookie of the year award. He carried the ball 15 times for 84 yards (5.6 average) and scored two touchdowns. And, while doing so, Lacy passed John Brockington's 1971 record for most rushing yards by a rookie in franchise history. It also brought Lacy's touchdown total on the season to 10. With double-digit touchdowns and more than 1,000 rushing yards, Lacy should be collecting a trophy soon for his tremendous rookie season. He showed his bruising running style too, plowing over Taylor and demonstrating why defensive backs hate to see Lacy getting close when he's running full speed.
The concern for Lacy, though, is that he re-injured his right ankle late in the third quarter and did not return. His status for the regular-season finale in Chicago with a playoff spot hanging in the balance is unknown. But, taking into account that Lacy played with a sprained right ankle in Dallas and still had a monstrous game, it seems likely he'll be ready to face the Bears.
James Starks entered for Lacy and also ran well. Starks had 47 yards on 10 carries, but he couldn't quite get into the end zone on his final rushing attempt. As it turned out, that one yard that Starks couldn't muster was the difference between the Packers tying the game there and losing it a couple plays later.
Flynn's fourth-quarter fumble was a game-changing play. Flynn scrambled, tried to split two defenders on the run and had the ball stripped by Troy Polamalu. That gave Pittsburgh the ball with a short field on a drive that resulted in a Steelers game-winning touchdown.
Rushing Defense: C-minus
Pittsburgh came into this game as the NFL's 31st-ranked rushing offense. That's also known as the second-worst rushing offense in the league. Steelers rookie running back Le'Veon Bell, while a very solid young player, hadn't had a 100-yard rushing game all season. It's a good thing he got to match up with Green Bay's run defense, as Bell finished with a career-high 124 yards on 26 carries with one touchdown.
Without Johnny Jolly (who was placed on injured reserve Saturday), the Packers didn't have one of their best run-stoppers. But with Green Bay's extraordinary collapse this season, falling from being ranked in the top 5 in the NFL in run defense to the bottom 5 now, it's clear that having or not having Jolly was not the end-all difference in success or failure.
Steelers quarterback Ben Roethlisberger scrambled and scored a touchdown on a 13-yard run, his first rushing touchdown since 2010.
Starting safety M.D. Jennings had a missed tackle, and at least for a couple series, it got him benched. His backup, Sean Richardson, showed on one big run stop why he's an upgrade in that area over Jennings. The Jennings missed tackle resulted in a 22-yard gain for Bell.
There was one significant positive for the Packers' run defense, forcing Bell to fumble right near the goal line. Jamari Lattimore knocked it out and Tramon Williams recovered, and, after replay overturned the officials' original call, Green Bay got the ball just three yards from its end zone.
Passing Defense: B-plus
The Packers held Ben Roethlisberger in check. Roethlisberger has been a top-10 NFL quarterback this season in just about every major statistical category, and though he played well, Green Bay did a nice job against him for the most part. Roethlisberger finished 16-of-28 passing for 167 yards with two touchdowns and one interception (83.5 passer rating).
As has been the case all season for Pittsburgh, Roethlisberger really zeroed in on his top target, wide receiver Antonio Brown. Of Roethlisberger's 28 passing attempts, 13 were to Brown, who hauled in six of them for 105 yards. It was often Williams matched up with Brown, and he was beaten one-on-one down the sideline on the longest passing play of the game for 36 yards.
The only sack that the Packers came away with ended up doing more harm than good. Clay Matthews, for whatever bizarre reason, was injured for the third time this season when sacking a quarterback. Matthews re-injured his right thumb, the one that had been surgically repaired earlier this season following a Bennett's fracture.
In what was perhaps the most athletic play of A.J. Hawk's career, his leaping interception on the final play of the third quarter will forever live on his highlight reel.
Special Teams: D-minus
This was a clear-cut grade of 'F' until the final special teams play of the game. With the Packers in desperation mode, Micah Hyde more than doubled the team's previous season-best with a 70-yard return to give Green Bay terrific field position. Also, Tim Masthay had a punt that perfectly died at the 2-yard line that was downed easily.
Just about everything else on special teams was a huge failure for the Packers, including:
1. Mason Crosby had a 23-yard field-goal attempt blocked.
2. Nick Perry committed an inexcusable encroachment penalty with the game tied at 31 to give the Steelers a new set of downs.
3. Pittsburgh perfectly executed a fake punt that resulted in a 30-yard pass.
4. Emmanuel Sanders had a 54-yard kick return.
5. Brown had a 41-yard punt return.
Not all negative special teams plays are created equal, and Perry's was by far the worst of the group. But this was about as bad as special teams play can get in one game.
Overall: C-minus
At home, against a team with a losing record, with the season potentially on the line, the Packers couldn't get the win. It certainly wasn't all bad for Green Bay in this game, but a series of undisciplined, preseason-esque penalties and situations cost them a win.
The time mismanagement -- and false start penalty -- in the closing seconds, Perry's special teams penalty, the blocked field goal, Flynn's fumble, the pick-six, the repeatedly bad run defense, only one sack (and that sack resulting in an injury to their most important defensive player) ... all very bad things that good teams don't do.
Somehow, despite all of that and their 7-7-1 record, the Packers enter Week 17 of the regular season with a chance to make it to the postseason. If Green Bay doesn't clean up multiple areas, though, it may not matter if Aaron Rodgers returns for that game in Chicago.
Follow Paul Imig on Twitter
---