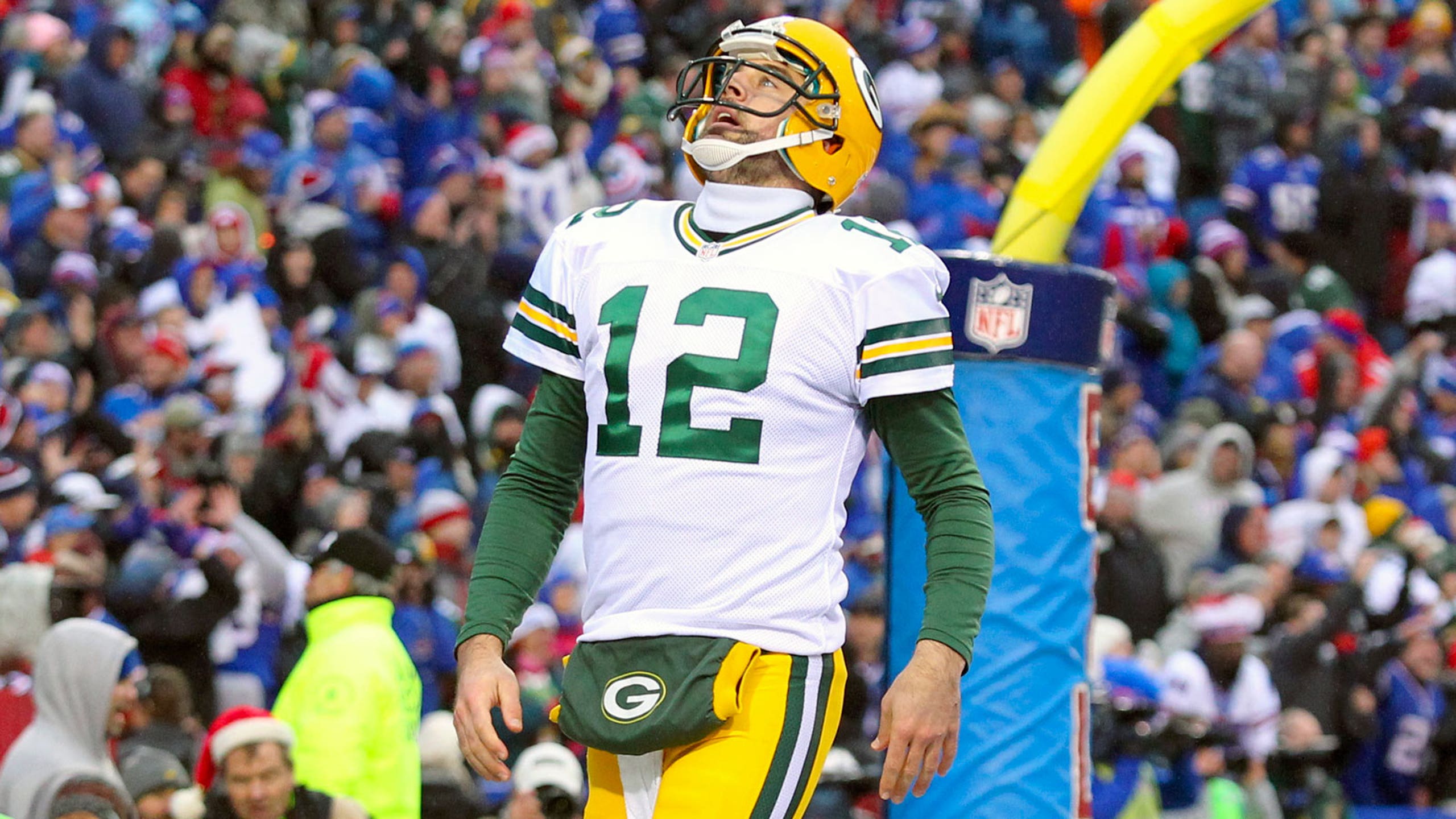 Packers report card: Passing offense, special teams are to blame
BY foxsports • December 15, 2014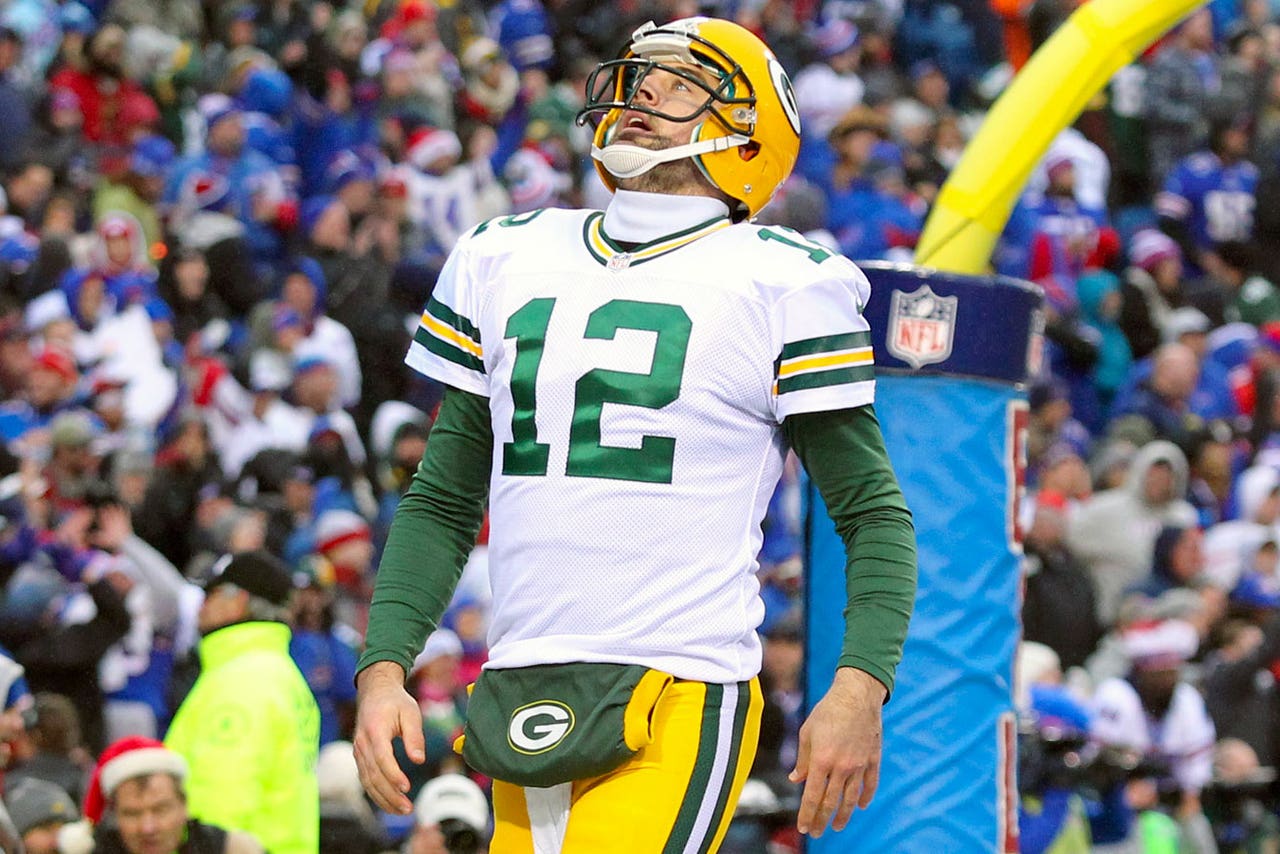 Handing out grades following the Green Bay Packers' 21-13 loss to the Buffalo Bills in Week 15 of the 2014 season:
Passing Offense: D-minus
It was a combination of one of the worst games of Aaron Rodgers' career and an afternoon that the Packers' wide receivers will want to quickly forget. 
Rodgers had career lows in completion percentage (40.5), passer rating (34.5) and yards per pass attempt (4.4). From the opening drive, Rodgers and his receiving targets just weren't on the same page. Rodgers has created a standard for himself of greatness and near-perfection, so a performance like this was so uncharacteristic.
Rodgers also added his fourth and fifth interceptions of the season, both times being picked off by Washington Redskins castoff Bacarri Rambo. The first of those interceptions marked the first time all year that Rodgers threw one that wasn't off the hands of a receiver. Rodgers' deep pass stayed in the air too long and Rambo stepped in front of it. The other interception was a ball off Jarrett Boykin's hands that floated right to the defender. 
The pass to Boykin was one of Green Bay's less-egregious drops. Boykin had a defender all over him and it would've been a good catch had he come down with it. There were five other balls, though, that were bad drops. 
Jordy Nelson let what potentially would've been a 94-yard go-ahead touchdown slip through his hands. Nelson would likely catch that pass the next 100 times it's thrown to him. Rodgers laid the ball in perfectly, yet somehow the veteran Nelson, who has likely earned himself his first Pro Bowl nod this season, dropped it. A catch there, even if Nelson is chased down from behind before getting to the end zone, changes the dynamic of the game. 
Andrew Quarless had a drop on the first drive, while Randall Cobb, Davante Adams and James Starks all added drops of their own.
The Packers' offensive line protected Rodgers quite well against a Bills defense that had the most sacks in the NFL. It wasn't until the final offensive play of the game that Rodgers was finally sacked, and that was when JC Tretter had entered after Bryan Bulaga's concussion. It wasn't just a sack, though. Mario Williams beat Tretter around the edge and stripped Rodgers before a pass could be launched. With the ball sitting in the end zone when Eddie Lacy picked it up, the NFL rule was correctly applied that it became a safety. That ended Green Bay's hopes of a fourth-quarter comeback.
This looked nothing like the Packers' passing offense that shows up on the vast majority of gamedays. Mike McCarthy opted for a 45:22 pass-to-run ratio, Rodgers was off and the receivers dropped far too many passes. It was about as poorly as this talented passing offense could perform.
Rushing Offense: A-minus
Don't blame Lacy and the running game for the offensive woes. Playing with a bruised hip, Lacy looked great in his 15 carries, picking up 97 yards and a touchdown. 
Green Bay's one touchdown drive was nearly all Lacy. The Packers went to Lacy on the ground three plays in a row to begin the series, and he delivered with gains of 15, 17 and 22 yards. He capped it off by running it in the end zone from one yard out. It sure makes one wonder what this game would've looked like had McCarthy had a run-pass balance closer to 50-50.
Starks chipped in 19 yards on four rushing attempts in his Buffalo homecoming. Cobb spent some time in the backfield and carried the ball three times for 15 yards. Rodgers scrambled three times for 27 yards. All of that totaled 158 rushing yards and a 6.3 average, which is very impressive against a great Bills run defense.
McCarthy wasn't happy about either call, but two holding penalties wiped out quality carries for Lacy. Josh Sitton was flagged for holding on a play that would've been a 21-yard Lacy run, and David Bakhtiari was penalized on a 6-yard rush. On the Bakhtiari holding call, it happened on second-and-1, so rather than a first down, Green Bay was pushed back to second-and-11 and ended up having to punt two plays later.
Rushing Defense: B-minus
Buffalo committed to the run in the second half a lot more than in the first half. On the Bills' opening drive of the third quarter, they ran it nine consecutive plays for 40 yards. That's not a great average on a per-rush basis, but it kept the chains moving. That series included Buffalo picking up first downs on third-and-2 and third-and-1, which shows that not only were the Bills able to convert on third-and-short but that they were getting into those down-and-distances by doing the heavy lifting on first and second down. Buffalo had to settle for a 51-yard field-goal make on that drive after the Packers forced a third-and-5, prompting the Bills to try -- and fail -- to gain the first down with a passing play.
Buffalo doesn't have a good running game this season, ranking 25th in the league in total yards. Green Bay did a decent job, though, by holding the trio of Fred Jackson, Anthony Dixon and Bryce Brown to 117 yards on 30 carries (3.9 average).
Passing Defense: B-plus
When a team is led by running backs in catches (Jackson with three) and receiving yards (Brown with 40), the defense has performed well. Star rookie wide receiver Sammy Watkins had only one catch for 28 yards, while fellow receiver Robert Woods and tight end Scott Chandler both added two catches for 22 yards.
Kyle Orton certainly isn't Tom Brady, but the Bills' veteran starter was coming off a game against Denver in which he threw for 355 yards. The Packers held Orton to his season-low of a 54.3 passer rating. He didn't throw a touchdown and had a pass intercepted by Tramon Williams. It's not that Orton played terribly, but this was a game that showed why it's dangerous to consider win-loss record a quarterback statistic. 
Clay Matthews rushed frequently from right outside linebacker as Green Bay played a lot of its base 3-4 defense, and he had two sacks. Letroy Guion had a sack, as well, while Mike Neal added a quarterback hit.
Special Teams: D-minus
The Packers have now had six kicks blocked this season. In the second quarter of Sunday's game, Mario Williams made his way through the line to block Mason Crosby's field-goal attempt. For the year, Green Bay has had two field-goal attempts blocked, two extra points blocked and two punts blocked. Special teams coordinator Shawn Slocum stated before this game that "continuity and personnel" on the line had been playing a significant role in his group's struggles to block for Crosby and Tim Masthay.
Another game-changing special teams play happened when Masthay's short punt was fielded by Marcus Thigpen and returned 75 yards for a touchdown. In a game that featured only 34 total points scored, giving up seven like that proved very costly.
The Packers also had back-to-back penalties with their punt unit, forcing Masthay to kick three times in a row. First Sean Richardson was called for holding, then Brandon Bostick was flagged for illegal formation. It turned out OK for Green Bay, as Masthay boomed a 52-yard punt, but these aren't mistakes often seen this late in the season.
The only thing that kept this grade from "F" was Crosby drilling field goals from 45 and 34 yards.
Overall: C
Don't dismiss the Bills as some lowly team. Buffalo beat the Lions in Detroit, a task that Green Bay was unable to accomplish. The Bills are a top-5 defense in every major statistical category and showed exactly why they're ranked that way.
This Packers loss came down to passing offense and special teams. Buffalo is far from being a high-powered offense, but Green Bay's defense did enough to earn a victory. But when Rodgers has three career-low numbers, the receivers drop that many passes and there are special teams gaffes like the ones that occurred Sunday, it's going to be very difficult for the Packers to win.
Follow Paul Imig on Twitter
---