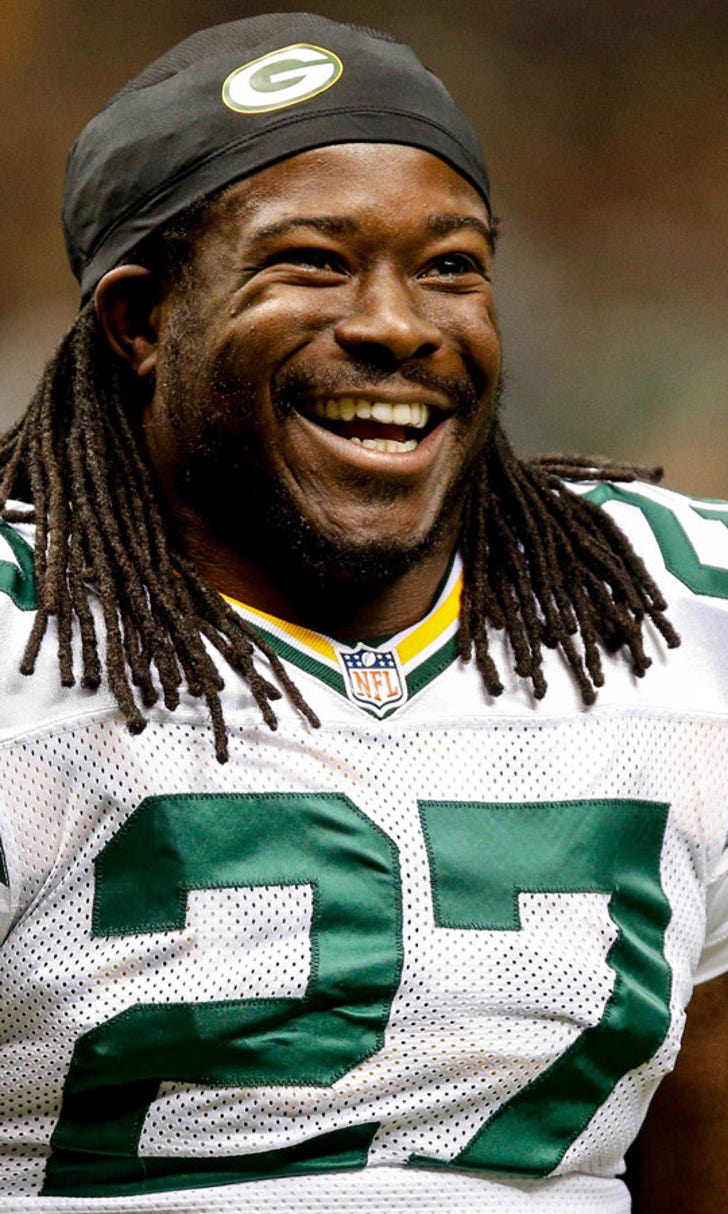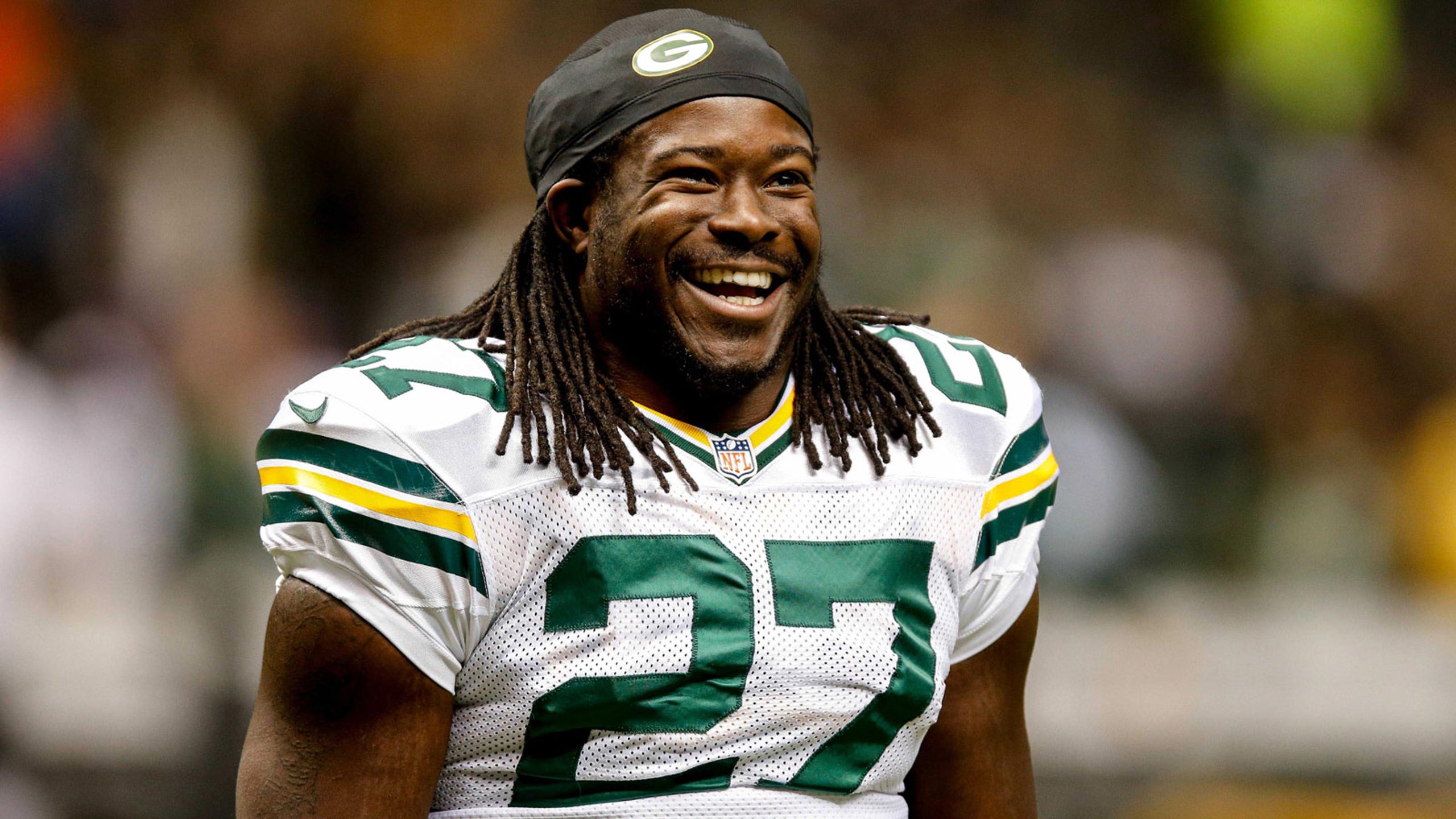 Packers' Lacy doesn't watch, follow football but does 'play it pretty good'
BY foxsports • December 19, 2014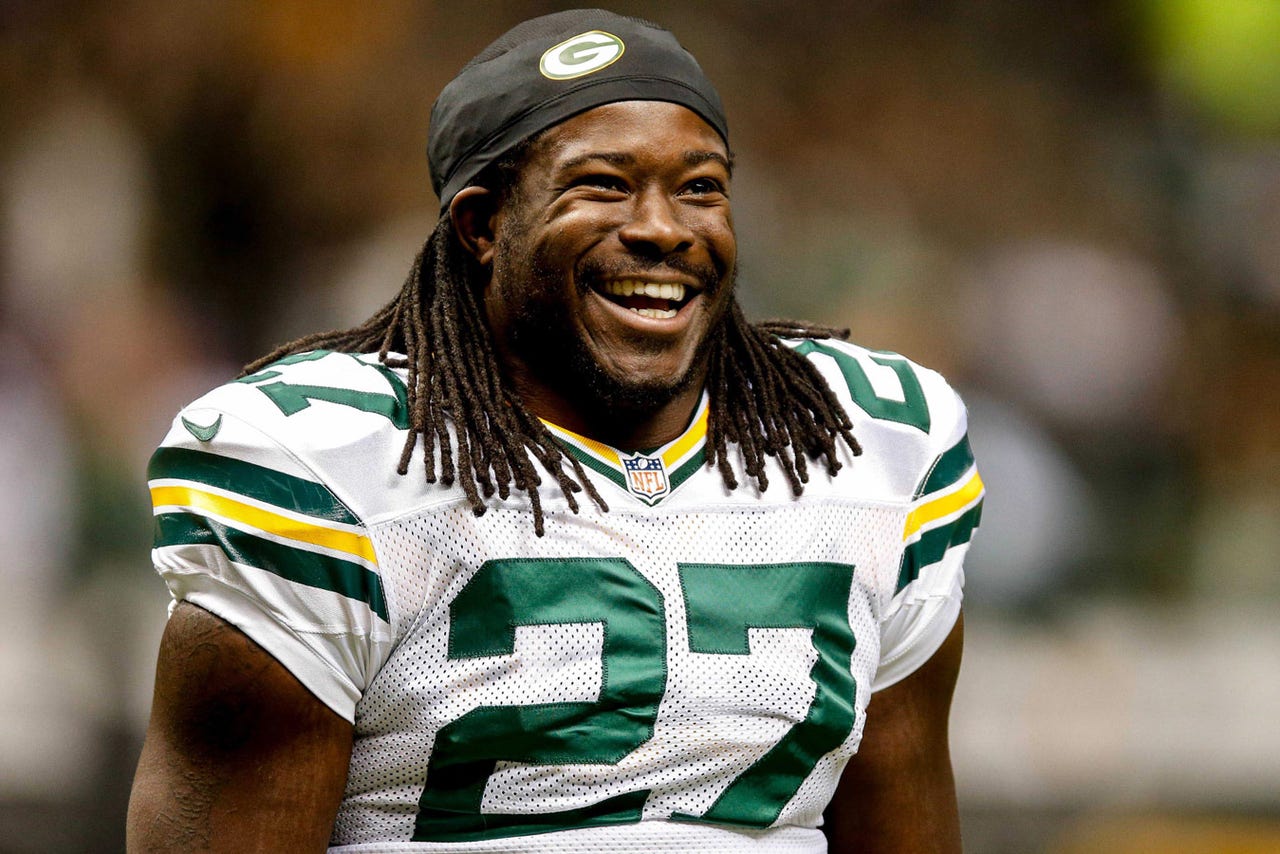 GREEN BAY, Wis. -- Eddie Lacy was playing football one day in middle school when a classmate of his made a move out of the backfield and shouted "L.T.," as in LaDainian Tomlinson. At the time, Tomlinson was in the prime of his career with back-to-back seasons of 1,600-plus rushing yards and 32 combined touchdowns. Anyone who had any knowledge of the NFL knew who Tomlinson was.
Lacy had no idea.
He thought to himself: L.T.? Does that mean Left Turn? He felt too uncomfortable asking others on the field if they could confirm his "Left Turn" theory or what exactly those two initials meant.
Lacy is aware now of who Tomlinson is, but it's just one of many examples throughout his life of having no interest in watching football.
"I literally don't know football talk," Lacy told FOXSportsWisconsin.com.
Though he has played the game since he was six years old and has been exclusively at the running back position for the past 18 years, he said he "never watched football." When others spent their Saturdays watching college football and their Sundays watching the NFL, Lacy preferred to be doing anything else.
"Sitting down watching TV, watching football, it was definitely not one of my interests," Lacy said.
As a kid, Lacy wanted to be outside. He spent his time with friends playing football or basketball. If references to star athletes came up during those pick-up games, he'd just accept that not knowing player names was the downfall of his choice not to watch -- he'd let it go and continue playing.
"I spent legit all day outside," Lacy said. "Our thing was being outside. I used to get punished a lot, so anytime you could go outside, you go outside. I was never an inside kid. I just had to be outside and into something."
Lacy's backyard football games turned into playing in front of more than 100,000 people at Bryant-Denny Stadium as a member of the Alabama Crimson Tide. His success there led to him being a second-round pick of the Green Bay Packers in 2013 and playing in front of fans at Lambeau Field and in stadiums across the NFL.
As Lacy's football life transformed from casual outdoor fun to paid professional, one thing that didn't change was his interest in actually watching football.
When reporters asked him each of the past two years for his thoughts on the annual Iron Bowl between Alabama and Auburn, Lacy couldn't give any comment as he hadn't seen the game. If the rivalry game of his alma mater isn't enough to pique his interest, nothing will.
But if anyone assumes that any of this makes him any less committed to being a great player than a lifelong football fanatic like Aaron Rodgers, that's where Lacy draws the line.
"If an athlete says he doesn't watch it, then a lot of people pretty much judge him, in a sense, as if he doesn't love the game as much, just because he doesn't watch it," Lacy said. "That kind of throws me off sometimes."
Lacy knows it's odd he doesn't watch football, especially considering his chosen profession. He said he's never met anyone who shares his opinion that there are better things to do than sit and watch games. After all, it is a league whose most recent Super Bowl was watched by more than 111 million people.
"I don't know if I should say I'm surprised (that more people choose not to tune in), because, I mean, football is a popular sport," Lacy said. "Pretty much everybody watches it."
While millions watched Lacy rush for 1,178 yards last season and be named the NFL's Rookie of the Year, he spends his free time much differently.
Lacy has the same routine every day during the season. He'll typically get home from work around 4 p.m., and then take a nap until 6 or 6:30 p.m. That's when he watches an episode of the 1990s sitcom "Martin" and follows it up by playing video games -- Grand Theft Auto and Call of Duty, among others -- before shutting that down in time to watch an episode of "Family Guy" at 10 p.m.
"Then go back to sleep," Lacy said. "Like legit, every day, same thing. Wake up and do it all over again."
As one might expect, Lacy mostly avoids playing football video games, too. The only time he'll play the "Madden" series is if his brother or college friends insist.
There's not as much to do in Green Bay as there is in most NFL cities, but Lacy said it wouldn't matter which team he played for. This would be the way he operates. It is different in the offseason, though, as Lacy tries to spend time with family and friends.
A milestone in Lacy's sports-avoidance lifestyle happened this year on Dec. 2. With head coach Mike McCarthy giving the team a mini bye week, Lacy drove down to Chicago to watch the Bulls play against the Dallas Mavericks.
"That was my first game," Lacy said.
It wasn't a random occurrence, either. Lacy loves Dirk Nowitzki. It was a love born through video games, as Lacy picked the Mavericks as his team and kept feeding Nowitzki the ball.
"I played with him and I was like, 'Yo, he shoots weird,'" Lacy said, demonstrating Nowitzki's over-the-head shooting motion. "Then I watched the game in real life, then ever since then I played with him all the time. I'll watch almost any (Mavericks) game I can see that comes on TV."
Lacy added, "If it would've been Bulls and anybody else, I probably wouldn't have went."
Lacy, the same guy who runs with such a powerful style that he has de-helmeted oncoming defenders, was too nervous to seek out a meet-and-greet with Nowitzki.
"I'd probably get star-struck or something like that," Lacy said. "It's weird."
Lacy certainly isn't the usual NFL star player.
Already with one major award at age 24, Lacy has a lot of time to become an even bigger household name. Well, unless there's another person out there like him who redefines what a "household name" means.
"I can't have a football conversation with nobody, but I do play it pretty good," Lacy said with a hearty laugh and a smile.
Follow Paul Imig on Twitter
---