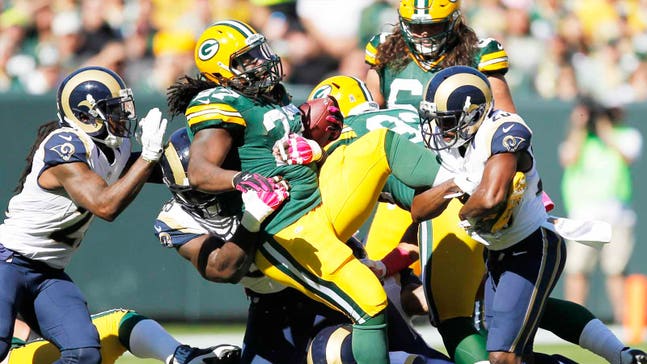 Packers expect more production from ailing offense after bye week
Published
Oct. 28, 2015 4:30 p.m. ET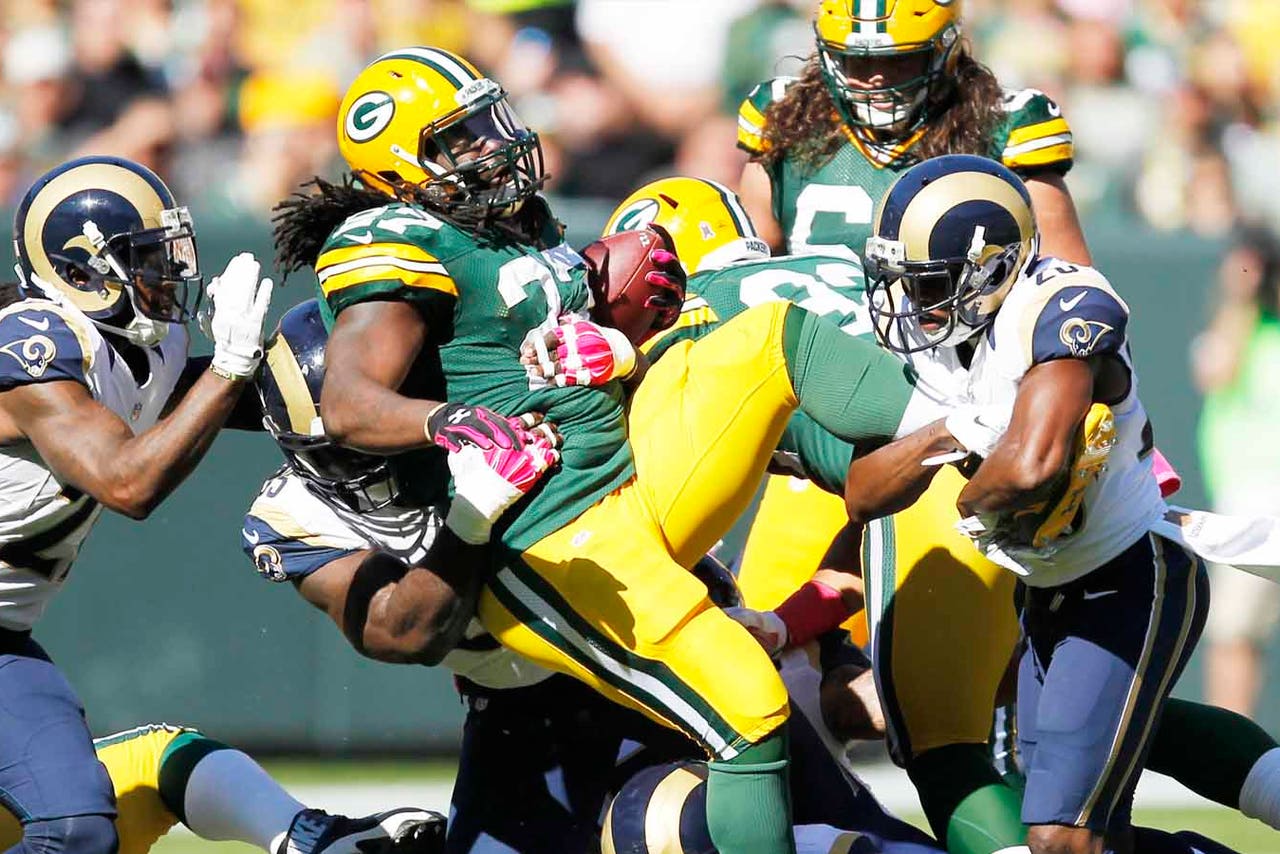 GREEN BAY, Wis. -- Aaron Rodgers had a noticeable pep in his step when he walked to his locker.
A bye week left the Green Bay Packers quarterback refreshed, and gave his sore teammates a chance to rest up before the showdown Sunday with the Denver Broncos.
"Yeah, it would be nice to get everybody back," Rodgers said Wednesday after practice. "It's good for all of us, but especially us older guys and the guys up front."
It is at the skill positions where the down time could help the most.
Receiver Davante Adams is back at practice after being sidelined for much of the last month with a sprained ankle. Randall Cobb (shoulder) and James Jones (hamstring) benefited enough from the time off that they weren't even listed on the injury report Wednesday.
The injury toll has slowed an offense not quite operating to the Packers' high standards. Even teammates are bugging Adams about when he'll be back.
"They've been saying it just as much as you guys have . . . just looking out for me and also wanting me back out there on the field," Adams told reporters. "It's getting better day by day and just hoping this is the week, and we're pushing and it's looking good so far."
There was one new name to add this week after running back James Starks hurt his hip during Green Bay's last game, a 27-20 win over San Diego on Oct. 18.
Following last week's bye, McCarthy hopes Starks will make enough progress to play in Denver. Starks and receiver Ty Montgomery (ankle) didn't practice Wednesday.
Starks ran for 112 yards on 10 carries against the Chargers, starting for Eddie Lacy, who finished with 3 yards on four carries. Lacy sprained his right ankle in Week 2, though he hasn't missed a game.
Lacy has said he wasn't limited in the Chargers game, and understood that McCarthy stuck with Starks because he was running well.
"Well, he looks good, just watching him work out and watching his work Monday," McCarthy said about Lacy before practice Wednesday. "Particularly in the individual stuff, that's where you try to really stress each position, so I don't think the injury is affecting him anymore."
Otherwise, Lacy is off to a slow start, though that's not necessarily unusual for the third-year back:
-- Lacy hasn't rushed for a touchdown since the season opener against Chicago. He has 260 yards on the season on 67 carries, averaging 3.9 yards a carry.
-- Last year through six games, Lacy had 306 yards on 80 carries, averaging 3.8 yards an attempt. He finished with 1,139 yards for that season on 246 carries, averaging 4.6 yards.
Lacy tends to finish strong. McCarthy in part thinks more production will come about from more opportunities.
"No. 1, we're not running enough plays," McCarthy said. "We need more attempts at the plate. Sixty plays a game, that's not what we're looking for."
McCarthy likes the run-pass balance, but would also like more volume. Running 70-plus plays is more like it.
Here's where the injury bug has played a role, though, beyond Lacy. The Packers' best deep threat, Jordy Nelson, was lost for the year during the preseason with a torn right ACL. Defenses are focusing on slowing down Lacy and pressing the team's other top receivers, who are also dealing with nagging injuries.
Having Adams back might help. He was limited in practice on Wednesday.
The Packers raved about Adams' offseason and preseason work. But the second-year receiver hasn't done much since getting hurt in Week 2.
"It depends on his physical status, his ability is there. He's got a lot of believers in the locker room and upstairs in what he can do, it's just a matter of him being comfortable," Rodgers said. "He can do a lot for this offense if he gets opportunities."
Notes: S Morgan Burnett (calf), LB Nick Perry (shoulder/hand) and DT B.J. Raji (groin) were limited. They each missed the Chargers game.  . . . McCarthy indicated that the team would leave a little earlier than usual for a road trip to get acclimated to the altitude in Denver. The Packers haven't played there since 2007.
---
---