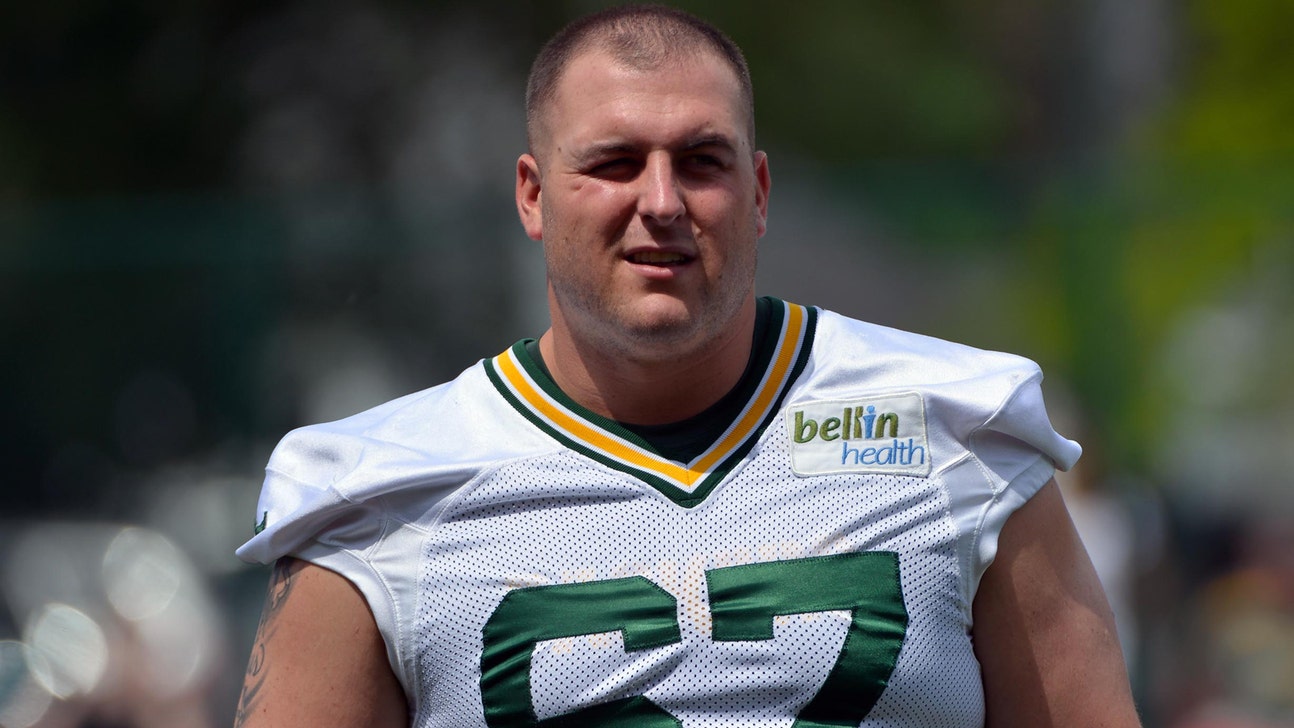 Packers' Barclay injures knee as training camp injuries pile up
Published
Aug. 5, 2014 6:28 p.m. ET

GREEN BAY, Wis. -- For the second week in a row, a Green Bay Packers player has suffered a torn anterior cruciate ligament. First it was rookie wide receiver Jared Abbrederis, now, according to a report by the Green Bay Press-Gazette, it's offensive lineman Don Barclay.
Barclay was carted off the practice field Tuesday after being bull-rushed backwards by rookie outside linebacker Adrian Hubbard and planting his right leg awkwardly. As soon as Barclay went down, it seemed to be a serious injury.
Barclay was on the ground for five minutes before he limped (with the assistance of fellow offensive lineman T.J. Lang on his right side) a few feet to a nearby cart.
"I was standing right behind him," head coach Mike McCarthy said. "He got himself in a bad position."
Barclay started 21 games for the Packers at right tackle over the past two seasons. However, with the return of 2010 first-round pick Bryan Bulaga (who missed the 2013 season with a torn ACL of his own), Barclay was Green Bay's top backup at nearly every offensive line position this year. When Lang was limited for the first few days of training camp, Barclay took his spot at right guard. Barclay would have done the same at left guard and right tackle, too.
"Donny, they don't come any better than him," McCarthy said. "He's exactly what you're looking for. If you want someone to emulate what a Green Bay Packer football player is on and off the field, he's definitely one of your guys."
When the Packers locker room was open to reporters following practice, the extent of Barclay's injury was not yet known. The rest of the offensive linemen were hopeful not to lose Barclay, a 25-year-old who had worked his way up from being undrafted in 2012 to a player who was on the field for more than 1,000 snaps last season.
"He adds a ton of value to this line," left guard Josh Sitton said. "You typically don't get a sixth guy that can play that many positions and has had that much experience. That will be a big one if he's down."
Abbrederis' torn ACL that happened during practice on July 30 wasn't obvious like Barclay's was. Abbrederis didn't know anything was wrong and even practiced the next day.
Though Green Bay hasn't made an official roster move with Abbrederis yet, the former Wisconsin Badgers star will have surgery on his right knee as early as this week. He said in the locker room Tuesday that he plans to have Packers team doctor Pat McKenzie perform the operation.
Despite the injury, Abbrederis has been walking around with only a slight limp and has been on the field (albeit off to the side) during practice.
"There's no need to just sit around and not do anything," Abbrederis said. "Might as well do some stuff while I can and catch some passes and be around the guys."
Another injury that the Packers are dealing with is to starting safety Morgan Burnett. He left Monday night's practice early, and McCarthy stated Tuesday that Burnett suffered an oblique strain. That's the type of injury that could keep Burnett out for a while.
With Burnett sidelined, first-round pick Ha Ha Clinton-Dix slid into the starting lineup at safety alongside Micah Hyde.
"I'm with the 1s now, but at the same time, I'm still fighting for a job," Clinton-Dix said. "Micah's doing a great job. Morgan's definitely doing a great job; he's the veteran on our team. I'm just playing my role."
During the team's annual Family Night event, Green Bay lost Colt Lyerla to a knee injury, too. The rookie tight end, who made headlines for his off-the-field issues before signing an undrafted free-agent contract with the Packers in May, attempted to hurdle a defensive player during a non-tackling portion of practice. As a result, Lyerla will be out "a couple weeks," according to McCarthy, who wasn't happy with the hurdle attempt.
"I don't regret trying to make a play," Lyerla said afterward.
Green Bay had gotten off to such a good start in the early days of training camp in terms of players staying healthy, but that's quickly taken a turn for the worse.
Follow Paul Imig on Twitter
---