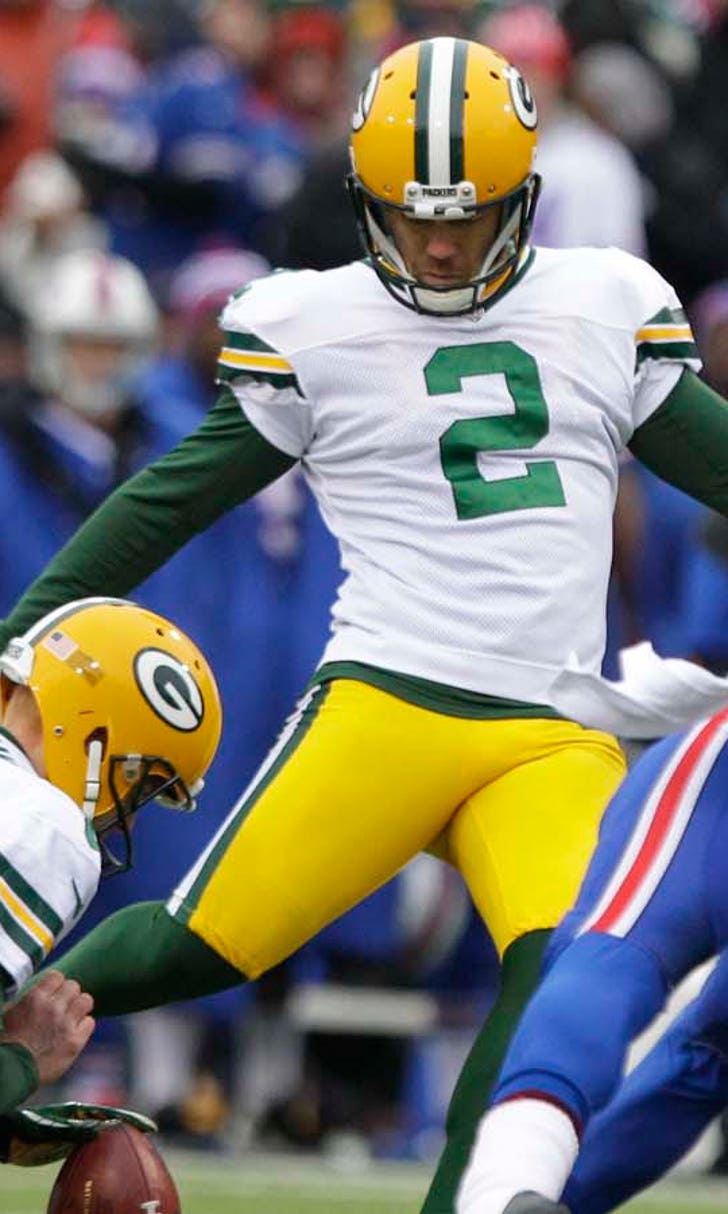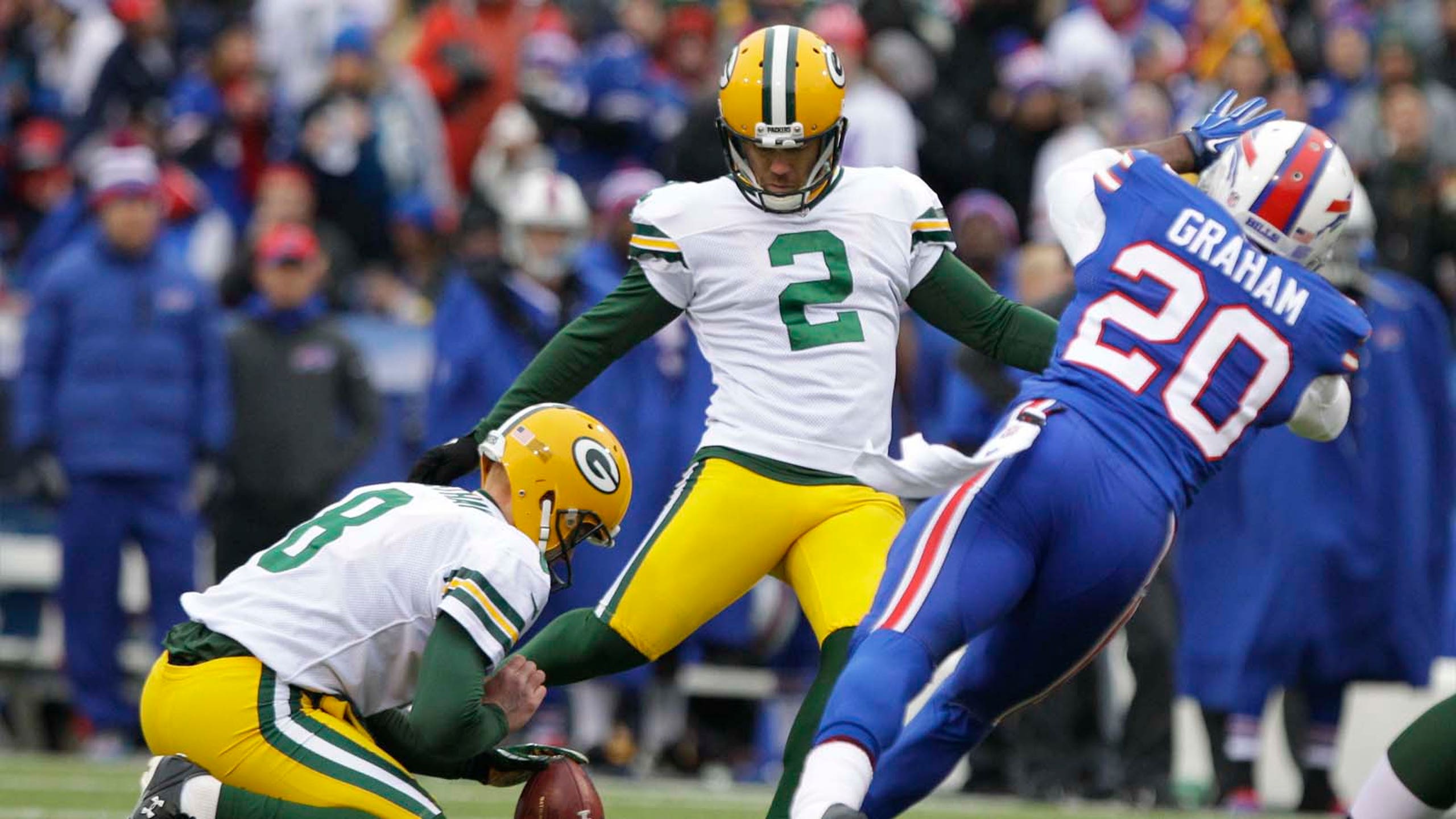 Packers aim to 'put a stop to' blocked kicks
BY foxsports • December 15, 2014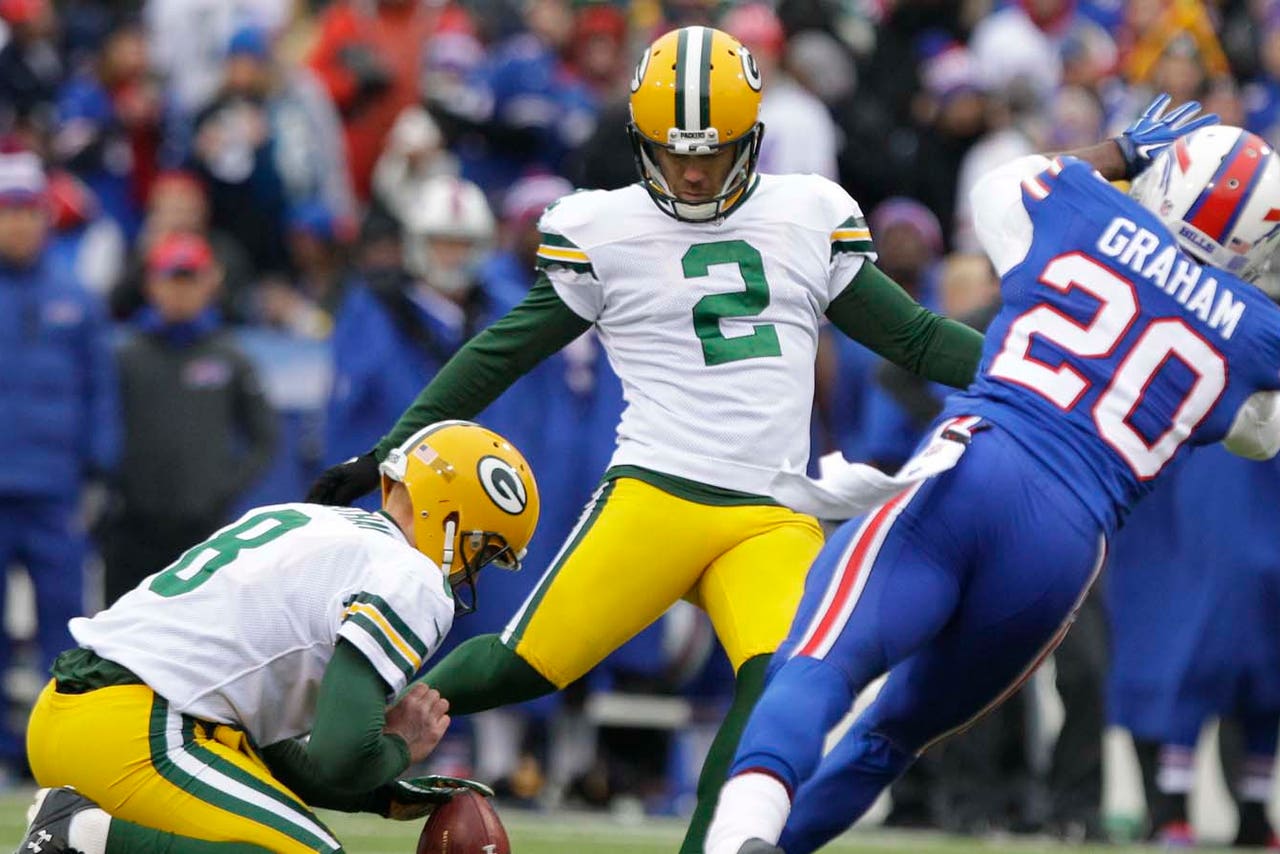 GREEN BAY, Wis. -- Mason Crosby wants to share the blame with the linemen blocking for him. In Crosby's mission of always looking inward for ways to improve, he isn't going to throw anyone under the bus for not performing at a higher level.
As the Green Bay Packers had their sixth kick of the season blocked Sunday in Buffalo, it's clear that something is wrong in the special teams operation.
Crosby launched what he felt was a strong, 53-yard field-goal attempt before it was swatted out of the air at the line of scrimmage by Mario Williams. When Crosby later connected on a 34-yarder, he believed that he hit that one the same as the kick that was blocked.
"Sometimes blocked field goals are a combination of getting a good jump, kind of getting lucky at times," Crosby said. "Because if you watch a lot of kicks, almost every kick in the NFL it almost seems like, if a guy gets his hand up or a guy gets in the right spot, he can potentially block one."
Crosby knows the unfortunate experience well. He also had a field-goal attempt blocked Week 4 in Chicago, in addition to having extra points blocked Week 11 against Philadelphia and Week 14 against Atlanta.
"We need to put a stop to it," special teams coordinator Shawn Slocum said.
It's a difficult balancing act for Crosby as he tries to not deviate from his plan before a kick. Asked a couple times whether Crosby will need to perhaps kick the ball higher to avoid it being blocked, Slocum did not directly answer.
"I really think everyone just needs to do their job," Slocum said. "If you do that collectively, you have success."
On one hand, Crosby said he can "always kick the ball higher." But it's also dangerous territory for him to change what would otherwise be a successful attempt just because there is penetration up front.
"I'm going to kick my ball," Crosby said. "I'm going to go out there and do my process for what I've done in pregame. I have to know what I've done in pregame, what kind of ball I have to hit to get the distance, make the kicks. That's why I go out and I'm out two hours before the game hitting balls and seeing what trajectory I need to get it there from 53 yards, and what kind of ball I need to hit.
"Watching the film and what I remember in the game, I felt like I did all those things, I checked off that list of my mechanics and the process that I went through. (Williams) made a good play, got his hand up right in the line."
Crosby used the word "trust" frequently to describe the relationship he has to have with the blocking. He wants to "trust the operation, trust the protection."
When Crosby has had good protection this season, he's been very efficient, making 25 of 27 field-goal attempts and all of his extra points. But adding in the four blocks, his percentages drop considerably.
Yet, Crosby's trust in the protection hasn't wavered.
"Our operation, the snap, hold, the protection is solid," he said. "We don't have free runners coming through all the time. It's very minor things that we need to adjust. I just have to continue to kick my ball. I don't worry about those guys. I know they're going to do their work and they're detailed with it. I know that they took pride with what they do.
"For me, I have to trust what I do during the week and what I do in pregame, that when I go out there I keep my head down and hit that ball through. For me, that's my mindset, trusting those guys, and I have full faith in them every time I go out there."
Slocum wasn't making any excuses for the blocking in front of Crosby.
"We have to do a better job in protection," Slocum said. "I said that last week (and) we had another problem. It's something that we need to do a better job of. It has to be a focus as we move forward."
Slocum stated before the Buffalo game that "continuity and personnel" were the biggest reasons for the protection not performing well. Josh Sitton and T.J. Lang no longer playing in those units after suffering injuries midway through this season has made a significant impact.
Sitton and Lang have continued to show up on the injury report every week. Sitton's toe and Lang's ankle have kept them limited in practices, so the Packers have opted to decrease their workloads by not giving them any special teams snaps.
Given the struggles, though, head coach Mike McCarthy might have no choice but to put Sitton and Lang back out there.
"They've had some rough Wednesdays and Thursdays; they have things they're battling through," McCarthy said of his two guards. "It all really, when it comes down to these types of decisions from my view point is, it's risk assessment. That's a challenging football play for anybody on the interior of a protection unit. It's a unique skill and a unique physical capabilities, too. I think that's a big part of it. If you look at Josh and T.J., just their body types, there's a reason why they're excellent when they're in there."
It's been a similar issue in Green Bay's punt protection. Tim Masthay had a punt blocked Week 6 at Miami and Week 11 against Philadelphia.
The six kicks blocked are the most allowed by the Packers in at least the past 25 years.
"Our field-goal protection has been an issue," McCarthy said. "This is our last week of padded practice, so we'll take advantage of that to make sure we work on the fundamentals and the things that we're doing there. The personnel is not right. We don't feel like we have that right yet as far as how we're utilizing some of the players and some of the matchups that the defensive or the field-goal rush unit has been able to get on us."
For Crosby, he's just going to keep doing the same routine. And when he hasn't had a kick blocked, that routine has been a successful one for him the past two seasons, making more than 90 percent of his field-goal attempts and all 89 of his extra points.
"We've done a lot of great things, there's been a lot of great moments," Crosby said. "I made 25 field goals (in 2014) and I plan to make a bunch more here down the stretch."
Follow Paul Imig on Twitter
---
---