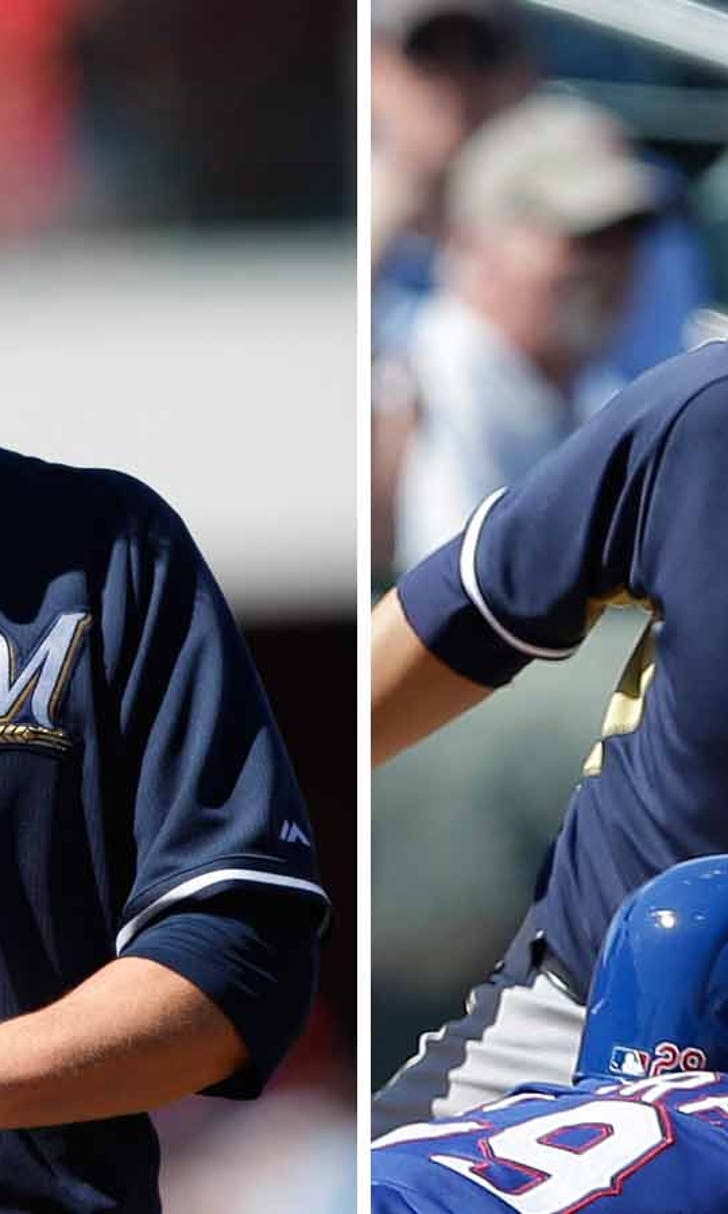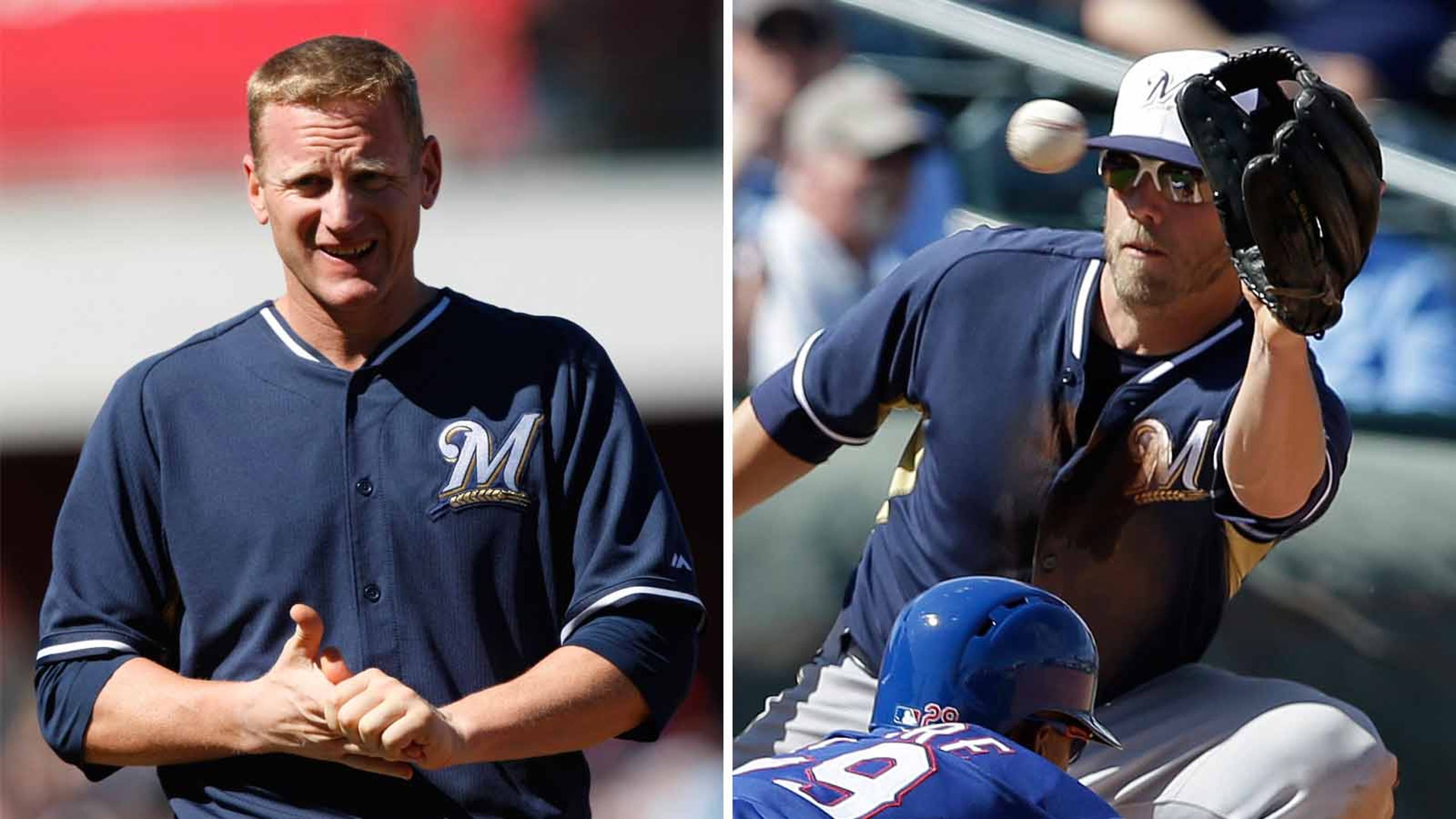 Overbay, Reynolds make Brewers' 25-man roster
BY foxsports • March 23, 2014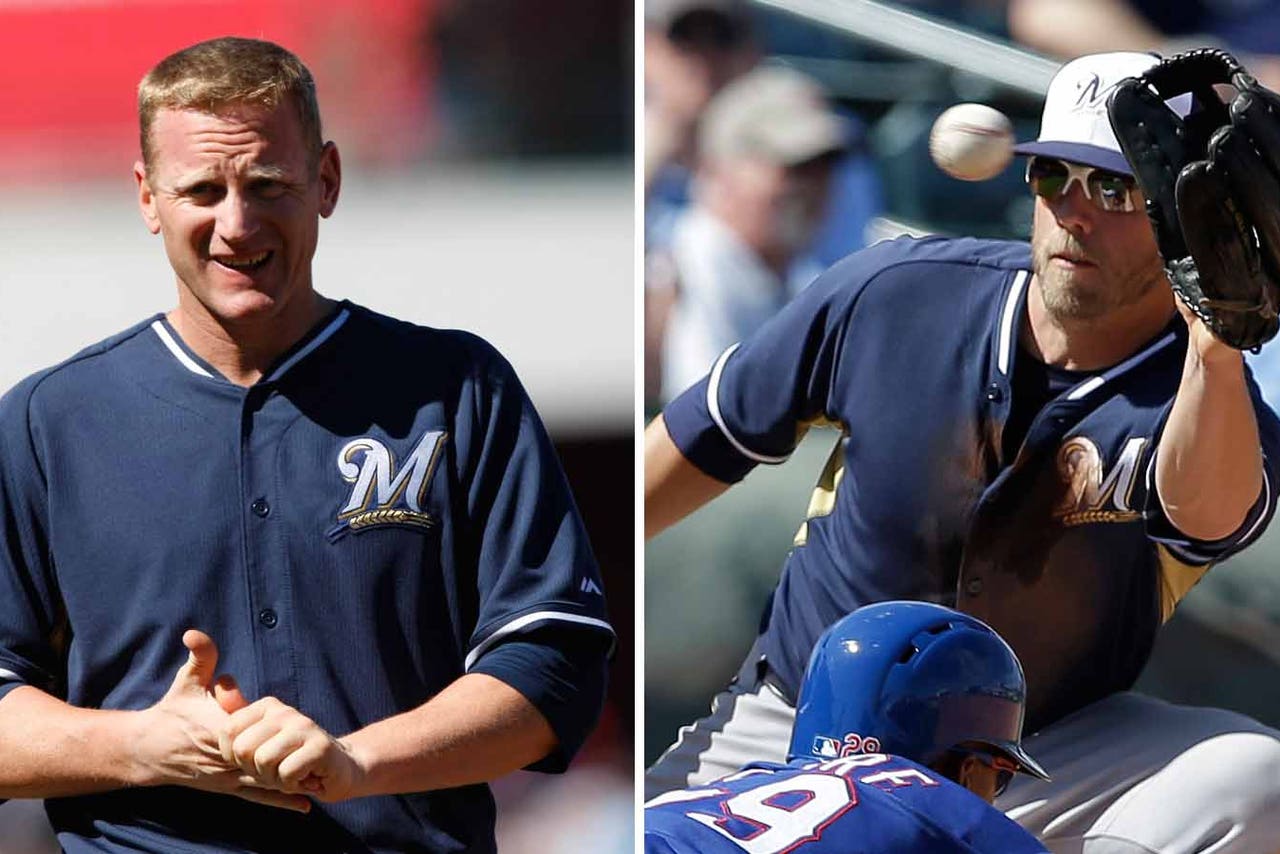 The battle at first base has been settled, as the Milwaukee Brewers informed Mark Reynolds and Lyle Overbay on Sunday that they will make the 25-man roster.
Juan Francisco's time with the team appears to be over, but the club has yet to make an official announcement on his status. Since both were on minor-league contracts, Reynolds and Overbay will need to be added to the 40-man roster.
Reynolds was thought to have a good chance to make the roster with the decision coming down to Overbay's defense and Francisco's power bat. The Brewers decided to go with the defensive option.
"We're going with two guys that their track record is what we're looking at," Brewers manager Ron Roenicke said. "We feel we have better defense that way. I've been frustrated a little bit with the way we're playing our defense, as has (general manager) Doug (Melvin).
"We really feel like we're going to pitch well this season. Because of that, we feel like we need to play good defense. When they talk about your defense being strong up the middle, we think we should be."
The 30-year-old Reynolds has hit .250 with two home runs and 11 RBI in spring training, but is 6-of-12 in his last four Cactus League games. He had an opt-out clause in his contract that required the Brewers to inform him if he was making the team by Monday.
"It's good," Reynolds said. "I can stop the guesswork, pack all my stuff and get it all to Milwaukee.
"It helped to have that opt-out clause so if they wanted to go in a different direction it would have been a lot easier on both parties. But it didn't work out that way. I got the news this morning in Ron's office, and I'm happy."
Reynolds provides the Brewers with versatility, as he can play first base, third base, second base and the corner outfield positions. He said he told Roenicke he's open to doing whatever is asked of him and play anywhere in the field.
"Every spring is full of optimism," Reynolds said. "Right now I think every team thinks they have a really good chance. We're no different. We like everything about our team. We have good pitching, good hitting. It's just going to take everyone staying healthy, being consistent and going out there and playing."
Overbay, who will be in his second stint with the Brewers, is hitless in his last 26 spring at-bats and has a .114 batting average with no extra-base hits. The 37-year-old has a career .995 fielding percentage at first base and is definitely a much better defender than Francisco.
Roenicke has made clear he doesn't base decisions off spring training stats alone, otherwise Overbay probably would have been the odd man out.
"Spring training is to get in shape," Roenicke said. "Spring training is not to see who you think should be on the team. If you did that, there would be some weird stuff happening every year. Any of these guys, the veterans, could walk in and hit .200. Does that mean you don't keep them on the team?
"Spring training is not on numbers. It isn't. That's the misleading thing that people don't understand. The people that I look up to in this game always say, 'Do not be misled by spring training,' and it's the truth."
Because he's out of options, the Brewers will likely designate Juan Francisco for assignment and either swing a trade with another team or release the 26-year-old.
Francisco hit .346 with three home runs, six RBI and eight walks this spring training. He had a .221 batting average with 13 home runs, 32 RBI and 95 strikeouts in 89 games after the Brewers acquired him in a trade from Atlanta in early June.
Last season was Francisco's first time playing first base in the big leagues. He struggled at his new position, making 10 errors in 67 games. Francisco also made four errors in four games at his natural position of third base with the Brewers.
With another high-strikeout player with big power on the roster in Reynolds, Francisco's defensive inabilities ended up costing him.
"Juan, he has improved. We all saw it," Roenicke said. "I don't want to downplay what Juan did here because Juan did everything he could to help himself make this team. But the skill set, we feel, of the other two really fits better with what we're trying to accomplish."
Follow Andrew Gruman on Twitter
---