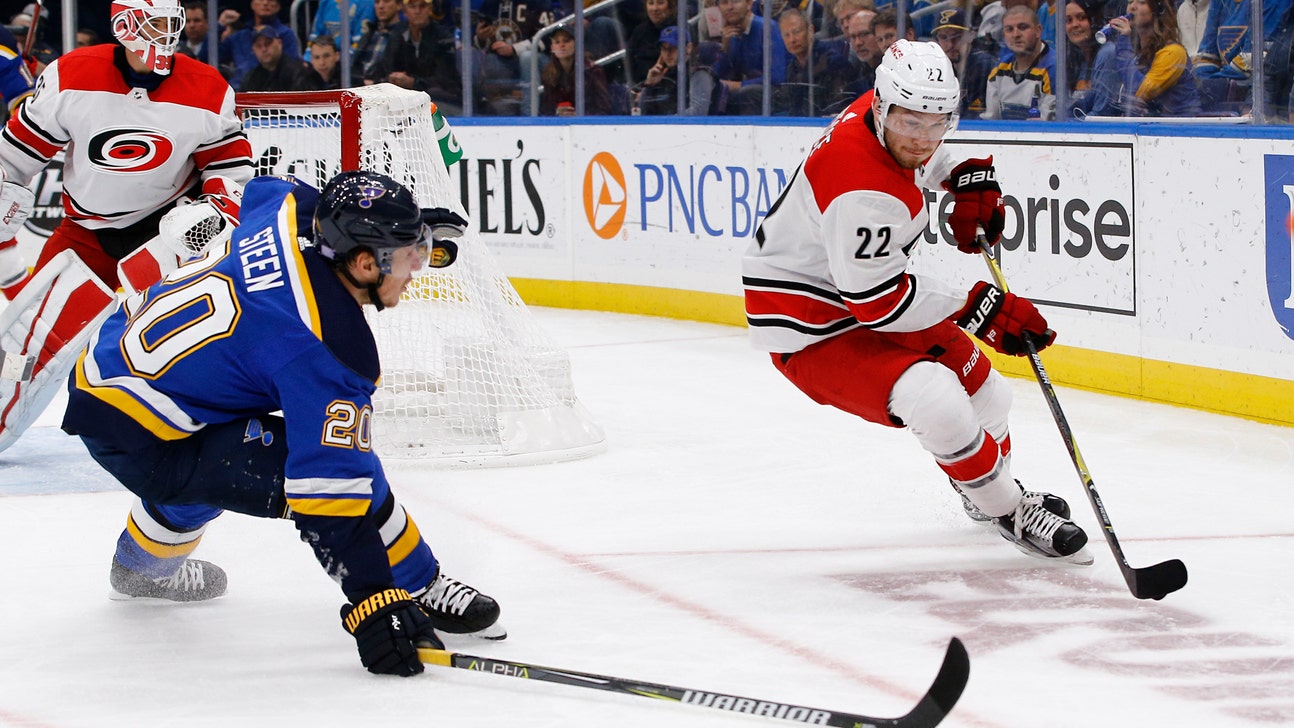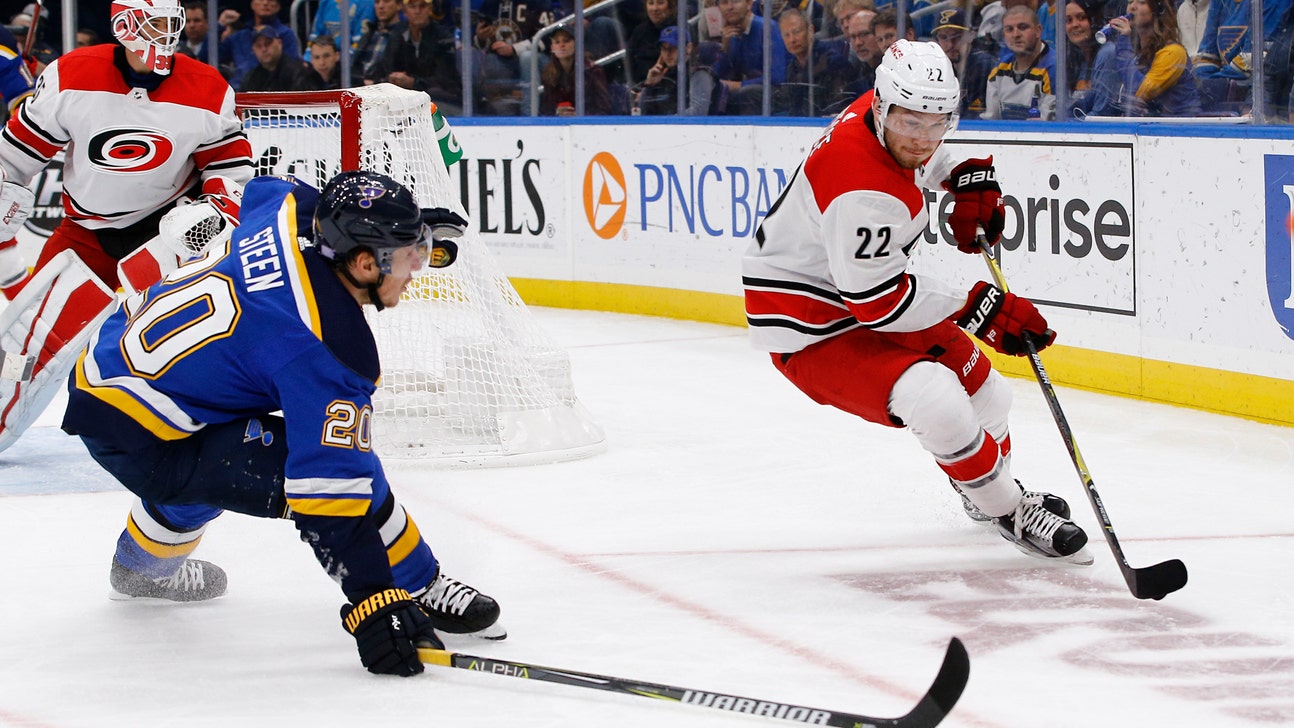 O'Reilly's hat trick leads St. Louis over Carolina 4-1
Updated
Mar. 5, 2020 1:05 a.m. ET
ST. LOUIS (AP) — Ryan O'Reilly saw all the hats flying on the ice and had to think for a moment about what to do.
O'Reilly notched his first NHL hat trick and Robby Fabbri added his first goal in almost two years, lifting the St. Louis Blues to a 4-1 victory over the Carolina Hurricanes on Tuesday night.
"It's never happened before, so I didn't know how to act," O'Reilly said. "It's been a really long time. I saw a lot of nice hats out there on the ice."
O'Reilly came to St. Louis as part of a four-player, two-pick July 1 trade with Buffalo. The Blues sent Patrik Berglund, Vladimir Sobotka, Tage Thompson, a 2019 first-round pick and 2021 second-round pick to the Sabres.
O'Reilly has five goals in the last four games. He extended his scoring streak to eight games with seven goals and eight assists.
"He puts a lot of work into his game," St. Louis coach Mike Yeo said.
St. Louis goalie Chad Johnson, starting his second game of the season, recorded 38 saves. It was his first victory as a member of the Blues and his first since March 31, 2018, when he was playing for Buffalo.
"I feel like I did a good job controlling the pucks," Johnson said. "It was a big win. We're doing a good job of battling."
The win was the fourth in the last five games for the Blues, now 5-5-3 on the season.
"It's all about the winning," Yeo said. "Bottom line, we've won four of the last five and it doesn't really feel like it. We've got to keep working."
Carolina goalie Curtis McElhinney fell to 1-6-1 against the Blues in his career. He had 15 saves on 18 shots.
The Hurricanes outshot the Blues 39-19. St. Louis had just seven shots after the first period.
"At the end of the day, excuses are for losers," Carolina's Justin Williams said. "We're not going to use them and I'm not searching for them. I'm sick of recycling that same old stuff."
The Blues scored three goals in the first period for a 3-1 lead. O'Reilly scored twice and Vladimir Tarasenko recorded two assists.
O'Reilly gave St. Louis a 1-0 lead at 11:57 of the first. From the right side of the crease, Tarasenko passed the puck cross ice to O'Reilly, who one-timed it past McElhinney.
Fabbri scored at 16:01 to give St. Louis a 2-0 lead. David Perron fed Fabbri, who deked McElhinney and lifted the puck over the prone goalie. It was Fabbri's first goal since Dec. 28, 2016, when he had a hat trick against Philadelphia.
Fabbri sustained a torn ACL on his left knee in a Feb. 4, 2017 game against the Pittsburgh Penguins and missed the remainder of the 2016-17 regular season and playoffs. During training camp leading up to the 2017-18 season, Fabbri re-injured his left knee, subsequently missing the entire season.
After a conditioning assignment in San Antonio, Fabbri was playing in his third game.
"It was a long time ago the last time I scored," Fabbri said. "It definitely helps my confidence."
Carolina's Jaccob Slavin scored his first goal of the season on a power play at 19:34. Slavin's slap shot from just inside the blue line zoomed past a screened Johnson, who never saw the puck.
"It's pretty frustrating, but we dug ourselves a pretty big hole in the first period," Slavin said. "We have to be able to play a complete 60 minutes, and when we do that then the goals will start coming."
St. Louis came right back with a power-play goal with 4.7 seconds left in the period. O'Reilly scored his second of the game on a slap shot from the left circle off a feed from Tyler Bozak from behind the net.
O'Reilly got the hat trick with an empty-netter at 16:50 of the third period.
The Blues have scored a power-play goal in six consecutive games and have had at least one in 11 of their 13 games this season. St. Louis leads the NHL with 16 power-play goals. The team's longest streak for power-play goals is eight, from Jan. 31 to Feb. 15, 2013.
Carolina had five power-play opportunities, scoring on just one.
"I'll say it as honestly as I can, I don't like our power play one bit," Carolina coach Rod Brind'Amour said. "That's an area of huge concern for me that we have to get better at."
St. Louis improved to 7-2-0 in its last nine games against Carolina, which has lost five straight after starting the season 4-0-1.
NOTES: Blues C Brayden Schenn, who missed the third period Saturday with an upper-body injury, did not dress. ... D Jay Bouwmeester was a healthy scratch. ... Carolina's G Peter Mrazek missed his second game with a lower body injury.
UP NEXT
Carolina: The Hurricanes play Thursday at Chicago.
St. Louis: The Blues host San Jose on Friday.
__
More AP NHL: https://apnews.com/NHL and https://twitter.com/AP_Sports
---