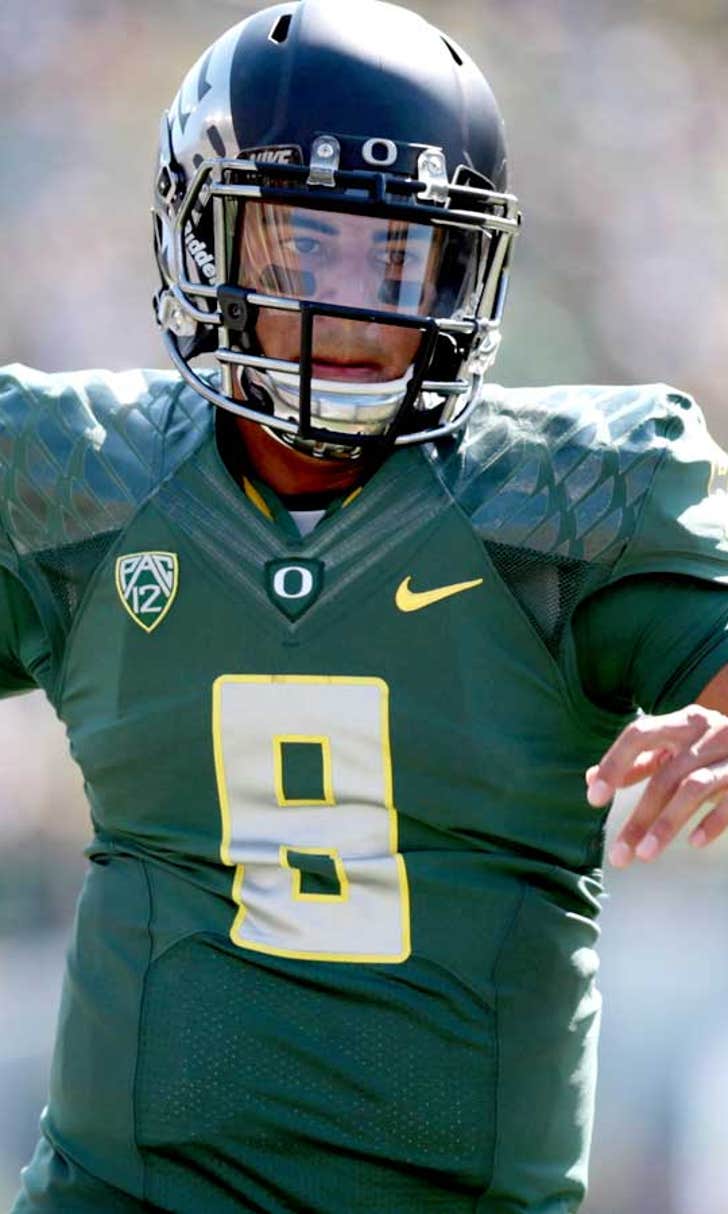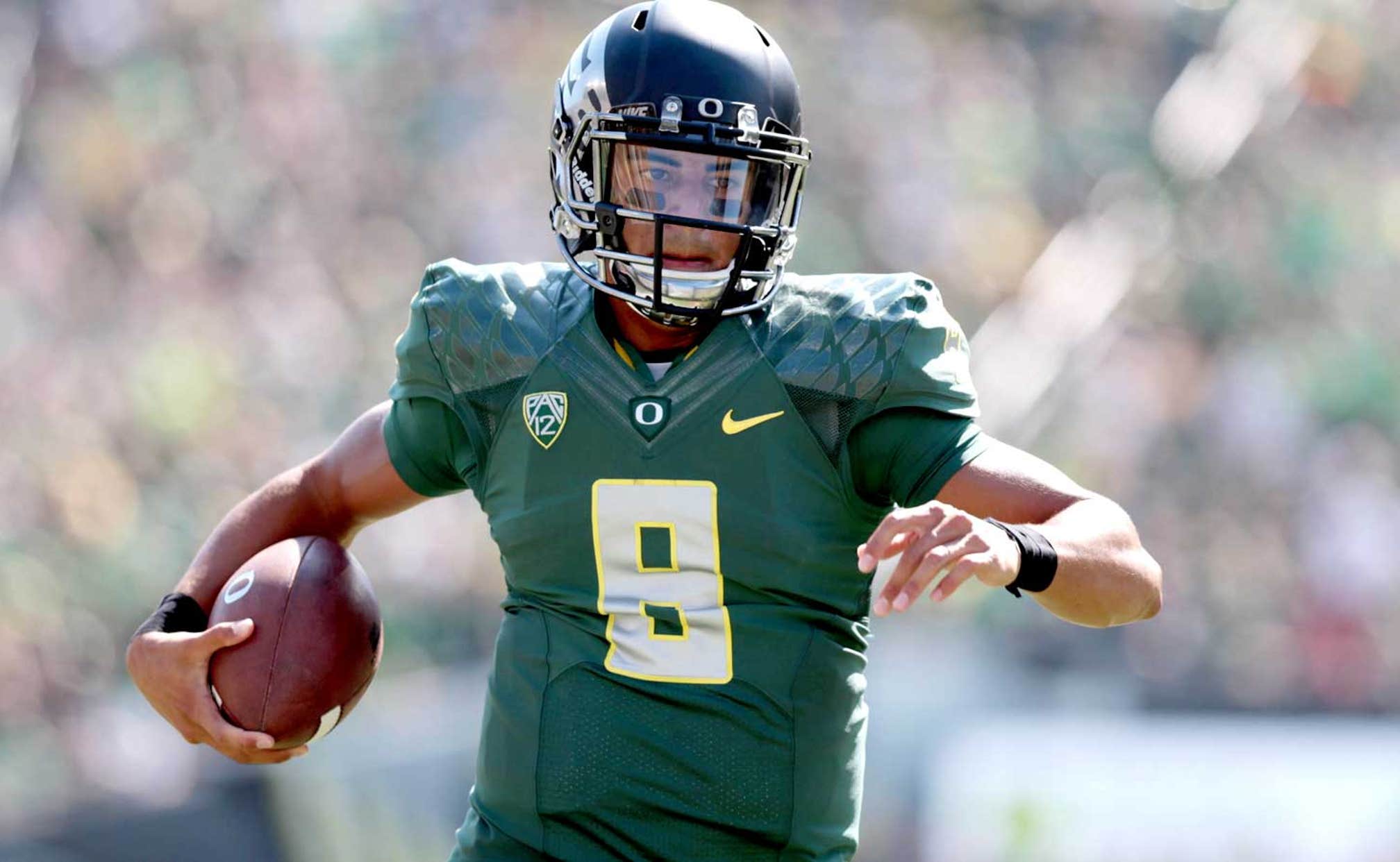 Oregon's Mariota has Arizona's undivided attention
BY foxsports • September 29, 2014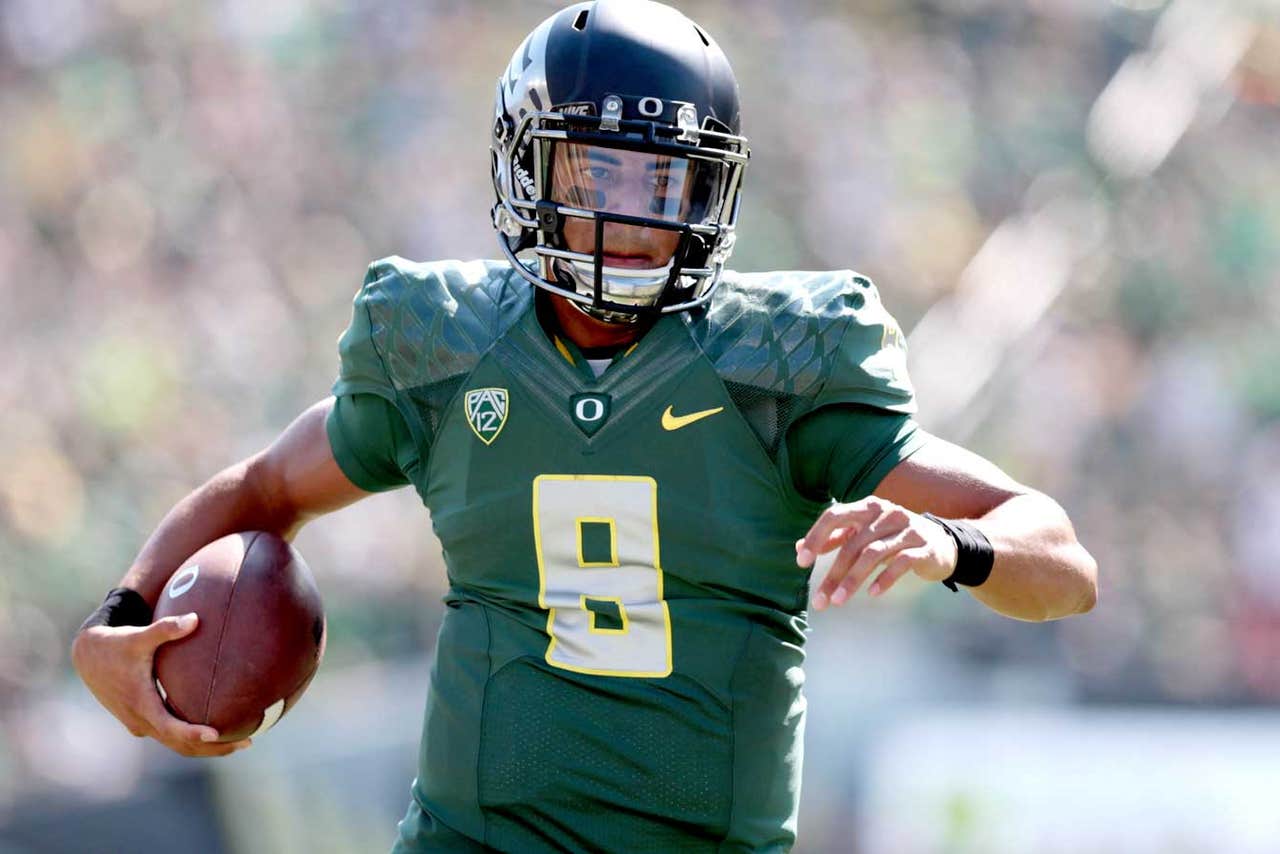 TUCSON, Ariz. -- Arizona coach Rich Rodriguez jokes -- maybe wishes? -- that Oregon quarterback Marcus Mariota was so good last year he should have come out for the NFL.
OK, maybe there's a little self-interest there, in that Arizona wouldn't have to face Mariota again. No such luck. Mariota will be the focal point Thursday night when the Wildcats face No. 2 Oregon in Eugene in front of a nationally television audience. Both teams go in at 4-0.
"What a great player," Rodriguez said. "He's not just one of the best in the country this year but has been one of the best in the country the last couple of years ... He's the whole key to what they do offensively. He's a great player."
One of the top three players in the country, Rodriguez said.
He's completed 74 percent of his passes, throwing 13 touchdowns and no interceptions. He averages 337 yards in total offense.
He's elusive, strong-armed and smart -- among other things.
Last week, Rodriguez said Mariota was the "Heisman frontrunner." On Monday, when asked if Mariota didn't make it in the top three, he'd be "shocked."
That's, of course, if something doesn't happen to him health-wise or something out of the ordinary occurs.
"He's a big kid, and he's a playmaker," said UA defensive lineman Dan Pettinato. "He's always looking to make those plays. We just need to wrap up and keep our lanes and don't let him get outside."
Of course, that's easier said than done. Few teams have managed that, although Arizona did last year in a stunning 42-16 upset over then-No. 5 Oregon in Tucson. The defeat all but ended Mariota's 2013 Heisman hopes, and he also suffered an injury in the fourth quarter.
But Mariota is back and healthy, with his most impressive God-given traits being his speed and quickness.
"I've seen him outrun DBs, linebackers -- and his vision," Pettinato said. "There are a few times you'd see him look one way and be able to escape."
The escape is the problem. It happens all the time.
"When you get to the quarterback, you've got to get him tackled," Rodriguez said. "That's one of my biggest concerns with Mariota. He breaks so many tackles in the pocket and makes big pays out of that. I saw him do it against Michigan State, which is one of the best defenses in the county. For us, if we're fortunate to get to him, we have to get him on the ground."
On opposite ends, Arizona must have Anu Solomon be Mariota-like. The two are on different ends of the quarterback spectrum, although Solomon is trending up.
Similarities?
"They both have a good feel for the game," Rodriguez said. "Mariota is three inches taller (6-foot-5), 20 pounds heavier and tenths of seconds faster. (But) both have a knack and feel for seeing the field ... (Both) are fun to watch."
It's just that he would have preferred to watch Mariota in the NFL this week instead.
Follow Steve Rivera on Twitter
---