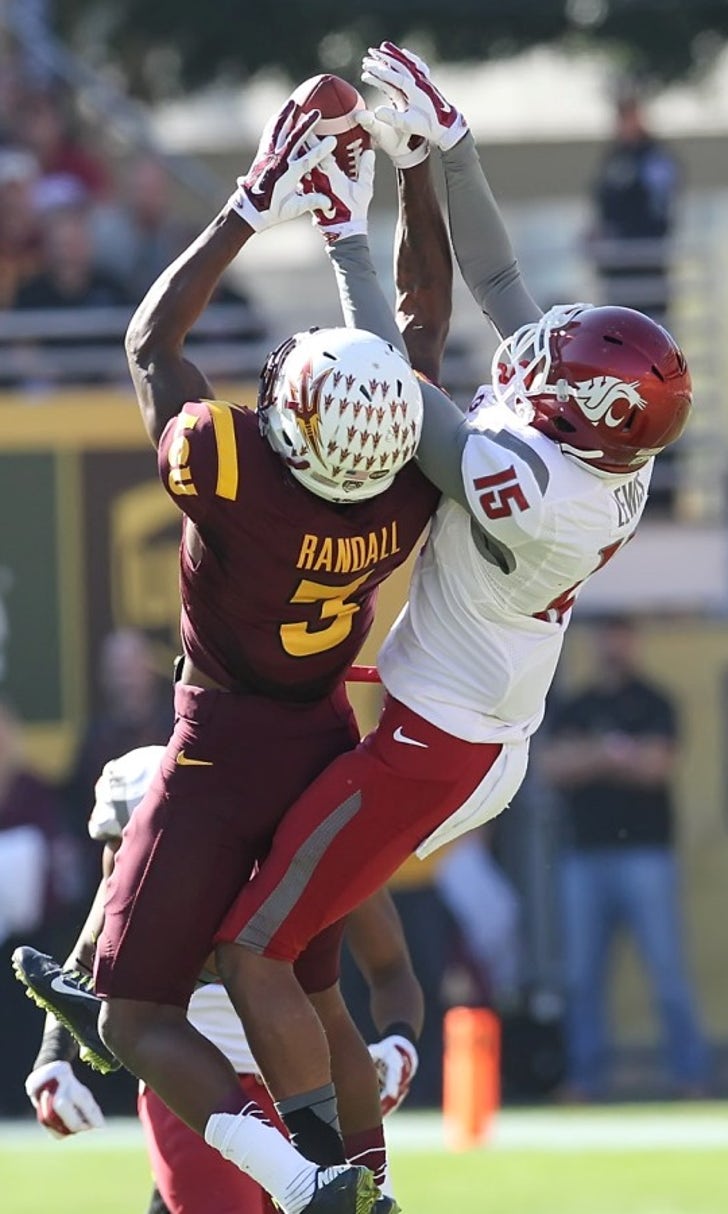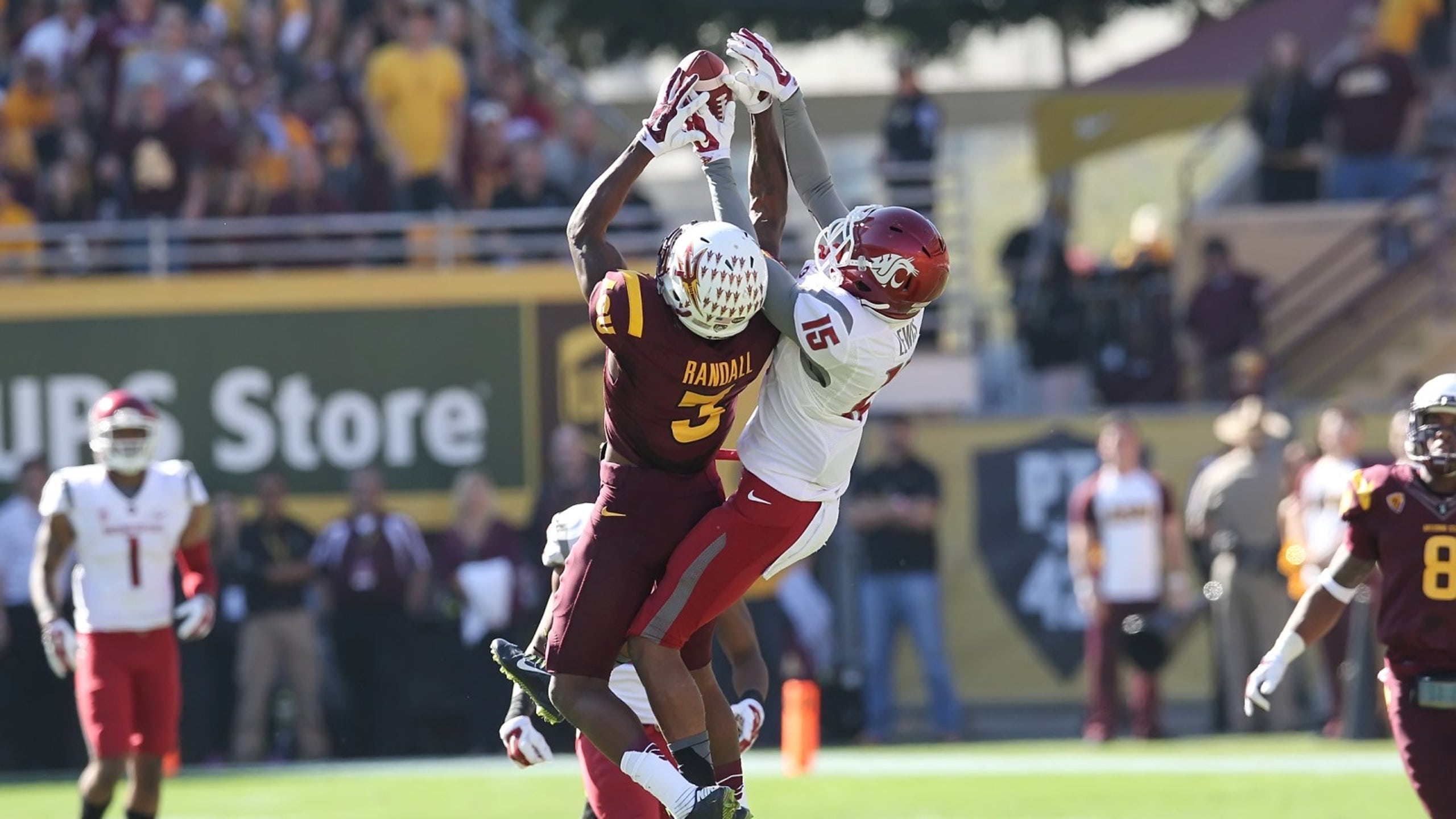 Opportunistic defense powers ASU surge past Washington State
BY foxsports • November 22, 2014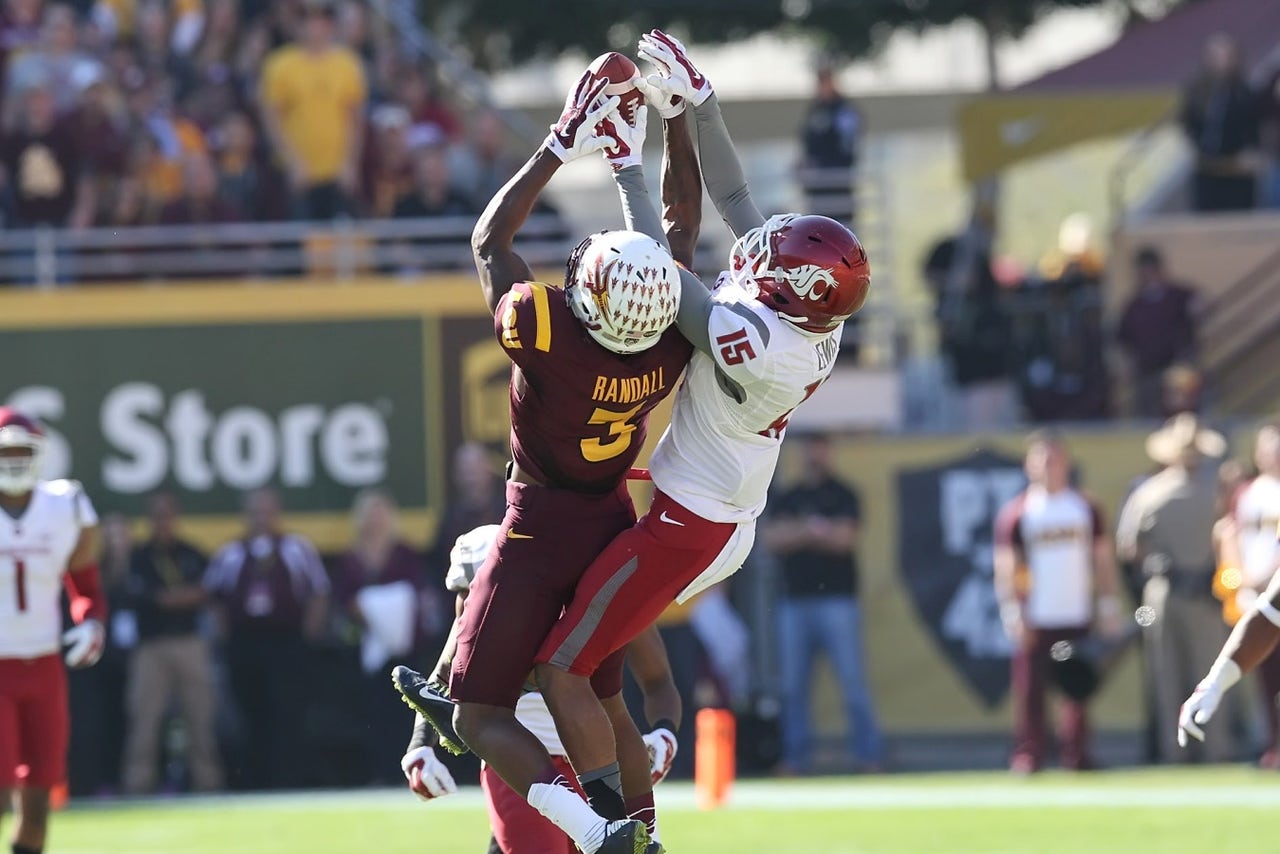 TEMPE, Ariz. -- Arizona State knew exactly what it was getting into against Washington's "Air Raid" offense and figured it could take advantage. The Cougars played right into the Sun Devils' hands.
With five turnovers -- four of them interceptions -- an opportunistic defense set up No. 13 ASU for a 52-31 win over Washington State on Saturday afternoon, a day on which the offense certainly appeared to need the lift.
"Turnovers, TFLs (tackles for loss) and sacks -- those are the things that win games," ASU coach Todd Graham said. "When you commit to being an attacking defense, those are the things that happen."
With No. 1 receiver Jaelen Strong sidelined following a concussion last week, ASU's offense already was shorthanded. Factor in quarterback Taylor Kelly's continued struggles in the first half -- he was 7-of-15 passing for 110 yards -- and ASU (9-2, 6-2 Pac-12) looked primed for another loss against Washington State's pass-happy attack.
After ASU's sixth 3-and-out of the first half, Washington State took a 21-7 lead on freshman quarterback Luke Falk's second touchdown pass of the game. It was then Graham decided to call an audible.
"We had this whole plan that involved rushing four and playing coverage," Graham said. "We scrapped that."
ASU reverted back to its normal defensive plan, and the tide turned quickly. Falk had already been intercepted once by senior safety Damarious Randall. On Washington State's next drive after ASU's change of plan, Falk threw another interception, this time to defensive end Marcus Hardison.
"Once we created a couple turnovers, their offense started slowing down a little bit," Randall said. "Their quarterback kind of started second-guessing himself, and that's when we started attacking more and more."
ASU trailed 24-21 at halftime, with two of those touchdowns after the interceptions. The takeaways kept coming in the second half.
Junior cornerback Kweishi Brown intercepted Falk to set up the third-quarter touchdown that gave ASU its first lead of the game. Marcus Hardison sacked Falk to force a fumble, which sophomore defensive tackle Viliami Latu scooped up and ran 51 yards to set ASU up for a one-play touchdown from 18 yards out.
"I thought Ami was going to need medical attention after his (return)," Graham joked. "He couldn't hardly breathe."
For the fifth turnover over the day, sophomore linebacker Salamo Fiso snagged Falk's fourth interception of the day, positioning ASU to go ahead 45-24. In all, ASU scored 35 points off turnovers.
"Our defense played a great game again, and they were unbelievable," Kelly said. "You can always rely on them, and they rely on us."
Without that kind of performance from the defense, which actually gave up 622 yards of offense, it might have been a very different game. The offense looked out of sync in the first half and clearly impacted by the absence of No. 1 receiver Jaelen Strong, who was ruled out shortly before kickoff.
With Strong on the sidelines in street clothes, the Sun Devils struggled to get anything going. They went into halftime with just 135 yards of offense to Washington State's 337.
After ASU punted for the 7th time early in the third quarter, Brown intercepted Falk, who in his second career start completed 45 of 74 passed for 601 yards. Then, the Sun Devils seemed to wake up on offense. Right away Kelly hit sophomore receiver Cameron Smith for 67 yards to set up a touchdown from three yards out for the first of five straight scoring possessions.
Smith finished with a career day, catching six passes for 131 yards and two touchdowns, to help fill the void left by Strong's absence.
"He has been waiting for his time and he got that opportunity and took advantage of it," Kelly said.
Junior running back D.J. Foster, too, proved a key piece of ASU's offensive awakening in the second half. He finished with 96 rushing yards and three touchdowns as well as 59 receiving yards on five receptions.
Kelly's turnaround in the second half -- in part due to better protection -- was perhaps the most crucial development. He complete 8 of 10 passes in the second half for 122 yards and two touchdowns to finish with four touchdowns passes in the game.
Kelly had been the subject of intense scrutiny since ASU's loss last week, and admitted he's not 100 percent after missing six weeks with a broken foot. Graham seemed to hint ASU could be forced to make a change if Kelly couldn't figure things out.
"No one's harder on him than him," Graham said. "It has been a struggle. It hasn't been getting right back on the bike and be just like it was before.
"I was proud of him bouncing back and having a great senior day."
The win gave ASU back-to-back seasons of nine wins for the first time since 1996 and 1997. It also gave the Sun Devils 27 wins over a three-year period, their highest total since joining the Pac-10 in 1978.
More importantly than any of that, though, the win kept ASU alive in the Pac-12 South race. Next week, the division and a spot in the conference championship game could be on the line when ASU faces off with rival Arizona in Tucson.
WR Cameron Smith -- With Jaelen Strong out, ASU needed a true receiver to step up, and Smith did in a big way, showing his yet untapped potential.
DE Marcus Hardison -- Hardison has probably played his way into the NFL Draft over the past month. On Saturday, he recorded two sacks, an interception and a forced fumble.
-- In the first half, ASU quarterback Taylor Kelly broke Andrew Walter's school record for points responsible for in a career (510). Kelly is now responsible for 88 touchdowns for 528 career points.
-- ASU committed six offsides penalties Saturday, two of which were declined. Graham's response: "I can't explain that. ... Those are really, really bad penalties. That can't happen. That was borderline embarrassing."
Follow Tyler Lockman on Twitter
---