One weekend, six ejections: Royals ready for break from bench-clearing battles
April 19, 2015

KANSAS CITY, Mo. -- Long before the rain drizzled down Sunday afternoon, there was a storm in Kansas City. Animosity and resentment, revenge and retribution each clouded Kauffman Stadium.
They all swirled to form a thunderous finish to a testy series between Oakland and Kansas City, with Kendrys Morales' two-run double lifting the Royals to a 4-2 win. Five Royals were ejected as the previous two night's events flooded into the series finale.
Pitching coach Dave Eiland, manager Ned Yost, pitcher Kelvin Herrera, bench coach Don Wakamatsu and shortstop Alcides Escobar were all tossed from the game, though only Herrera played Sunday.
Herrera certainly left his mark on Sunday's victory, despite not leaving a mark on Oakland's Brett Lawrie, whose hard slide Friday ignited this weekend's events and who had already been hit Saturday night by Yordano Ventura.
During Sunday's eighth inning, Herrera brushed him back with a 100-mph fastball on his first pitch. Then he fired another 100-mph pitch behind a frozen Lawrie's back. Home-plate umpire Greg Gibson immediately ejected Herrera.
"I had a bad grip on it," Herrera said.
The ball ricocheted off the backstop all the way back to Herrera at the mound, where he gloved it and walked off the field. But before disappearing into the dugout, Herrera pointed to his head as he looked at Lawrie. Then he pointed to his chest. Then back to his head.
"I said, 'Think about it,'" Herrera said.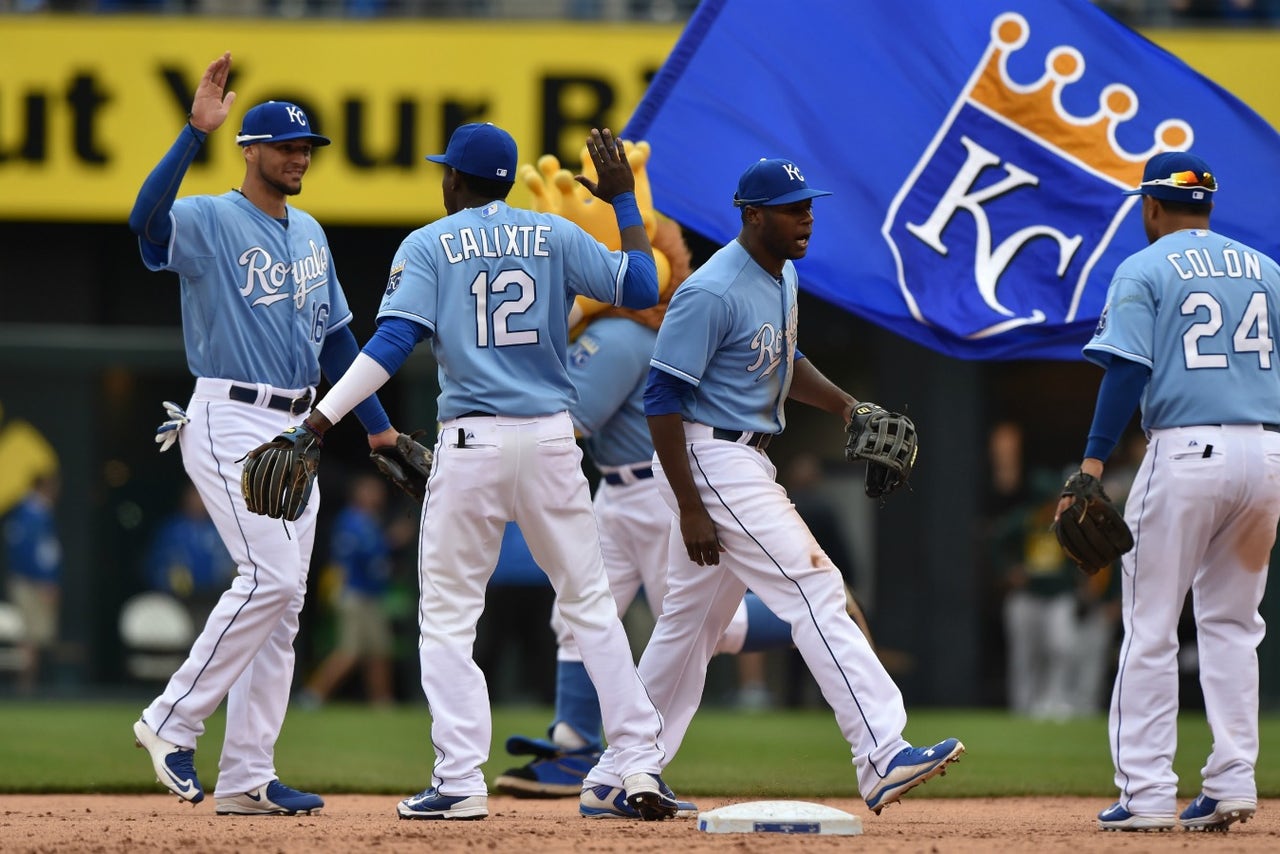 PHOTO GALLERY: Check out these images from the Royals' heated 4-2 win over Oakland.
Lawrie, who had already absorbed a 99-mph fastball from Ventura the night before, did not see it that way and called the action "embarrassing."
"You don't throw behind someone and then walk away, when you throw 100 mph, and say, 'The next time I face you, I'm gonna hit you in the head,'" Lawrie said. "That's (expletive). ... That's some (expletive), and he needs to pay for that. That ain't OK. This is a game. This isn't going up there and trying to hurt people. This guy doesn't throw 85 mph. He throws 100."
Escobar, who was injured during Lawrie's slide Friday night, began yelling from the Royals' dugout. He was ejected, but felt encouraged by his teammates' backing of him.
"Lawrie knows he did a bad thing in that situation," Escobar said. "That's why Ventura and Herrera (reacted)." 
Herrera also could have been reacting to a first-inning pitch from A's starter Scott Kazmir that hit Royals No. 3 hitter Lorenzo Cain on the outside of his foot. It was the third time Cain has been hit this season and reopened a saga that the Royals' clubhouse thought had closed Saturday night.
Cain said he didn't think the pitch from Kazmir was intentional -- Kazmir asked Cain if he was OK -- but paused at home plate after he rose from the infield dirt.
One night earlier, Ventura had been ejected from the game for a seemingly retaliatory pitch to Lawrie. On Sunday, Kazmir stayed in the game.
That's when Eiland began yelling at Kazmir, prompting the first of five ejections for Kansas City. Yost emerged from the dugout to discover why Eiland had been ejected before he, too, was ejected. Royals starter Danny Duffy rose to the top step of the dugout and shouted from the bench. Both benches were assessed warnings by Gibson.
After the game, Duffy blamed himself for Eiland and Yost's ejections.
"I wasn't too happy with Cain getting hit," Duffy said. "I'm tired of seeing him getting hit. There's nothing else to it. I'm tired of seeing my brothers with bruises.
"If I don't show my emotions right there, we're probably not getting warned. Skip is probably not getting tossed. I feel like that part of the game was on me a little bit."
Because Wakamatsu was acting as manager and warnings had been issued when Herrera sailed the ball past Lawrie, he was automatically ejected. He also faces a suspension.
But before this weekend's six ejections, confrontation has been familiar for this Royals team. They had it with Jeff Samardzija and the White Sox in the opening series. They had it with Mike Trout and the Angels in Anaheim. Now, they had it with Lawrie and the Athletics.
In three of the four series, Royals left the dugout to defend a teammate. In all three games this weekend, the benches and bullpens cleared.
"I guess we are hunted," Cain said. "We almost got into it with all the teams so far. ... It's draining. It really is. Clearing benches all the time and running in all the time. It takes energy out of you. Right now, I just want to take a little break."
You can follow Matthew DeFranks on Twitter at @MDeFranks or email him at matthew.defranks@gmail.com.
---