One healthy scratch no alarm for Jonathan Drouin's development with Bolts
BY foxsports • November 21, 2014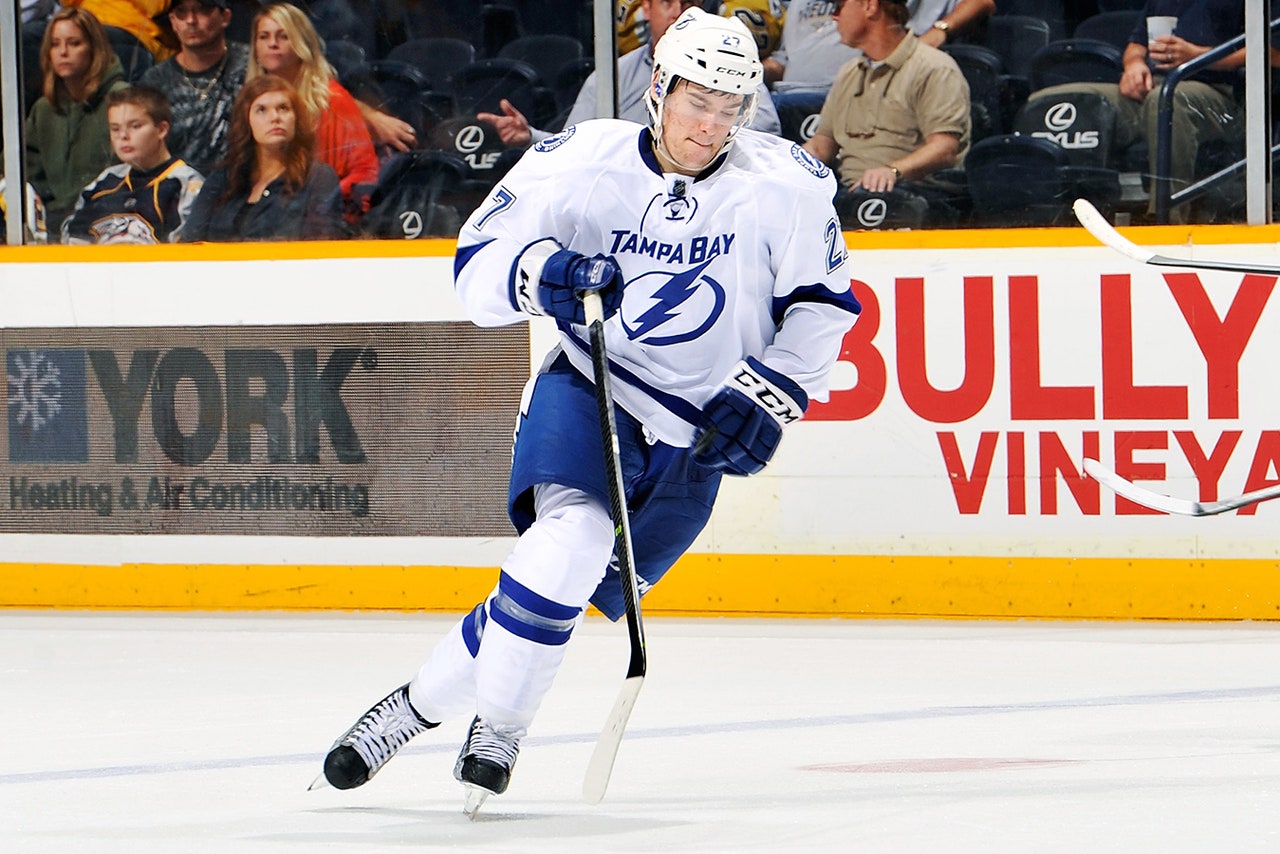 TAMPA, Fla. -- Young phenoms never come with warning labels. There's no "fragile" in large block letters stamped on their torso and there are no directions to "handle with care" when unwrapping all that promise and placing them in the NHL.
Predictably, Jonathan Drouin has been watched with extra attention since the former third overall pick in 2013 made his Tampa Bay Lightning debut against the Edmonton Oilers on Oct. 20. Predictably, interest piqued when the winger became a healthy scratch in his team's victory over the New York Islanders last Saturday at Amalie Arena.
Just chill.
The past week has proven that not much should be read into Drouin's absence that night, other than the Lightning have enjoyed the luxury of strong depth and surprise contributions from Cedric Paquette. Tampa Bay completed a three-game road trip Thursday, and Drouin was seen in living color on skates in each contest: He had 13:18 of ice time in a victory over the New York Rangers on Monday, then 10:28 in a loss to the Islanders on Tuesday and 11:28 in a loss to the Toronto Maple Leafs on Thursday.
Wisdom, in this case, is spelled R-E-L-A-X.
"I think it's always good, sometimes, to sit back and watch," said Jim Midgley, assistant coach for the Halifax Mooseheads, Drouin's former team in the Quebec Major Junior Hockey League. "They've got some veteran guys there who have won and been in the league for a bit, too. Jo's a hockey guy, and he's a competitor, and I'm sure he's learning and watching from the older guys from that team too. So, sometimes, it's good to sit down a younger player."
The strategy has worked well with young phenoms before. Steven Stamkos was a healthy scratch twice as a rookie. His career wasn't stunted from catching a few games in the press box, and there are no lingering emotional scars from those distant views.
Drouin can be an impact player for the Lightning one day, but there are many nuances he must learn: The NHL's speed, its physicality, its ability to reward wise decision-making and punish those who are careless. None of it is easy.
Stamkos wasn't above the healthy scratch. Drouin can be better for his.
"Things like this are going to happen," Lightning coach Jon Cooper said last Saturday. "Jo is an unreal player. He's going to be a great player for us.
"You want to have depth, and we've got that right now up front, and sometimes these things are going to happen."
That's true, and this time can be a growth moment if Drouin becomes all that's envisioned with his tantalizing skill and speed. His first four NHL games featured no less than 16:10 of ice time. But since Oct. 28, he has played more than 12 minutes in a single game on just three occasions.
His stats are OK, but they're not eye-popping: He has one goal and eight assists in 15 games, with a plus-minus rating of minus-one.
But Drouin's start can be a win for the Lightning in both the short-term and long-term landscapes. In the immediate outlook, their ability to discover depth with Paquette (five goals in 11 games) suggests that they should have the stamina to remain an Eastern Conference contender. For the more distant future, grounding moments like last Saturday can help Drouin in his development.
There can be danger in hype, and enough of it can serve as fool's gold. Meanwhile, nothing but good can come from anything that assists in the maturation process. A different view never hurts.
"The only place he can be right now is the NHL," said Ken McKenna, managing editor of HockeysFuture.com, which ranks Drouin as its top NHL prospect. "Maybe he sits out a few games here and there. It's not unusual that a player like that will do that. If he starts producing and sees things in his game that it's wise to put him on the ice more, then I'm sure that they will. But Tampa Bay has the luxury of not having to use him all the time like that."
And that's where Drouin's inner-drive can be an asset. He has learned he must work for ice time. A strong competition should make him a more refined player in the future.
He already experienced a similar growth moment when he was sent back to juniors before the 2013-14 campaign. There, Midgley and others sensed Drouin's disappointment. Still, coaches moved Drouin to center and challenged him to learn the position, challenged him to skate outside his comfort zone. Over time, Drouin's defensive game improved because he became the first player back in the zone often. He adjusted well and finished with 29 goals and a career-high 79 assists in 46 regular-season games.
"He handled it like a true pro," Midgley said. "He knew the things he needed to work on. ...Once he got going, he was a great pro for us. He helped the younger guys. And obviously, what he did on the ice for this organization is just outstanding."
Time will show if Drouin will be outstanding for the Lightning like many outside the franchise predict. For now, he's unrefined, but the potential tempts the imagination. For now, he's raw, but it's easy to envision stardom if he tames the talent inside him.
There are no assumptions when it comes to young phenoms. Or caution labels for that matter. 
But one healthy scratch is hardly enough reason to justify long-term alarm.
You can follow Andrew Astleford on Twitter @aastleford or email him at aastleford@gmail.com.
---