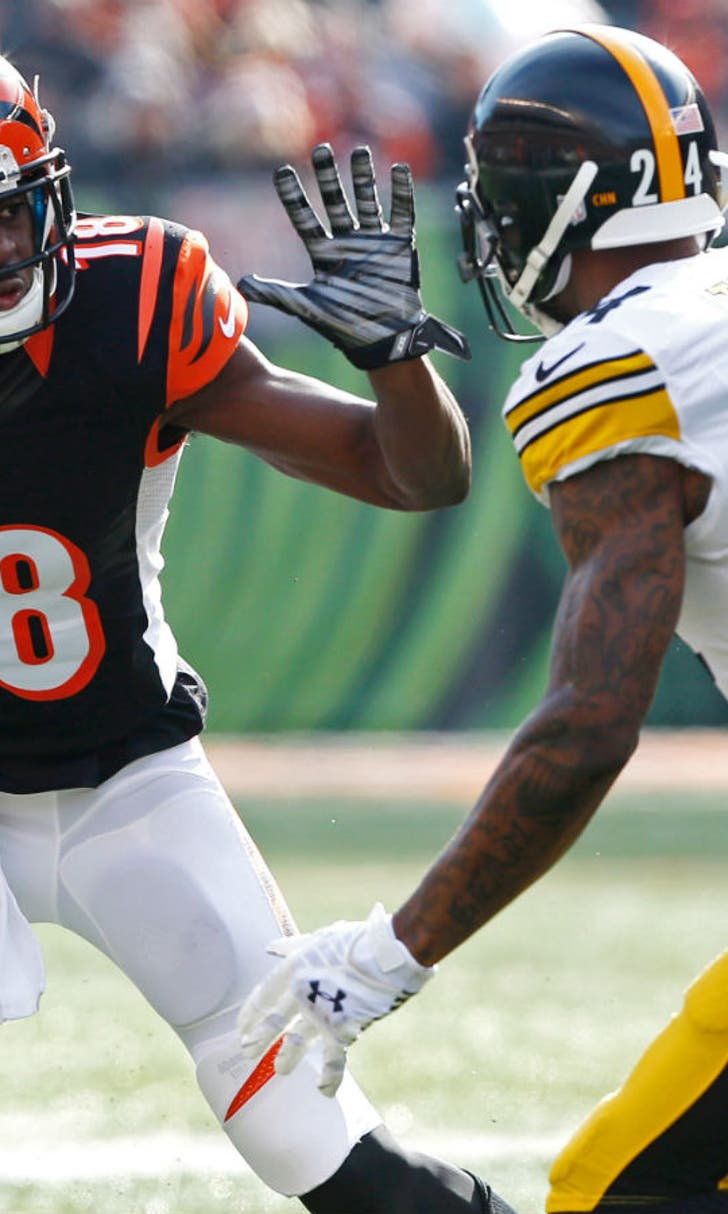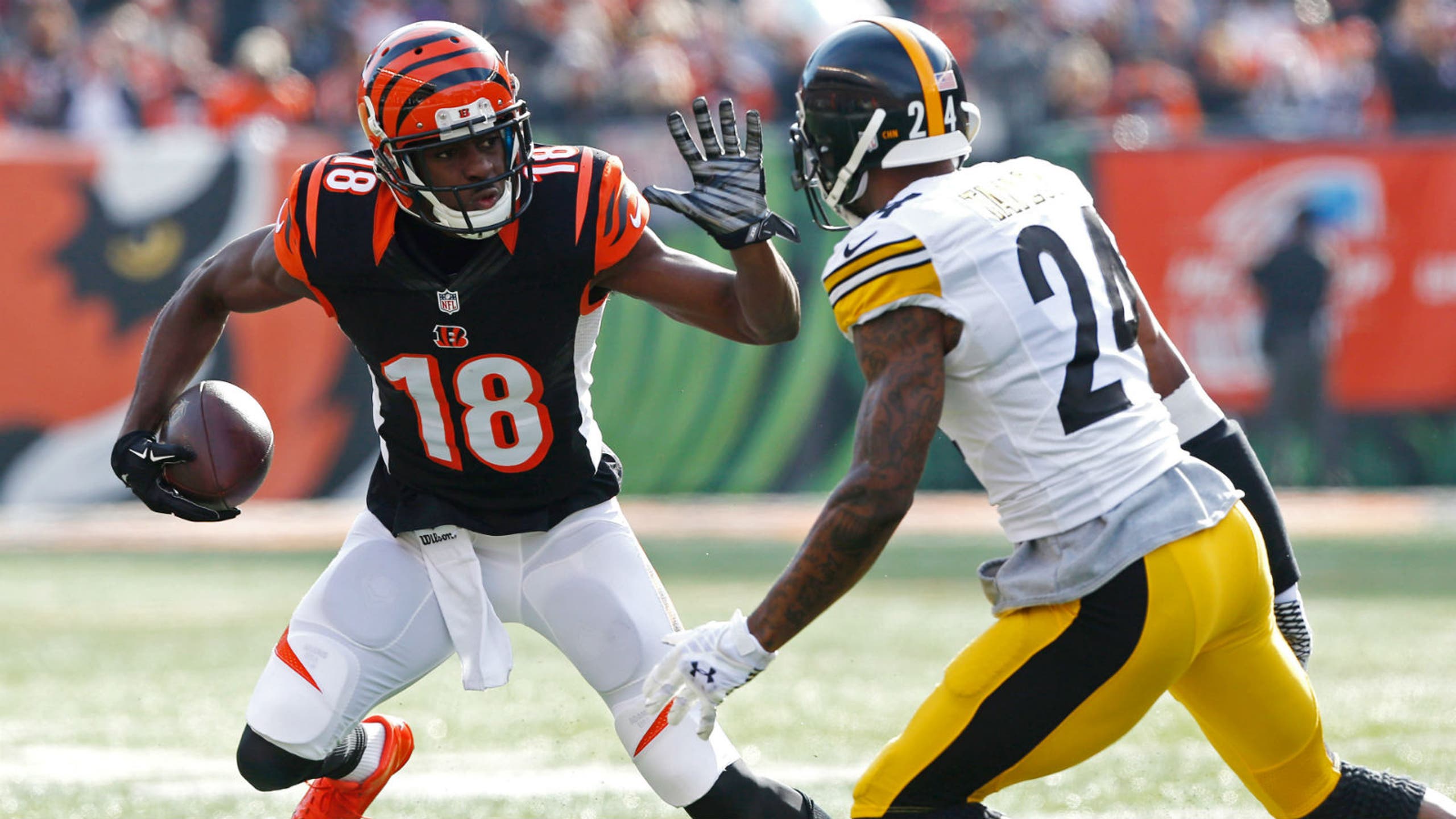 One bad quarter dooms Bengals
BY foxsports • December 7, 2014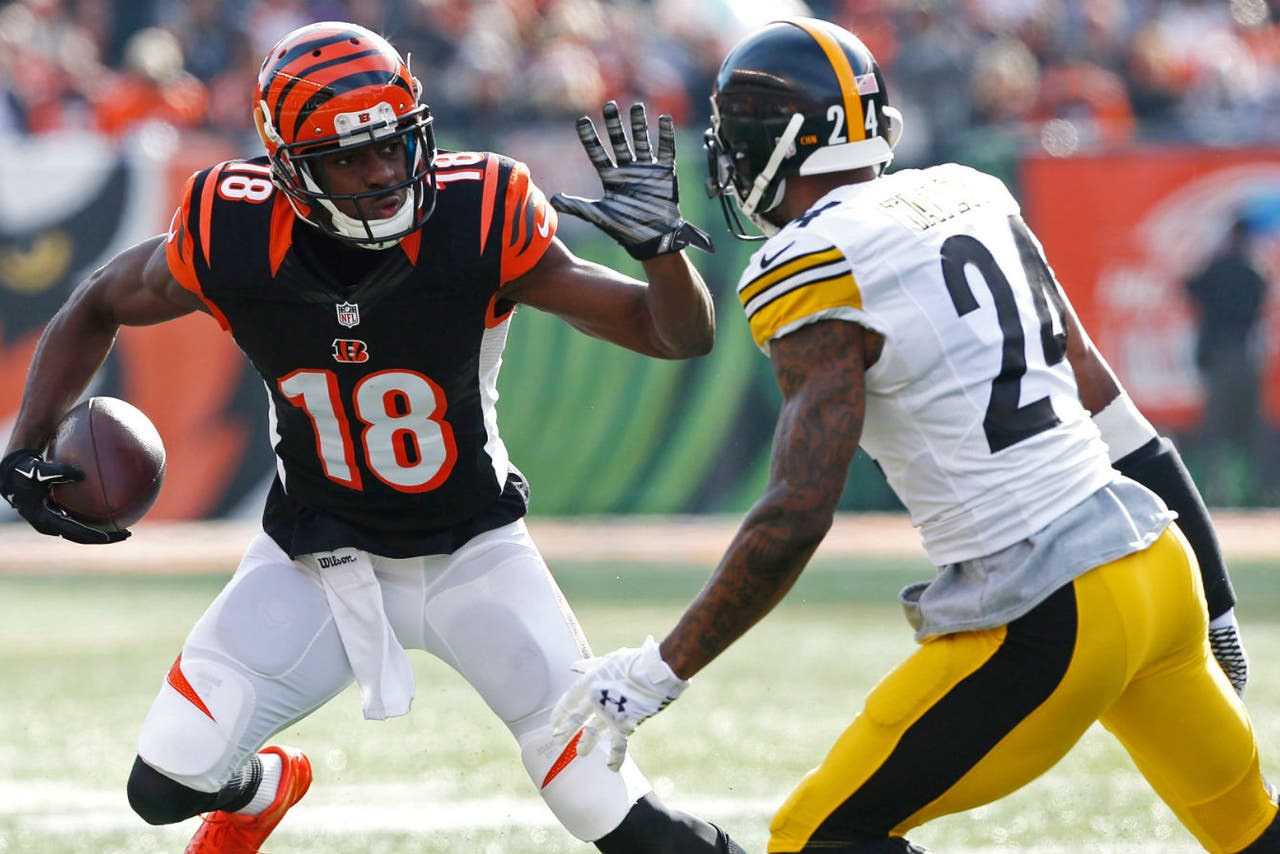 CINCINNATI -- For three quarters there was a pretty good football game going on at Paul Brown Stadium Sunday afternoon. Then the bottom fell out of the Bengals, leaving the AFC North in a jumbled mess once again with three games left to play.
A.J. Green's 81-yard touchdown catch on the final play of the third quarter gave the Bengals a 21-17 lead over Pittsburgh. The Bengals did nothing right after that and the Steelers did little wrong as they closed out the game on a 25-0 run that gave them a resounding 42-21 win in front of 65,512 who saw the Bengals' lead in the division fall back to just one-half game over the Steelers and Baltimore.
At 8-4-1 the Bengals still control their own fate in the division but their's is an oil-soaked grip. The stretch schedule starts with a road game at Cleveland next Sunday followed by a Monday night home game against Denver and then a trip to Pittsburgh to close out the regular season. The Bengals had done a lot of good things the last three weeks as they went on the road to beat New Orleans, Houston and Tampa Bay. They did a lot of good things for the first three quarters Sunday against the Steelers.
What happened in the fourth quarter was nearly inexplicable.
"We had the game at hand at halftime and we had the game at hand in the fourth quarter, and we let it get away from us," said head coach Marvin Lewis. "We didn't do a very good job on either side of the ball." 
Quarterback Andy Dalton had an excellent day throwing the ball, completing 21 of 29 passes for 302 yards and two touchdowns, but his lost fumble while attempting to pull the out of the belly of running back Jeremy Hill on a read-option play two minutes in to the fourth quarter gave the Steelers the go-ahead opportunity they were waiting for. A 21-20 Bengals' lead became a 28-21 deficit, then 35-21 and then its final 21-point margin.
You can say this about the Bengals: when they lose, they lose. They've been outscored 136-41 in their four losses, an average margin of defeat of 23.8 points a game. The Steelers totaled 543 yards. It's the third time this season the Bengals have given up 500 yards of offense. It was also the second straight decisive home loss to a division opponent after the Bengals had gone 13 straight home games without feeling the sting of defeat. 
Not even a career-best 224 yards receiving by Green could change matters Sunday.
"It's very disappointing," said Green. "We had these three weeks of road games and then we come back home where we were supposed to be unbeatable, so it's very disappointing to come here for your first home game in three weeks and take this L like this and in this fashion. We're leading the first three quarters and then come out in the fourth quarter and lay an egg.
"It's disappointing, but everything is still ahead of us. We've got to take it one game at a time."
That would be the underlying theme to the post-game locker room message: Things certainly don't look good now but just wait a week. In this NFL there is no rhyme or reason to what happens one game to the next.
"One quarter of football doesn't define our season," said left tackle Andrew Whitworth. "We don't worry about the ending score, it's about who won. That's the only thing they keep track of. It'll be important to bounce back and win the next three football games by a half a point or 30, I don't care, but win three and put ourselves in position we want to be in."
That one quarter does leave a rotten taste in the mouth, however.
Pittsburgh outgained the Bengals 229-80 in the fourth quarter, including getting 110 yards rushing and two touchdowns on seven carries by Le'Veon Bell as well as a 94-yard touchdown pass by quarterback Ben Roethlisberger to rookie wide receiver Martavis Bryant. The Bengals hadn't allowed more than 75 yards rushing in any of their games during the three-game win streak but Bell averaged 7.1 yards a carry on his 26 attempts to finish with 185 yards. He added another 50 yards and a touchdown on six receptions.
Bryant's touchdown was the second longest pass play allowed by the Bengals in their franchise history. He ran right by cornerback Leon Hall. Bryant's only concern was whether or not Roethlisberger would get him the ball in stride. It turned out to be not much of a concern at all.
The Bengals, on the other hand, have plenty of concerns after one bad quarter.
---