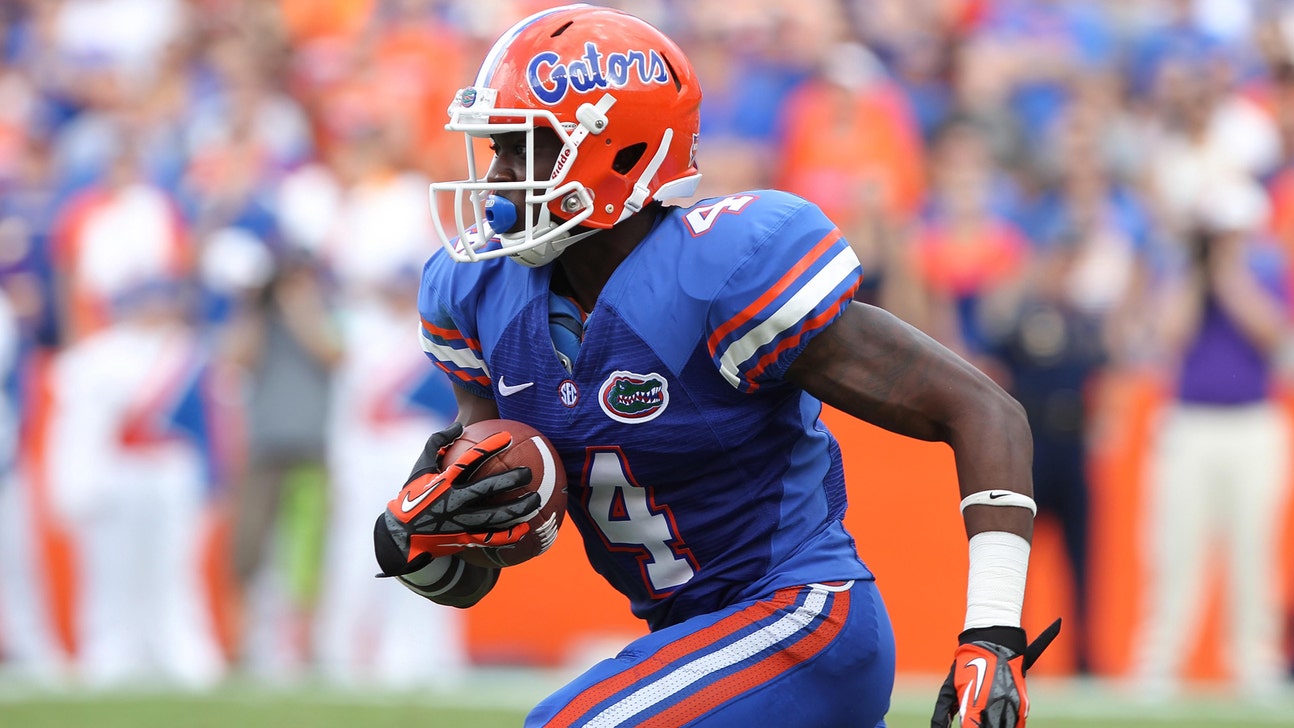 Once more with feeling: Andre Debose ready for final season with Gators
Published
Aug. 6, 2014 5:32 p.m. ET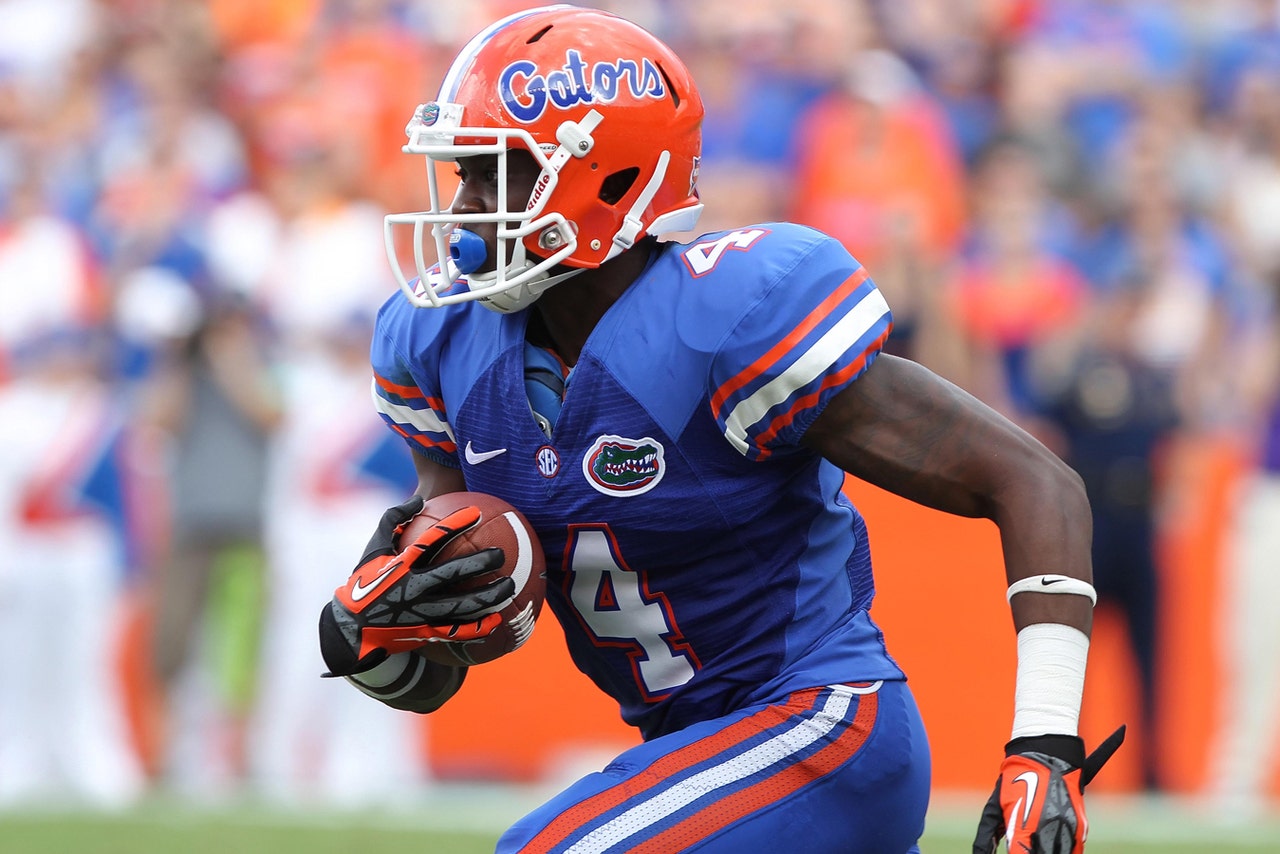 GAINESVILLE, Fla. -- The possibility is always there. That's what makes Andre Debose still intriguing after all these years. The imagination takes over each time you see No. 4 for Florida with the football in his grasp.
Sometimes, when you think about the way the career of Debose has played out, you slap yourself back to reality. Is Debose still here? Yes, he is. And then you recall those moments really happened, that it's not some fantasy built around all that hype when Debose was coming out of Seminole High in Sanford.
The leaping game-winning catch in the waning moments of the 2008 Class 6A state championship game at the Citrus Bowl. That happened. The 92-yard touchdown reception a few weeks later in the Under-Armour All-Star Game, beating defensive back Stephon Gilmore, now entering his third season with the Buffalo Bills, on the play. True story.
Once Debose got to Florida, the big plays followed him.
Two kickoff returns for touchdowns as a redshirt freshman in 2010, and as a sophomore, a 99-yard kickoff return for a touchdown in the Gator Bowl to put the Gators in front of Ohio State for good, earning Debose MVP honors.
In fact, all one has to do to recall Debose's big-play potential is flash back to the last time Debose touched the ball for the Gators in a game. It was in the 2013 Sugar Bowl in New Orleans.
The Gators trailed Louisville 33-10 midway in the fourth quarter and looked like they had about as much spark as a 20-year-old Duracell. Debose took John Wallace's kickoff a yard deep in the end zone, raced up the right sideline to midfield, and then cut left into an open field.
No one touched him.
"Don't change the channel just yet, touchdown Florida!" said play-by-play man Sean McDonough.
The play woke up the Gators, who scored again on their next drive, but it was too little too late in a 33-23 loss.
More than anything, Debose's score -- tying the SEC record for career kickoff returns for touchdowns with four -- tickled the imagination that perhaps, in his final season at Florida, Debose might finally make more of those plays on a regular basis.
"You have to respect him when he's on the field," Florida quarterback Jeff Driskel said.
And then 2013 happened.
Debose was one of the first Gators to drop, suffering a season-ending torn ACL in his left knee the first week of fall camp.
"I thought playing football was over for me," Debose said.
So did many others, at least in a Gators uniform. However, after some soul searching back home in Sanford, Debose decided to stay in school and pursue a rare sixth year of eligibility from the NCAA.
He got it.
On Saturday he'll receive another unexpected gift: his college degree.
"It feels amazing," Debose said. "I started something and I finally finished it. It's definitely something I'm proud of and for my parents."
Debose plans to walk across the stage at the O'Connell Center on Saturday and then try and put a finishing touch on his college career that adds up to more than a random touchdown here and there.
In 31 career games, Debose has only 29 receptions for 543 yards and four touchdowns. Those are not the numbers Debose expected on that January night in 2009 in Orlando when he played in the Under-Armour All-Star Game along with other prep standouts such as Matt Barkley, Manti Te'o, former UF teammate Jelani Jenkins and former Alabama star Trent Richardson.
"I've been through a lot of ups and downs," he said. "I've seen this team be successful, be unsuccessful. I'm definitely not the same person I was five years ago when I was sitting in this same chair.
"I've had a lot of humbling experiences with these injuries. I've had a lot of time to just sit back and reflect on everything that has happened."
Gators coach Will Muschamp has watched Debose mature. While recruited by former Gators coach Urban Meyer as UF's next Percy Harvin, Muschamp will simply take consistent production from Debose on special teams and in the passing game.
If Debose can do that, those big plays will come.
"He handled the rehab very well," Muschamp said. "At first he was very frustrated. As time moved forward, he was very focused on getting back and having a great sixth year."
Muschamp doesn't expect magic. He said in his experience it usually takes a full year for a skill athlete such as Debose to return fully from an ACL injury.
Debose's injury happened a year ago this week, so he is full-speed ahead in camp.
"He looked fast on the field," Muschamp said after Monday's first practice. "We need to monitor his reps, but he will not be held out of any of the contact situations."
A more mature and wiser Debose is thankful at one final opportunity to show what he can do in a Florida uniform.
The past year taught him that there are no guarantees in life or football.
"Heading into this last year, I just want to be productive," he said. "I want to help the team in any way I can. I'm just happy to be back running around and being part of a team. I haven't been this anxious to play in lord knows how long."
---