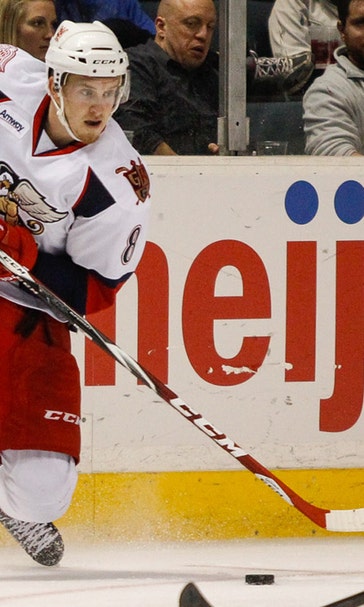 Once Griffins' Mantha makes a few improvements, 'he'll be a star'
November 23, 2014

GRAND RAPIDS, Mich. -- It's just a matter of time before Anthony Mantha is a Detroit Red Wing.
But he's got a few things to learn first.
Mantha, who just turned 20 on Sept. 16, played in his fourth American Hockey League game Saturday night in Grand Rapids.
The Wings selected Mantha in the first round, 20th overall, in the 2013 NHL draft.
A prolific scorer with Val d'Or of the Quebec Major Junior Hockey League the last three seasons, Mantha was considered a longshot to make the Wings out of training camp.
Then Mantha suffered a fractured right tibia during the prospects tournament in Traverse City Sept. 12, ending that idea.
It was the first serious injury Mantha had ever had.
"It was hard at first," he said. "When I started putting a little bit more weight, taking the crutches out, it felt good. Obviously the first skate I had, it was just a relief. There was a lot of second, third training in the week. 
"I'm really not far. I've worked so hard in the gym and having four weeks of practice and four games in, my body I think is getting better. I hope for next weekend probably I can be in top shape."
Mantha returned to the ice and made his professional debut Nov. 14 against the Texas Stars. He scored his first professional goal the following night.
In the first period of a 1-1 game against the Lake Erie Monsters Saturday at Van Andel Arena in Grand Rapids, Mantha went to the net and spun quickly, putting Andy Miele's pass past Monsters goaltender Sami Aittokallio inside the left post.
"It feels good," Mantha said after the game. "The leg's 100 percent right now. I think I'm working harder every day and I think it's paying off every game."
The Monsters tried to physically punish Mantha after he scored, but the 6-foot-4, 214-pound forward wasn't having any of that.
"There was a small scrum but it's part of hockey," Mantha said matter-of-factly.
Mantha said everything in the game felt better overall -- timing, skating, passing.
"He's real close in a lot of areas offensively," Griffins coach Jeff Blashill said. "It's just going to be a matter of how quickly that all clicks and how quickly that transition happens. You just can't predict that. His impact on the game right now is good. 
"I think eventually it's gonna be great at this level and when it's great, that's when he'll probably be NHL-ready. But I don't know how quickly that'll happen."
Veteran NHL center Stephen Weiss, who joined the Griffins Friday and Saturday for a brief conditioning stint, played on a line with Mantha Friday and was impressed.
"He's obviously got really good size and he uses it well down low, protects the puck really well," Weiss said. "He's smart, he sees the ice well, he moves the puck well. He's a fun guy to play with. For a young guy, the sky's the limit for him. He's going to score a lot of goals in the NHL."
Wings fans are impatient for that day when Mantha is racking up those numbers in the NHL.
After all, Mantha earned CHL player of the year honors after scoring 57 goals and 63 assists in 57 regular-season games, then followed that up with 24 goals and 14 assists in 24 playoff games.
"I think Anthony's learning the little differences between pro and junior and how he can be as effective at this level as he was in junior and I think he's going to learn it, it's just a matter of how quickly," Blashill said. "He's somebody that definitely has a knack around the net, obviously can do lots of things in those areas. 
"I'm going to judge him a lot more in the other parts of the game, make sure he does the rest of the parts of the game to get to that net area where I already know he's real good."
One thing that's different for Mantha is the pace of the game at the AHL level.
"It's great hockey," Mantha said. "I was looking at it from the stands and I didn't think it was that fast. Being in the game and being in the play, it just feels like you always have someone in your face and every team is good and every player is good up here."
Blashill said Mantha will have to adjust to not being the biggest player on the ice, which he often was in junior hockey.
"When you're playing against guys your same age, you can get away with some stuff at the end of your stick," Blashill said. "Now you really gotta learn how to leverage your body to win all those little puck battles, learn how to make the same plays in a little bit less time and space, making sure we're moving our feet and getting up the ice with lots of speed. 
"He's a real smart offensive player but again, it's just a matter of those little transitions that are more difficult. It's like a player going from college football to the NFL. Everything's faster, everything's tighter. You just have to learn to make the same plays with less time."
When you are bigger and can score virtually at will, there's not as much need to learn to play well defensively, but Mantha will have to in order to reach the NHL.
Mantha admitted that his defensive play is an area that still needs work.
"It got better in the past few years," Mantha said. "The last two years I worked a lot on it and I'm just  getting better and better."
Weiss believes Mantha will make those improvements.
"Like anything for young players, it's the speed, adjusting to the speed of the game at both ends of the ice," Weiss said. "I think that'll be a big thing for him. Not saying he's not good defensively, but you can always get better defensively. That's so huge in the NHL is being able to play without the puck. He's got the offensive part down, there's no question about that. 
"If he just continues to get better at the little things and defensively, he'll be a star."
---
---