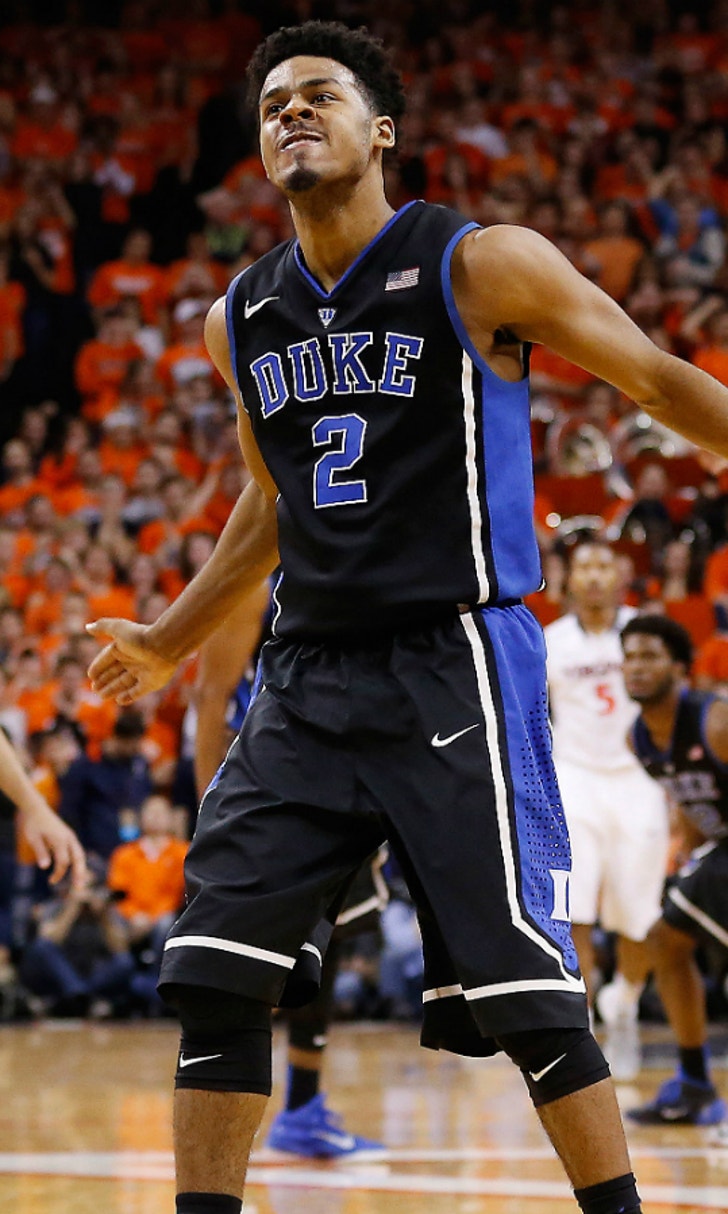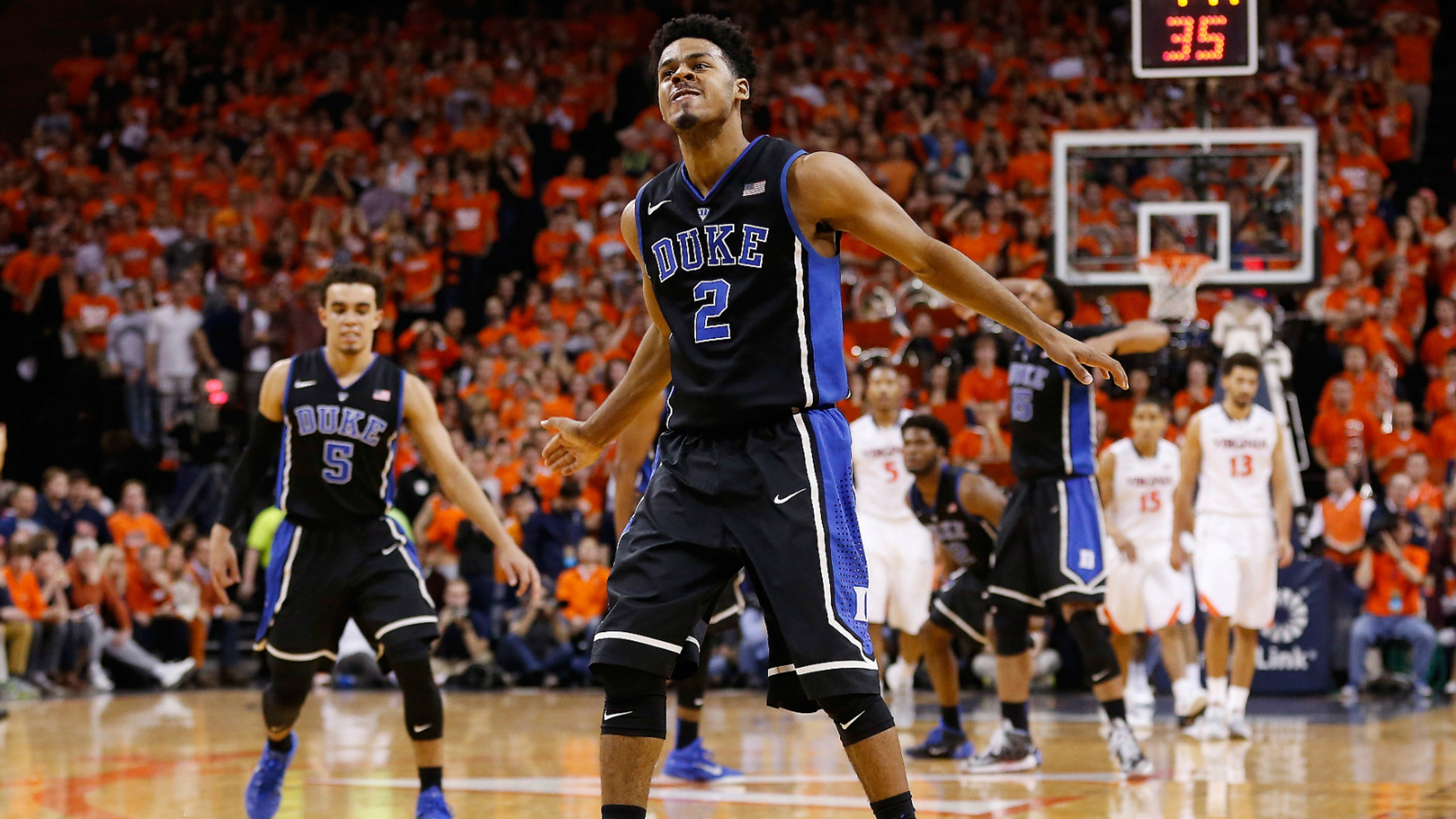 Once a question mark, Cook has proven to be Duke's X-factor
BY foxsports • February 6, 2015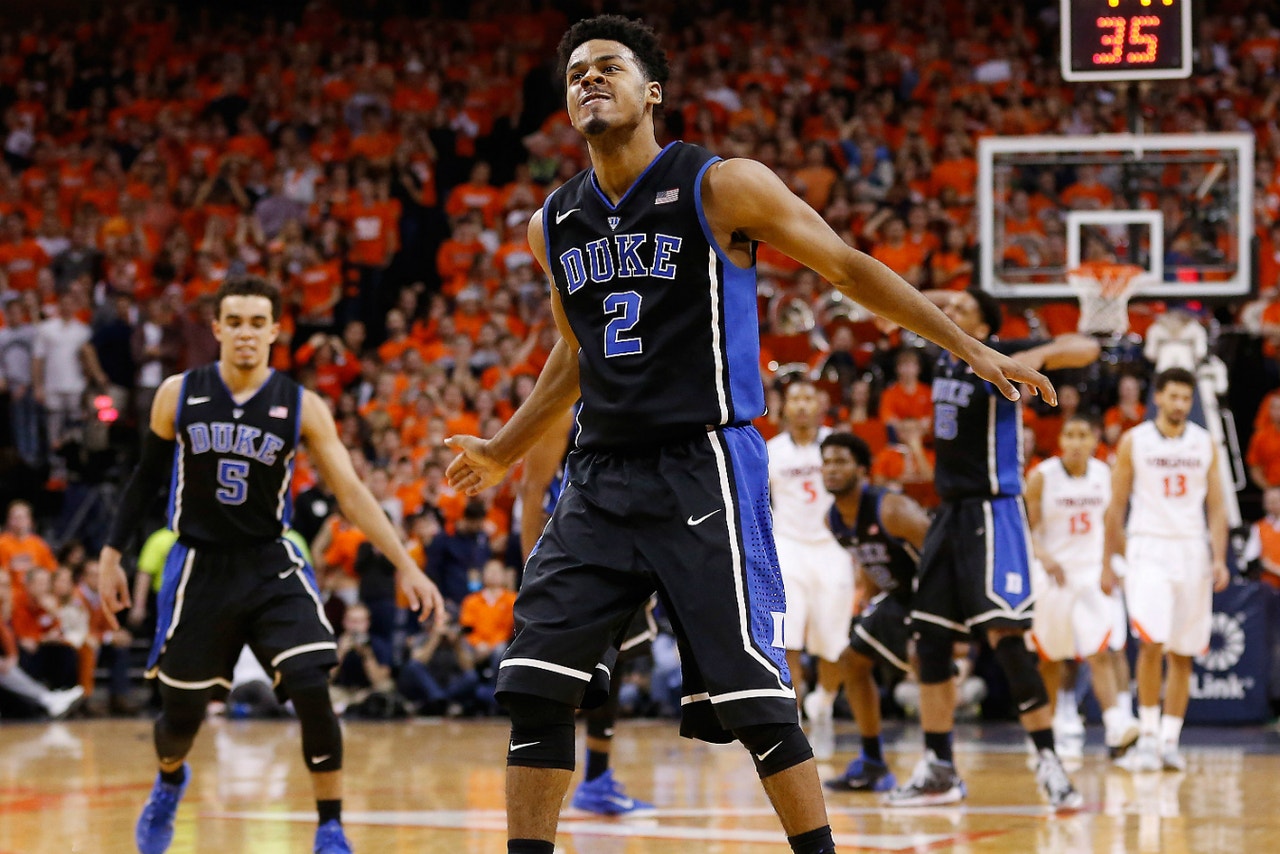 DURHAM, N.C. -- Everyone knew coming into this season that Duke's freshmen would play a huge role. The upperclassmen on this team were the wild cards. Would they be threatened by the new guys? Or would they embrace them?
Jahlil Okafor was the gem of the class, and he's been everything that was advertised -- strong in the post, an adept passer with huge hands. Justise Winslow has the body of a tight end or a linebacker, and can be silky smooth in transition while being plenty physical when need be.
But it was heralded point guard Tyus Jones that would come in and dethrone senior Quinn Cook, who'd been up and down as the Blue Devils' lead guard the previous three seasons. There was even buzz when the freshman class signed that Cook should transfer, because he wasn't going to play.
Now, it's hard to imagine where this Duke team would be without Cook.
"Definitely not standing here smiling," sophomore Matt Jones said after handing No. 2 Virginia its first defeat in Charlottesville last weekend. "That's a start. That's a good start."
Cook had 11 of his 15 points in the second half of that game, and nine came in the final 4:38. He hit three 3-pointers in that span, including the one that put Duke up three with 1:19 to go.
It wasn't the first time he hit a big shot for Duke. And it likely won't be the last, either.
As opponents key on some of his teammates, and as freshmen have their freshmen moments -- as they tend to do -- Cook has been the one who's stepped up to fill that void, never quite letting teams run away when they're starting to build a lead and even igniting comebacks.
It wasn't just at Virginia. During this stretch of games -- at Louisville, Pitt at home, at St. John's, at Notre Dame, at Virginia and then home against Georgia Tech -- nothing has come easily to Duke. Some of the freshmen have been up against it. They lost junior guard Rasheed Sulaimon when he was dismissed from the team just days before Virginia.
Yet Cook has always been there to rally everyone.
It's not a surprise to his teammates, though.
"He's been a great captain, from Day 1. It's noted that we have a lot of young players, but to see him and to see him hit big shots makes you want to hit a big shot and makes you want to play hard," Matt Jones said. "You can't say enough about Quinn. The leader that he's been on and off the court, I could sit here all day and compliment him, but he's just an amazing player."
Cook is never shy about displaying his emotions. When he hits a big bucket -- or even one of his teammates hits a big bucket -- he'll pound his chest, or theirs, and display his trademark snarl as he bounces around like a boxer.
His reactions, and his in-game antics, have been a bit more muted this year at the request of his head coach. And he also worked tirelessly on his game in the off-season as a shooter, and of course, as a leader. He knew for his teammates to take him seriously, he'd have to take it down a few notches.
Amile Jefferson, a junior and fellow captain, said no one in the program saw it as Cook OR Tyus Jones.
"No one around us ever saw it that way. We saw it as an opportunity to have something that I don't think any other team in the country has: two amazing guards," Jefferson said. "Quinn has done an unbelievable job playing off guard, and it's because he shoots the ball extremely well, and he puts pressure on the ball like no other.
"Tyus, he's an amazing point guard. He's seeing the floor at a high rate. He's seeing multiple people, open people. He's making the right passes. He's driving when he needs to. He's being aggressive when he needs to. So we have two guards that are both starters, and that's why they're in. They're both big-time players, and we need them both."
Cook has been the Day 1 starter at the off-guard spot, and he's shooting nearly 39 percent from three and over 56 percent from two, plus over 92 percent from the foul line, to the point where it feels like a surprise when he misses.
Tyus Jones said that he and Cook have a long relationship via text dating back to before his arrival on campus in Durham. There would be no animosity. But even he was a little bit taken aback by how well everything meshed when he got to school.
"We knew we were going to have a good relationship, just because we knew we were going to play together a lot. But our relationship has been even greater than we expected," Jones said. "We just click, on the court and off the court, at a much higher level than probably either one of us expected.
"I wouldn't say I'm surprised, just because he told me himself prior to me coming here that we're going to play together and this is going to work. Coaches ... they told me it's going to work. I trust in them and believe in them. That's part of the reason why you come here, because you trust in your coaches. And I trust in Quinn."
For his head coach Mike Krzyzewski's 1,000th win, it was Cook's and-one that helped ignite a run, and he hit a basket two of the four times in the second half after St. John's went up by 10.
The result is not always what Duke wants. When he missed a lay-up with 17 seconds left at Notre Dame, it felt like a surprise. But Cook isn't afraid of the moment.
"I know personally when we get down, I'm like 'All right Q, time for you to pick it up. You're playing too much. Time for you to hit big shots.' He always comes to play," Matt Jones said. "He always hits the big shots. To have a senior that you know will hit a big shot, that definitely gives you another dimensions to your team and it gives you more confidence."
He's carried Duke through some tough times. And he's been a big part of the reason that the younger and older guys -- at least the ones who are still on the team -- have meshed together so seamlessly, relatively speaking.
There's been no tension, and it just feels natural as to who gets the ball late in games. Sometimes it's Tyus Jones. Sometimes it's Okafor on the block. And sometimes it's Cook himself, who has been through enough to where he doesn't lose confidence.
And, as Winslow pointed out, because he feels like he has something to prove.
"Quinn's hungrier than ever. He's done a great job here, but he doesn't have any banners, no ACC conference championships or Final Fours," Winslow said. "It's his last chance, so he's very hungry. He's been really great to the younger guys, showing us things on and off the court.
"He knows what Coach K wants better than anybody on the team. He's been a great leader for us and just helping the younger guys out whenever we need it."
---