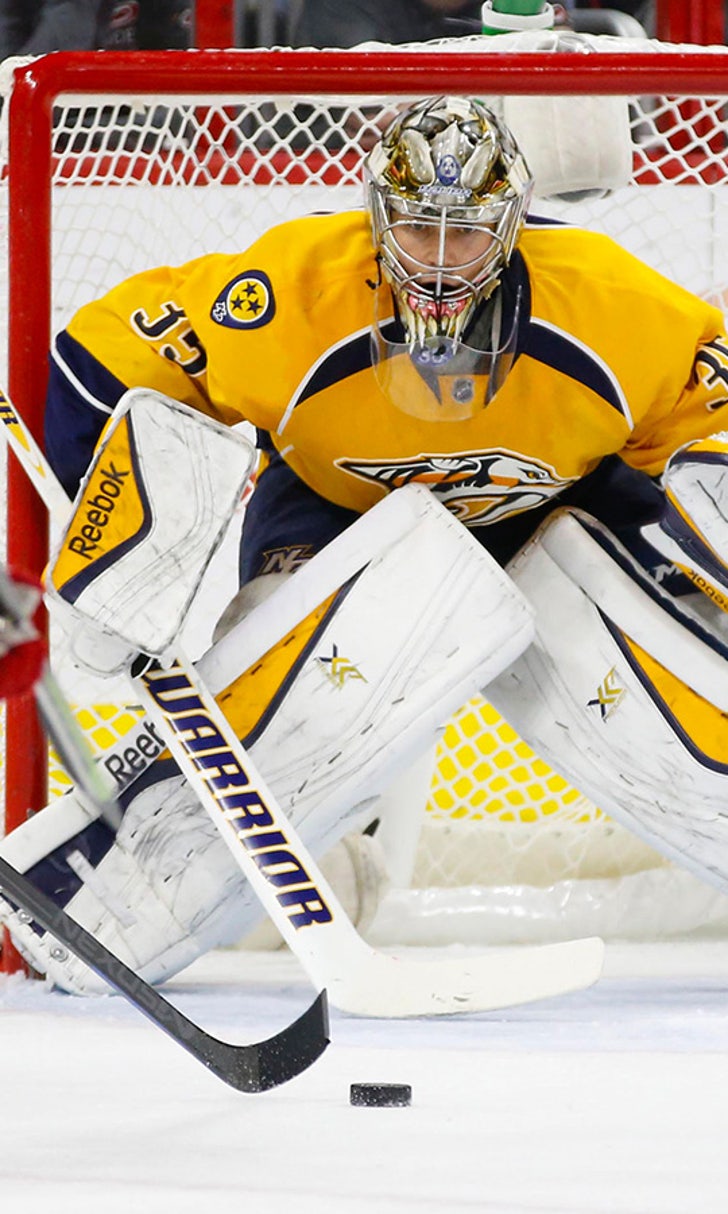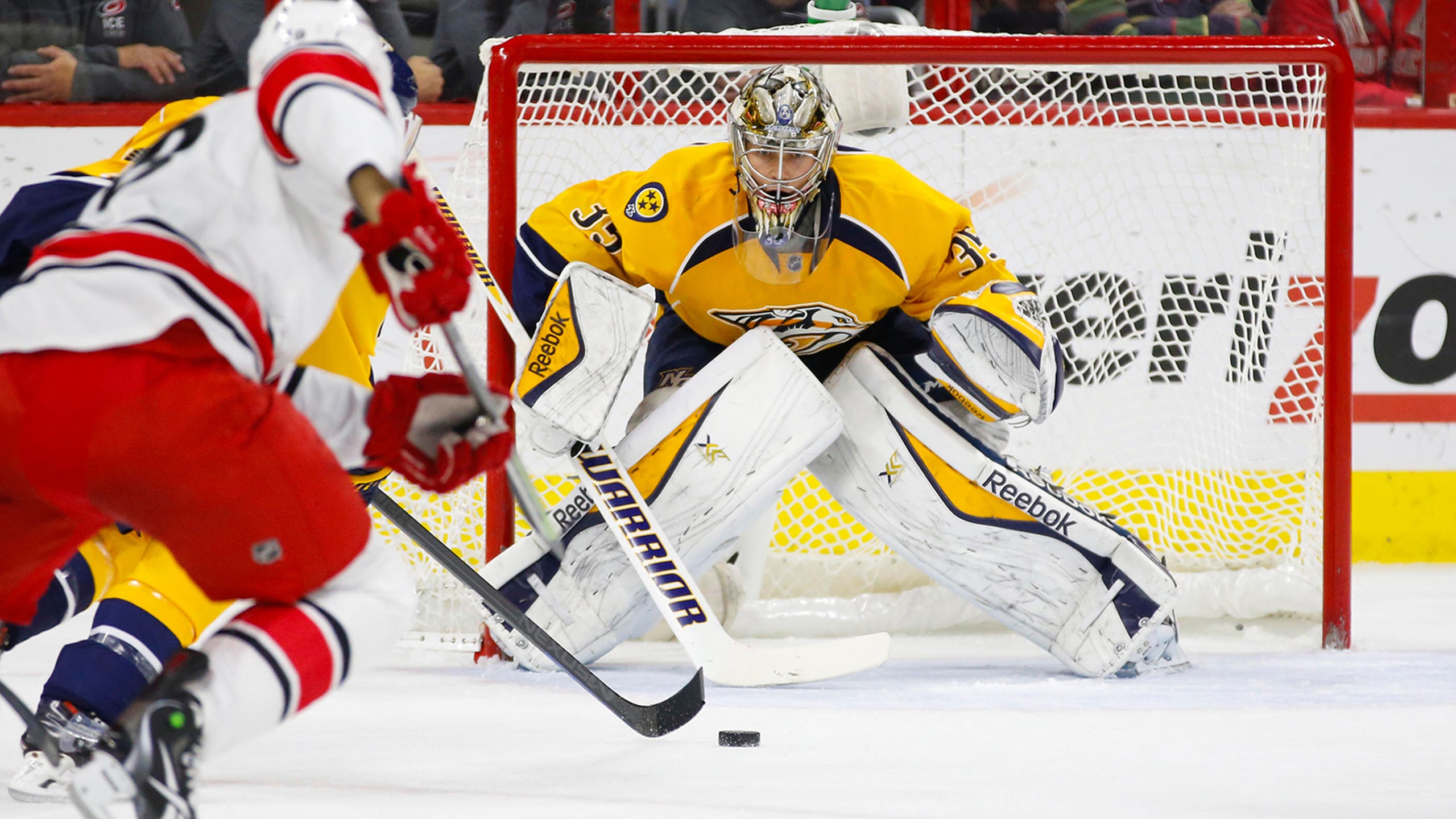 On career-high pace for games played, is exhaustion an issue for Preds' Rinne?
BY foxsports • December 18, 2014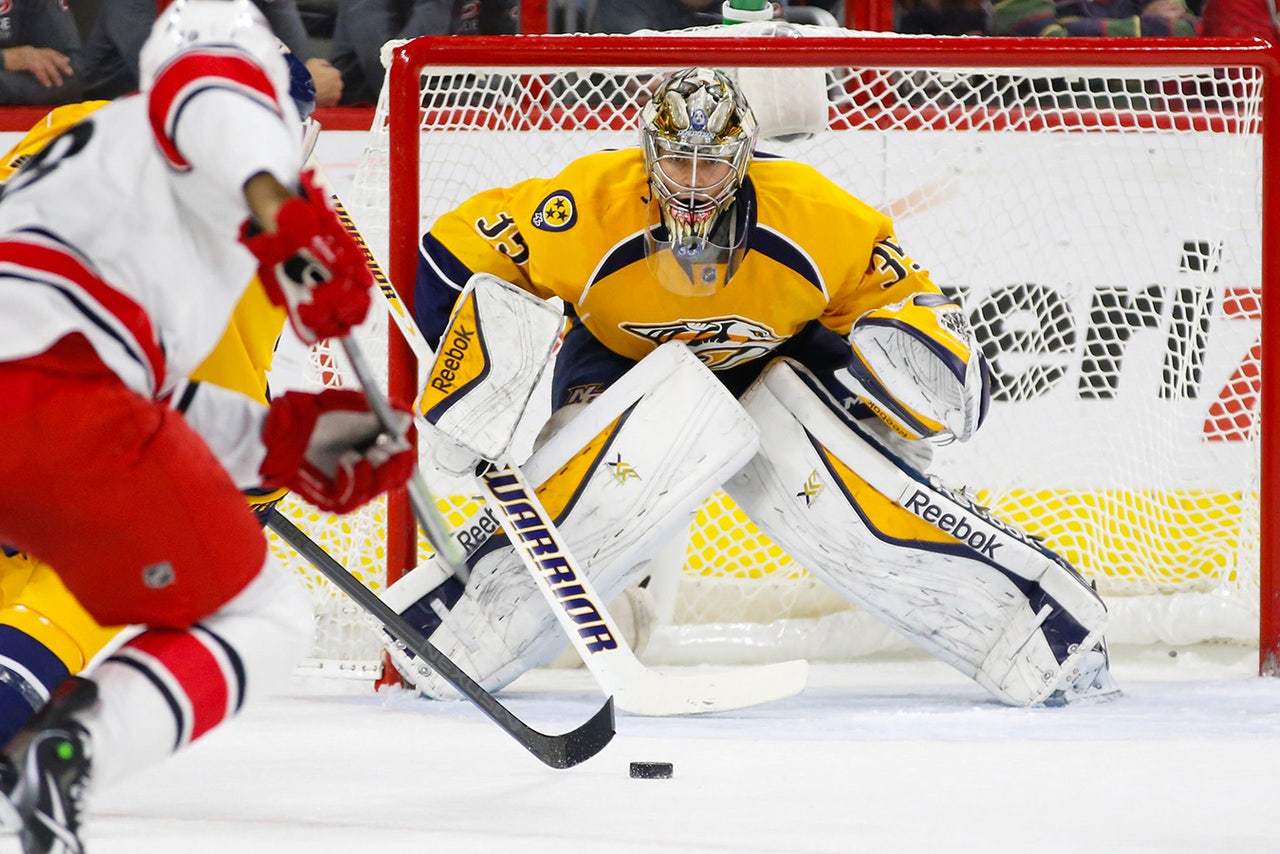 Nashville, Tenn. -- Seventy-four games.
That's what Nashville Predators goaltender Pekka Rinne is on pace to play this season. It wouldn't be the first time that Rinne suited up for more than 60 games in a season and it quite possibly won't be the last. He's been down that road twice before with the Predators, playing 64 games in 2010-2011 and 73 games the year after.
Being between the pipes for only 24 games last season, a majority of that coming after recovering from a bacterial infection stemming from surgery the previous summer, a now-fully healthy Rinne appears to be playing the best hockey of his entire career.
In reality, though, Rinne's success on the ice can be traced to his mentality off the ice.
"I don't really look at the number at the end," Rinne said. "It's going to be what it is. You still have to be deserving to play all the games. You try not to take it for granted. Personally, you just try to take advantage of the rest days and also remember to work hard in the practice days. Do some things that's going to help your game. The key thing is to find a way to get enough rest."
With Rinne leading the league in save percentage, goals against average and wins, do his teammates ever worry about his level of exhaustion? It's a fair question. Over the course of 82 games, the bumps and bruises can take their toll.
"The year [Ryan Miller] won the Vezina Trophy, it was tough because he went to the Olympics, and then came back, then we played in the playoffs," said Predators forward Derek Roy, who played with Miller for eight seasons. "He played a lot of games that year. It wears on a goalie."
Goaltenders take an absurd amount of punishment to their bodies throughout a season. Former Predators goaltender Dan Ellis famously shed 13 pounds and required an I.V. after shutting out the Columbus Blue Jackets. That could be just an additional reason why coaches keep a close eye on their goaltenders. In the case of head coach Peter Laviolette, communication is the key.
"We try to stay in touch with our goaltenders," Laviolette said. "Talk to them about where they're at and how they're feeling. Sometimes, you can tell by their performance. He doesn't appear to show the signs that he needs a break or if he's fatigued. We try to talk to him and stay in touch with him on a daily basis to see how he's feeling, but if you ask him he wants to play."
While Nashville sits among the leaders in the West, the Predators lighter-than-normal schedule has given Rinne the opportunity to play in the majority of their games so far this season. However, his load could lighten as their schedule strengthens through the remainder of the year.
Backup Carter Hutton has played in only three contests this season, all losses. Of the remaining six games in December, four of those are back-to-back. With three sets of back-to-backs in January, including a sequence of five games in eight nights at the start of the month, there's no question that Hutton will get his fair share of time in net for the Predators.
Even with Rinne's competitive nature, it's never been about playing every game that he can. Ultimately, it boils down to who can give Nashville the best chance to win on a given night.
"Any time there's a game you want to be out there," Rinne said. "There's not one game I look at the schedule and say, 'I don't want to play that game.' You want to play them all, but at the same time everything has to be a team-first mentality. If it's starting to hurt the team, then you know it's not the right way.
"I feel like the schedule has been pretty favorable for myself and the team. It's been pretty consistent every second day. We've only had one back-to-back the whole season. After Christmas our schedule is going to be way more demanding. There is going to be plenty of games for both of us. I try to be ready to play every single night."
The Predators have a long way to go towards securing their first playoff berth in three seasons, but having one of the league's top goaltenders playing a majority of their games should put them well on their way.
Whether or not Rinne does indeed eclipse 70 games this season, some of his teammates don't believe exhaustion will ever become an issue.
"I think any of these top goalies, or any goalie, they want to play every game if you ask them," said Predators forward Olli Jokinen, a 15-year veteran of the NHL. "I played with (Miikka) Kiprusoff, I played with (Roberto) Luongo, those guys they love playing games. Pekka is not any different. If you ask him, he'll tell you he wants to play every game. He's been playing pretty much every game so far.
"All these guys, they're in unbelievable shape. So they're probably going to be able to play 70+ games, easily."
---