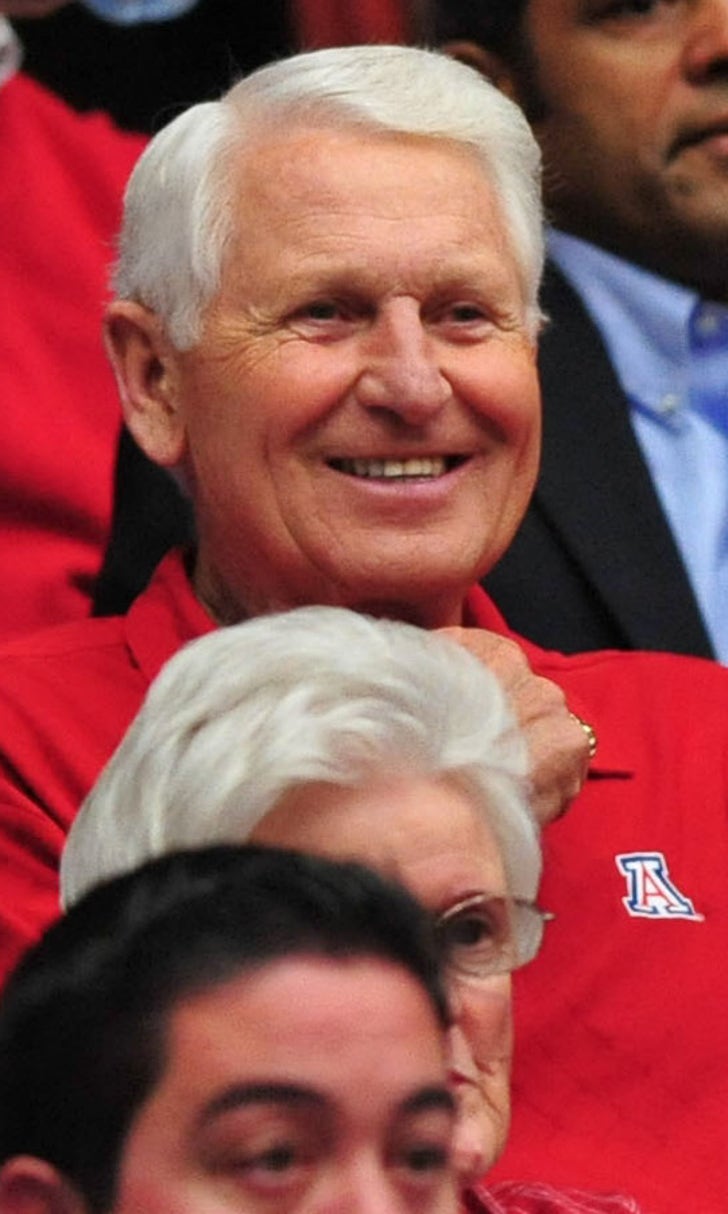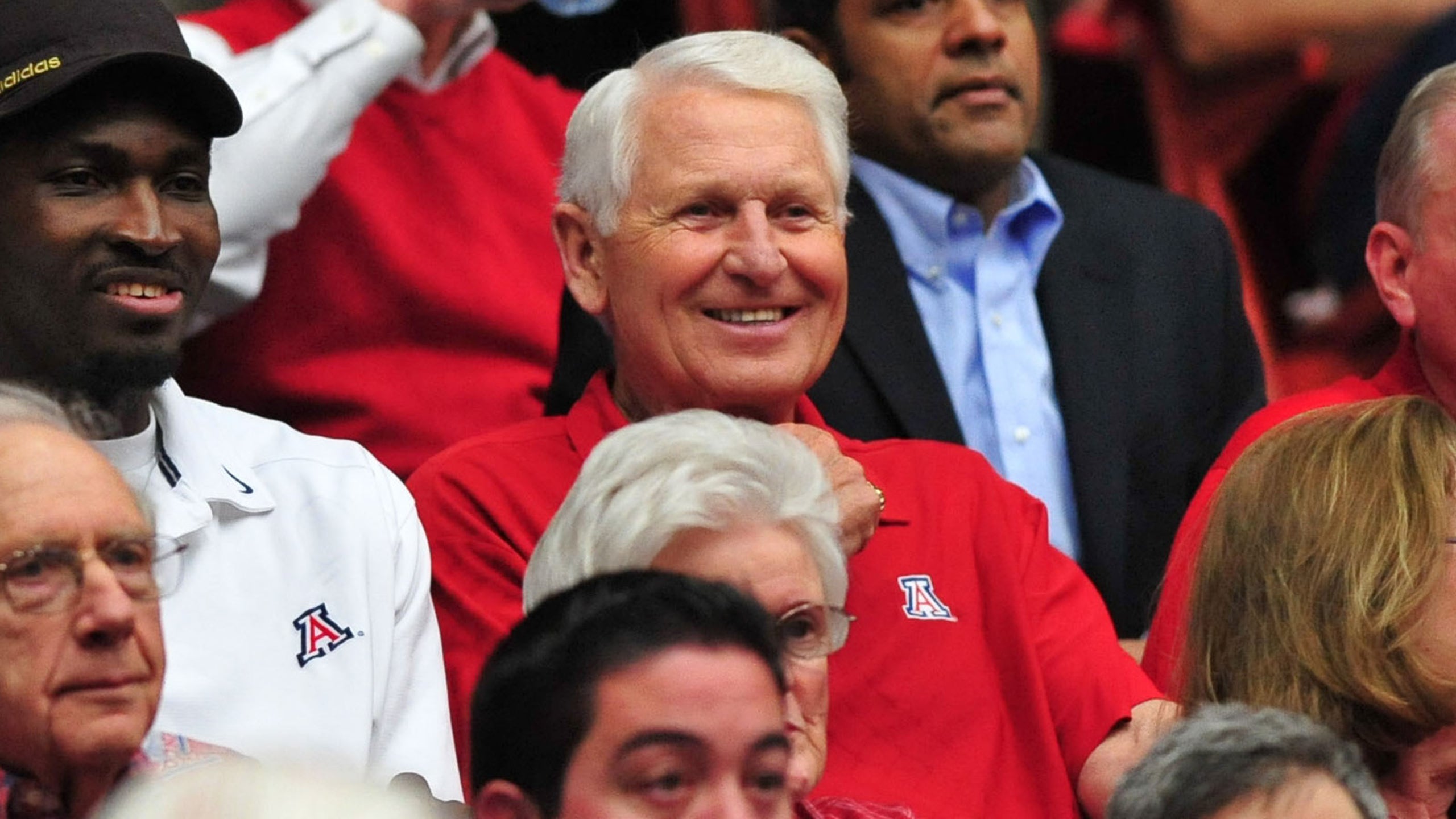 Olson on Wildcats: 'So unselfish' but must 'shore up' shooting
BY foxsports • February 28, 2014
TUCSON, Ariz. -- Lute Olson was, of course, wearing his red University of Arizona collared shirt and signature tan pants as he invited this guest into his home, shook his hand and began to talk about the big game coming up.
Home serves as Olson's Arizona hoops headquarters when the Wildcats are on the road -- at least until the postseason, when the legendary coach will be there in person for every game, as he is for all home games.
But this was Arizona at Colorado -- as seen through the eyes of the Hall of Famer -- a game in which Arizona needed to re-establish itself with the madness of March soon approaching.
"I was thinking about muting this game," Olson said with his dry sense of humor as he sat down to catch the end of Duke-Syracuse. "Dick Vitale is doing it, and ..."
And, well, you know the rest. Although Vitale and Olson are friends, Olson coined the nickname, "Dookie Vitale." Even good friends tire of hearing friends talk.
"Sometimes Dick talks too much," Olson said, laughing.
"Dick was saying that he thought Syracuse needed to get out that zone and play Duke man-to-man," Lute said, again with a chuckle. "Jay Bilas told him, 'Dick, I don't think Syracuse has played man in five years.'"
Moments later, Syracuse coach Jim Boeheim was getting thrown out of the game for what he thought was a bad call in the final seconds.
"Go get 'em, Jim," said Olson, who agreed with Boeheim.
As for Boeheim's actions: "That was just to make a statement. It was a terrible call."
How many times have fans heard that -- "It was a terrible call," or something similar -- yelled from the sidelines at Lute & Bobbi Olson Court?
Back to the game at hand, though. On this evening, Arizona is preparing to take Colorado in Boulder with Bill Walton -- the guy Arizona fans love to hate -- as the TV analyst. Olson and Walton are longtime friends, as Olson coached Walton's son Luke for five years and Walton often raves about Olson's basketball knowledge. Just days earlier, Walton, in town to do analysis of Arizona's game against Cal, blew kisses to Olson and his wife, Kelly, as they arrived.
"The thing that is amazing is that he's such a positive person in real life," Olson said about Walton, "but sometimes he goes on such some negative runs ... he's certainly not boring."
Hardly. But at least Walton is negative without bias; no team is safe from his bite. Olson is OK with that. He's also not the target of any of Walton's quick-witted venom anymore, as he's seven seasons removed from coaching and can enjoy the wit from the comfort of home while taking in the games on his 80-inch television. The pressure has lessened just a bit from when he was roaming the sidelines at McKale Center.
Olson's blood pressure these days?: 110/65. "I've never had a problem with my blood pressure," he clarified.
If he didn't before, he certainly shouldn't now as he kicks back with cheese and crackers, strawberries and an array of other snacks. Long gone is the popcorn he used to eat as part of his pregame ritual. Now, he's got his feet up as he watches commercials, including one with Arizona coach Sean Miller and Olson himself doing the "robot dance." And yes, he knew what the robot dance was before he had to do it on TV.
"Oh, God," he said, laughing about the commercial. "It's so bad."
Olson is just a fan and interested observer now, and those roles have been made more enjoyable by Miller, the man who eventually -- finally -- replaced him after interim coaches Kevin O'Neill, Russ Pennell and Mike Dunlap took their turns.
"He's done a fantastic job," Olson said of Miller. "He's out seeing kids and key players (in recruiting). It's fine to have assistants out there, but the kids want to see the head coach."
It's certainly paying off on the court. The Wildcats, now 26-2, are ranked third in the polls after already having spent a school-record eight weeks at No. 1. With a strong finish, they have a good chance to be the overall No. 1 seed in the NCAA tournament.
Arizona also has clinched the Pac-12 title (at least a share) for the second time in Miller's five seasons. Olson won or shared 11 Pac-10 titles in his 25 years, his first coming in 1986, when UA defeated UCLA to clinch it. His second came in 1988, when Sean Elliott, Steve Kerr, Tom Tolbert and Co. famously rode a wave of fun and talent to the Final Four.
This year's team is much like that one: great chemistry, elite talent and the right mix of complementary players.
"They are so unselfish," Olson said. "Their defense is tough; they challenge every shot, every pass."
"That game was probably the best game of the season," Olson said after the win over Colorado. "They didn't turn the ball over much. And defense is the defense they've played all along. And now, (the) inclusion of the bench has helped keep guys fresh."
Of the bench in particular, Olson cited senior Jordin Mayes' contributions and opined that freshman Rondae Hollis-Jefferson's bench role "is good because he provides a spark immediately." He added that freshman Elliott Pitts, who has seen his minutes increase since the season-ending injury to forward Brandon Ashley, is the team's second-best shooter, in his opinion.
"Pitts hit that shot?" Olson asked after an Arizona basket.
Yup.
"See, he just needs to come into games and he's going to be good," Olson said. "He'll be a factor. He plays defense well."
Olson also raved about center Kaleb Tarczewski, who has developed significantly since last year.
"He works so hard," Olson said. "He's worked so hard on those free throws. When he takes it to the middle, he's really good."
Another worker: Aaron Gordon. The 6-foot-9 freshman phenom has been talked about as a possible top-10 pick in the draft but has struggled badly at the free-throw line, shooting 43.1 percent.
"He's talented," Olson said. "As good as an athlete, there's no reason why he shouldn't be a good shooter."
Olson likened Gordon's story to that of former California and NBA star Jason Kidd, who wasn't a good shooter in college but worked on it to eventually become a player was feared on the perimeter.
And then there's Nick Johnson, in Olson's words a "defensive stopper on one end and big rebounder and the heart and soul of the team."
Olson said that while he never had a player quite like Johnson, the junior guard does some things that make him reminiscent of former Arizona standouts Hassan Adams (jumping and rebounding) and Reggie Geary (defending).
So, with all that talent, size, defensive intensity and leadership, what's left to be concerned about?
"They will have to shoot it more consistently," Olson said. "But they play a lot better defense than (my teams) did. We'd be able to put points on teams quickly. We'd try to fast break on every possession. We wanted to score off the break. And they will have to shore up those free throws. In close games, those could get you beat."
Arizona has already learned that the hard way, and Miller has made it a point of emphasis.
Speaking of coaching points, what Olson misses most, surprisingly, isn't the games.
"I miss the practices," he said. "I don't miss the game and obviously don't miss the recruiting."
The couch can be far more comfortable -- especially with snacks and the mute button close at hand.
Follow Steve Rivera on Twitter
---