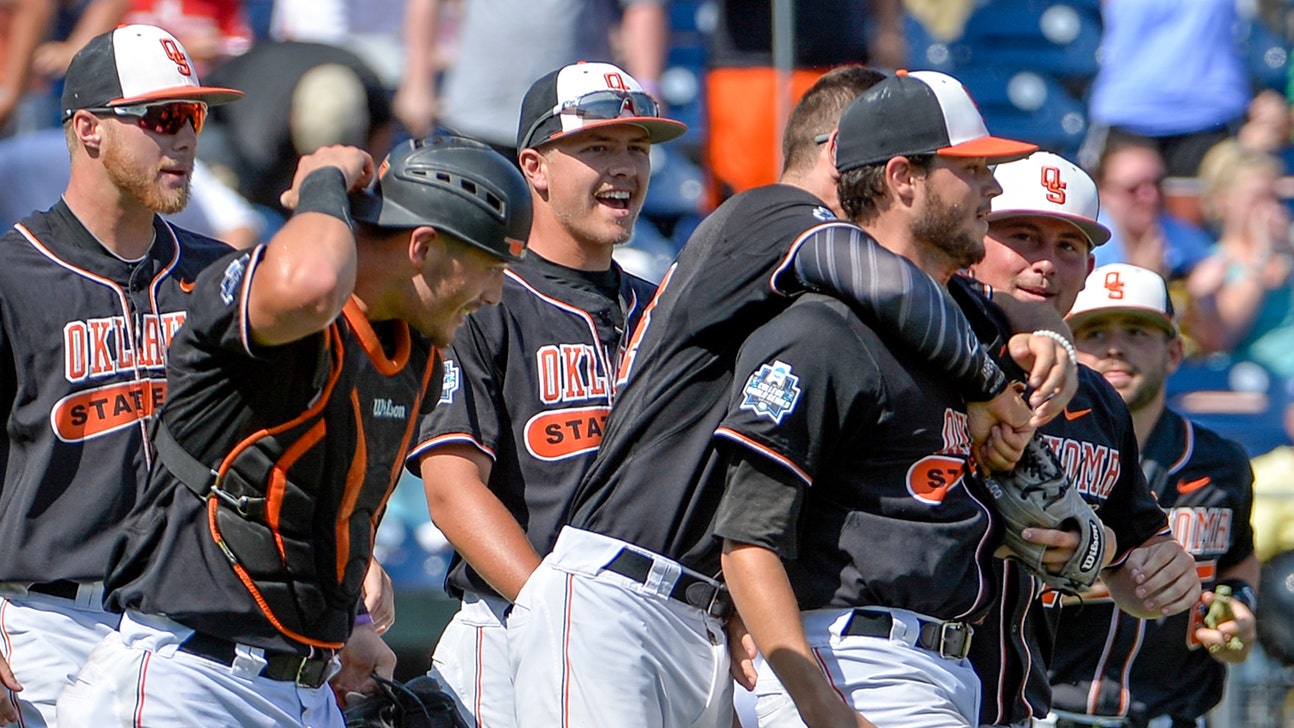 Oklahoma State tops UC Santa Barbara in CWS opener
Published
Jun. 19, 2016 3:05 a.m. ET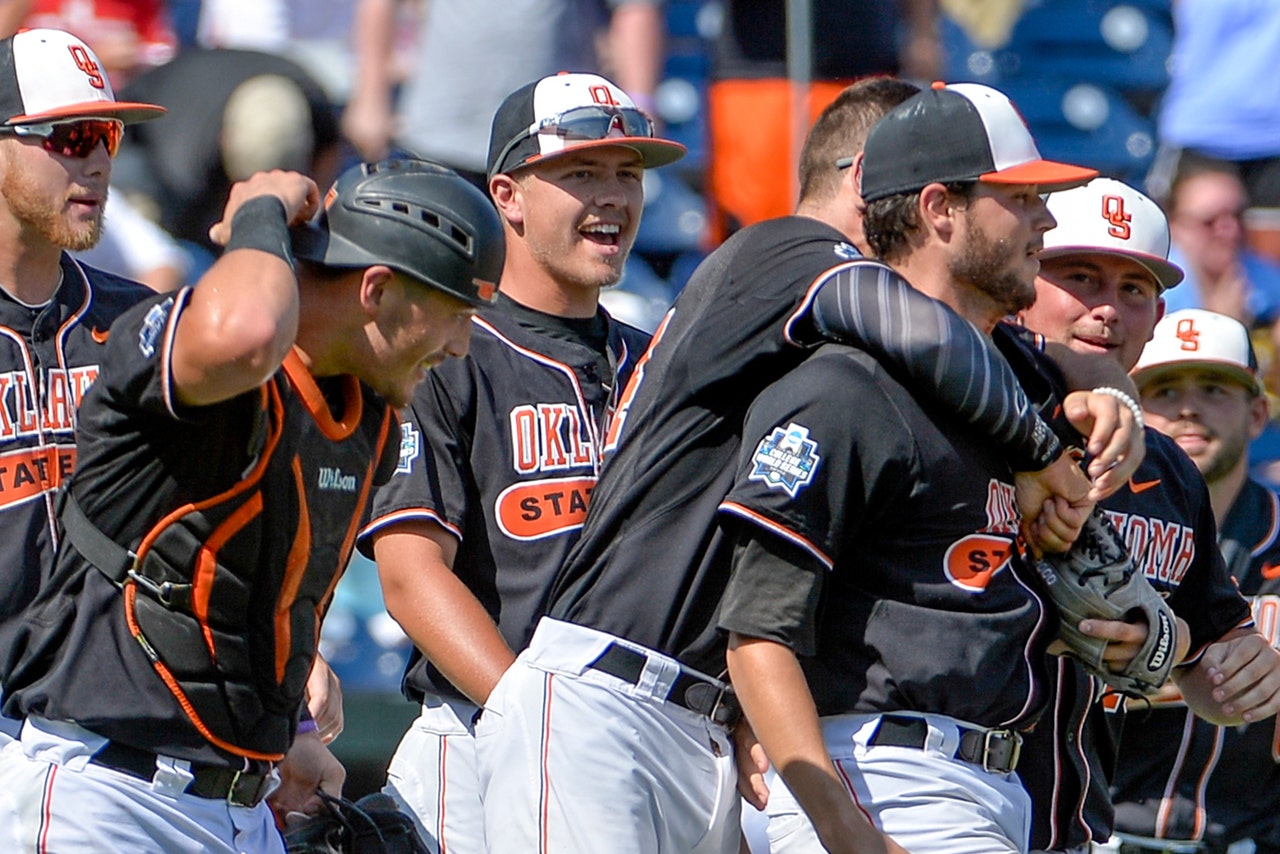 OMAHA, Neb. (AP) -- A rough start turned into a smooth finish for Thomas Hatch.
The Chicago Cubs' third-round draft pick threw a complete game and extended his shutout streak to 26 innings in Oklahoma State's 1-0 victory over UC Santa Barbara in the College World Series on Saturday.
Hatch scuffled early before settling in to record the first shutout by the Cowboys (42-20) at the CWS since 1986, a game current pitching coach Rob Walton started.
"Not the easiest game in the world to pitch, because the first game of the World Series has a little vibe and buzz about it to kick things off," Cowboys coach Josh Holliday said. "He handled himself exceptionally well, and it's a great way for us to start the tournament."
Garrett Benge singled in the only run in the fourth inning, and from there Hatch took over.
"I definitely think there was some adrenaline there," Hatch said. "There weren't many nerves. I was in a good place mentally. I was missing high (early), and when I tried to get the ball down I was spiking some fastballs, which is unusual. I was able to make adjustments, calm down and make the pitches I needed to."
Hatch (9-2) allowed five hits, walked one and struck out seven in his dazzling 112-pitch performance for the Cowboys, who are in the CWS for the first time since 1999. It was his fourth shutout of the season.
Hatch required 39 pitches through two innings and got some help from his defense after the Gauchos (42-19-1) threatened in the second and third. JJ Muno doubled into left center with one out for the first extra-base hit off Hatch in 16 innings, and Demspey Grover followed with a single. Hatch got Kyle Plantier to line out to shortstop Donnie Walton and struck out Josh Adams. The next inning, third baseman Benge started an inning-ending double play.
"I didn't have my stuff, and they were putting the ball in play pretty hard the first four innings," Hatch said. "Donnie made a hell of a play, and Benge, too. I'm not going to take any credit."
Santa Barbara starter Shane Bieber (12-4) was just was just about as good as Hatch, limiting the Cowboys to six base hits.
Three of them came in succession in the fourth inning, though, and produced Oklahoma State's only run. Corey Hassel singled to left, Walton to right and Benge through the middle to make it 1-0. Bieber escaped further damage when Conor Costello lined into a double play and Dustin Williams flew out.
"I lost my sharpness, compounded multiple mistakes in a row and they took advantage of it, hit the ball hard and that was the game," said Bieber, a fourth-round pick of the Cleveland Indians.
The Gauchos rolled into their first CWS appearance off five straight NCAA Tournament wins, including the super-regional winner at No. 2 national seed Louisville on freshman Sam Cohen's pinch walk-off grand slam last Sunday.
"We're still playing, we're still here, we're not knocked out yet," Gauchos coach Andrew Checketts said. "We'll go from here. We can't go back and change anything about this game."
COWBOYS ON A ROLL
Oklahoma State has won six straight and is tied for best run differential in the NCAA Tournament, having outscored its opposition 30-6. The Cowboys' ERA is 0.83.
THIS ONE'S FOR COACH
Holliday never won a game as a player at the CWS in 1996 and '99, and the Cowboys ended a five-game losing streak in Omaha. Before Saturday, they hadn't won at the CWS since beating Texas 7-6 in 1993.
BIEBER FEVER BROKEN
Santa Barbara had won five straight starts by Bieber and 14 of his 17 overall in 2016. With six strikeouts and no walks, he improved his strikeout-walk ratio to 109-16 in 134 2/3 innings. His 98 pitches tied for third-fewest in a complete game (minimum 8 innings) in records dating to 1981.
UP NEXT
Oklahoma State plays Arizona on Monday night. The Gauchos meet Miami on Monday afternoon in an elimination game.
---