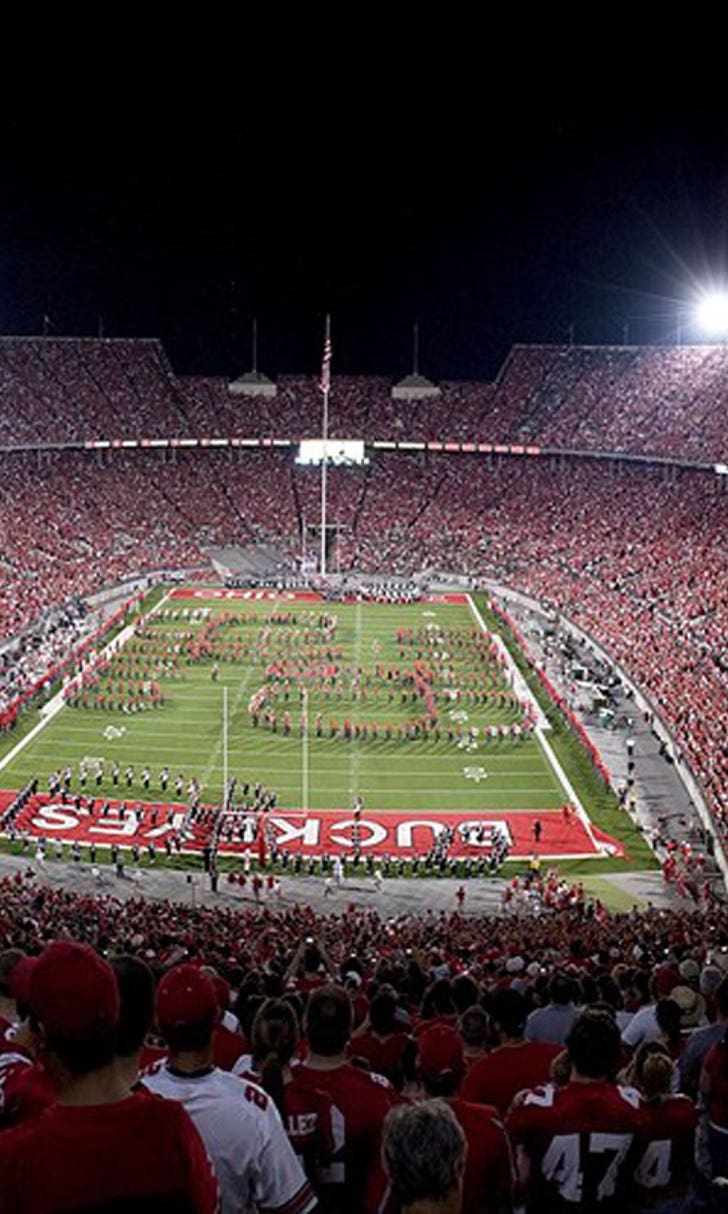 Ohio State adds Oregon State and UNLV to future schedules
BY foxsports • August 14, 2014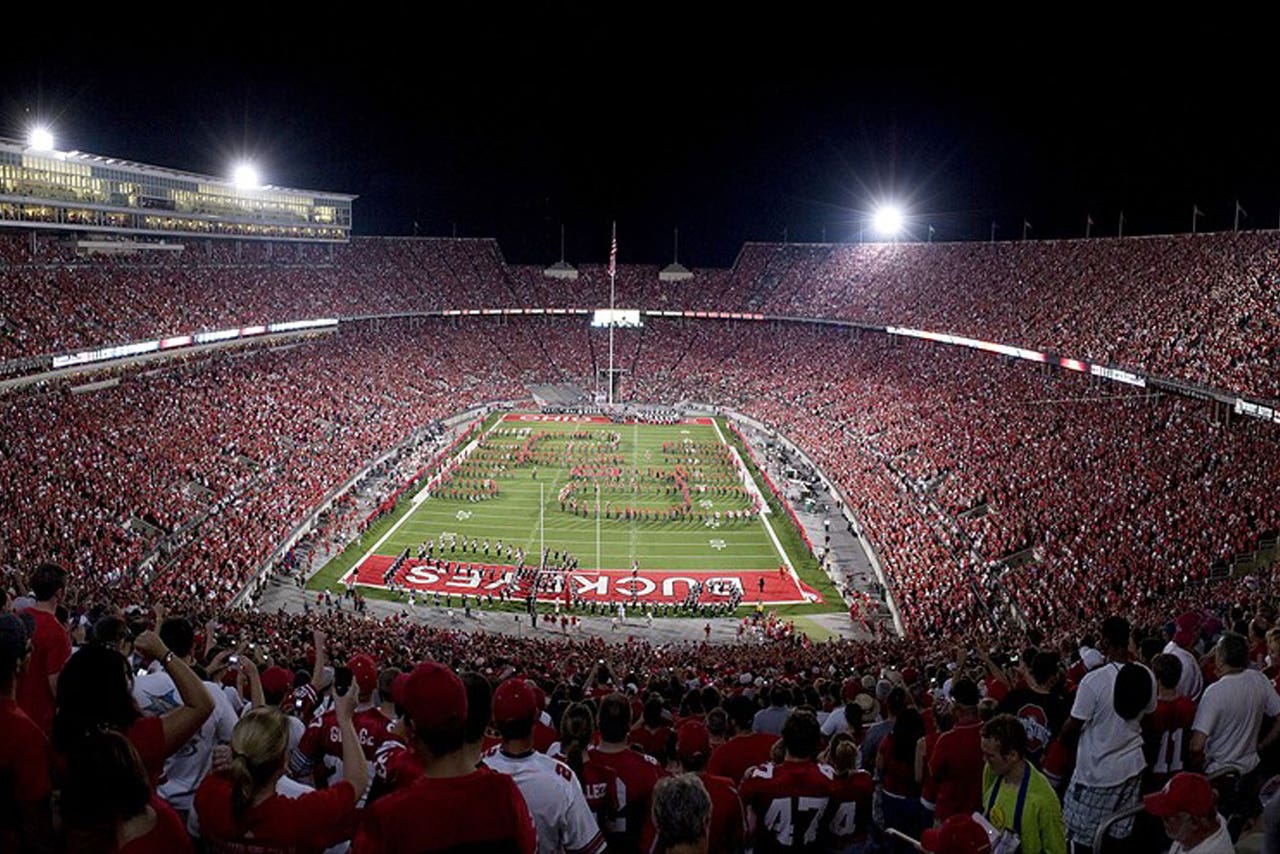 COLUMBUS, Ohio -- Ohio State University has added home football games at Ohio Stadium with Pac 12 Conference member Oregon State University and Mountain West Conference school UNLV. The Buckeyes and the Beavers will meet in the 2018 season opener on Sept. 1. The Buckeyes will play UNLV on Sept. 23, 2017.
The addition of Oregon State to the 2018 schedule is significant in the fact that Ohio State will now play its first three games that year vs. teams from the "big five" conferences (Big Ten, SEC, ACC, Big 12 and Pac 12):
- Sept. 1 vs. Oregon State;
- Sept. 8 vs. Rutgers; and
- Sept. 15 at TCU.
Right now 11 of the 12 regular season games in 2018 are against "big five" conference teams with one game -- Sept. 22 -- still to be scheduled.
Ohio State and Oregon State have met twice before on the gridiron with both games at Ohio Stadium. On Sept. 21, 1974 Ohio State won 51-10, and in 1984 the Buckeyes won, 22-14 in the season opener on Sept. 8. Ohio State and UNLV will be meeting for the first time.
UNC series cancelled
The Oregon State and UNLV games were added to the schedule when Ohio State and the University of North Carolina agreed to cancel their two-game series that had been set for those years. Both schools agreed to the cancellation after conference realignment and the addition of a ninth game in the Big Ten Conference, starting in 2016, altered the football landscape.
B1G shifts to nine-game schedule in 2016
The 2016 football season will kick off the Big Ten's nine-game conference scheduling format. With it comes not only a reduction in the number of non-conference games (and opportunities for non-conference home games), but an emphasis by Ohio State administrators to seek not only great sets of home and home series games, but also attractive non-conference games in Ohio Stadium. Oregon State certainly adds clout to the mix of non-conference opponents coming into Columbus in the foreseeable future. The list of these games includes Cincinnati in 2014 and again 2019 and Tulsa in 2016.
Boston College games moved
Ohio State and Boston College have agreed to move their two-game series from 2020 and 2021 to 2023 and 2024, respectively. The two teams will meet on Sept. 9, 2023 in Columbus and the following year on Labor Day, Sept. 2, at Chestnut Hill, Mass.
2014 Ohio State Football Schedule
Aug. 30 -- vs. Navy (at Baltimore's M&T Bank Stadium)
Sept. 6 -- Virginia Tech
Sept. 13 -- Kent State
Sept. 20 -- Off
Sept. 27 -- Cincinnati
Oct. 4 -- at Maryland
Oct. 11 -- Off
Oct. 18 -- Rutgers
Oct. 25 -- at Penn State
Nov. 1 -- Illinois
Nov. 8 -- at Michigan State
Nov. 15 -- at Minnesota
Nov. 22 -- Indiana
Nov. 29 -- Michigan
Dec. 6 -- Big Ten Championship Game
Future Ohio State Football Schedules
2015 Ohio State Football Schedule
Sept. 7 -- at Virginia Tech
Sept. 12 -- Hawaii
Sept. 19 -- Northern Illinois
Sept. 26 -- Western Michigan
Oct. 3 -- at Indiana
Oct. 10 -- Maryland
Oct. 17 -- Penn State
Oct. 24 -- at Rutgers
Oct. 31 -- Off
Nov. 7 -- Minnesota
Nov. 14 -- at Illinois
Nov. 21 -- Michigan State
Nov. 28 -- at Michigan
Dec. 5 -- Big Ten Championship Game
2016 Ohio State Football Schedule
Sept. 3 -- Bowling Green
Sept. 10 -- Tulsa
Sept. 17 -- at Oklahoma
Sept. 24 -- Off
Oct. 1 -- Rutgers
Oct. 8 -- Indiana
Oct. 15 -- at Wisconsin
Oct. 22 -- at Penn State
Oct. 29 -- Northwestern
Nov. 5 -- Nebraska
Nov. 12 -- at Maryland
Nov. 19 -- at Michigan State
Nov. 26 -- Michigan
Dec. 3 -- Big Ten Championship Game
2017 Ohio State Football Schedule
Sept. 2 -- at Indiana
Sept. 9 -- TBA
Sept. 16 -- Oklahoma
Sept. 23 -- UNLV
Sept. 30 -- at Rutgers
Oct. 7 -- Maryland
Oct. 14 -- at Nebraska
Oct. 21 -- Off
Oct. 28 -- Penn State
Nov. 4 -- at Iowa
Nov. 11 -- Michigan State
Nov. 18 -- Illinois
Nov. 25 -- at Michigan
Dec. 2 -- Big Ten Championship Game
2018 Ohio State Football Schedule
Sept. 1 -- Oregon State
Sept. 8 -- Rutgers
Sept. 15 -- at TCU
Sept. 22 -- TBA
Sept. 29 -- at Penn State
Oct. 6 -- Indiana
Oct. 13 -- Minnesota
Oct. 20 -- at Purdue
Oct. 27 -- Off
Nov. 3 -- Nebraska
Nov. 10 -- at Michigan State
Nov. 17 -- at Maryland
Nov. 24 -- Michigan
2019 Ohio State Football Schedule
Aug. 31 -- TBA
Sept. 7 -- Cincinnati
Sept. 14 -- at Indiana
Sept. 21 -- TCU
Sept. 28 -- at Nebraska
Oct. 5 -- Michigan State
Oct. 12 - Off
Oct. 19 -- at Northwestern
Oct. 26 -- Wisconsin
Nov. 2 -- Off
Nov. 9 -- Maryland
Nov. 16 -- at Rutgers
Nov. 23 -- Penn State
Nov. 30 -- at Michigan
2020 Ohio State Football Schedule
Sept. 12 -- at Oregon
2021 Ohio State Football Schedule
Sept. 11 -- Oregon
2022 Ohio State Football Schedule
Sept. 17 -- at Texas
2023 Ohio State Football Schedule
Sept. 9 -- Boston College
Sept. 16 -- Texas
2024 Ohio State Football Schedule
Sept. 2 -- at Boston College
---