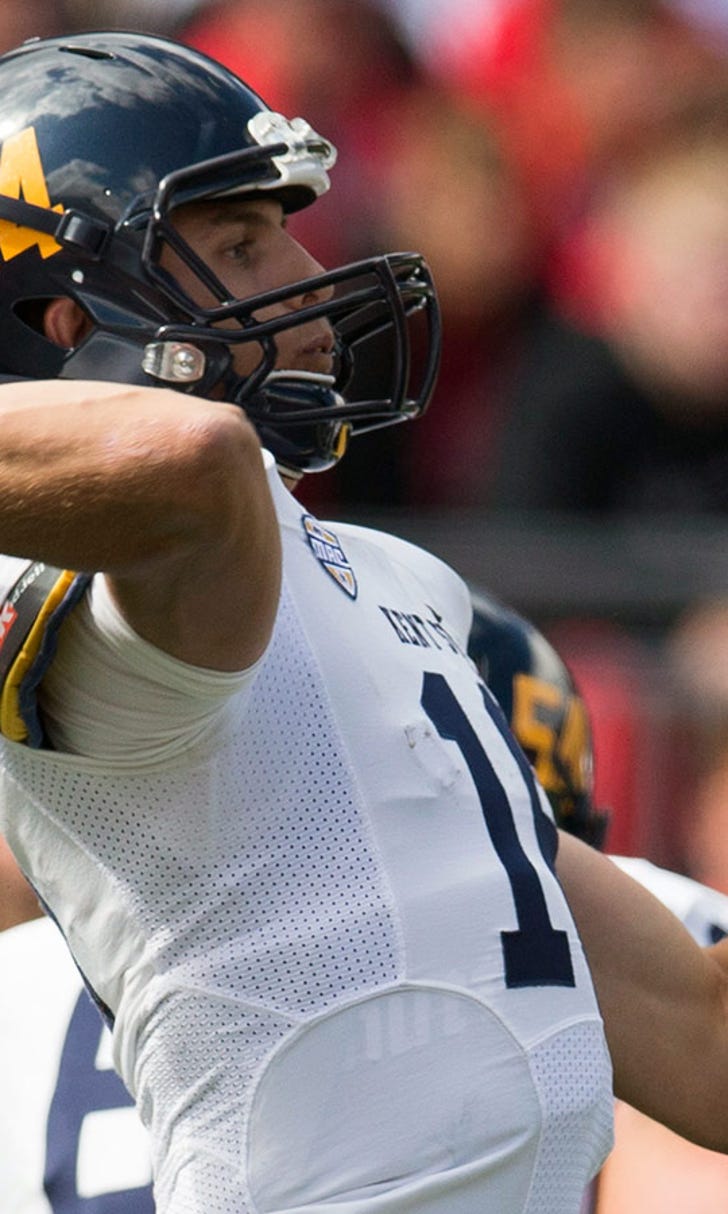 Ohio college football roundup
BY foxsports • September 27, 2014
Taylor carries Buffalo past Miami (Ohio) 35-27
BUFFALO, N.Y. (AP) -- Anthone Taylor had 36 carries for 222 yards and scored three second-half touchdowns, all career-highs, to spark Buffalo past Miami (Ohio) 35-27 in the Mid-American Conference opener for both teams on Saturday.
Trailing 21-14 in the third quarter, the Bulls (3-2, 1-0) leaned on Taylor, who scored on runs of 13 and 3 yards to push Buffalo ahead. His 1-yard touchdown made it 32-27 with 11:19 remaining.
Buffalo forced Miami (0-5, 0-1) to a three-and-out on the next series, which later set up Patrick Clarke's 37-yard field goal.
Miami's final two possessions ended in a failed fourth-down conversion and a three-and-out.
Joe Licata went 28 for 38 with 276 yards and threw two touchdowns. Jacob Martinez had 94 yards on 8 receptions for Buffalo.
Andrew Hendrix had 238 yards passing with three touchdowns. His 32-yard strike to Alex Welch on fourth down put the RedHawks up 27-26 in the fourth.
Bowling Green edges past UMass 47-42
AMHERST, Mass. (AP) -- James Knapke threw for 443 yards and three touchdowns and Travis Greene ran for two more as Bowling Green edged past Massachusetts 47-42 on Saturday.
The Falcons (3-2, 1-0 Mid-American) took the lead with 2:57 left in the first after Knapke threw a 27-yard TD pass to Ronnie Moore.
The lead changed hands six times and Bowling Green never held more than a two-score lead.
Knapke passed for 443 yards and finished with three interceptions. Greene ran for 110 yards on 20 carries.
Massachusetts climbed back from a 12-point deficit and took its last lead in the third quarter after 80- and 18-yard touchdown passes from Blake Frohnapfel.
Frohnapfel threw for a career-high 589 yards -- smashing his previous high of 267 yards -- and five touchdowns for the Minutemen (0-5, 0-1).
Massachusetts fumbled on its last possession and the Falcons recovered, running out the clock for the win.
Oullette, Sprague lead Ohio past E Illinois 34-19
ATHENS, Ohio (AP) -- A.J. Oullette rushed for 87 yards with two touchdowns and quarterback JD Sprague added a pair of rushing scores, lifting Ohio over Eastern Illinois 34-19 on Saturday.
Trailing 3-0 early, the Bobcats (3-2) raced to a 21-3 lead sparked by Oullette's two touchdowns, including a 65-yard breakaway on Ohio's first play in the second quarter.
Grant Cunningham blocked a punt that led to a late field goal by Josiah Yazdani, making it 24-10 at half.
Starting in place of injured quarterback Derrius Vick, Sprague threw for 143 yards with two interceptions and rushed for 69 yards on 12 carries. He ran for an 8-yard touchdown to make it 34-10 before Greg Windham relieved Sprague in the fourth quarter.
Jalen Whitlow threw for 289 yards, including a 6-yard touchdown to Anthony Taylor in the fourth quarter. Whitlow also ran for 112 yards and a score for Eastern Illinois (1-4).
Johns leads Virginia past Kent State 45-13
CHARLOTTESVILLE, Va. (AP) -- Matt Johns overcame two early interceptions and threw for two touchdowns and ran for one Saturday as Virginia pulled away after halftime to beat Kent State 45-13.
The Cavaliers (3-2) surpassed their victory total of last season behind their backup quarterback, who made his first career start with Greyson Lambert sidelined by a right ankle injury. His interceptions halted two first-half drives, but he led the way as Virginia took total command in the third quarter.
Kent State (0-4), coming off a bye week that followed a 66-0 loss at Ohio State, scored first and had Virginia's defense on edge early, but wound up with five turnovers leading to 21 points for Virginia.
---