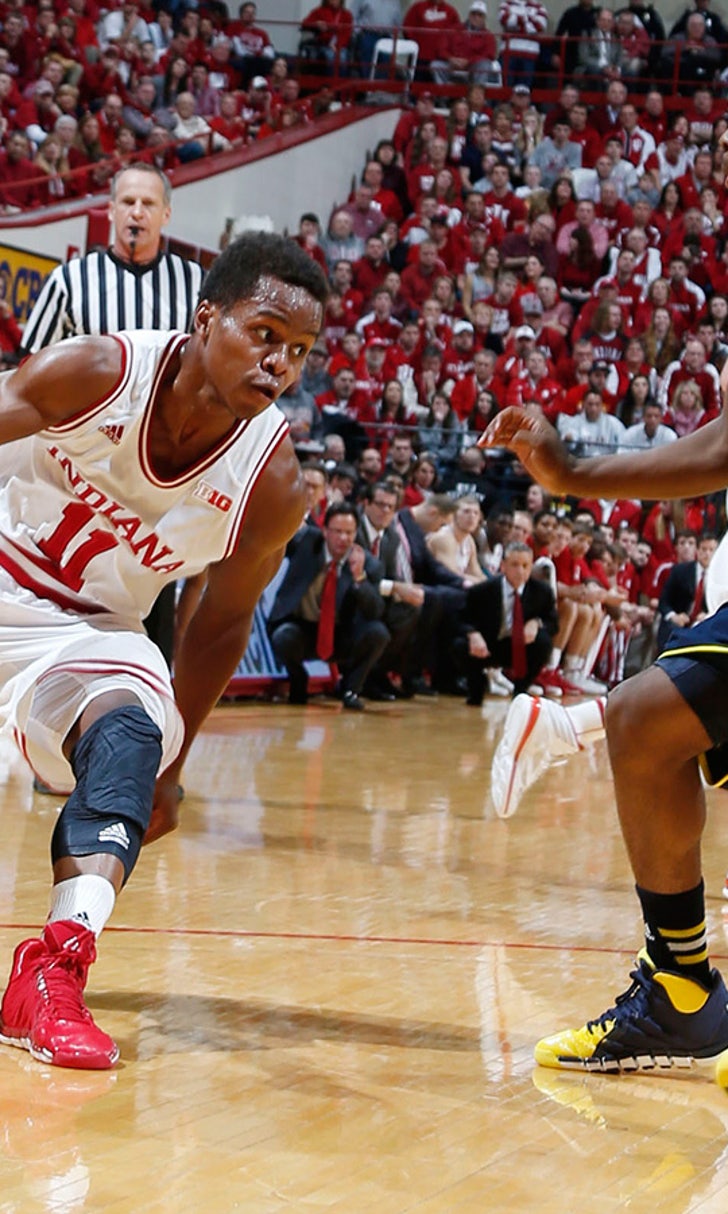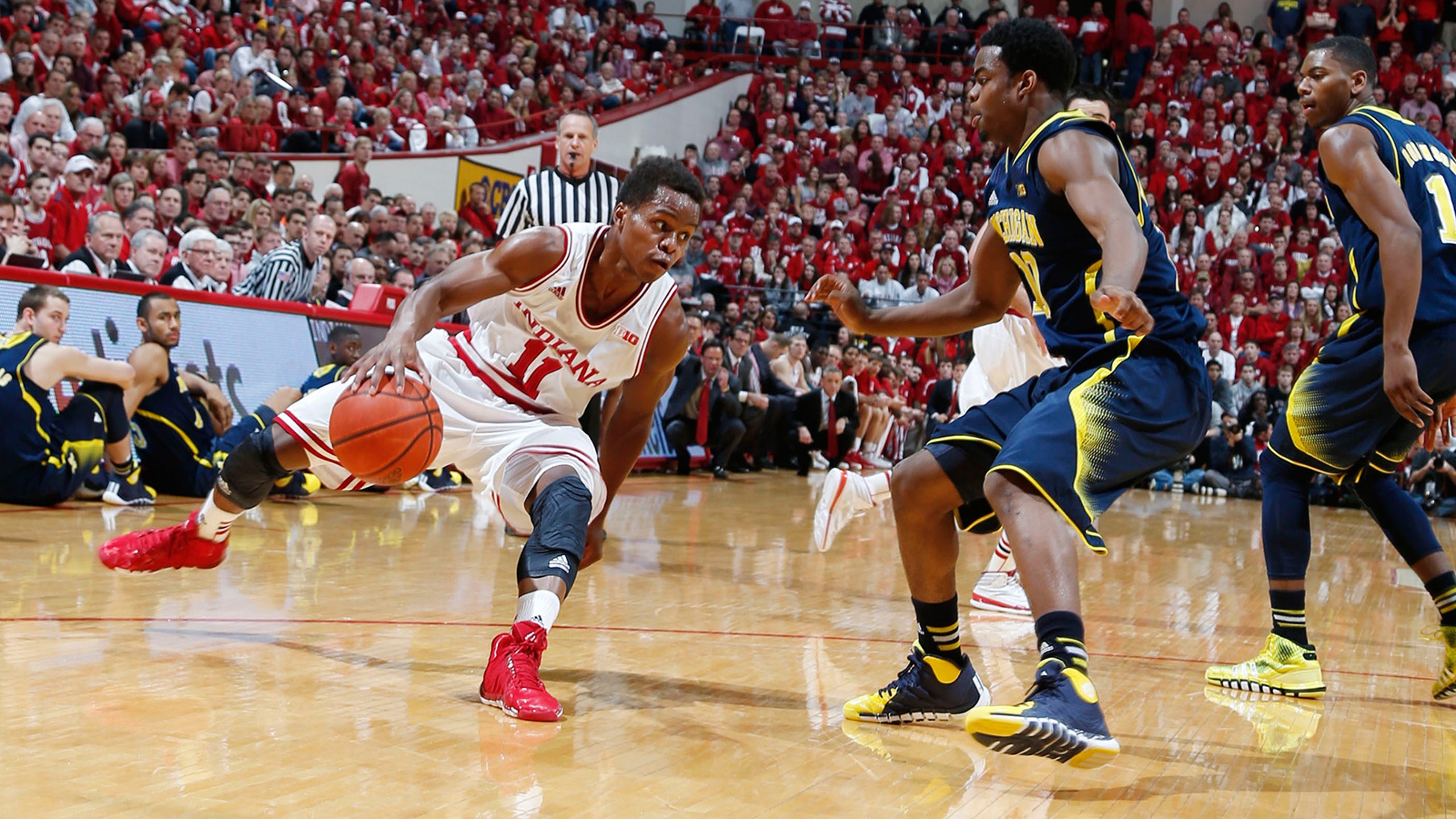 Offense sputters as Michigan falls to Indiana
BY foxsports • February 2, 2014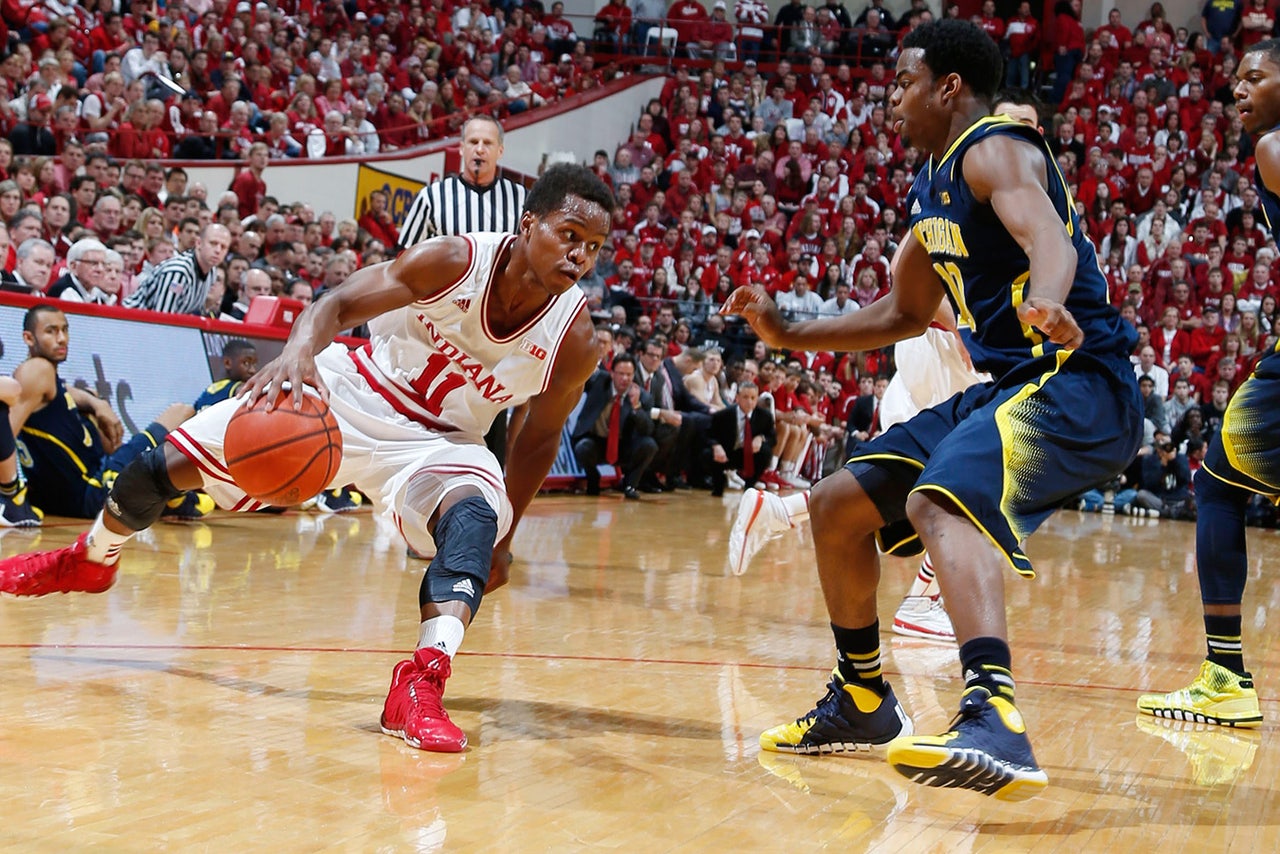 BLOOMINGTON, Ind. (AP) -- Michigan's prolific offense was out of sorts and its 10-game winning streak came to an end.
Yet after Indiana handed the seventh-ranked Wolverines their first Big Ten loss on Sunday, coach John Beilein couldn't have been happier.
"I think it's really good for us," Beilein said. "I didn't think we were going to go undefeated. We hadn't lost since Dec. 11, against Arizona. I had no expectations of 18-0, believe me. In the long run, we have to get better."
The Wolverines lost 63-52, producing a season-worst point total and ending their best start to conference play since 1976-77. They had been the league's last unbeaten.
Michigan (16-5, 8-1 Big Ten) received 13 points from Derrick Walton Jr. and 12 from Caris LeVert. While the Wolverines' guards produced, their dynamic frontcourt duo of Nik Stauskas and Glenn Robinson III was held in check.
Stauskas had six points, only the third time this season he has failed to score in double figures, while Robinson scored a quiet nine points. Michigan shot 40 percent from the field and made just three 3-pointers.
"We didn't get many good shots today," Beilein said. "Credit their defense. The defensive game plan was outstanding. We have never seen anything like it since I've been here."
A major part of that scheme was defending Stauskas, a 6-foot-6, 205-pound small forward, with lithe point guard Yogi Ferrell. The cross-match worked to perfection, as Stauskas was 1 of 6 from the field and spent many possessions on the left side of the court away from the action, rarely seeing the ball at times.
"I was basically trying to limit his touches, play the screens and not let him get the ball," Ferrell said.
Indiana (14-8, 4-5) had lost three of four but rode that tight, creative defense and Ferrell's hot shooting to a win that might shift its season.
Indiana coach Tom Crean decided Ferrell's awareness, quick hands and intensity were the perfect antidote to Stauskas' deadly shooting and effective passing.
"You've got to make his catches hard and his looks even harder," Crean said. "You've got to be conscious of where he is at all times. I'm proud of our whole team defensively. Yogi was the catalyst."
With Stauskas limited, the Hoosiers led most of the way in improving to 12-2 at Assembly Hall. Noah Vonleh added 10 points and 12 rebounds for the Hoosiers, who shot 54 percent. Ferrell was 7 of 8 from 3-point range.
Indiana may have reinvigorated its hopes for an at-large berth to the NCAA tournament by securing a second victory over a top 10 opponent.
The Wolverines are a common victim and no stranger to coming up short in this series.
Dating to last season's run to the national title game, the Wolverines are 27-12 in their last 39 games with three of the losses to the Hoosiers, who are 24-8 against Michigan over the last 18 seasons.
Michigan was outrebounded 31-22 and seemed bothered by its shooting woes.
"It was a little frustrating for guys since a lot of those were shots we make regularly," said Jordan Morgan, who had five points and 10 rebounds filling in for the injured Mitch McGary.
As Ferrell drained one 3 after another, fueling the crowd early and late, the Wolverines' offense was off from the start.
Michigan had more turnovers (8) than field goals (7) in the first half and scored just six points on its final 11 possessions to trail 25-22 at halftime.
It took a few breaks to stay that close. Walton was fouled twice in the half shooting behind the arc and converted all six free throws. The Wolverines also pushed the ball effectively for transition opportunities, scoring eight fast-break points.
After Indiana's defense was slow to get back and allowed Zak Irvin a layup, Crean used a timeout with 10:08 left in the half. Out of the stoppage, the Hoosiers scored on five of their next six trips to grab a 22-18 lead.
Facing their fourth halftime deficit since November, the Wolverines never got over the hump.
Three free throws from Austin Etherington and a fast-break layup by Evan Gordon gave Indiana a 49-41 lead with 7:41 to play, causing Beilein to call time out.
After Stauskas' free throws cut the deficit to 53-49 with 4:04 to play, the Hoosiers clamped down, getting two stops before another basket by Gordon pushed the lead to six. The Wolverines came up empty on their next two trips before Etherington's free throw made it a seven-point game, and Indiana pulled away from there.
Gordon had eight points for Indiana, Stanford Robinson scored seven and Will Sheehey added six. Ferrell played 37 exhausting minutes to make it all possible.
His 3 off a kickout gave Indiana the lead for good at 32-29 with 16:06 remaining. The sophomore later scored nine straight Indiana points, including 3s on consecutive possessions, to make it 43-36 with 10 minutes left.
"Once I hit a couple, they all felt good," Ferrell said. "I was going to let it fly."
Ferrell did, Stauskas did not, and Michigan paid the price.
"He's terrific," Beilein said. "They take their quickest player and don't let Nik get the ball. We had no answers for Yogi."
---