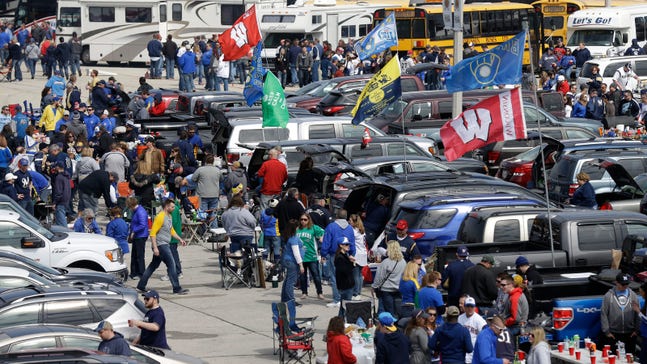 Of beers, brats and bravery: Miller Park's Brewers fans tailgate best
Published
May. 1, 2015 1:20 p.m. ET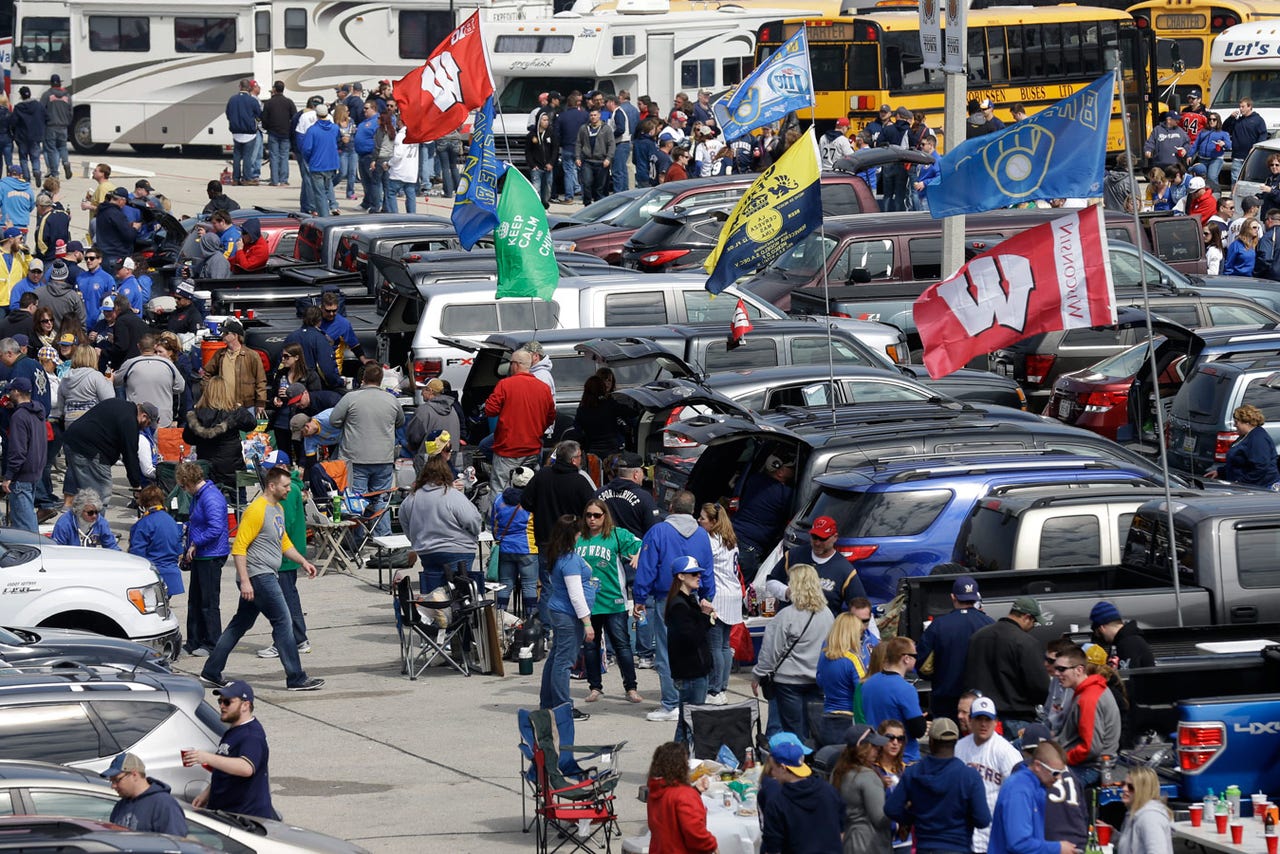 From afar, the castle looks impenetrable. A grand colossus of structural steel, concrete and brick rising more than 300 feet from the ground and weighing half-a-million tons, 1.2 million square feet in total size with an expansive roof to shield it from meteorological assault and enough provisions to last indefinitely, it is a fortress positively invulnerable to conquer, utterly immune to siege -- even from the greatest army.
And this is indeed a great army. Tens of thousands on foot, reinforced with thousands more motorized cavalry, exceedingly well-supplied -- stocked with uncountable beverages and rations of eclectic variety -- and majestically equipped -- clad in uniforms of blue and yellow trim, the white-crested coat of arms adorning most everything in sight. The army has descended on the stronghold and encircled it almost completely. It is an imposing and intimidating sight, each vehicle pointed forward, seemingly ready to charge, as the whooping, hollering troops erect tents, raise flags and set up fires. They appear ready to advance at any moment, to overwhelm the castle and occupy its luring interior.
But first, another beer. Another brat, too. This army, now that it's here, is clearly content to lay a long, languid, savory siege.
Miller Park, and specifically its sprawling asphalt parking lots, regularly hosts what many fans consider the biggest public party in baseball. Given a location nearly five miles west of downtown Milwaukee, 12,000 inviting parking spaces, encouragement of the festivities by the franchise and a Wisconsin culture that champions consumption, it's no surprise Miller Park has become a tailgating mecca, with every Brewers home game preceded by a vast, fabulous fete of eating, drinking, game-playing and glee.
Tailgating is not nearly as prevalent in baseball as it is in football. But it is in Milwaukee. Partly that's because, unlike so many other Major League Baseball teams that have their stadiums in crowded city areas, Miller Park possesses the necessary space; partly it's Wisconsinites' well-documented inclination toward ingestion and intoxication; and partly it's the Brewers' open reinforcement of the practice, something not every club cares to do. Among MLB teams, only a few have parks where the tradition of tailgating is celebrated.
When the party's in the parking lot, Milwaukeeans argue, they do it best.
"I've been to a lot of ballparks in a lot of cities and I would say that the tailgating experience at Miller Park is without parallel," says Rick Schlesinger, the Brewers' chief operating officer. "Obviously, any ballpark that's built in a downtown setting just isn't going to have the parking lots that can accommodate tailgating. And some organizations candidly discourage or outright prohibit it and would prefer that fans spend money on buying concessions inside the ballpark.
"It's not only that we allow it, but we actually embrace it and so many of our fans plan and come early to the lots and spend time before the games and really make it the fan experience."
Of course, the team's COO is obligated to have such an opinion. So I go to investigate the oft-claimed belief, self-inflicting for the sake of substantiation this unenviable assignment on a Saturday in late April, before a Brewers game against the Cardinals. It is not a picture-perfect day for tailgating, unlikely to be featured in a promotional video or TV spot detailing the Miller Park experience.
It's 40 degrees all day, overcast and gray. And, like the weather, the team playing inside the stadium is having a similarly gloomy season, a record of 3-14, worst in baseball, with an impotent offense, a powerless pitching staff and a porous defense. On the field, it's a product people would not be particularly keen on paying to see. Moreover, at the same time fans typically gather early to tailgate, the Milwaukee Bucks were playing a home playoff game against the Chicago Bulls, which attracted a sellout crowd to the BMO Harris Bradley Center and had many sports fans around the city tuned in on television. I figure the spectacle will be subdued, to say the least, possibly nonexistent.
I am wrong.
Greeted with the sights, sounds and smells of pregame partying from the second I step out of my car -- well before, actually, if you count the stop-and-go traffic on the freeway to the stadium three hours before first pitch, indicating the arrival of the horde -- I set about exploring the Brewers' unique and astonishing tailgating scene.
In Milwaukee, especially on Opening Day but also at every other home game, it's a reporter's obligation -- an off-the-field chestnut akin to baseball's myriad on-field cliches -- to say something about the aroma of grilled bratwurst filling the air. It may be an overused descriptive device, but it is not untrue. At Miller Park, the air is literally saturated with the scent of sausage. It's a wonderful, wistful sensation to sniff the stuffed-meat smell, to walk by dozens of different cookouts and catch a whiff of whatever searing wiener wafts through the wind at that moment. It's not just the air's odor that's remarkable; wavy lines of hot grill gas refract visibly all around the stadium's vicinity, like the haze of a campfire, magnified by a million.
Despite the chilly temperatures, Brewers fans are already out in full force by the time I make my way from the media lot to the much-more-interesting lots. The first one I come to is the designated bus and RV parking area, which is also where the "Miller Lite Tailgate Town" takes place. The Tailgate Town is an official, Saturday-only promotion of the club and its mega sponsor, which features a fenced-in VIP area with food and drink and an on-stage band. On this day, however, it does not feature many actual fans.
The classic rock cover being attempted by the live band is almost completely drowned out by the throbbing beat of Taio Cruz's dance hit "Dynamite," which is booming from the sound system of a nearby party bus. Its passengers have emptied their means of responsible transportation and are mingling merrily with one another. Some are playing Cornhole, a popular tailgating game in which players take turns throwing beanbags at a raised platform with a hole in the far end, scoring one point for landing the bag on the platform and three points for sinking it in the hole. The game is also commonly called "bags." Knowing better than to walk through a game of bags, and knowing still better that people who've been on a party bus don't make for printable quotes, I continue on.
The bus and RV lot is impressive on its own -- perhaps a hundred buses, each parked perfectly in a long, angled space alongside its neighbors, each with its own blaring music, requisite cup-in-hand dancing girls and backwards-hat-wearing dudes bounding around. I walk past them all, admiring the shows, listening as the Flo Rida song of one group turns into the "Sweet Home Alabama" of the next, then fading into the Florida Georgia Line country hit "Cruise" and then Outkast, Rihanna, CCR and, of course, the Edward Sharpe and the Magnetic Zeros' all-time white-people anthem "Home."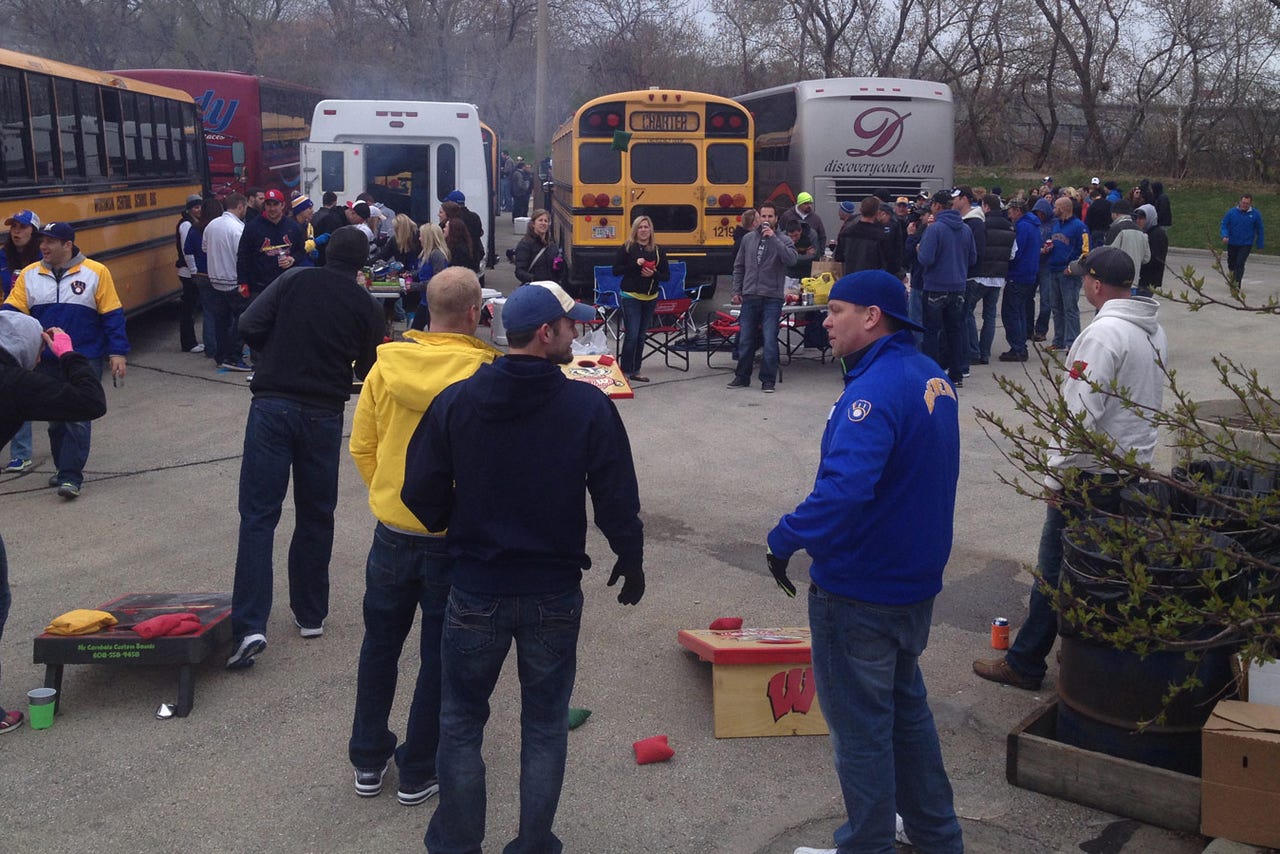 Cornhole is the most popular tailgating game at Miller Park.
It's a pulsing, vibrant, wildly entertaining scene; but it's not the true Miller Park tailgating scene.
I walk past the Klement's Sausage Haus, another sponsor spot, which hosts outdoor events and non-portable restrooms. There are several middle-aged Cardinals fans there, using the facilities and behaving decorously. I pass the concession and merchandise stands -- yes, the Brewers are so conscientious of their tailgating scene and the distance from the outer parking areas to the stadium that they peddle refreshments and team gear within the lots -- and walk across the foot bridge that spans the mellow Menomonee River down below. Over the river, I reach the inner edge of Miller Park's enormous general parking lots, which, directionally from home plate in the stadium, would be in deep-deep-deep-deep-deep left field, or, approximately where Ryan Braun's batting-practice balls landed in the late 2000s.
These general lots, which cost $15 per car on weekend game days, are where you can find the real tailgaters. There are seven separate covered pavilions, but they are mostly unused. Brewers fans prefer to tailgate traditionally -- behind their vehicles, out in the open, with their own grill, grub and brews.
"Every organization has to do what's best for them. From our perspective, it's such a part of our culture and part of our fan experience that it wouldn't make any sense to discourage it," Schlesinger says of the cost-benefit financial impact of tailgating. "If you're looking strictly at concession revenue, there's no question our concession revenue is negatively impacted by tailgating. But we don't look at it that way."
Schlesinger says he looks at the "whole experience." He believes that, without tailgating, many people wouldn't come to Brewers games, so the attraction of parking-lot partying boosts gate totals.
"We're increasing our ticket sales, we're increasing the fan experience," he says. "I don't look at individual revenue buckets and determine what things are; you have to look at the totality of the whole bundle of things we offer and things we sell and try to embrace. From my perspective, our great attendance over the years -- you can chalk it up to a number of factors, but there's no question that the ease of tailgating and the popularity of tailgating and the fact that we embrace tailgating does help our attendance, and that to me is important to the bottom line."
I walk up and down the open lanes, cordoned by parked cars, hundreds of alleyways filled with the same picture, identical activities: grilling, eating, drinking, gaming, yelling, laughing. There's meat galore -- plump brats, fat burgers, all-beef hot dogs, multicolored vegetable shish kabobs, golden-brown shrimp kabobs, crunchy corn on the cob, even a king tailgater with sumptuous steaks and a two-foot rack of ribs. There are salads, but only the Wisconsin-sanctioned kinds -- potato salad, pasta salad, taco salad and one lonely and untouched mixed green salad surely prepared by some idealistic novice or mom. There's a guy holding a gigantic cheese curd on a barbecue fork over his open flame, roasting the state's trademark treat to gooey perfection. There's beer, oh God, there is so much beer -- from the relative top shelf, bottles of Leinenkugel's and New Glarus, to the middle class of incalculable Miller High Life and Coors Light, to the dregs of Natural Ice, Keystone Light and Pabst Blue Ribbon.
I pass a group of guys in their early 20s standing around drinking Natty with empty Little Caesar's boxes dumped at their feet and I smile. Five years ago, my friends and I were exactly those guys -- the cheapest beer and a $5 Hot-N-Ready pizza -- so I text a couple buddies to assure them our noble tradition continues.
This reminds me that, like the rest of society, there exist social strata in tailgating. And as I venture around, the castes become obvious, mostly distinguished by age.
At the top is the elderly and older-middle aged. They've been tailgating longer than many at the park have been alive, from the Braves days of Hammerin' Hank and Warren Spahn, to the Wallbanging glory years of Yount, Molitor and the rest, through the moribund '90s and early 2000s, and the resurgence led by Braun and Fielder. These veterans are wise, relaxed and somewhat more inclined toward sobriety -- they understand value and place a higher importance on good food than getting bombed. So they sip Miller products, make warm, easy conversation, and sit in chairs that have backs under tents that they thought ahead to bring. They wear the same gear they've always worn, because why not? One man who looks to be in his 50s pulls down his pickup truck's hinged tailgate, revealing an actual grill built right into the metal.
These people are respected by all tailgaters; if they speak, you ought to listen. And I do when the king steak-cooker, a gray-haired man sporting a jacket with the old ball-and-glove logo and holding tongs and a can of Miller Genuine Draft, spies me scribbling in my notebook and asks if I'm writing down his secret recipe. When I tell him I'd publish it in my story and get him some publicity, he says, "Just tell 'em it's Rick's Really Good Ribs Recipe!" Satisfied with himself, he gives a hearty guffaw and returns to talking to his group.
The next level is families. Comprising kids who want to run and throw and parents wary of drunks, they take up spaces on the sidelines of the great tailgating field, safely away from the booze and bustle of the main areas. Since their children are draining their budgets and perhaps their dreams, these fans can sometimes be seen unpacking homemade sandwiches and, indefensibly, sometimes even fresh fruit. They care more for fashion than comfort. I wander over toward one family of four; the dad and one son are playing catch, the mom is trying to feed applesauce to another young son, who is busy dropping his purple sippy cup that surely contains one of the few nontoxic beverages on the entire premises.
I introduce myself and speak to Stephanie, the mom who is wearing a UW-Whitewater sweatshirt. She says it's the first game the whole family has gone to this season, which she doesn't really lament considering the Brewers are "not good this year" and "it's such a headache to get here with traffic" from their home in Waukesha. Her husband, Dave Larson, jogs over and tells me he wants to get to more games, especially now that his older son, Michael, knows the players, devours statistics and understands the sport. When I ask what they think of the Miller Park tailgating scene, Dave grins and says "It's cool that so many people come out, even when the team isn't great and it's not very nice out . . . we don't really do the crazy party stuff anymore."
Several cars over, I come upon an intergenerational tailgate that does merge the family with the party -- a 10-member clan from what looks like grandparents to grandchildren and half a dozen in between. Two men are having a catch with two small boys, one of the kids doing his best Derek Jeter impression, jump-turn throwing every time he gets the ball. One woman in an old J.J. Hardy jersey pours a Bloody Mary from the pitcher that's alongside a handsome Kettle One bottle and some orange juice. Two other kids are playing Giant Jenga with another woman, babbling feverishly and hopping around giddily whenever a piece is successfully, securely removed. The elderly couple seated next to each other in folding chairs is staring off peacefully at all the action.
Just below, or perhaps beside, the families on the social order are the young married couples and 30-year-olds. Without kids and possessing some extra disposable income, they're well-dressed in designer jeans and boots and drink bottles of Spotted Cow, a slightly more upscale craft beer beloved across the state. Cool and casual, they chat and munch on hot dogs and play Cornhole.
Nearby is a group of Cardinals fans that appear to be in that tailgating caste. I ask if they've been the victim of any parking-lot abuse for superiorly flaunting their Redbird colors; they laugh and say they have not. I tell them I'm doing a story about Brewers game tailgating.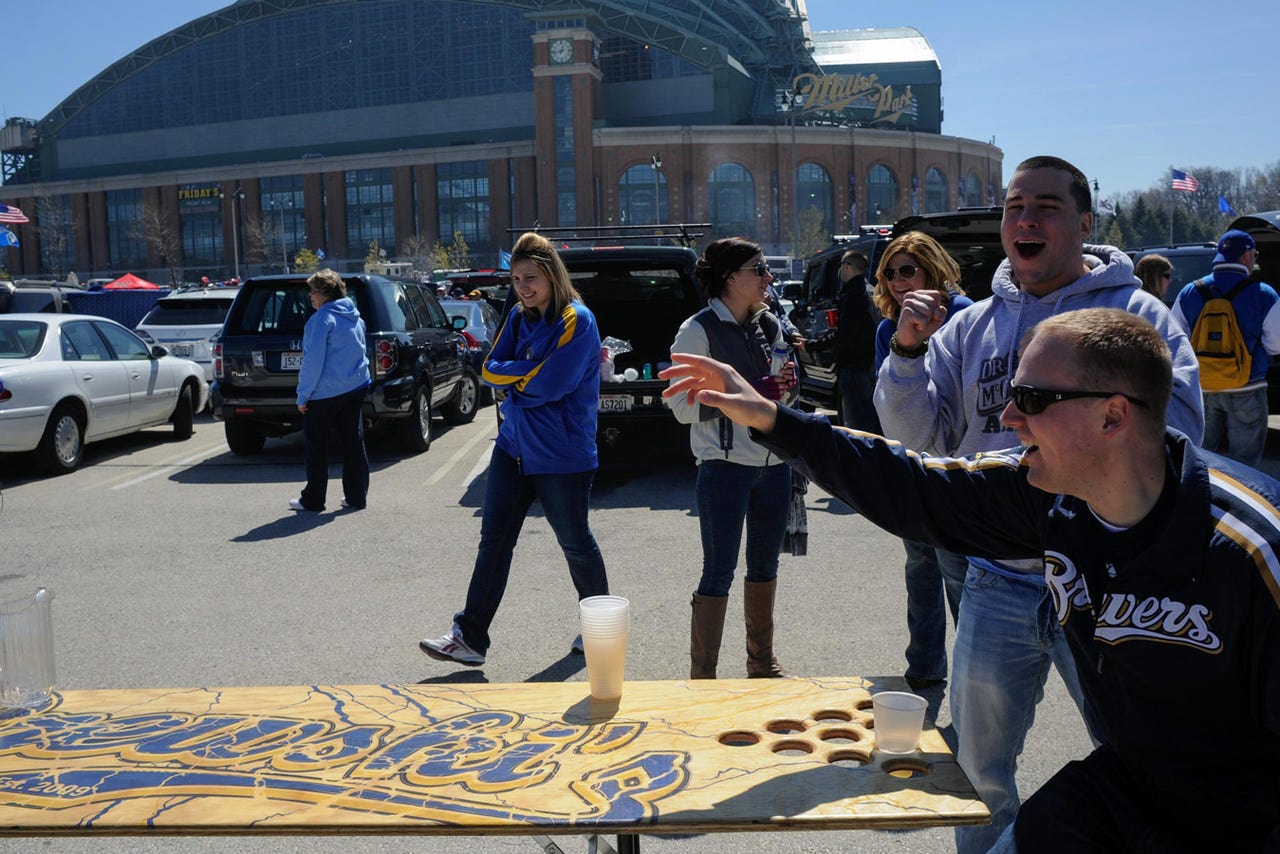 Brewers fans play beer pong while tailgating before a game.

"It's incredible here, it really is," says Mark Fischer, a 34-year-old St. Louis suburbs native who moved to Milwaukee with his wife Sarah three years ago. They're hosting the other couple, friends visiting from Missouri. "The number of people that tailgate, how common it is; it's definitely not something that happens as much at Busch Stadium."
His buddy notes the Cardinals' ballpark is located downtown, without the space to accommodate tailgating, and adds that, "we'd rather be good at baseball than be good at drinking beers in the parking lots." When I point out that it's the team that's good at baseball in St. Louis and the fans that are good at drinking in Milwaukee, and the two aren't mutually exclusive, he rolls his eyes and half-concedes, "You get my point. . . . I love the brats, though."
Onward now through the parking lot and down to the next caste: the mid-to-late 20s yuppies. Upwardly mobile with some money and no family constriction, they still like to party and either aren't as good at it as they used to be, or are much better now, depending on how you look at it. I find the requisite bachelor party where dudes play beer pong with a seriousness that rivals the game to be played inside the park later; elsewhere there's a mixed congregation of guys and girls milling around aimlessly, red cups in hand and a bottle of Jack Daniel's on the their table along with not much else. Many of them are wearing jerseys and shirtseys, mostly Braun ones, likely bought when the outfielder was at his superstar zenith. Even though it's a chilly, one-hand-in-your-pocket-the-other-holding-your-beer-and-constantly-switch kind of day, a lot of the shirts are short sleeved.
It's a hardy fan base, as Schlesinger knows. "The one that I admire is the stamina and the fact that our fans, regardless of the weather, they're out there tailgating," he says.
I approach an outgoing assemblage of yuppies and, after some furrowed eyebrows and initial awkwardness, soon find mutual friends and jokes in common. I agree to a game of Cornhole and find the game as frustrating as always, my throws sailing repeatedly over the platform, as my partner Nick bolsters me with reminders that I must be "too strong" for the game and should "stop working out so much." They're a hospitable bunch; I turn down approximately a case-worth of Coors Lights, the preferred beverage of this caste, but do indulge in a brat and some potato chips. They tell me about their tailgating experience -- they have designated a driver, someone different than the owner of the Dodge Durango in front of which they're partying. One girl from Chicago, Alison, says she likes the Miller Park environment better than urban Wrigley Field, whose surrounding Wrigleyville area is filled with bars and restaurants.
"I like that I can be around just my group, rather than going to bars and all the random people there," she says. "We can do our own thing and eat and drink the stuff we brought, so it's a lot cheaper, too."
Another friend, Adam, a Milwaukee native, claims to have been to "15 or 20" different ballparks around the country and says Miller Park does it best, at least for tailgating. "The stadium is decent, but really you come here with friends to grill out and drink."
I say my goodbyes and embark to find the lowest -- but indisputably most entertaining -- tailgating caste. The college kids are not hard to find. Over to the right there's an old Honda Accord with three girls nestled into the trunk, clutching Keystones and taking selfies. Further on, another car's passengers, wearing Marquette sweatshirts and North Face jackets, are playing a manic game of flip cup and the Ladder Toss game (also called "Testicle Toss" for the two balls connected by a string that competitors try to throw onto a ladder across from them). A few cars down, two young guys are playing the most efficient drinking game I've ever seen -- Rock, Paper, Scissors, and the loser drinks has to drink. Every time they shake.
I get another rush of reminiscence when I see three guys huddled around a kettle grill struggling to light the charcoal. The first time I tailgated with friends, we had forgotten lighter fluid so I set a thick road map on fire and used it to try and heat the coals. I can't remember if it worked (the hot dogs probably got warm) but I do remember playing baseball with a balled-up bun, my friend pitching it and me crushing it into neighboring tailgates (I probably whiffed).
I walk past the dude standing on top of a car surveying his kingdom and get a raised beer from the guy wearing a beer keg helmet. I take a picture for a huge group and, as thanks, am offered a Busch Light, which I decline, nostalgically. Every single person appears to be having the time of his or her life. Well, except for the guy who is passed out on the grass near the porta-potties, which I have to use. After waiting in a line of 15 people, it's finally my turn. As the previous occupant, a young woman, leaves, she giggles and says, "Sorry if it smells like weed in there." I enter and can't tell; it smells like a lot of things, most of them more offensive than pot.
Schlesinger, too, remembers tailgating Milwaukee baseball games with friends, back when the drinking age was 18 and, he says, "I had my share of Miller products -- but always responsible." He acknowledges that, of course, when alcohol and partying is involved, there are incidents and problems. But he says the Brewers, given their official sanctioning of tailgating, are extra vigilant.
The organization has changed old rules that allowed fans to tailgate well after the game started and even to tailgate in the parking lots without having a ticket to go to the game. Now, once the first pitch is thrown, the team requires all fans to finish up tailgating and enter Miller Park within 30 minutes. And the lots are cleared one hour after the game ends. That, in addition to the standard screening done upon entry to the stadium and the heavy police presence, he says, makes for a cleaner environment.
"We have security that patrols the lots before, during and after the games, we have security cameras that constantly monitor," Schlesinger says. "So we do what we can to make sure that the environment is going to be safe, clean and hospitable for fans who want to have fun. And if somebody's coming to cause problems, we're going to be aggressive and deal with them and not let them intrude on the fan experience."
It's approaching game time. The army, no doubt imbued with a considerable amount of liquid courage now, is at last prepared to penetrate the castle. Thousands of troops set off, uniformed in their Brewers gear -- the completely unofficial count, tabulated by tallying in my notebook, of people I passed in the parking lot, puts the numbers at 39 Braun jerseys, 18 Lucroys, 14 Fielders, 13 Gomezes, seven Gallardos, five Weekses, four Hardys (all women, yes), two Sheetses, two Younts, a Molitor, a Hall, a Hoffman, a Jenkins, and, delightfully, one Sabathia.
Though the diversity of jerseys, beers and side dishes is excellent, the diversity of people is predictably homogenous. Baseball games, especially the tailgates before them, seem to be an almost exclusively white thing to do. Perhaps it's cultural. The experience, though not necessarily cheap, certainly doesn't discriminate by age, gender, race or interest -- after all, who doesn't like to eat, drink, game and have a good time?
Schlesinger says it is a cultural thing -- a Wisconsin cultural thing.
Sausages are a tailgating staple inside and outside Miller Park.

"It's really special, it's part of the Wisconsin culture, because you go to Lambeau Field, you go to Camp Randall, it's just part of the experience that our fans have embraced, and they own it," he says. "And we embrace it and try to make it as hospitable as we can for everybody to enjoy the experience."
It's an experience he plans to share with his stepson Matthew this summer.
"We're going to go as fans," he says. "We're going to park in the parking lots, we're going to have our grill and our hot dogs and hamburgers and our drinks, and maybe bring a ball and a glove and play a little catch, and really experience it, because it really is something unique. And it's easy to overlook it if you work for the Brewers, but if you walk around the parking lots, which I do quite often, you see the fun that people are having.
"It's great because a lot of people are coming to the ballpark, sometimes there's traffic, sometimes it takes a little time to get in the lots. And then they park and they have a really nice experience for an hour or whatever before they come into the game -- and already the day is a success. So from my perspective, happy fans coming into the ballpark, that's a win."
And while the Brewers, with the worst record in the major leagues, aren't getting many wins on the diamond, neither the team's performance nor the weather or any factor apparently can dampen the army's fervor for coming out to its Miller Park castle and filling the air with the smell of grill smoke, the sound of good times and the splendor of a true Milwaukee tailgate.
Follow James Carlton on Twitter
---