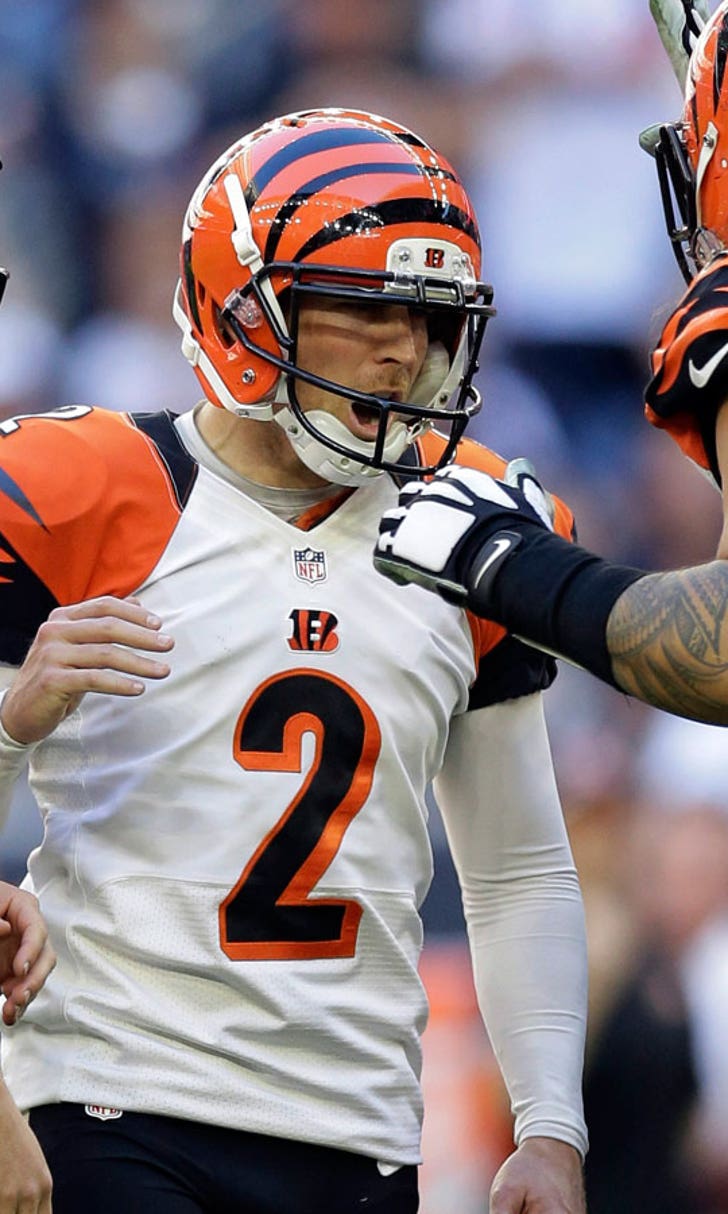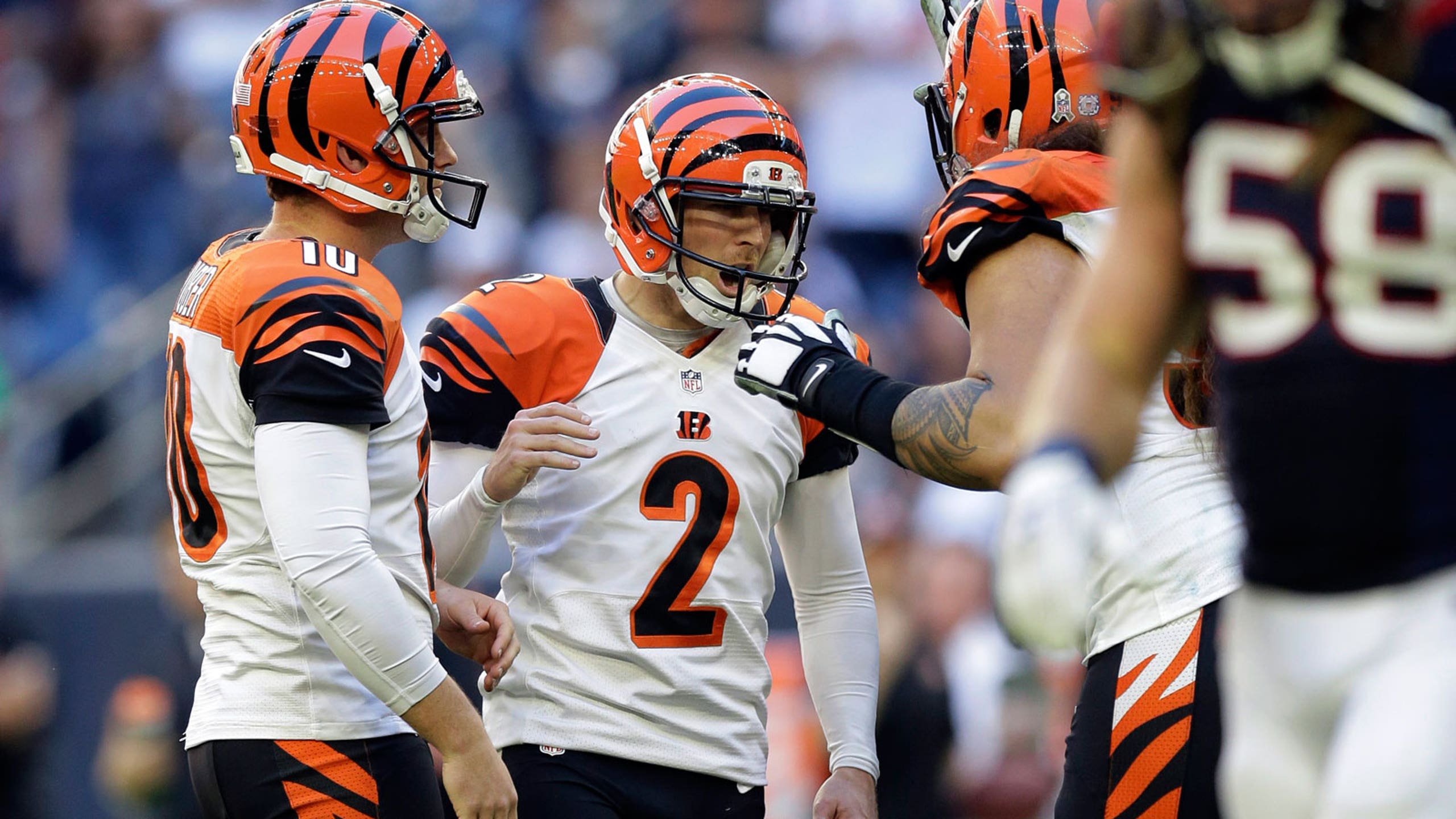 Nugent has put Carolina game behind him
BY foxsports • November 24, 2014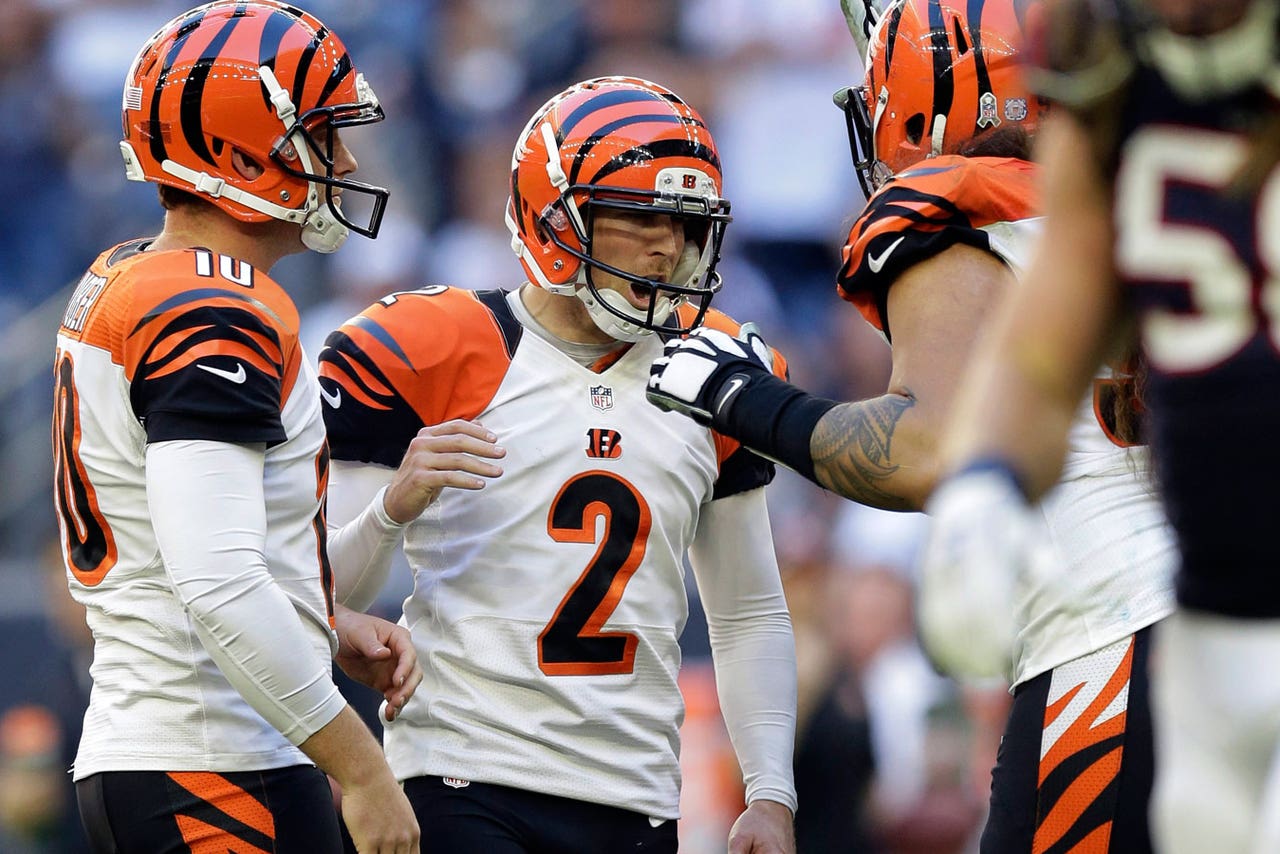 CINCINNATI -- Mike Nugent felt as football low as he possibly could feel when his 36-yard field goal attempt on the final play of overtime against Carolina on Oct. 12 sailed wide right. Instead of a win, the Bengals had to settle for a 37-37 tie.
Nugent had a tough time looking his teammates and coaches in the eye after that miss. He's hasn't had any such troubles since.
Nugent has been a perfect 8-for-8 since that miss, including a 49-yarder with one minute, 55 seconds left Sunday at Houston to seal the Bengals's 22-13 win against the Texans that kept them in first place in the AFC North. Nugent equaled a season long with Sunday's kick and it was his first attempt in the final two minutes of regulation since the miss.
The kick was strong and true, although since he started from left-of-center it stayed close to that goal post side. Nugent didn't need any body English to keep it on its trajectory, however.
"I was aiming a little right of that," said Nugent on Monday. "I always aim right of center so it came a little left but that means I hit it a little bit stronger... I was happy with how the kick went down."
The miss against Carolina surprised everyone in Paul Brown Stadium that day. Nugent had made three previous attempts in the game, from 44, 38 and 42 yards. The 36-yarder for the win seemed to be a no doubt attempt, until it wasn't. Nugent is in his 10th season in the NFL. He's made more than 80 percent of his field goal attempts but that doesn't mean he's too old to learn a lesson.
"Just because I might have made a few kicks earlier in the season doesn't mean it's automatically going to go in without you having focus on it," said Nugent. "You want to think it's automatic but you have to realize it's the little things that if you forget about them you could pay for them at the end of the day."
There were some rough days for Nugent after the miss against the Panthers. Don't dare take a peek at social media. Absolutely no good could come from that. And although there was story about cornerback Adam Jones being vocally upset at Nugent, more was made of that story than was true. Jones voiced his frustrations in the heat of emotion following the game but it wasn't a personal attack on Nugent.
There was more reaction like cornerback Terence Newman coming up to Nugent in the post-game locker room and talking to him before Nugent spoke to the media. Nugent received supportive texts and phone calls from others in the kicking fraternity, such as former Bengals kicker Jim Breech, former Miami Dolphins kicker Olindo Mare and former St. Louis Rams kicker Jeff Wilkins. Special teams coordinator Darrin Simmons pushed Nugent to keep his head up and face the situation, to learn from it and get better. It wasn't easy but Nugent and the Bengals got through the situation. Mutual trust and belief was the biggest reason why.
Head coach Marvin Lewis had no second thoughts of sending Nugent into the game Sunday at Houston with the Bengals leading by just six points.
"Obviously I've got confidence that Mike will make the kick because I certainly don't want to give them the ball at the 40-yard line a touchdown down and a PAT to win," said Lewis. "We have confidence in our players to get it done and that's the way it is. If not, you get new players. That's part of it. As I said that (Carolina) day, I have a lot of confidence in Mike Nugent and expect him to make it anytime I run him out there for a kick. Otherwise he wouldn't go out there."
Nugent is now 19-of-25 on the season, just below his career percentage. He's 18 points away from a third 100-point season and is on pace to finish with 119 points, which would be the second-highest season total of his career.
He's not taking anything for granted.
"It's so much easier to say this now because I know how it felt at the time: It's going to be a roller coaster, but it depends on how low the lows are and how high the highs are," said Nugent. "If something's going real well, you don't want to ride it all week and go crazy because things could happen and you never know during the week. But it's one of those things: If you can stay as even-keel as possible, that's how you're going to come out of it best."
---