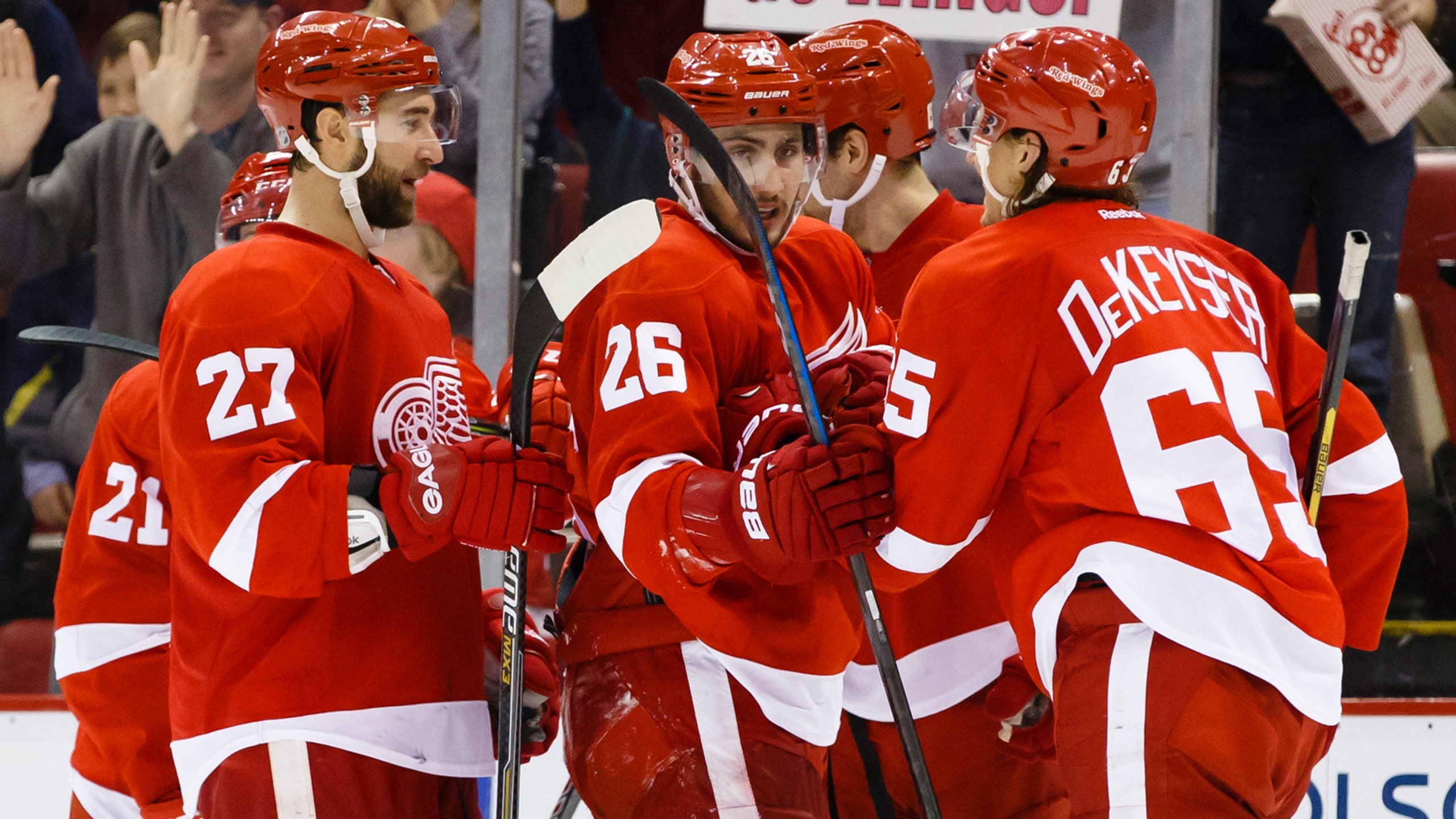 Notes: Wings hope to avoid mumps; Abdelkader, DeKeyser ready to go
BY foxsports • December 15, 2014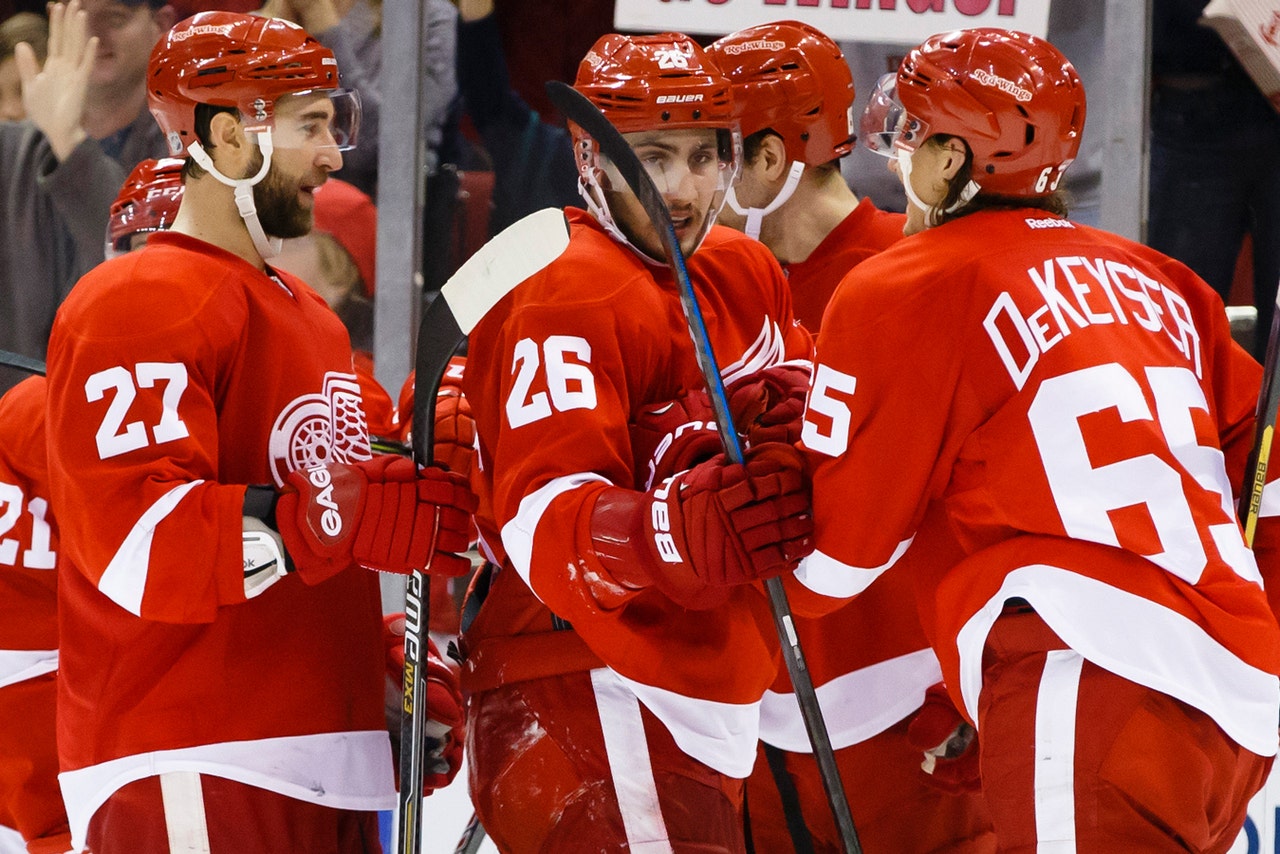 DETROIT -- So far, none of the Red Wings have mumps and they don't want to get it.
With the news that Pittsburgh's Sidney Crosby has the mumps and his teammate Beau Bennett now might have it, the total is 13 NHL players plus referee Eric Furlatt and linesman Steve Miller that have dealt with the disease.
"Yeah, it's crazy. I've never seen anything like it," goaltender Jimmy Howard said.
The Wings have been discussing the issue since it surfaced and have decided to offer immunizations to players, coaches and staff members starting Tuesday.
Most of the players don't know much about mumps, which is understandable, since it's not a common illness.
Mumps is a viral infection that usually causes fever, body aches, general malaise and in about half of the cases, a painful swelling of the salivary glands.
The outbreak may have started in October with the Minnesota Wild, who have had five players get the disease.
But the St. Louis Blues dealt with what they thought was something else that could have been mumps that same month.
The Anaheim Ducks, New Jersey Devils and New York Rangers have also had players get mumps.
"I assume I've been vaccinated," Wings coach Mike Babcock said. "I understand a lot of the European players wouldn't have so it's important to provide the opportunity for them and that's what we're going to do. We're going to provide it to everybody and get it looked after. 
"In the meantime we're encouraging everyone to do what they can for their immune system. We do that here anyway. Sleeping and not getting run down, that's easy to say when you travel like you do, we just got done playing five games in eight days. The reason your immune system gets run down is because you do that stuff. Ideally this will get us refreshed and not get the mumps."
Although Howard said he was immunized as a child, he planned to get a booster. It's of particular concern as he has two young sons at home, one who is only six months and has not yet been immunized.
"Nobody around here has it, so I don't think anyone's too worried about it just yet," Howard said.
Of course, Miller, the linesman, was just in town Dec. 10 when the Toronto Maple Leafs were at The Joe and the Wings have played the Rangers recently.
"You're in such close proximity with guys for so much time, you share water bottles," Luke Glendening said. "It happens. If we get it we'll deal with it but right now you just got to keep pushing forward."
Said Riley Sheahan: "I'm trying to stay away from any kind of sickness. I know a lot of guys are getting it so we just have to be extra cautious."
The Wings are also emphasizing washing hands and doing extra cleaning in the dressing room and other areas.
ABDELKADER, DEKEYSER READY; FRANZEN, TATAR EXPECTED TO GO
Justin Abdelkader and Danny DeKeyser appear to be ready to go.
DeKeyser has only missed two games after taking a hit from one of the Maple Leafs last Wednesday.
He skated fully in practice Monday.
Abdelkader suffered a slightly separated shoulder Nov. 30 against Vancouver and has not played since.
But Abdelkader has been practicing with contact for several days.
"I sure assume they are (playing)," Babcock said. "I acted like they were."
The Wings practiced at Grosse Pointe's University Liggett School as Joe Louis Arena was hosting a WWE event Monday.
Both Johan Franzen and Tomas Tatar missed Monday's practice but Babcock thinks they'll play Tuesday.
"I assume they're both playing," Babcock said. "I talked to Tats, I didn't talk to Mule. Tats, all we did today was say, 'What's going to make you best for tomorrow? Is a day off going to make you best or skating make you best?' So that's the decision we made today.
"They're just sick, run down."
COLUMBUS COMING TO TOWN
The Columbus Blue Jackets may be 14th in the Eastern Conference but they're one of the hottest teams in the league.
"(Won) six in a row," Babcock said. "(Sergei) Bobrovsky is playing well. They've got a good team. They were really injured. It should be a good game. A lot of fun. We need a bounce-back game ourselves. Our energy level should be back."
Babcock was referring to the Wings' 4-1 loss Saturday in Toronto when their schedule caught up to them.
Howard knows he has his work cut out for him.
"They're playing extremely well," Howard said. "They're getting guys back. They got (Brandon) Dubinsky back in the lineup, which has seemed to give them a real big boost. They're playing hard and Bobrovsky is playing really well in net. So, he's had a couple of nights where he's had a lot of work and he's won games for them."
Rookie defenseman Xavier Ouellet believes the Wings will get back to their winning ways this week against the Blue Jackets, the New York Islanders and the Colorado Avalanche.
"It's all about confidence," Ouellet said. "We have the players here to do great things and I think everybody knows it in the room so it's about taking care of ourselves. It's a long season, it's a hard season so take care of our bodies, make sure we're ready every night and we'll the day off we had (Sunday) to get ready for (Tuesday) and what's coming."
---