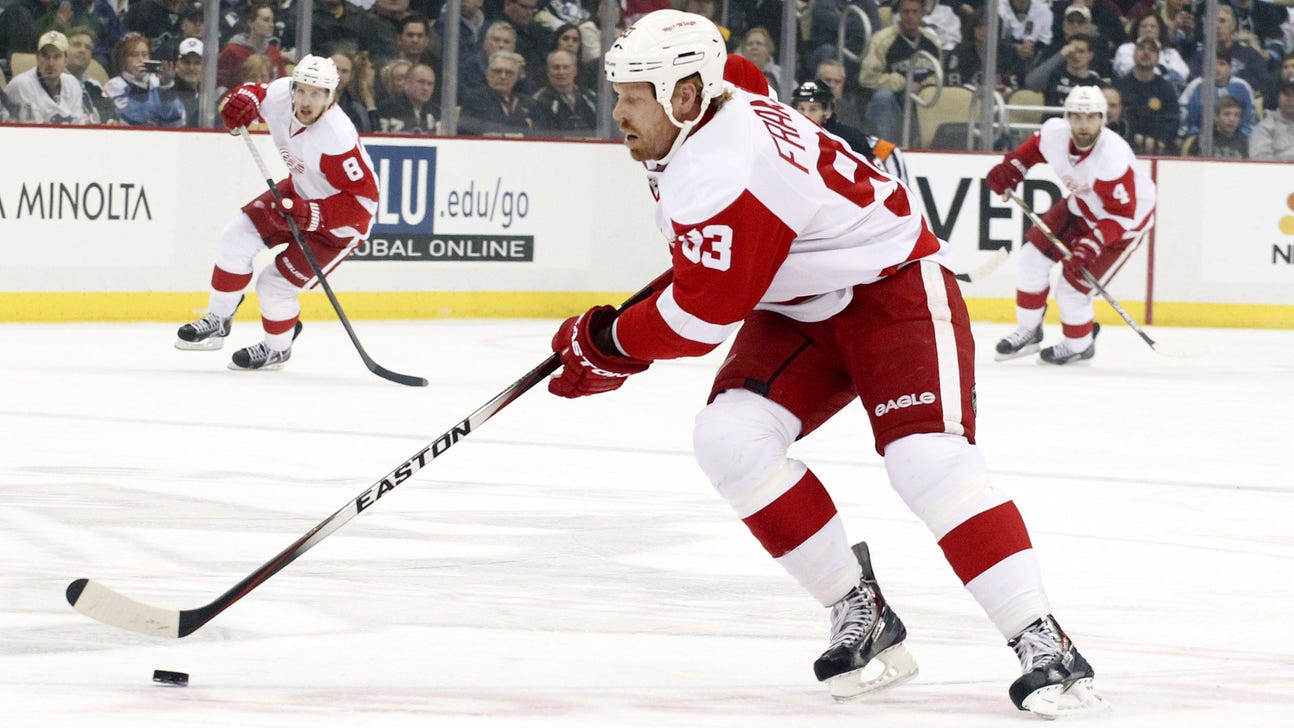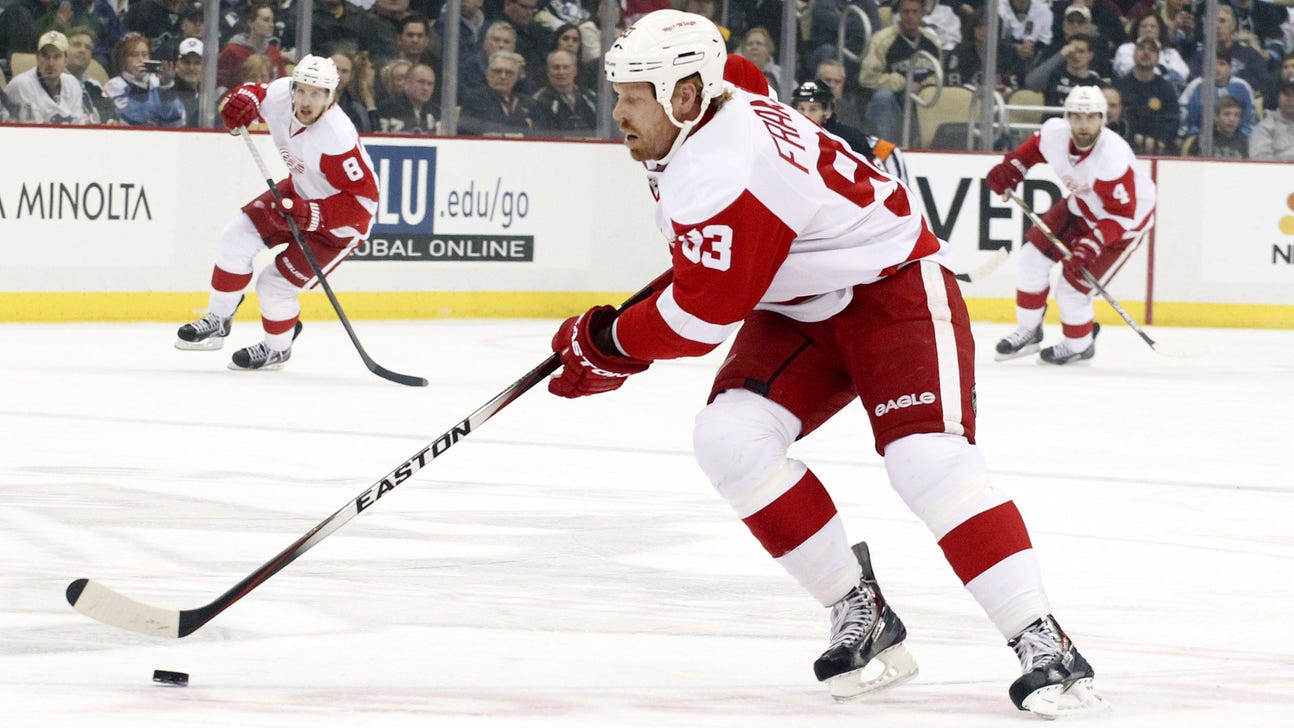 Notes: Franzen skates; Weiss heads to GR for conditioning stint
Published
Oct. 28, 2014 2:59 p.m. ET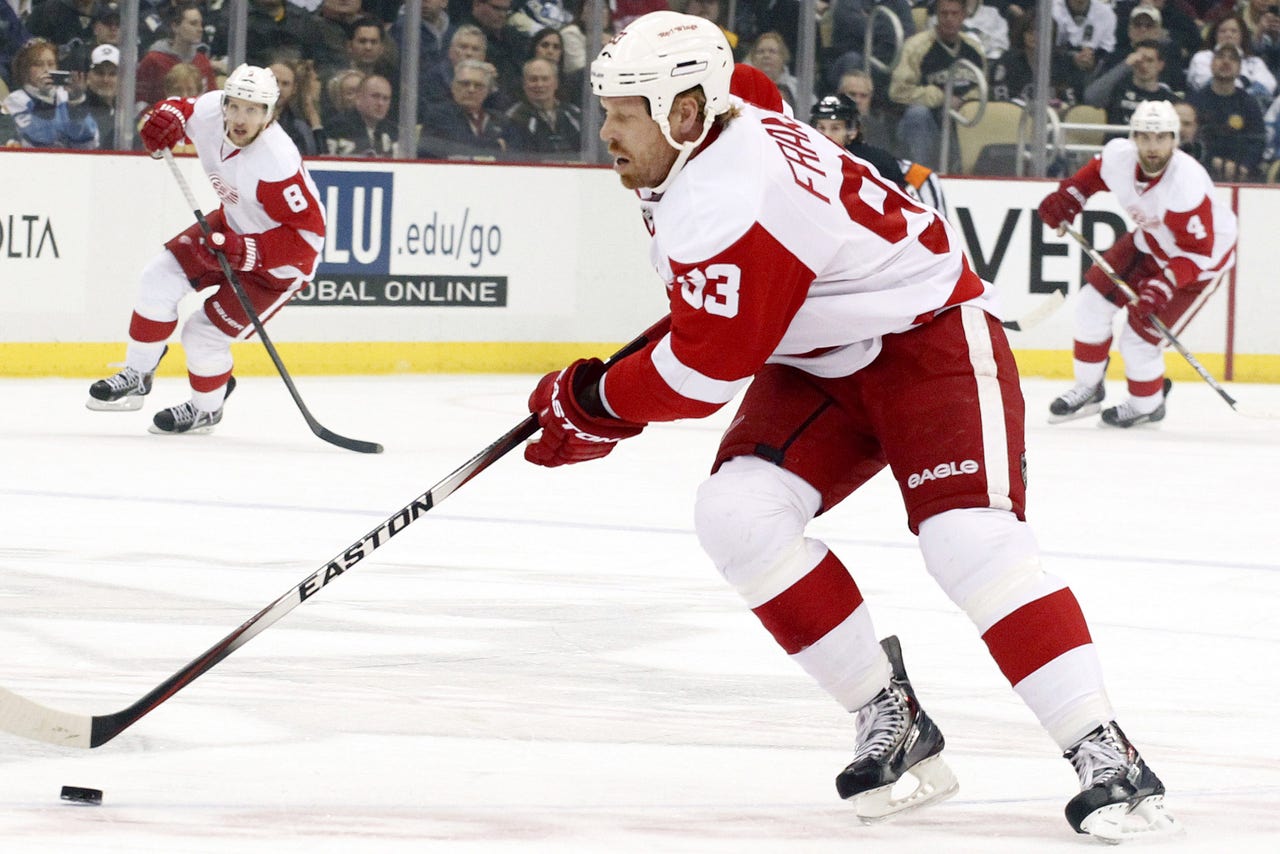 Johan Franzen was eligible to come off injured reserve this past Saturday, but did not because of his groin issue.
Franzen tested the groin while participating in part of practice Tuesday.
"Not great, but it was a first time skating with the team so that's a good thing," Franzen said. "I felt pretty good. I'm going to skate again (Wednesday)."
Franzen said he would travel with the team and take part in the morning skate.
"I think he'll be ready in a couple days anyways," coach Mike Babcock said. "The big thing is anytime you've been out -- and I say this all the time, it doesn't matter who you are -- it's tough getting back in. The Mule has trained like crazy. But when you get back in your fitness isn't the same and there isn't anything you can do about that. It was good to see him out there."
Although Franzen did try to push himself, it didn't work out as well as he'd hoped, so he believes a couple of days is too optimistic.
"I tried a few strides at 100 percent or close to it," Franzen said. "It didn't feel great doing that so I backed off. I'm going to start a little slower."
Franzen said the whole thing is frustrating, especially since he had two goals in the game in which he got hurt.
"I was feeling great," Franzen said. "Never had a groin issue before. I don't know if it happened after I fell after that goal or what. I never really noticed it happened, but yeah, it sucks."
WEISS TO GR FOR CONDITIONING
Stephen Weiss is headed west for a conditioning stint.
Weiss, who played in just 26 games last season and did not play after Dec. 10 because of hernia surgery, will join the Grand Rapids (AHL) Griffins.
The Griffins host the Rockford IceHogs Wednesday and the Chicago Wolves Friday.
Weiss, 31, made his last appearance in the AHL during the 2004-05 season, playing for both the San Antonio Rampage and the Chicago Wolves.
HEADING TO DC
The Wings are heading to face the Washington Capitals, now led by former Nashville Predators coach Barry Trotz.
"I didn't know their previous coaches at all," defenseman Niklas Kronwall said. "But of course, playing against Nashville all those years, you always know that his team is very structured, well-organized and well-coached. So I think in that department, they're probably doing pretty good."
Babcock said it's hard to get a real read on a team until you've played them.
"I'll tell you the truth, I haven't played against them so just my video of them I don't think tells the whole story," Babcock said. "I know Trotz is a good coach, been in the league a long time, and I'm sure he'll have a committed group there over time. They've got a ton of skill and a ton of size. They always have. So I imagine they're attention to detail defensively will be heightened just because that's the way Trottsie likes his guys to play. Until we've played them a few times I won't know the answer."
Goaltender Jimmy Howard, who confirmed he is starting in net Wednesday, knows about Washington star Alex Ovechkin, but not much else.
"Usually I have the hockey package by now, but I haven't ordered it so I haven't been watching any hockey," Howard said. "All I really care about is knowing Ovie will be on the back door. I honestly don't know much. I don't know how they're playing or what they've changed to be dead honest with you."
Babcock said he had not decided on any lineup changes.
---