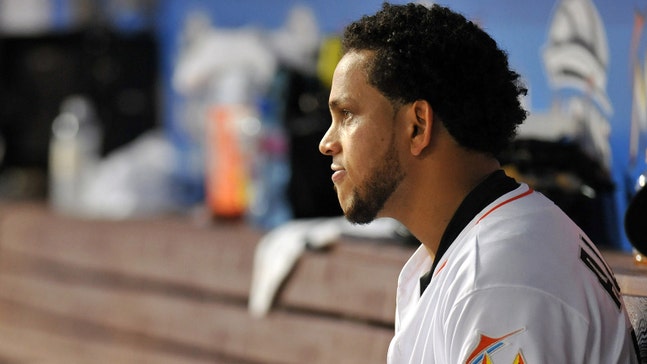 Notebook: Henderson Alvarez not used to giving up HRs at Marlins Park
Published
May. 2, 2014 6:07 p.m. ET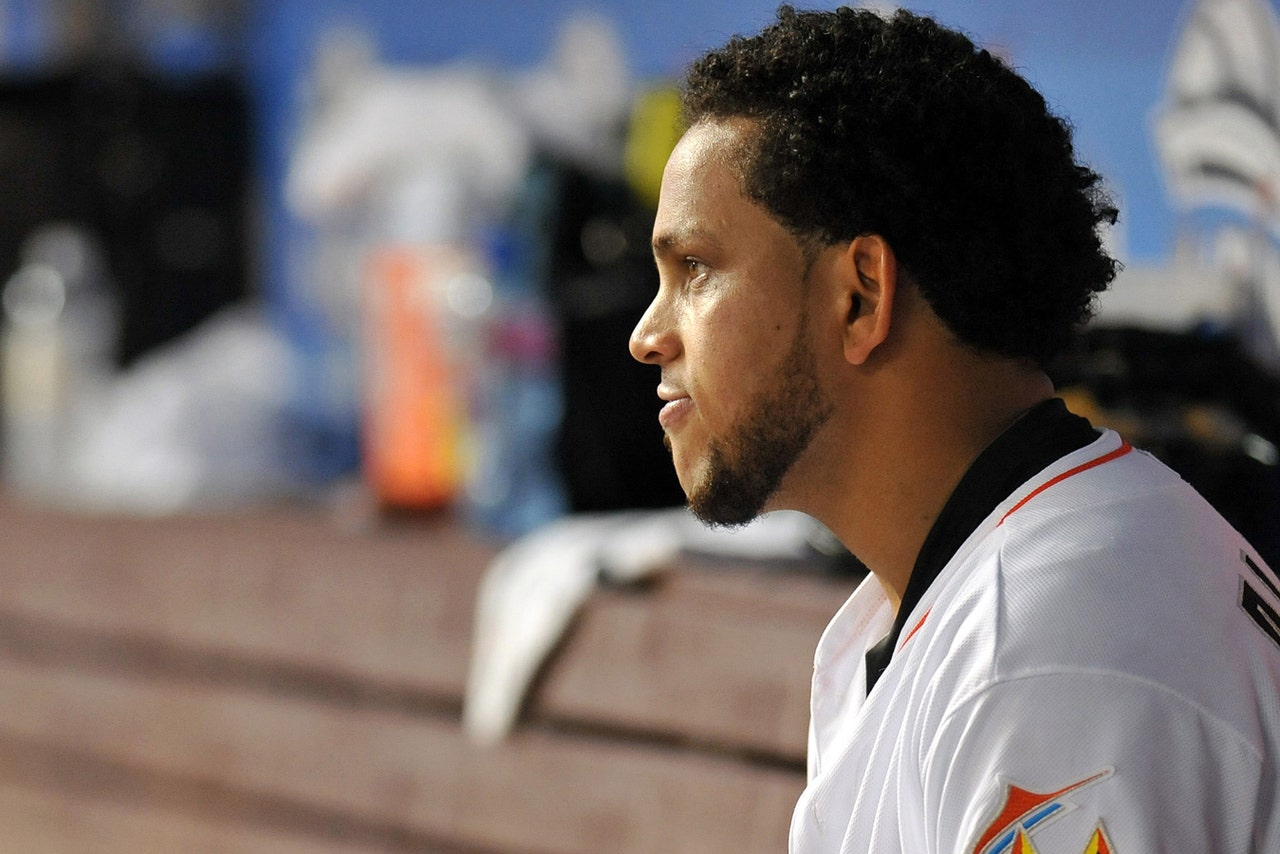 MIAMI -- Marlins right-hander Henderson Alvarez didn't look like himself after a pivotal play during the third inning of Thursday night's 5-4 comeback victory over the Braves.
With a runner at first and no outs, Jason Heyward hit a slow roller that Garrett Jones retrieved. Alvarez caught Jones' feed and dived at both Heyward and first base. The initial call ruled the batter out, but upon further review it was overturned.
Alvarez was slow to get up. On his way back to the mound during the 1:52 delay the training staff, manager Mike Redmond and the infielders came to check on him. Alvarez remained in the game after a few warm-up throws.
Two pitches later, B.J. Upton knocked a three-run blast to left. A 2-0 lead was suddenly a 3-2 deficit.
"The play at first I fell on my shoulder and it kind of affected me the next batter just because I wasn't sure I could throw full strength and throw the ball hard," Alvarez said through a translator following Thursday's game. "I was indecisive."
In the sixth, Evan Gattis belted a go-ahead solo shot to lead off the inning. What makes both hits out of the ordinary is how rare long balls are against Alvarez.
The 24-year-old surrendered just two homers all of last season in 102 2/3 innings and none in his previous 58 career frames at Marlins Park.
Before Miami acquired him in the November 2012 blockbuster trade with the Blue Jays, Alvarez gave up 29 home runs in 31 starts during his first full season.
"Ever since I was with Toronto when I gave up 29 homers I started to focus on keeping the ball down and keep the sinker down," Alvarez said. "I noticed when I was leaving the ball up it would result in a home run, so it's something ever since my days in Toronto I concentrated on."
MR. DEPENDABLE
When the Marlins signed veteran Reed Johnson to a minor-league contract with an invitation to spring training, they saw him as an upgrade for the bench.
Like he did in 2011 with the Cubs, Johnson made the club as a non-roster invitee.
In his 12-year career, he is a career .291 pinch-hitter with 11 walks, 13 doubles, 24 runs, five homers and 31 RBI.
"I've had a lot of those at-bats off the bench, and that's kind of what you need to be good at the role, unfortunately," Johnson said. "Obviously I wish I was playing every day, but I'm accepting that role that I'm in and I've done it for the last four or five years. I think that makes a difference because it can be a tough role to get used to sometimes, especially for a young player who's maybe played every day for his whole career."
Johnson admitted it took him a couple of seasons to make the adjustment from playing 100-plus games -- which he had done eight times. His routine includes keeping track of the pitch count. As it climbs and the pitcher's spot in the order approaches, Johnson hits in the cages to prepare.
Over his past two years with the Braves, he earned spot starts in the outfield and hit .358 as a pinch-hitter.
"Just being able to settle yourself down in that situation. Knowing what a pitcher's trying to do to you, sniffing the at-bat 30-40 minutes before you get it so you can start settling yourself down," Johnson said. "Chances are it'll be a big at-bat late in the game and your adrenaline's already going to be through the roof anyway. If you have all that extra stuff it's not going to help you out but make it more difficult."
So far this season, Johnson is 7 for 22 (.318) with four runs, two doubles and four RBI. He has reached in three of his past four plate appearances.
Johnson led off Thursday's decisive two-run seventh inning with a single. He would later score the tying run on Giancarlo Stanton's RBI single to right.
"I'm comfortable with him to come off the bench in any situation -- righty, lefty. (Thursday) it worked out perfect," Redmond said after the series finale. "I feel like he's going to get on base or drive a run in any situation I put him in. It was perfect to get him in. It was a big at-bat to get on base there and give us a chance."
FURCAL RESTARTS REHAB
Second baseman Rafael Furcal will play nine innings in back-to-back rehab assignment games beginning Friday night with Double-A Jacksonville.
Furcal, who has not made his 2014 debut, is on the 15-day disabled list with a strained right hamstring. He tweaked his groin last weekend while on rehab.
According to Redmond, should Furcal feel good after this weekend's game, he will get Sunday off and "go from there."
Asked whether Furcal could rejoin the team during the 11-game road trip in California, Redmond didn't know.
"I think at this point we're just going day-to-day with him and how he feels," Redmond said. "After his initial rehab and then having the groin I think we're going to evaluate it a few days at a time. We don't want to jump the gun on him."
WORTH NOTING
Stanton recorded 31 RBI prior to May 1 to establish a club record, besting Moises Alou's previous mark of 30 in 1997. It also marked the fifth-most total in National League history.
You can follow Christina De Nicola on Twitter @CDeNicola13 or email her at cdenicola13@gmail.com.
---