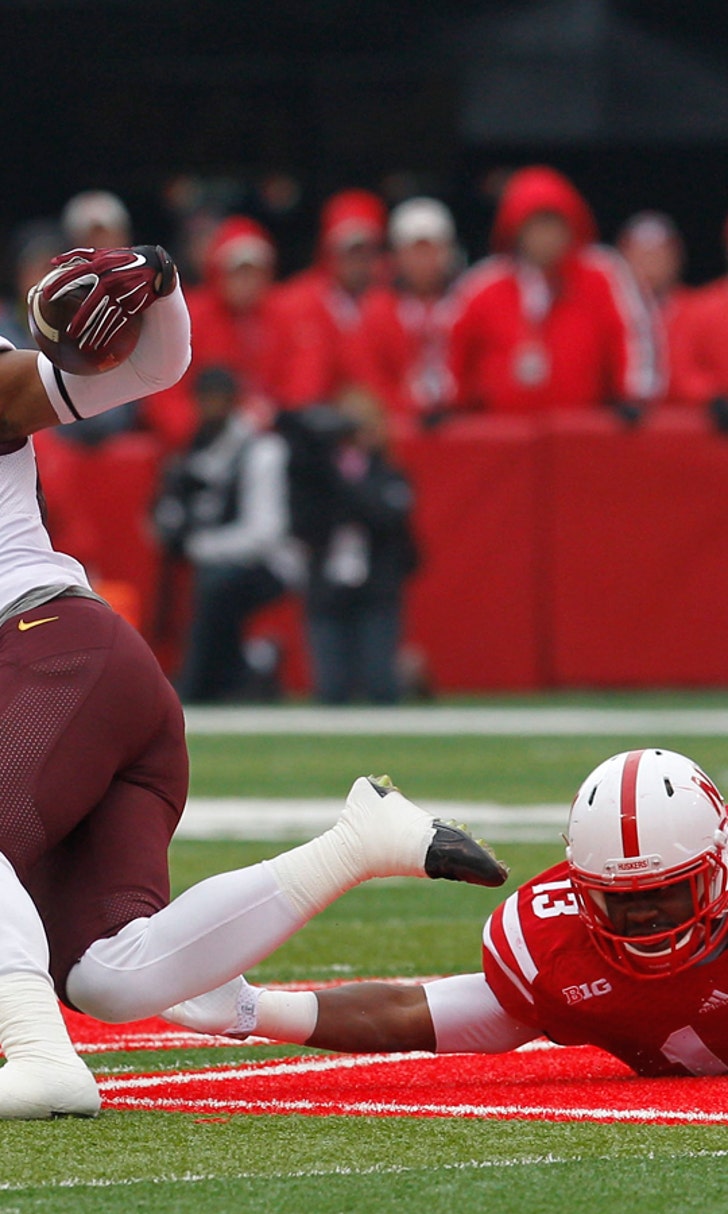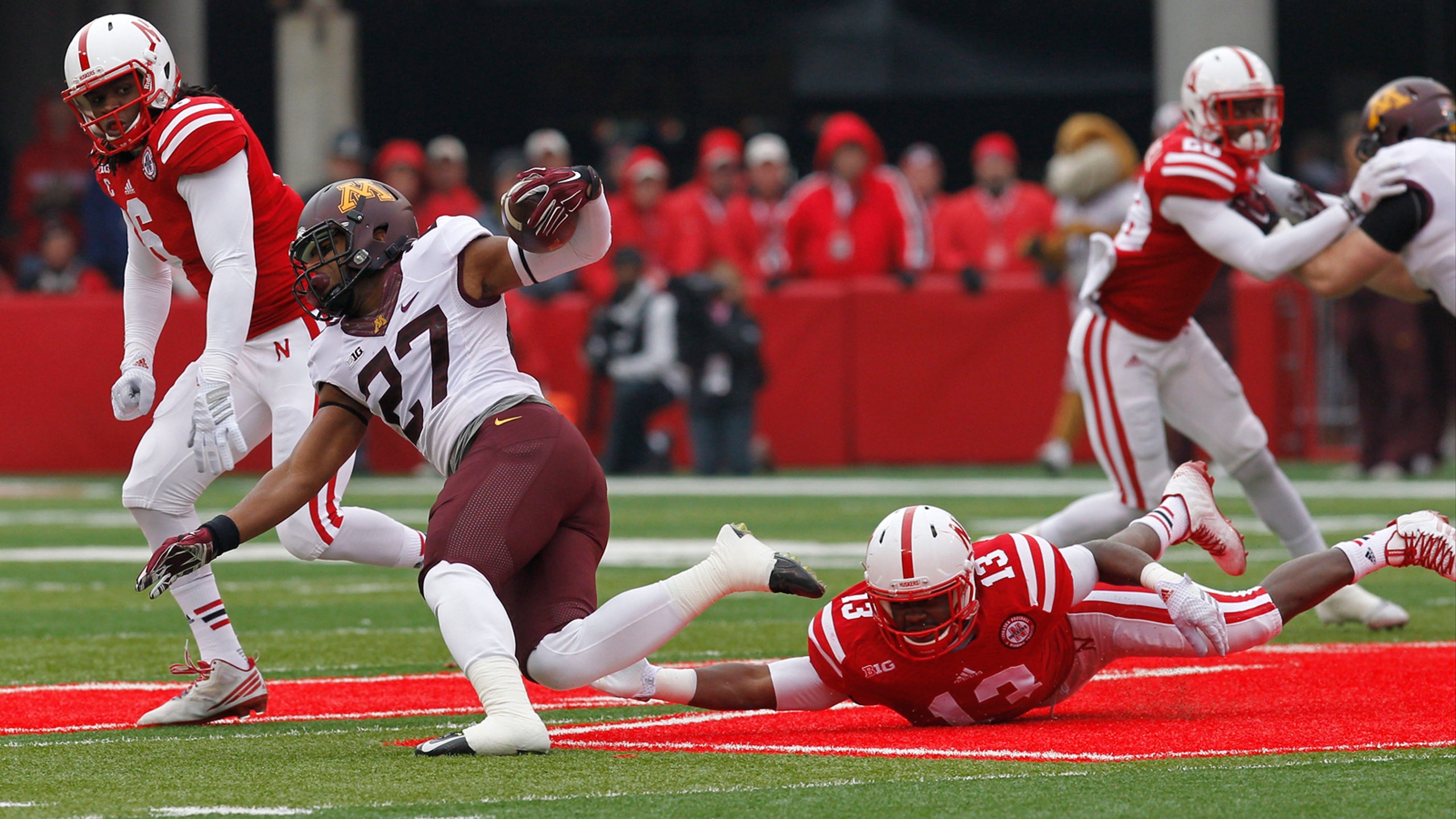 Notebook: Gophers banged up in backfield
BY foxsports • November 22, 2014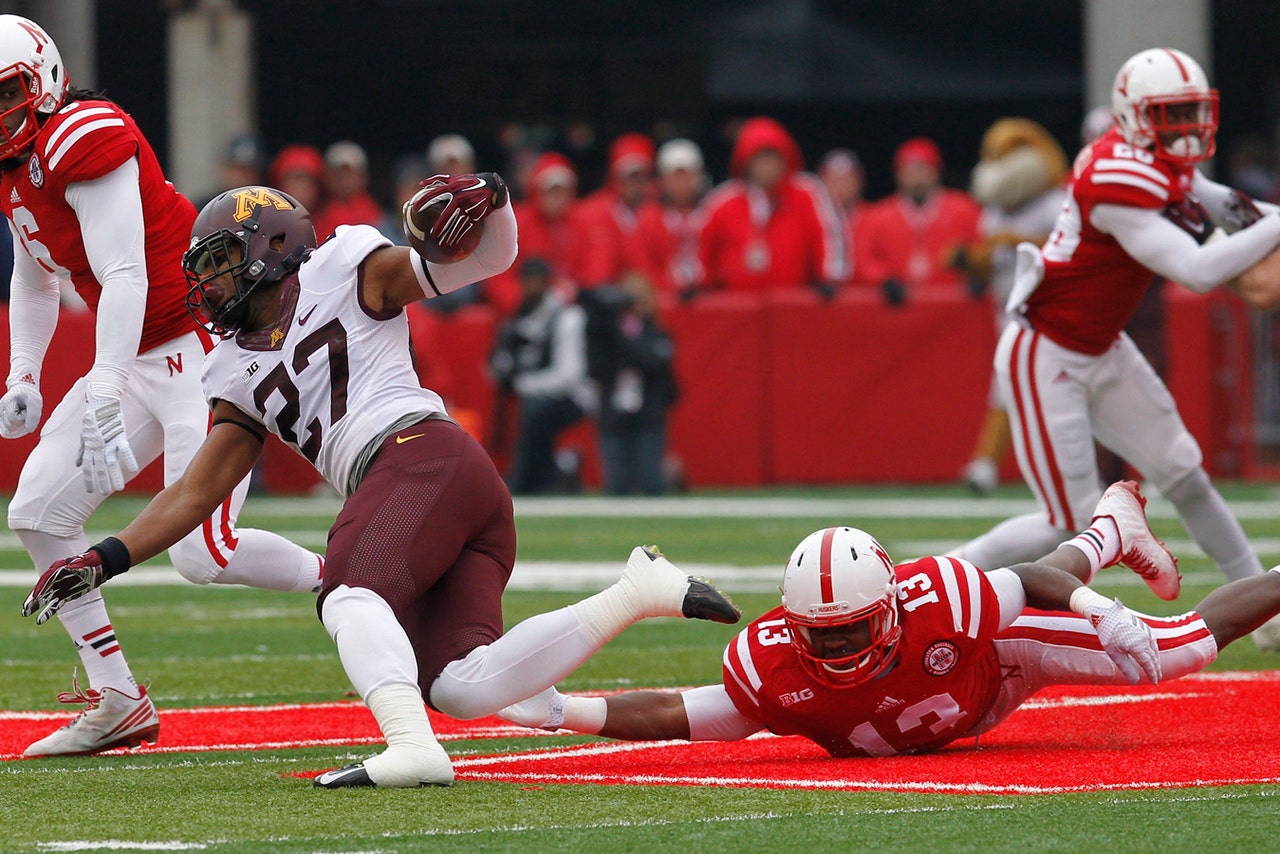 LINCOLN, Neb. -- Donnell Kirkwood knows a thing or two about patience.
A bruising power back by trade, he's aware enough to read holes created by Minnesota's stout offensive line before plowing through them, usually delivering a blow or two on his way. But this season, the senior had to exercise a different kind of imperturbability, the kind that comes with getting bumped down the depth chart in what's supposed to be the most meaningful season of a career.
Kirkwood rushed for 926 yards his sophomore year as the Gophers' feature back. Last year, he missed two games with an injury and watched David Cobb climb up the depth chart and become Minnesota's first 1,000-yard rusher since 2006.
This season, it was Cobb's job to lose. And he hasn't, inching ever closer to the program's single-season rushing yardage record.
But Cobb pulled up lame after crossing the goal-line on his 17-yard touchdown run early in the third quarter of Saturday's historic victory over Nebraska at Memorial Stadium. The senior didn't return, leaving it to Kirkwood and fellow reserve tailback Rodrick Williams Jr. to finish things out.
Kirkwood did exactly that with a game-icing 10-yard run with less than a minute remaining. He and Williams combined for 54 yards on the ground, including a 19-yard Williams score that made it 24-21 with 1:47 left in the third.
Scatback Berkley Edwards left with an injury, too, leaving only Kirkwood and Williams to shoulder the load.
"We lose, in my opinion, one of the best backs in the nation," coach Jerry Kill said of Cobb, who came in as the country's No. 7 rusher, "and Donnell Kirkwood and Rodrick step up. We lost Berkley. We're down to two running backs. Our kids up front just bowed up."
That and a steady dose of zone-read keeps from Leidner helped the Gophers pound their way to 281 yards rushing, on 5.3 yards per attempt. After giving up a then-FBS record 408 yards to Wisconsin's Melvin Gordon last week, Nebraska was often sucked toward the middle of the field as it dedicated multiple bodies to gaps between the tackles.
That left the outside ripe for the taking. Never was that more evident than when Williams went off right tackle on fourth-and-1 to bring Minnesota within a field goal. Fullback Miles Thomas lead-blocked into the middle of the formation, the Huskers defense bit, and Williams had his second touchdown of the season.
Kirkwood rushed seven times for 32 yards. He came into the game with 55 yards on 19 attempts.
"I'm always prepared," Kirkwood said. "And I wouldn't say I was waiting behind David. He's a great person, he's a helluva running back. I'd be the first one to say that. It's just being prepared. I've been getting my reps in practice. Coach always tells us, you never know what's going to happen. He uses me as an example."
Said Kill: "Donnell is a special kid because he doesn't have to be the way he is. He was a starter and all that. David kind of took things and ran. But (Kirkwood) didn't cry. He got his time. I promise you, he won't forget this."
Kill didn't have an update on Cobb's status after the game. The senior spent much of the second half riding a stationary bike trying to loosen up his leg, but to no avail.
Cobb finished with 80 yards on 15 carries, leaving him 34 yards short of Laurence Maroney's single-season mark set in 2005.
Resilient Leidner: How confident was Leidner on Saturday? Enough that he wanted the ball when Kill decided to go for it on fourth-and-1 and the Gophers down 24-14 with 1:53 left in the third quarter.
"He says, 'Coach, give me the ball. I'll get the first down,'" Kill said. "I go, 'No, no, no, no. We're going to call this play, big boy.' But he wants the ball in his hands when the money's on the line, and that's what you want."
So Leidner gathered his team in the huddle and told them "I don't want a first down. I want a touchdown." Williams delivered with his momentum-shifting, 19-yard trot.
But Leidner was Minnesota's top rusher on the day, finishing with 110 yards on 22 carries. He completed just 8 of 17 passes for 135 yards, but had perhaps the best throw of his young career when he found K.J. Maye down the left sideline for a 38-yard gain on third down. That set up Leidner's second touchdown run, which capped a 10-play, 80-yard, 5:09 drive that put the Gophers ahead for good.
"I think it'll do wonders for him," Kill said. "You know it's tough to be the quarterback in the state of Minnesota, no different than it is anywhere. It's hard. You're getting judged and evaluated every day, and he's had his ups and downs."
Those include playing with a sprained MCL earlier this year and throwing just two more touchdown passes (10) than interceptions with a 51.5 percent completion rate. He could use an added dose of confidence heading into next Saturday's de facto Big Ten West championship game in Madison, especially against a rugged Badgers front seven.
"I'm pretty relaxed," the sophomore signal-caller from Lakeville said. "It's going to be fun. It's going to be a cool atmosphere. I'm excited. It's going to be my first time going to their stadium. Just like it was my first time here today."
About that fourth-and-1 . . . : The Gophers could've kicked a field goal rather than go for it on Williams' 19-yard touchdown run.
But they didn't come to Nebraska's state capital looking to be passive.
"At the end of the day, you're on the road in Lincoln, Nebraska. Hey, roll the dice a little bit," Kill said. "We had to have two scores. If we don't get it, then it's not too good. I felt like we needed momentum. We felt like we had a good call.
"Sometimes when you're on the road, you've got to get the win. If it wouldn't have worked, I would have got everybody in America telling me how stupid I was. Now, every once in a while, they work."
Early injuries: From the start, it was a forgettable senior day for Nebraska in more ways than one.
Center Mark Pelini, the nephew of coach Bo Pelini, and fellow senior and receiver Kenny Bell were hurt on the Huskers' first and third offensive plays.
Neither returned, and Bell's absence in particular hurt as offensive coordinator Tim Beck turned to a true freshman as their top down-the-field threat.
It was that freshman, De'Mornay Pierson-El, who lost two fumbles, including one on the Huskers' final offensive play as Boddy-Calhoun stripped the ball away from him.
Pierson-El was whistled for illegal touching on the play, but Nebraska would've retained possession if he had held onto the football.
Cobb's injury wasn't the only one for Minnesota. Right guard Joe Bjorklund left in the first half, and safety Cedric Thompson was tested for a concussion but returned after taking a nasty lick from Nebraska running back Ameer Abdullah on his way into the end zone.
The Big Ten's newest trophy: Move over, Little Brown Jug and Floyd of Rosedale.
According to the Gophers' mascot and Pelini's fake online namesake, Minnesota won its third trophy game of the year Saturday. A week of Twitter banter between Goldy the Gopher (@GoldyTheGopher) and Fake Bo Pelini (@FauxPelini) led to the creation of the "Bits of Broken Chair Trophy".
When the game was over, Goldy danced around with the trophy, first conceived when Faux Pelini made the "friendly" wager that if Nebraska won, Goldy owed him $5. If Minnesota won, the fictional Bo would get to smash a wooden chair over the mascot's back.
Thus a new traveling trophy was born. No word if this will carry on through the years or not, but so far, the Gophers are 1-0 in the Broken Chair era.
The Gophers, now 5-2 in Big Ten play, bested Michigan for the Little Brown Jug and Iowa for Floyd of Rosedale earlier this season.
Follow Phil Ervin on Twitter
---