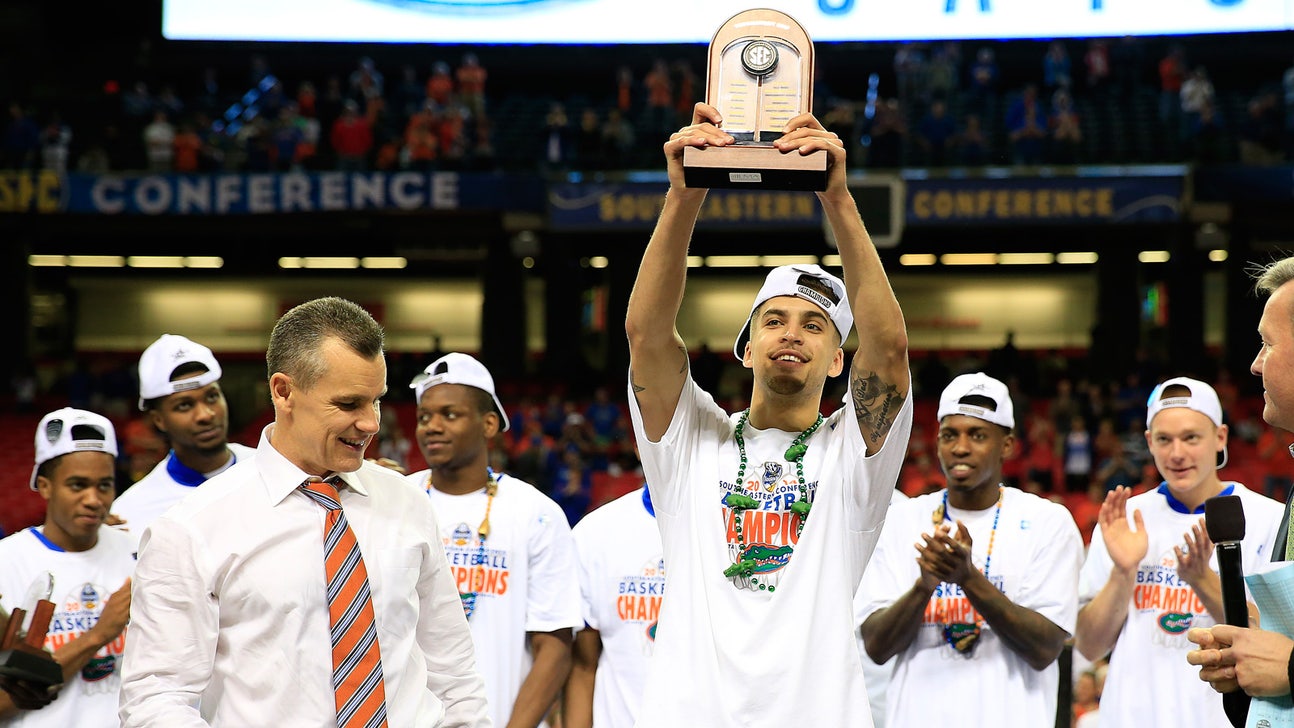 Notebook: Gators need success on the line for long NCAA tourney run
Published
Mar. 17, 2014 8:57 p.m. ET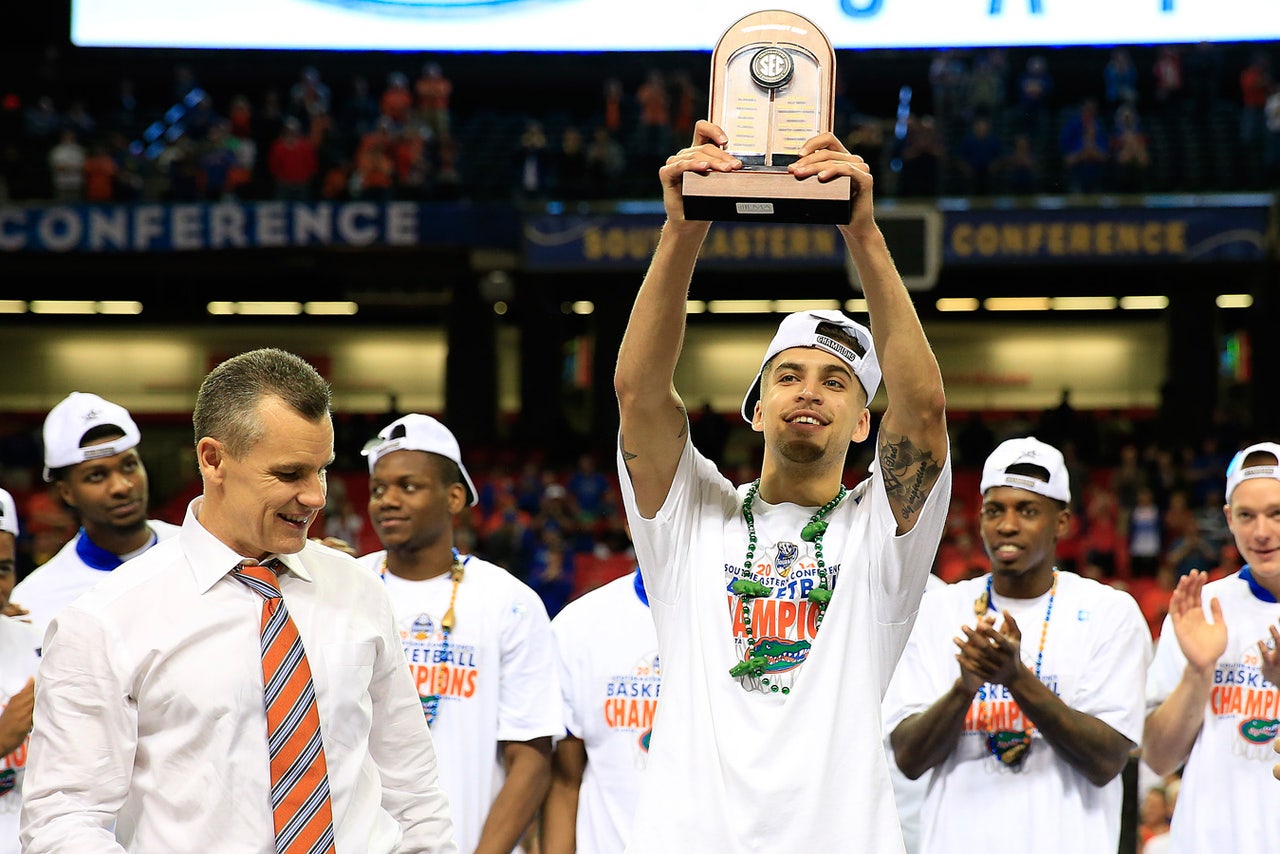 GAINESVILLE, Fla. -- Make more free throws.
Sounds pretty simple, doesn't it?
Had the No. 1-ranked Florida Gators done so over the weekend, their three-game run to the Southeastern Conference Tournament championship would have come with far less drama. Instead, UF went an abysmal 27 for 54 -- that's 50 percent -- from the free-throw line, including 7 for 17 (41.1 percent) in its 61-60 victory over Kentucky, which was 21 of 26 from the line (80.8 percent).
Could have been the difference.
But wasn't.
"We wanted to make 'em," senior guard Scottie Wilbekin said. "When we didn't, we just had to keep playing."
The Gators did that and survived. This time. If they want to "keep playing" deep into March they'll need to reboot themselves relative to free throws.
"We've got to do a better job there," coach Billy Donovan said Monday. "We've got to spend more time on it."
That may not mean shooting more of them, as the Gators devote plenty of time to free throws. It may come, instead, with drills that try to replicate pressure situations, but seriously? How do you replicate standing at the line with 23 seconds to go, leading by one and with 20,000-plus screaming at you?
What's strange about this recent Florida run of clangs from the stripe -- the Gators are 68 of their last 121 over the previous seven games (56.2 percent) -- is that it was just a couple weeks ago the team appeared to have really settled in at the line.
Over a six-game stretch of wins over Missouri, Alabama, at Tennessee, at Kentucky, Auburn and at Ole Miss, the Gators went 111 for 146 from the line, good for 76 percent. Four of those were single-digit games, two were decided by five points or less.
"We've shown the ability and the potential to shoot the ball well," Donovan said. "There have been numerous games where we've come down the stretch and gone 10 for 11 or 16 out of 18."
In the SEC tourney semifinals, the Gators were just 10 for 17, but made nine of their last 10 over the final 4 minutes, 39 seconds to help seal the 56-49 win. That's really good.
But that also means they made just one of the first seven. That's really bad.
IN RESERVE
Against Tennessee, the four-man rotation of UF's regular reserves -- forward Dorian Finney-Smith, point guard Kasey Hill, center Chris Walker and guard DeVon Walker -- contributed 10 points, nine rebounds, four assists, two steals and three turnovers in a combined 55 minutes.
That night, following the team dinner and short walk-through in a hotel ballroom, Florida's coaches kept the four backups afterward and showed them a video that isolated plays of each individual player.
The message: "We need more out of you guys. All of you."
This was not a bash session. Included in the tape were good plays by each and positive reinforcement of those plays.
But Chris Walker, for example, left knowing his pick-and-roll coverage left something to be desired -- and was a chasm-like drop off when he spelled Patric Young, who Donovan has called the best pick-and-roll post player he has ever coached.
"I wanted to do better," Walker said. "I wanted to go out there and bring energy and make sure I was in the right defense and right position."
On Sunday, Walker played just three first-half minutes, but impacted the game with five points, two rebounds and a steal. Finney-Smith struggled to score, but hit a big second-half 3-point shot and battled to grab six rebounds. Hill, who actually was pretty good against UT, had just two points but also three assists in 16 foul-plagued minutes.
All told, it was better than the day before, but the message for these guys will remain the same.
The Gators need more.
PLAY-IN (GUESSING) GAME
Florida won't know the opponent for its second-round NCAA Tournament South Region game, set for Thursday at 4:10 p.m. ET at the Amway Center in Orlando, until late Tuesday night after the two No. 16 seeds in the bracket, Albany (18-14) and Mount St. Mary's (16-16), vie in a play-in game at Dayton, Ohio.
The circumstance actually puts the tournament's No. 1 overall seed in the strange predicament of not knowing who to prep for.
Now, the easy out here is to say, "The No. 1 team in the country need not worry itself about a 16 seed," but coaches are not wired like that. Coaches want order. They want to prepare.
So in the interim, the UF staff has divided the Gators' four potential opponents -- and that includes 8-seed Colorado (23-11) and 9-seed Pittsburgh (25-9), should they advance to Saturday's round -- for scouting responsibilities.
"What we may do on Tuesday in practice is maybe look at some similarities and some things we're gonna have to do in both games that will definitely be a carryover," Donovan said. "Right now, we've got two days here to try and make some improvements in ourselves."
Albany, out of the state capital city of New York, defeated Stony Brook 69-60 to win the automatic bid out of the America East. The Great Danes finished fourth in the league with a 9-7 record.
Mount St. Mary's, of Emmitsburg, Md., went 9-7 in the Northeast Conference standings, tying for fourth, then rolled through the league tournament and upset Robert Morris 88-71 in the title game.
MONEY BALL
There's a reason Donovan calls the 3-point shot "the great equalizer."
The Gators made 24 in the SEC Tournament and surrendered just six. That's a point differential of 72-18.
Wilbekin and sophomore guard Michael Frazier II combined to go 22 for 36 for a ridiculous 61.1 percent in the three games. As a team, the Gators were 24 of 51 from distance (47 percent) compared to their opponents' 6-for-37 (16.2 percent).
FREE THROWS
While Wilbekin was named the SEC Tournament's Most Valuable Player, the rest of the All-Tournament Team shaped up like so: Frazier II (UF), Young (UF), Aaron Harrison (UK), Julius Randle (UK) and Jarnell Stokes (UT). ... The Orlando dates will be the fifth time the Gators have played opening-weekend NCAA games in the state of Florida: Tallahassee (1995), Tampa (2003), Jacksonville (2006) and Tampa again in (2011). UF went 5-2 in those games. The Gators played a 1994 regional semifinal and final in Miami and won both those games to advance to their first Final Four. That makes 7-2 all-time in NCAA games played in the Sunshine State. ... Think about this: Chris Walker officially joined the Gators on Dec. 14, four days after UF beat Kansas, and was ruled eligible by the NCAA to take the court for the Feb. 1 game against Missouri. Last year, he led Bonifay (Fla.) Holmes County High to the Class 1A state championship. So when's the last time he lost a game? "I can't remember," he said. "Really can't." ... Donovan gave a shoutout Monday to his alma mater of Providence for making the NCAA Tournament for the first time in 10 years. "Go Friars," he said. "Very, very happy for them." Providence coach Ed Cooley will be Donovan's assistant for USA Basketball's U18 squad this summer at the FIBA Americas.
---