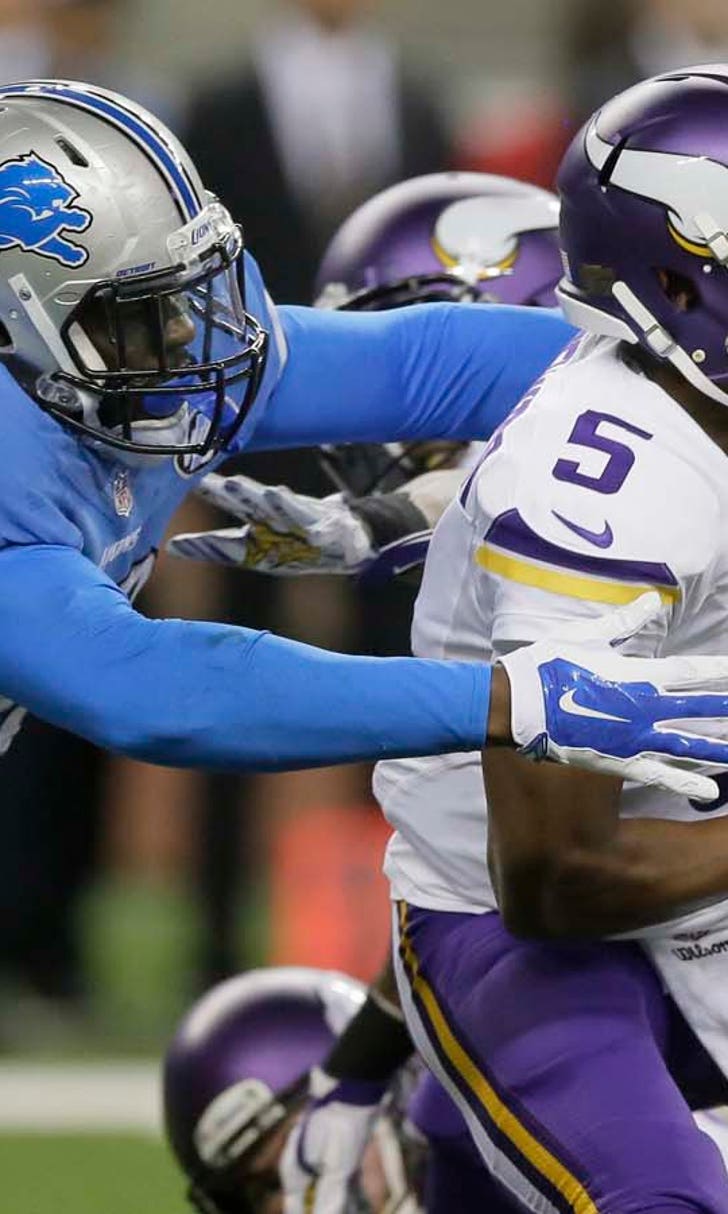 Notebook: Fourth-quarter play a learning experience for Vikings
BY foxsports • December 15, 2014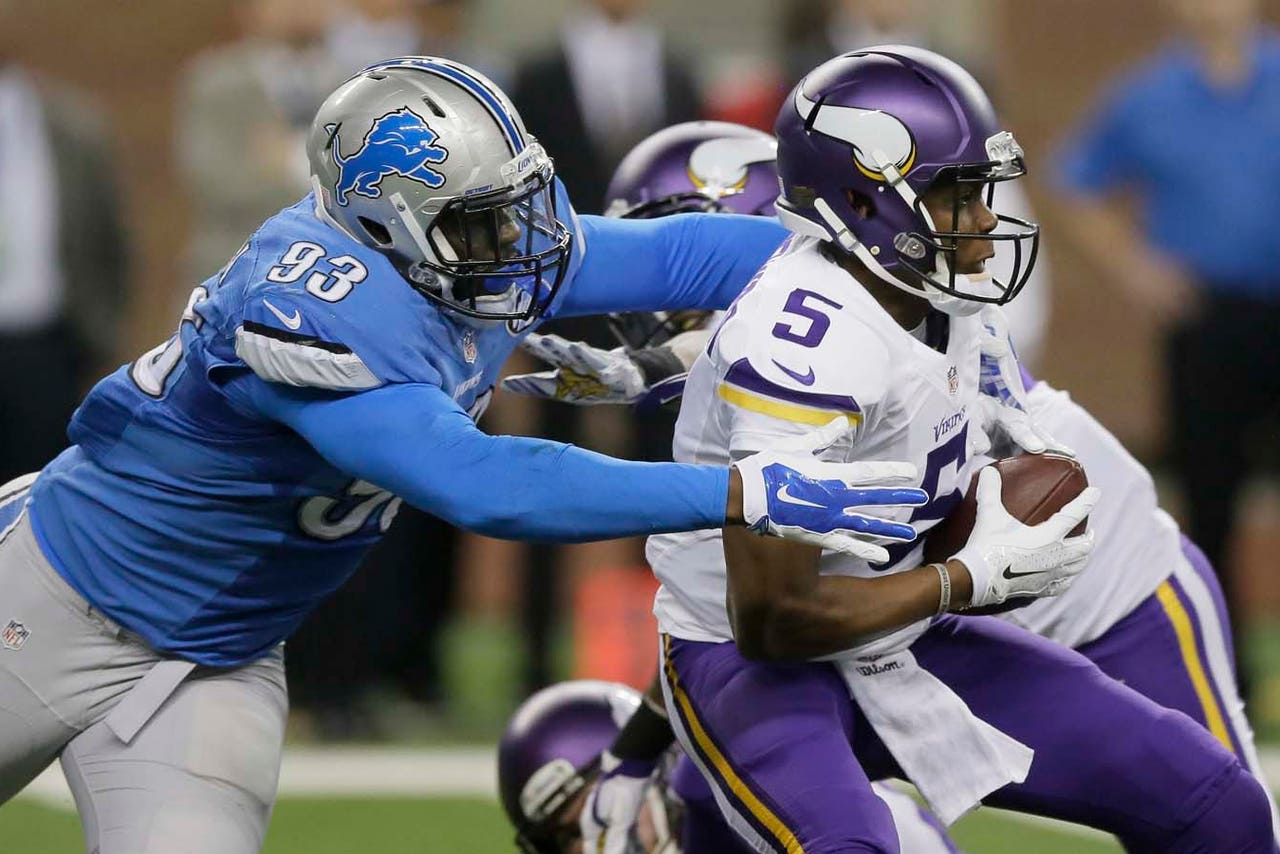 EDEN PRAIRIE, Minn. -- Another loss by eight points or fewer had the Minnesota Vikings focused on their struggles at the end of Sunday's game at Detroit.
Minnesota allowed the final 16 points to the NFC North-leading Lions Sunday and weren't able to capitalize on two late drives with a chance to retake the lead in the 16-14 loss. The Vikings' last four losses have been by a total of 14 points.
"We didn't handle the fourth quarter well and as I'm trying to teach this team that when you play good, you still have to win the fourth quarter and the critical parts," coach Mike Zimmer said Monday.
Zimmer said his team can learn from being in the fourth-quarter situations in which they've found themselves, particularly rookie quarterback Teddy Bridgewater. After losing four games by 14 points or more, Minnesota has been in several close games in the second half of the season.
Seven of the Vikings' past eight games have been within eight points. The only final result with a spread of at least one touchdown and a two-point conversion was Minnesota's 31-13 win against Carolina.
"I think we've played better," defensive end Brian Robison said. "I think we've become more consistent in our play. Obviously there's still a few things that we need to shore up in order to be able to pull out these victories. But for the most part, I think we're moving in the right direction. That's what you want to see out of a club that's under a new regime."
Zimmer said he talked to his team about making the plays necessary to beat Tampa Bay and New York in overtime, giving up the fourth-and-20 in the fourth quarter in an eventual 1-point loss to the Buffalo Bills.
Minnesota lost at home to Green Bay by three points and Detroit's game-winning field goal Sunday occurred with 3 minutes, 43 seconds left in the game.
"There's so many games in the NFL that come down to this kind of crunch time and we didn't do enough to win," Zimmer said. "We're going to keep going forward, we're going to keep pounding the message. My mentality has not changed, my mindset has not changed. As I told the team, we're going to stick with it, keep working on getting better because we've got something to build for the future."
In particular, the Vikings' final drive seemed to linger with Zimmer, who mentioned the breakdowns on the Minnesota's final drive, which ended in a missed, desperation 68-yard field-goal attempt by Blair Walsh.
The Vikings took possession twice in the final 3-plus minutes but were unable to get into range for an easier field-goal attempt for Walsh. Minnesota lost possession on a missed fourth-down attempt on one possession and then ran out of time on the next possession before Walsh's game-ending try.
On the final drive, Matt Asiata had a 9-yard reception but chose not to get out of bounds. On fourth-and-1, quarterback Teddy Bridgewater completed a pass to tight end Kyle Rudolph in the middle of the field for a first down. After a spike to stop the clock, Minnesota inexplicably was forced to take a delay of game penalty after Bridgewater didn't get the play from coaches before his headset cut out by rule with 15 seconds left on the play clock.
"We didn't get out of bounds," Zimmer said. "We talk to the guys about if you don't think you can get out of bounds, get as much you can get and get down. He got down, but he should've got the first down before he did. The communicator to the quarterback went out, and we got a delay of game penalty.
"The fourth-and-1, we don't need the first down. I mean, we need the first down, but we need yards at that point and time. We had a guy open down the field that we should've tried to get the ball down in there. In the series before, we had a good return but got a holding penalty. We played without penalties all game long."
Something to build on: Minnesota missed chances to beat Green Bay and Detroit within the NFC North by a total of five points. In the second meeting against division teams, the Vikings have shown improvement, but ultimately sit at 0-5 in the NFC North.
Zimmer said he is "learning this division better." Zimmer said he's getting a handle on the personnel and how to match up with certain players within the NFC North.
Minnesota said losing Sunday at Detroit was frustrating, but they can take positives from the game, as well.
"I think the thing with us is, like I say, it's a little too little, too late almost for us yesterday," Robison said. "I think bottom line is it shows the direction where this team is going. I think it shows the direction that Zimmer is taking us, and if we keep moving in that direction, maybe we'll be one of those teams that the rest of the teams in the division have to recognize."
Walsh misses: Walsh missed three field-goal attempts Sunday, one of which was blocked.
"We watched it and it was sort of protection up the middle right now," Walsh said. "They did a good job penetrating on that play. We'll get it shored up and get it fixed for when we need to make it."
Walsh felt he had a good chance to make the 68-yard attempt after making one in warmups from a similar distance.
"I was lobbying for it," Walsh said. "I've never been one to care about percentages or anything along those lines so I just wanted to go out there and I thought I could give my team a better chance doing that than throwing a Hail Mary at the end of the game."
Walsh said he's still confident despite being 1 of 5 on field-goal attempts the past two weeks.
"It's been a strange two weeks, honestly," Walsh said. "It's tough. I don't feel like I'm hitting the ball poorly, but my results say otherwise right now so it's something I've got to get shored up and fixed."
The matchup Zimmer wanted: Zimmer broke from his standard of playing cornerback Xavier Rhodes on the right side of the defense to match up with receiver Calvin Johnson in Sunday's game.
Zimmer said he felt Sunday's matchup and the situation dictated trying to have Rhodes shadow Johnson.
"I just felt like it was time to try it and didn't really have anything to lose and he had been playing well, competing well and playing well and doing the things," Zimmer said.
Zimmer said Rhodes handled the assignment well. Johnson had four catches for 53 yards in the game.
"I think the best thing about it is he accepted the challenge, he fought and competed," Zimmer said. "He wasn't alone all the time. He was alone several times and we helped him, but like I said earlier I feel like defensively we worked on a lot of things last week that I wasn't happy with and it showed up with practice.
"We practiced the way I expected us to practice, and sometimes you get in a routine throughout the season and you let certain things slide and I just noticed that we picked that up, and it showed on Sunday. And I think that the defensive players, at least these guys have an idea about how to go up against some big-time guys and try to cover 'em, not let 'em beat you, things like that. But I thought he did well."
Kalil's matchup: Vikings left tackle Matt Kalil also had a key matchup in Sunday's game. Detroit defensive Ziggy Ansah had 2.5 sacks in the first meeting this season, but Kalil was able to neutralize him for much of Sunday's game.
"I think I came out of there pretty well," Kalil said. "He's a pretty wild player, and he hasn't even tapped his potential. So I'll be seeing a lot of him. But to play well against him, coming out on top like that, feels pretty good."
Zimmer praised the offensive line as a whole against the Lions' strong defensive front.
"I thought they battled their rear ends off," Zimmer said. "I thought they competed. I thought they fought like crazy to give us the opportunity to get the ball in the right place. I know the run game totals weren't exactly what I wanted, but we did stay on the double-teams pretty good. We knocked a couple guys off the line of scrimmage. When we went to the second level a guy would fall off and make a play.
"So, they did some good things. Probably as good as they played this year."
Follow Brian Hall on Twitter
---