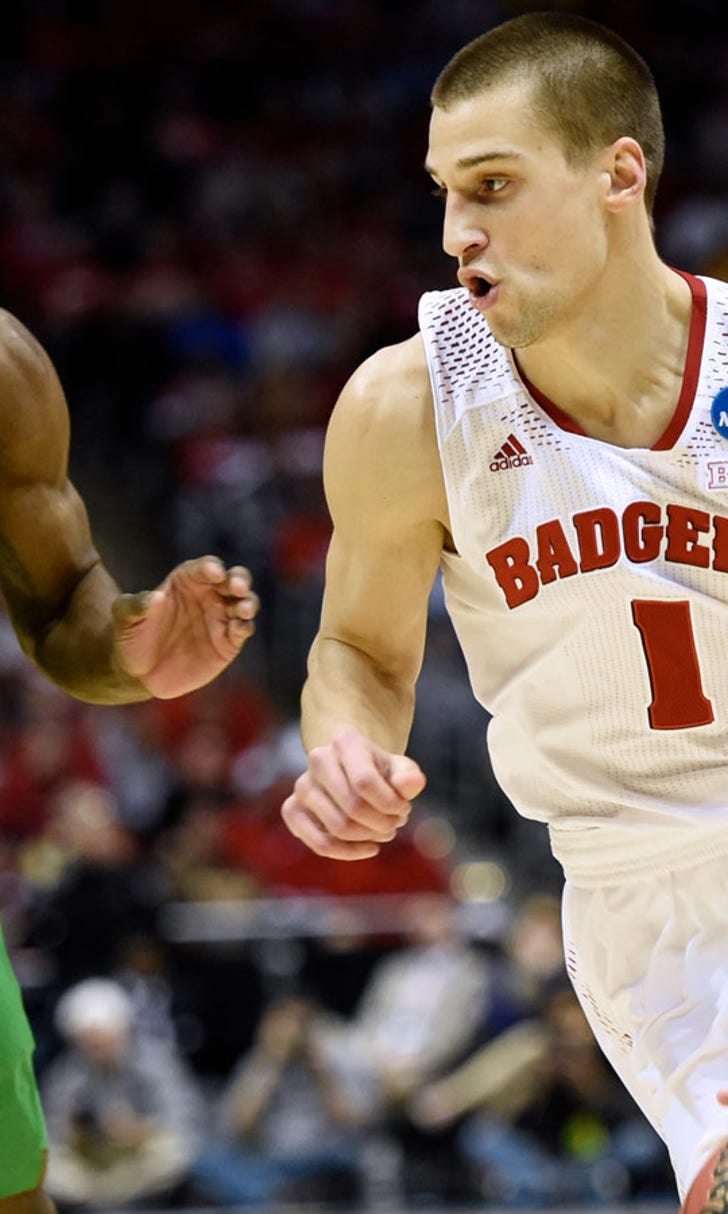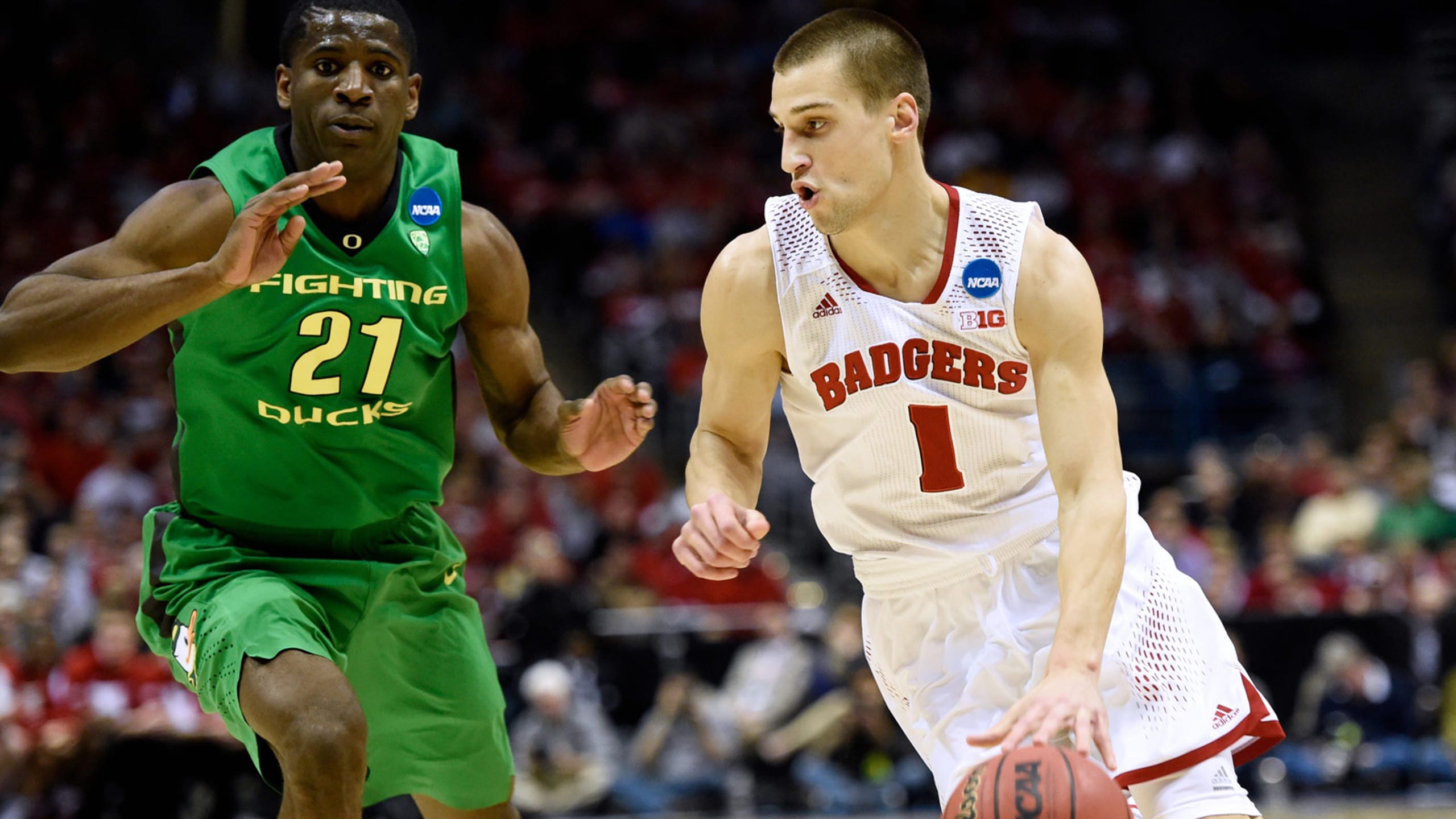 Notebook: Brust makes historic 3 at best possible moment for Wisconsin
BY foxsports • March 23, 2014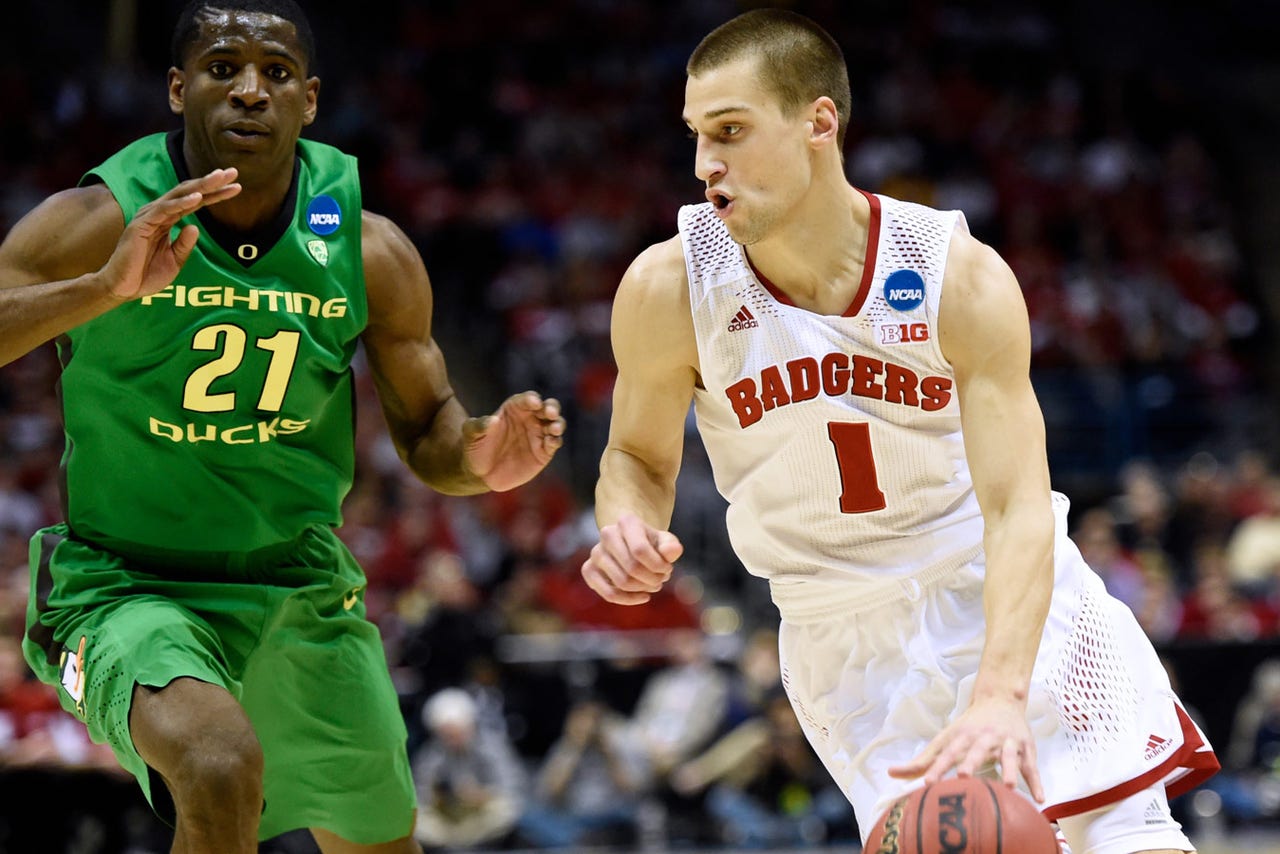 MILWAUKEE -- Ben Brust just doesn't want to take the Wisconsin uniform off for the final time. With his team down 12 at halftime, the senior told himself he had to do whatever it takes to keep playing.
After a scramble in which the Badgers grabbed three offensive rebounds, Traevon Jackson found Brust on the right wing for a 3-pointer that put Wisconsin up for good in its 85-77 victory over Oregon to advance to the Sweet 16.
Making a game-winning shot in the NCAA tournament even bigger was the fact it made Brust the most prolific 3-point shooter in school history.
"He broke the record on that shot? Wow," Wisconsin forward Frank Kaminsky said. "What a shot. He has more confidence than anyone I've seen. I wouldn't have anyone else on this team taking that shot."
Down 75-74 after Oregon guard Joseph Young hit his fourth 3-pointer of the day with 2:53 to play, Wisconsin had an empty possession before forcing Young into a miss on the other end. On the ensuing possession, Josh Gasser missed a 3-pointer but Sam Dekker came down with the offensive rebound.
Jackson then missed a jumper, but freshman Bronson Koenig was able to track down the loose ball while barely staying inbounds. After a timeout, Dekker grabbed another offensive rebound after Kaminsky missed a good look inside. He got it to Jackson who set up Brust for the big shot with 1:07 on the clock.
"That was a wild sequence of events," Brust said. "It was a scramble session going on. (Jackson) found me on the right wing. As soon as I let it go I knew it was going down.
"As soon as I let it go I said, 'That's going straight through.' That's a great feeling knowing you are going to hit a big one."
With four fouls, Brust wasn't even in the game for the first part of the possession. Wisconsin coach Bo Ryan subbed his sharpshooter back into the game during the timeout, a move that turned out to be brilliant.
"You get the offensive rebounds, the juices are flowing, but we didn't have any alignment," Ryan said. "We didn't have the spacing. I used the timeout to get that."
Brust, who has now hit 225 career 3-pointers at Wisconsin, broke the record previously held by Tim Locum. He went 4 of 7 from 3-point range in Thursday's 75-35 victory over American and hit 4 of 8 from beyond the arc Saturday.
"Naturally people tell you where you are at, but you aren't thinking about that in the game," Brust said. "If you are doing the right things in the game to get the job done to win, stuff like that comes naturally. That was just a product of good basketball and having great teammates to find me.
"That was special. To get to the Sweet 16 and break that record is something I couldn't have done without my teammates. I'm just proud to play with them and keep on going."
To everyone else in the Wisconsin locker room, Brust putting himself in the record books with such a big shot was fitting.
"Perfect," Wisconsin associate head coach Greg Gard said. "I'm happy for him. He put in the time to make himself into a heck of a player. He, along with the other two seniors, don't want to put away the uniforms just yet."
Like Kaminsky, Dekker didn't know Brust broke the record until after the game.
"That's awesome," Dekker said. "He has hit so many big shots for us in his career. To see him hit one here to give us the lead, it's only fitting for Ben Brust to do that.
"Classic Ben. I didn't even crash on that (shot). I just got back because Ben is going to hit that. He hits the big shots. He came through once again."
Saluting the fans: With so much talk about how Milwaukee needs a new downtown arena with modern-day NBA amenities, every so often a reminder is sent as to just how loud the BMO Harris Bradley Center can get when filled to the brim.
When the Badgers began their second-half comeback Saturday, the crowd of 18,206 reached deafening levels not heard in the arena in quite some time.
"I can't say enough about our fans tonight," Dekker said. "They were crazy. That's the loudest gym I've heard in a long time. This one and Virginia were the two loudest gyms I've ever been in, and I think this one had the upper hand."
Brust agreed with Dekker.
"The crowd was just unbelievable," Dekker said. "That was the best crowd I've ever played in front of. Especially in the NCAA tournament in Milwaukee, to get the job done in front of them -- I want to thank every single one of them for the job they did. That was amazing."
Ryan gets heated: A series of events late in the first half had the momentum squarely on Oregon's side, including a technical foul called on Ryan by referee Ed Corbett just moments after a bench warning had been issued against the Badgers.
Wisconsin was not pleased with a variety of calls in the first half, but was particularly set off after Dekker got hit in the mouth on an offensive possession.
The Badgers had just inbounded the ball after the bench warning when Corbett hit Ryan with the technical foul after the coach clapped his hands with 1:10 left in the first half.
"I was trying to clap to get my guys ready to go," Ryan said. "I kept asking what it was for, but I never got an answer. They don't have to give you one.
"I was probably getting a little too rambunctious on the sideline. I probably wasn't behaving, so we had to pay."
Dekker left the game after getting hit in the face and didn't return until the second half. He offered a big smile in the locker room after the game to show he had no damage.
"My teeth are good," Dekker said. "They are in my mouth, so we're good."
Odds and ends: The 85 points scored by the Badgers on Saturday were the second most a Wisconsin team has scored in an NCAA tournament game. The school record is 96 points set in 1994 against Missouri.
Wisconsin overcame its largest halftime deficit of the season to beat Oregon. The Badgers overcame an 11-point halftime deficit to beat Iowa at the Kohl Center on Jan. 5. Wisconsin is now 3-3 this season when trailing at the break.
The Badgers' 11 3-pointers made Saturday were one off their season high, while they attempted a season-high 28 shots from beyond the arc.
Follow Andrew Gruman on Twitter
---