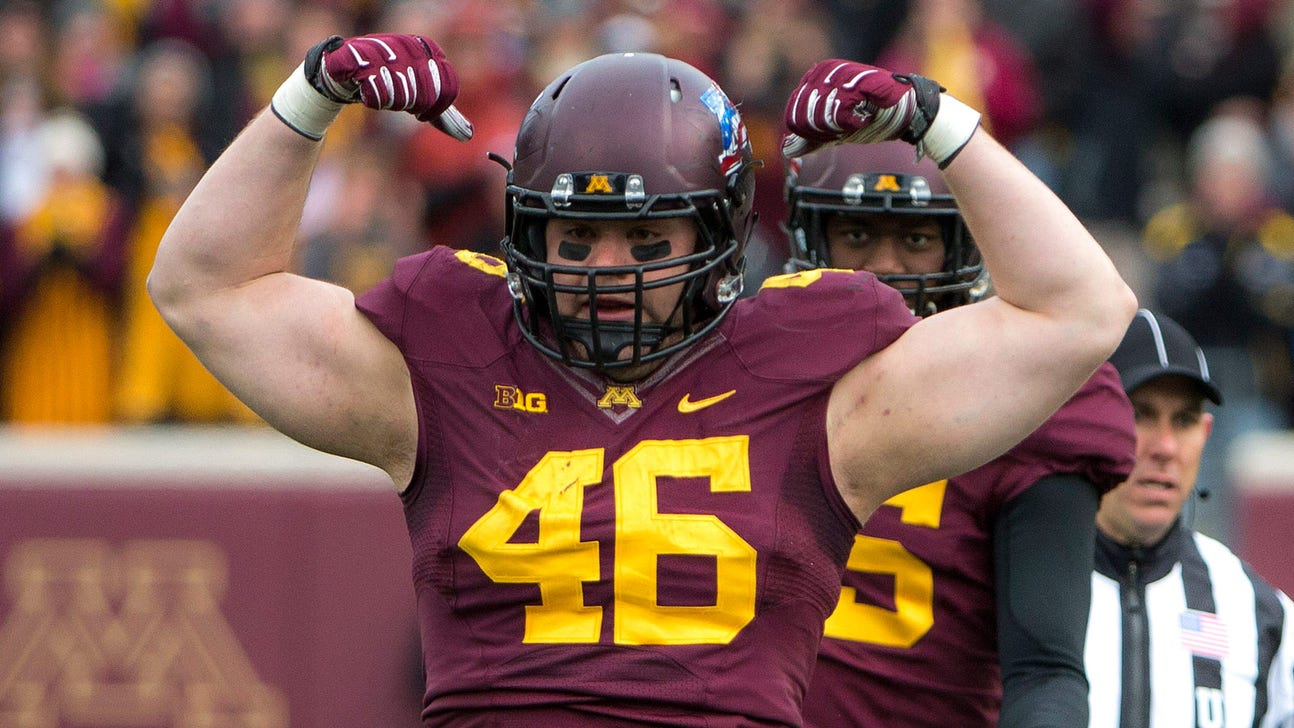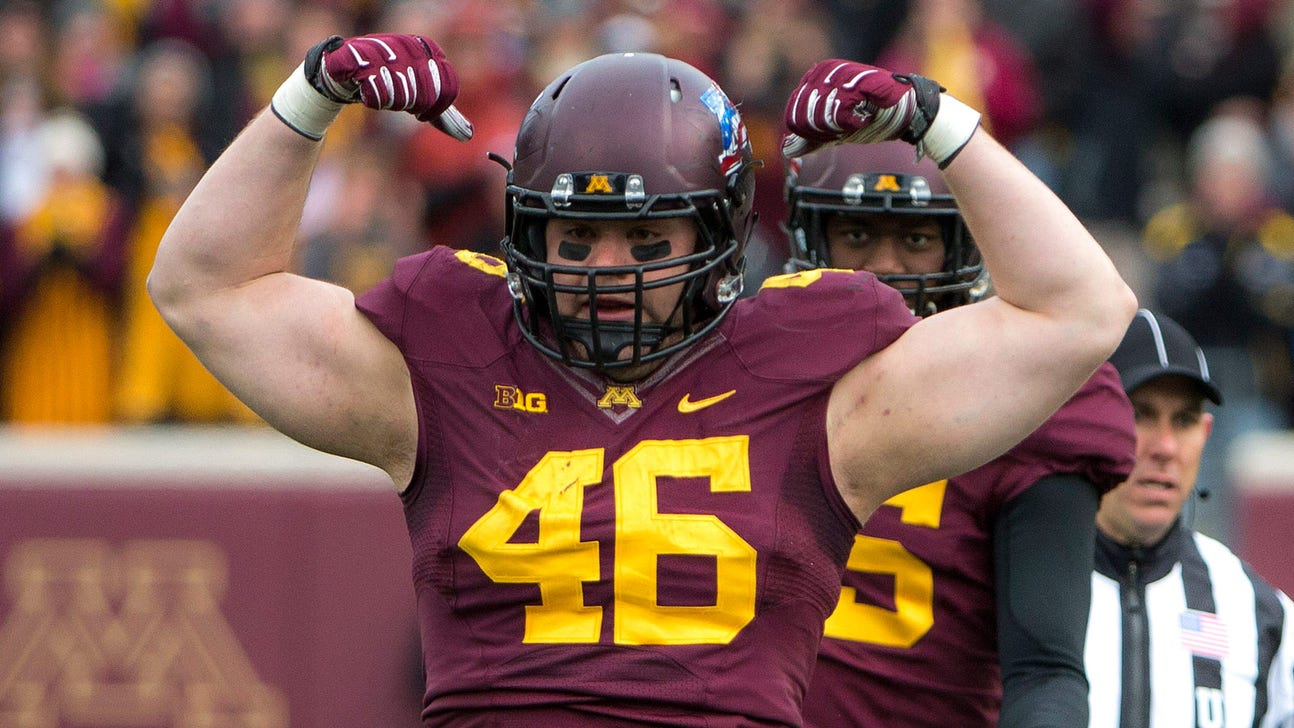 Notebook: Bowl-bound Gophers enjoying support, adulation from fans
Published
Dec. 11, 2014 3:35 p.m. ET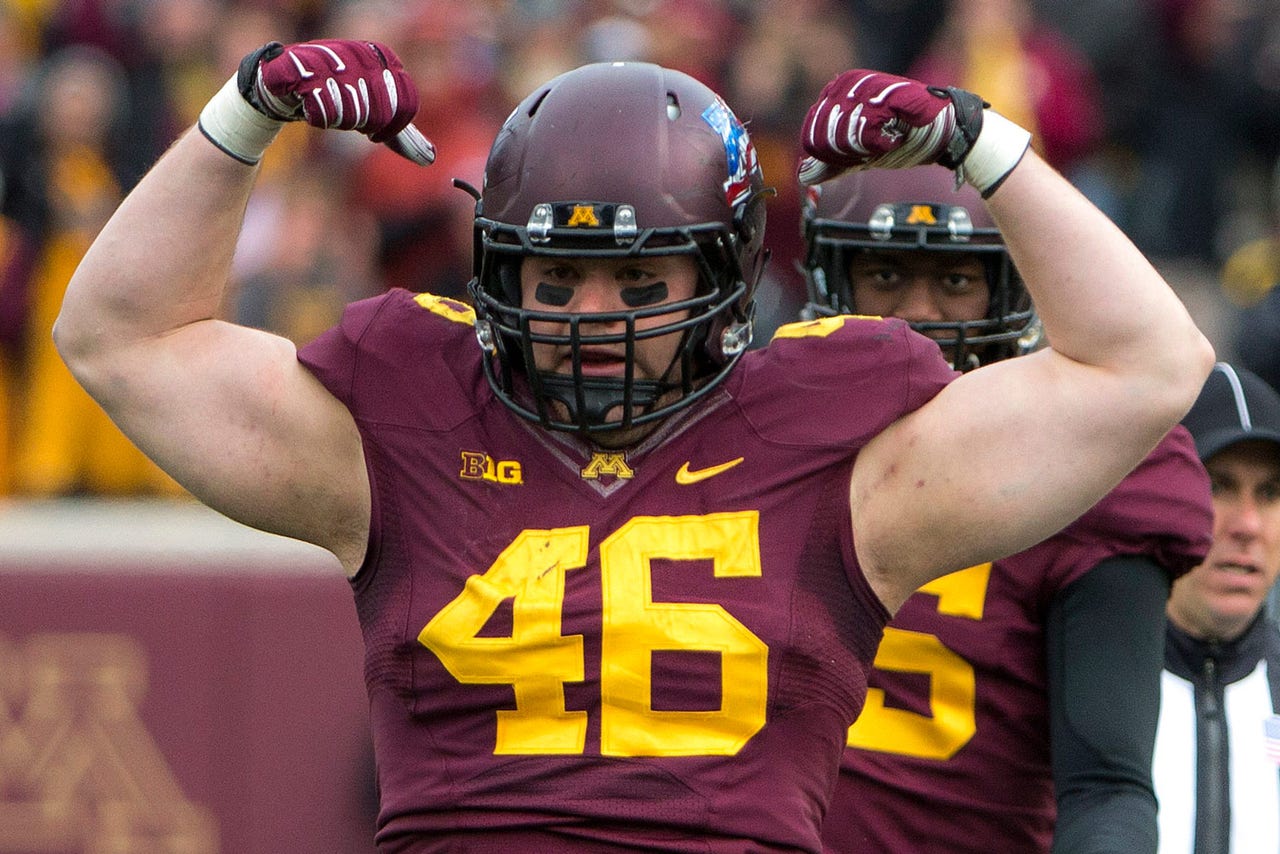 MINNEAPOLIS -- In his five years on the University of Minnesota campus, Gophers redshirt senior defensive tackle Cameron Botticelli had never been to a men's basketball game.
That is, until earlier this week when he and several of his teammates were honored on the court during Minnesota's game against North Dakota. Botticelli was joined by quarterback Mitch Leidner, running back David Cobb, linebacker Damien Wilson and a few other players -- as well as the team's rivalry trophies from. The Gophers paraded the Little Brown Jug, Floyd of Rosedale and Governor's Victory Bell in front of the fans at Williams Arena and received a standing ovation from the crowd.
That showed Botticelli just how much Minnesota's fans have embraced their football team as the Gophers prepare for their first New Year's Day bowl game in over 50 years.
"That was surreal," Botticelli said of the reception the Gophers received. "As far as the fans, that was huge. All those Gopher basketball fans are Gopher football fans, too. . . . When we went out there and hoisted it up, it got loud in there. They care. They care about our program and they care about coach (Jerry) Kill and how we do. That felt great."
Botticelli and the rest of the Gophers returned to practice Thursday for the first time since their regular season ended with a 34-24 loss to Wisconsin on Nov. 29. In the days since it was announced that Minnesota would face Missouri in the Citrus Bowl in Orlando on Jan. 1, the players have received plenty of congratulatory messages and well-wishes from fans, alumni and fellow students who have seen the program continue to move forward in the four years under Kill.
"I wasn't really too sure how people would respond after the Wisconsin game and everything," Leidner said Thursday. "Being able to come back and have that support was really cool. . . . Just based off of who we're playing, an SEC team on Jan., that had to have gotten people excited. We've got to take advantage of our opportunity now."
Gophers players all found out about Sunday's bowl announcement in different ways, but Leidner's story might be one of the more unusual. The redshirt sophomore quarterback was at his parents' house with his brother, Matt, an offensive lineman on the Gophers. The brothers and their father were chopping wood when Leidner's mother came to tell them the good news that they were Orlando-bound.
"We were pretty excited," Leidner said. "I wasn't really too sure what the bowl was, exactly, because I know last year it was some different name. I didn't really pay too much attention until I found out, but I was pretty excited."
Time off lets Gophers heal: The biggest benefit of not having any practices since the Wisconsin game is that Minnesota was able to get healthy before starting its bowl preparations.
Defensive coordinator Tracy Claeys -- who ran Thursday's practice while Kill was out of town for bowl game obligations -- said everybody but wide receiver Drew Wolitarsky practiced Thursday. Wolitarsky, a true sophomore, missed Minnesota's final four regular-season games due to injury. But Claeys said the Gophers are expecting Wolitarsky back for the bowl game, which would be a big boost to the passing game.
Safety Antonio Johnson also practiced Thursday after missing a few games with an injury. Fellow safety Damarius Travis has been banged up, Claeys said, but took part in Thursday's practice.
"That's the one thing, it's a fine line between getting ready to prepare and play for the bowl game, and doing it and not getting somebody hurt," Claeys said. "You've got a break in there. You'd like to have everybody healthy, just like your first ball game of the year. Especially going against a team out of the Southeast Conference, you'd like to have everybody healthy."
Mizzou QB catches Gophers' eye: Thursday's practice was more to simply knock any rust off, and the Gophers haven't done much game planning of Missouri yet. But there's one player that caught Minnesota's attention in some of the early film work.
That would be Missouri quarterback Maty Mauk, who threw for 2,551 yards and 23 touchdowns this year for the Tigers while also rushing for 335 yards. It was Mauk's ability to scramble that stood out to several Gophers.
"The kid, he scrambles extremely well," Claeys said. "You watch all their games, he's extended so many plays and finds the open person. When he scrambles, he's always looking to throw the ball down the field. In big situations and a lot of third downs, he's made an awful lot of plays just scrambling."
Follow Tyler Mason on Twitter
---