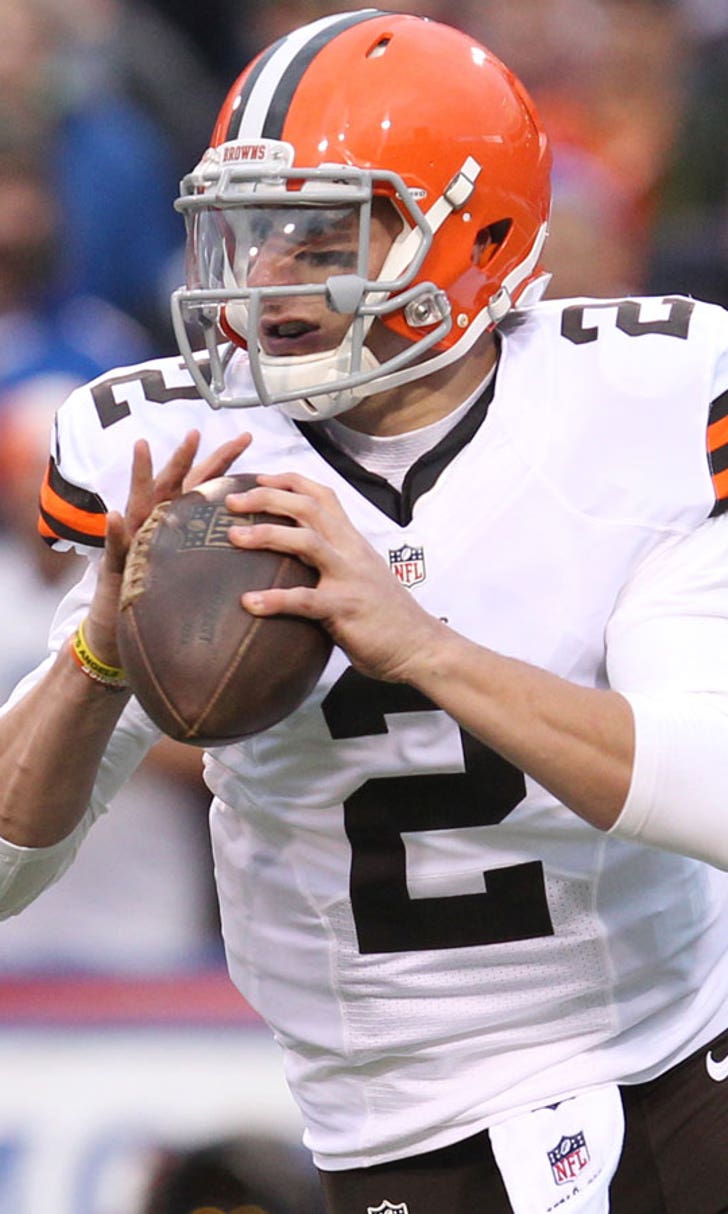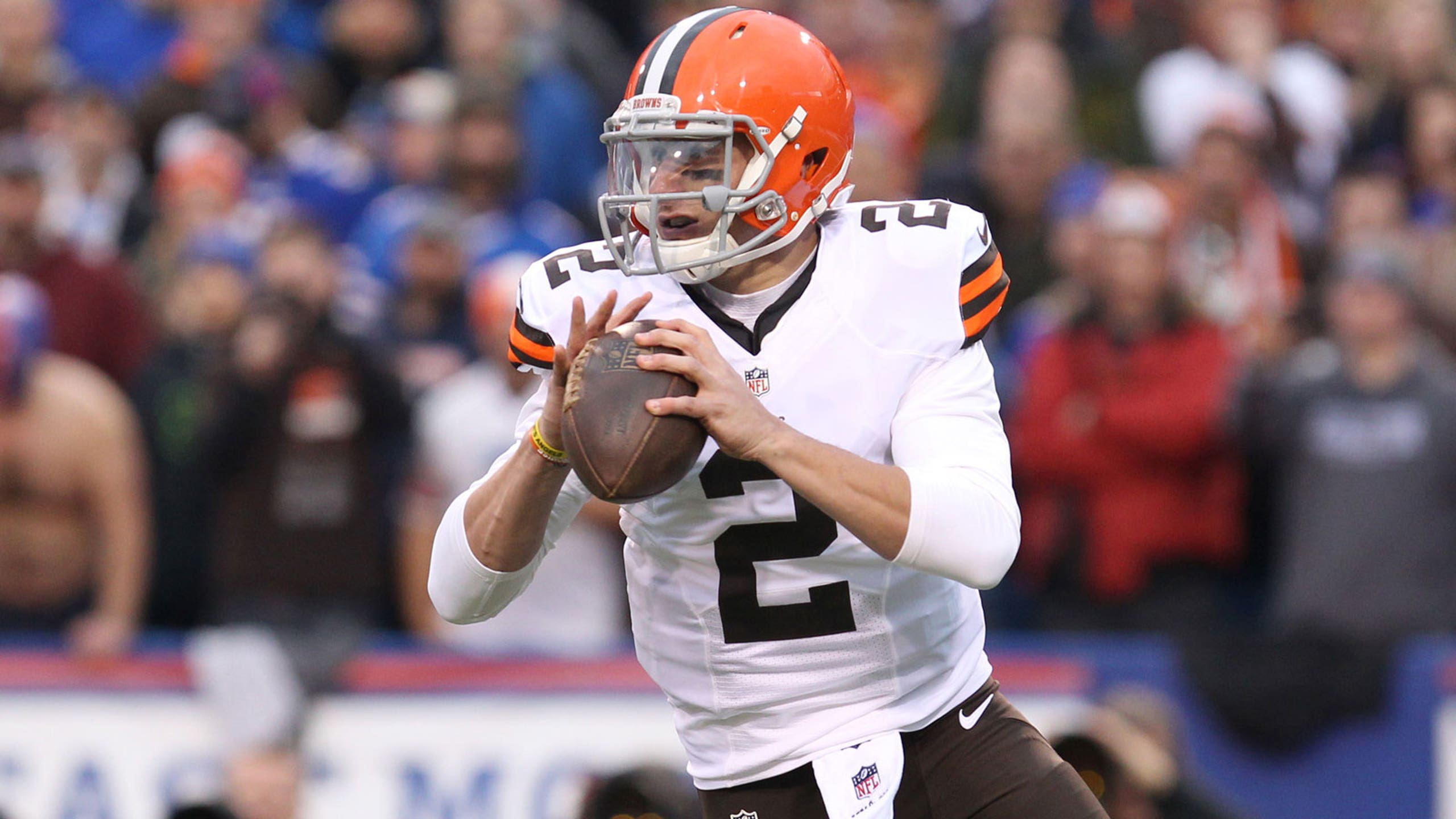 Nobody knows what to expect from Johnny Manziel -- and that's the best part
BY foxsports • December 11, 2014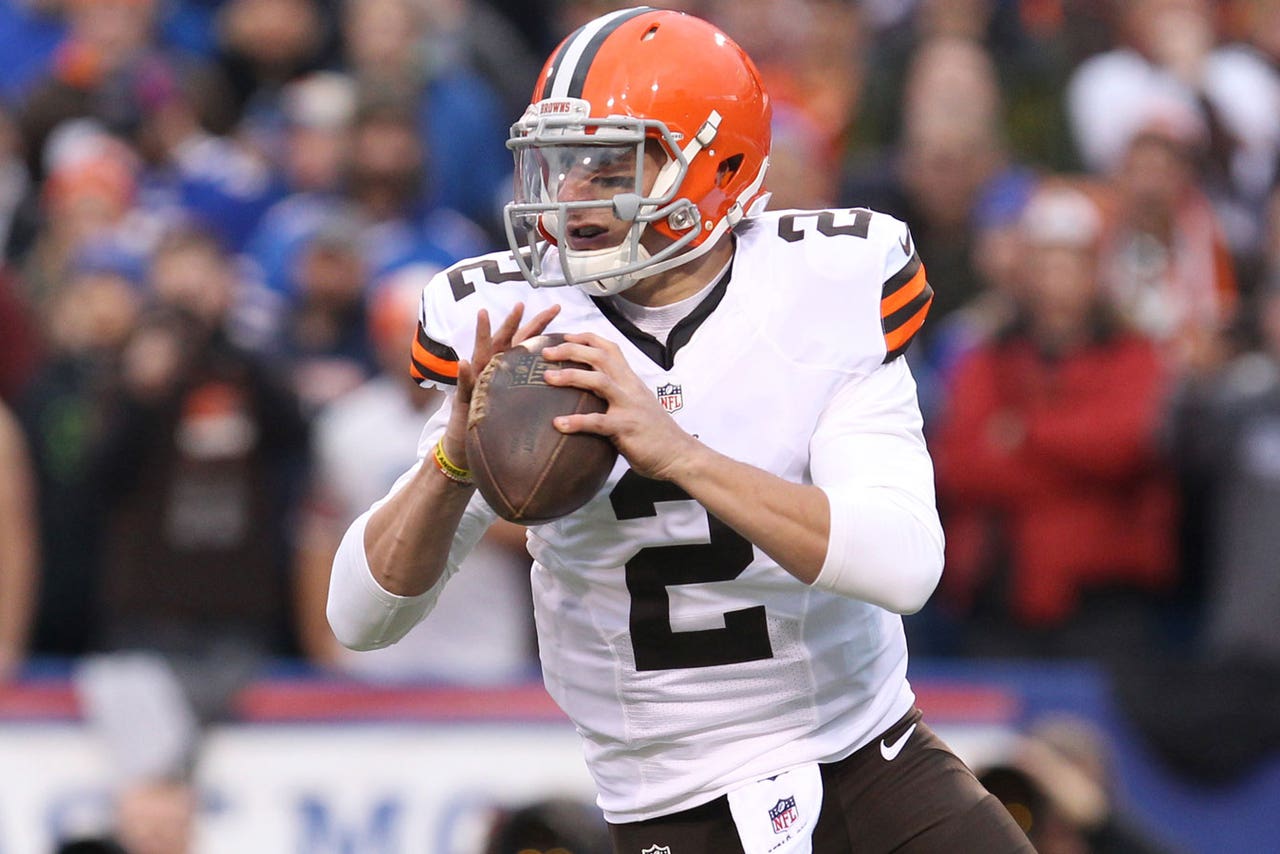 BEREA, Ohio - With the season hanging in the balance last week, Cleveland Browns coach Mike Pettine wasn't ready to hand the keys to hotshot rookie Johnny Manziel. 
That looks like a mistake now, but with three games left, the Browns are still alive in the chase for their first playoff berth since 2002. 
And Pettine is ready to say that Manziel is ready. Or at least bank on the guy called Johnny Football being ready to, well, play football. 
Nobody really knows if he is -- short of that signature money sign he says isn't really a money sign when he's introduced – or what he'll do when Sunday afternoon comes. And that's part of what makes the buildup to the Browns last stand against the division-leading Cincinnati Bengals so intriguing. 
Manziel might run out there, keep running, make a bunch of plays and run and throw the Bengals right off the field.
He might go out there and find out the NFL game is really fast and really difficult. The Bengals haven't tackled much of anyone lately, but they also haven't lost consecutive games all season. 
They'll be jazzed up for their collective shot as Manziel -- just probably not as jazzed up as the home crowd and the home team will be for Manziel's first extended shot. A new quarterback means a new excitement and a new game plan given Manziel's athleticism. The Bengals have everything to lose Sunday, and the Browns are rolling the dice. 
"Don't freak out," is the advice Browns offensive coordinator Kyle Shanahan said he's passed to Manziel. "Don't play like a robot. Be yourself."
That's Johnny Freelance, an instinctive playmaker who sees and feels the game and isn't afraid to take the game to the defense instead of vice-versa. At least that's who Manziel was at Texas A&M, where he won the Heisman Trophy as a freshman and was a finalist again last year.
Everything he did in college, by the way, means absolutely nothing when Sunday comes. His NFL experience consists of four preseason cameos, two quick September appearances and two drives Nov. 30 in Buffalo when the game had long been decided. The Browns moved the pocket in that game when Manziel came in, though, and that figures to be the plan Sunday.
To play to his strengths.
Strengths and plays the Bengals know are coming. 
Pettine knows all that Manziel brings, on and off the field -- though most coaches believe nothing good happens after midnight, they're most interested in what happens on Sunday afternoons -- and knows that he can spark the Browns Sunday and, Pettine hopes, for many Sundays thereafter. 
He doesn't want Manziel doing too much.
"That's the biggest thing, that every play can't turn into a broken play," Pettine said. "Take what's there. That can be 10 plays in a row (that) the read is what it is. Make the throw, (move) on to the next one. Those few plays where it does break down, now we have a chance to extend the play."
The introduction of Manziel -- to the stadium and the offense -- brings a new energy. Practice gets pretty stale and pretty miserably cold this time of year, but a new quarterback brings a playbook adjustment and reason to get excited. There's no reason for Shanahan to leave anything in the playbook in preparation. 
"I'm excited to see him," Browns defensive coordinator Jim O'Neil said. "His style creates headaches." 
His lifestyle does, too. There's reason to think the playbook will have to be shortened for any rookie in this spot, no matter that rookie's usual bedtime, which makes a hot start on a cold day that much more important for the Browns. Before that appearance in Buffalo, the coldest football weather Manziel had ever experienced came last November in Columbia, Mo. Temperatures were in the 40s. 
"We're all excited to see what he's all about," said the Browns ultra-talented and maddeningly inconsistent wide receiver Josh Gordon. 
The Browns have to run the ball, and they have to capitalize on frenzy in the stadium, and they have to let Manziel be Manziel to an extent. Pettine said his preference is for the Browns number of pass attempts "to be in the teens." The quarterback being able to take off is nice, too, until he gets hit. 
The Bengals want to hit Manziel. Early. Often. 
"That's the price Johnny has to pay for being who he is and the reputation that he brings with him to the NFL," Pettine said. "He already got a taste of it in the preseason. Everybody's gunning for him. I guarantee everybody that sacks him is going to stand over him and make the money sign. That comes with it."
Manziel makes 21 Browns starting quarterbacks since 1999, some of whom brought feelings of hope and excitement and some of whom only brought uncertainty. It's been a decade since one preferred to make his biggest plays out of the pocket. It's been all of 12 months since performance and circumstance necessitated a switch.
And here's Johnny. Maybe ready to make it sort of rain. Maybe going in blind -- or at least unable to see over the tall trees in his line of sight.
This time might be different. This quarterback is certainly different. Come Sunday, nothing will be a surprise. 
Johnny Football, NFL starter. 
An experiment lots of people don't want to miss. 
---
---