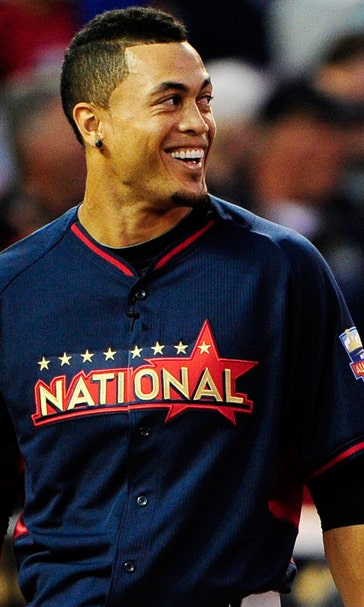 No title, but Giancarlo Stanton makes mark at Home Run Derby
BY foxsports • July 15, 2014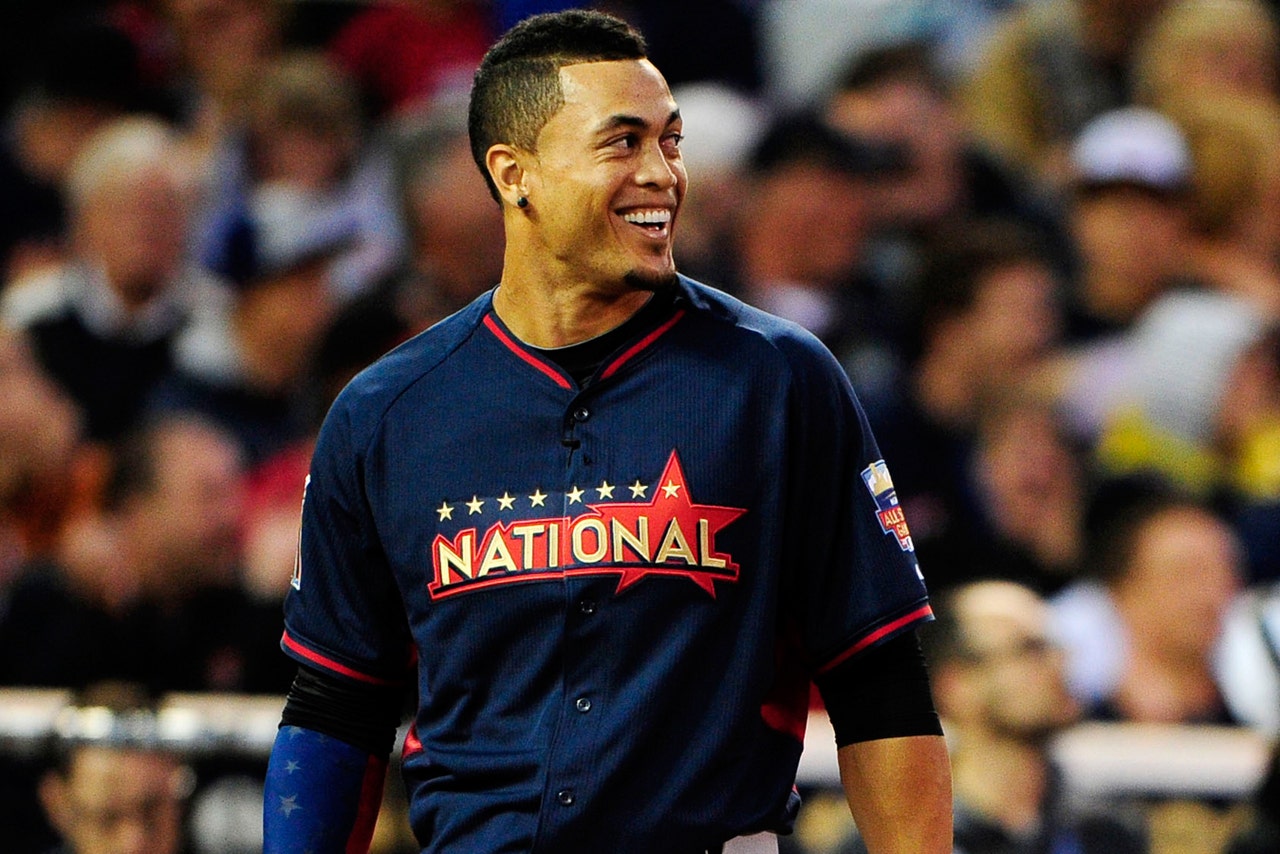 MINNEAPOLIS -- A fresh new 'do and a starry red and blue arm sleeve.
Miami Marlins right fielder Giancarlo Stanton looked the part of an All-Star during his coming out party Monday night in the Home Run Derby at Target Field.
Stanton didn't reach the final, but he set the Twitter world abuzz with his tape-measure shots and National League-leading six home runs during the first round.
The 24-year-old earned a bye and waited more than an hour before competing in the third round against Cincinnati Reds third baseman Todd Frazier. When Frazier knocked just one homer, it seemed a sure thing Stanton would advance.
Instead, Stanton failed to connect and was eliminated from a chance at the title.
"I had to find something to do in that time, stay warm," Stanton said. "Game-ready warm to be out there. It was definitely a speed bump I couldn't get over in this one. You don't usually do that for everything. It was definitely interesting."
A first-time derby participant, Stanton showed patience from the start. He watched manager Mike Redmond's first pitch and continued being selective. Until the seventh out, he matched the number of outs with homers.
His third shot -- a 465-foot blast -- went to the upper deck. The next was a line drive above the batter's eye for 476.
It earned him a standing ovation from the 40,558 fans. Once his round was through, Stanton raised both arms in appreciation.
"That was the gold ball, the charity ball, so you don't know how those are going to fly," Stanton said. "It's tough to pick those up. That was definitely cool. I can't believe I goose egged the second round. ... That's what you've got to do. That's what it's about."
Atlanta Braves All-Star Freddie Freeman, who has been good friends with Stanton since they were attending pre-draft workouts in Southern California as teenagers, predicted a win for the slugger earlier in the day.
Though Stanton fell short, his game continues to develop and improve.
"His power is phenomenal," Freeman said. "He's learned how to hit this year. He's hitting for average. He's healthy. That's the biggest thing for him. If he can continue to do that with Derek Jeter's last All-Star Game we're going to be talking about Stanton in the same way."
Stanton admitted to being a bit nervous hours earlier during media availability. The experience wasn't going to sink in until he actually stepped to the plate.
Although this marks his second All-Star nod, he didn't attend festivities in 2012 because of knee surgery. Stanton was also scheduled to compete in the derby.
Like Freeman and Chicago Cubs All-Star Anthony Rizzo, many spoke of their anticipation for Stanton's turn. The buzz reached the slugger.
"Yeah, for sure. My phone's been off the hook right now," Stanton said earlier in the day. "I understand the pressures of the outside world for it, but for me that's just an addition. If I'm going to worry about all that it's not going to work. I'll be alright. Filter out what I need to and at the end of the day it's to have fun."
Redmond, who has thrown batting practice for Stanton the past two years, changed his plans over the break so he could toss. His wife and sons even flew into Minnesota.
Stanton entered the break tied with Colorado Rockies All-Star Troy Tulowitzki for the NL lead with 21 homers. He has not homered, however, since June 26 -- a span of 58 at-bats.
Despite that, he holds the highest average (423.8) per home run, the third-most no doubters (six) and the second-longest shot (484). His 138 career homers in 583 games is the sixth most in the majors during that span.
"We're so lucky to get a chance to see him play and the things he's able to do," Redmond said. "It would be tremendous for him to do it on the big stage. That's what it's all about."
The Home Run Derby was delayed more than an hour because of rain that stopped both the American League and National League batting practices.
For the first time, 10 batters -- five from each league --€" took part in bracket play with three rounds before the finals. There were also seven rather than 10 outs.
Asked whether he would compete again, Stanton said "for sure."
"I wasn't as nervous as I thought," Stanton said. "I was in between excited and nervous but I was definitely more calm than I figured. It was fun -- the atmosphere out there. The weather didn't hold up as well as we want but it was awesome."
Of note: With Stanton's six homers, the Marlins are offering $6 off Lexus Legends Platinum seats beginning Tuesday morning.
You can follow Christina De Nicola on Twitter @CDeNicola13 or email her at cdenicola13@gmail.com.
---